Biography of Robert Bruce Merrifield
Robert Bruce Merrifield – American biochemist.
Name: Robert Bruce Merrifield
Date of Birth: July 15, 1921
Place of Birth: Fort Worth, Texas, United States
Date of Death: May 14, 2006 (aged 84)
Place of Death: Cresskill, New Jersey, United States
Occupation: Biochemists
Father: George E. Merrifield
Mother: Lorene
Spouse/Ex: Elizabeth Furlong (m. 1949)
Children: 6
Early Life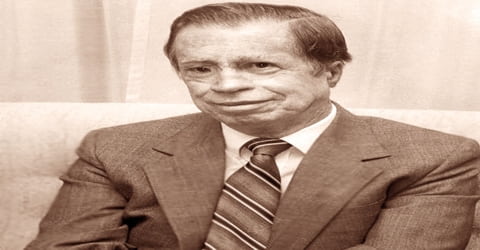 An American biochemist and educator, who in 1984 received the Nobel Prize for Chemistry for his development of a simple and ingenious method for synthesizing chains of amino acids, or polypeptides, in any predetermined order, Robert Bruce Merrifield was born on July 15, 1921, in Fort Worth, Texas in the U.S. of America to George E. Merrifield and Lorene nee Lucas. Merrifield worked at the Rockefeller as an Assistant for Dr. D.W. Woolley where his award-winning research was conducted. This research has since been developed into other forms and used in the field of medicine and pharmacology.
His ingenious discovery for quick protein synthesis aided in streamlining numerous scientific experiments. Interested in science as a child, he went on to take up a Bachelor degree in Chemistry and Ph.D. in Biochemistry from the University of California at Los Angeles. He then joined the Rockfeller Institute for Medical Research and remained there in various posts throughout his career, eventually becoming the John D. Rockefeller professor in 1984. As a result of his research, he developed the solid phase peptide synthesis, a method that allowed the systematic study of protein structure. A few years later he also developed a machine for automation thereby simplifying and quickening the process. Other than the Nobel Prize, he was the recipient of prestigious awards as the Gairdner Foundation International Award, Albert Lasker Award for Basic Medical Research and the Chemical Pioneer Award. He was inducted as a member of the U.S. National Academy of Sciences in 1972. An author of several papers for numerous scientific journals, he had also published a semiautobiographical titled 'Life during a Golden Age of Peptide Chemistry: the Concept and Development of Solid-Phase Peptide Synthesis'.
Childhood, Family and Educational Life
An American biochemist, Robert Bruce Merrifield was born on 15 July 1921, at Fort Worth in Texas, USA, to George E. Merrifield and Lorene née Lucas. He was the only child of his parents.
In 1923 the family moved to California where he attended nine grade schools and two high schools before graduating from Montebello High School in 1939. It was there that he developed an interest both in chemistry and in astronomy. He later enrolled into Pasadena Junior College and at the end of two years, shifted to the University of California at Los Angeles.
In 1943 Merrifield graduated with a Bachelor of Science degree in Chemistry. He then spent a year working at the Philip R. Park Research Foundation, assisting in research experiments on the growth of synthetic amino acid diets and looking after an animal colony. Understanding that education was necessary, he returned to the University of California at Los Angeles to pursue his graduate studies under the professor of biochemistry M.S. Dunn. He completed his Ph.D. in Biochemistry in 1949. That same year he joined the staff of the Rockefeller Institute for Medical Research (now Rockefeller University), New York City, where he became professor emeritus in 1992.
Personal Life
Robert Bruce Merrifield was married to Elizabeth Furlong, a trained biologist on June 20, 1949, just a day after his graduation from the University of California. The couple moved to New York after their marriage. They were blessed with six children James, Nancy, Betsy, Cathy, Laurie, and Sally. Merrifield had sixteen grandchildren.
Career and Works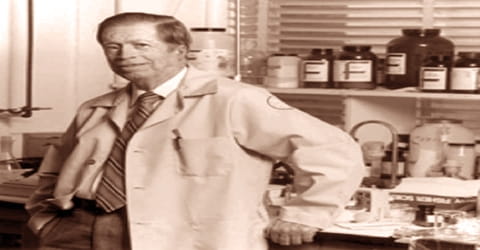 Immediately after completing his Ph.D., Robert Bruce Merrifield moved to New York City to join the Rockefeller Institute for Medical Research. There, he worked under biochemist Dr. D.W. Woolley. Together, they worked on peptide growth factors and dinucleotide growth factor that later led way to the need for peptide synthesis. A number of studies into the two brought the need for peptide synthesis and subsequently the need for solid phase peptide synthesis in 1959.
In 1963, Robert Bruce Merrifield came out with what he called solid phase peptide synthesis in his classic paper published in the Journal of the American Chemical Society. The publication has since become the fifth most cited in the journal's history. He further did some research in his Dr. Merrifield laboratory and came out with the first synthesized bradykinin, angiotensin, desamino-oxytocin and insulin in the 1960s.
Understanding the benefit of a mechanized and automated peptide synthesis process, he designed the first prototype of an automated peptide synthesizer in 1965. In the mid-1960s, as a result of work at his laboratory, peptide bradykinin, protein angiotensin, desamino-oxytocin, and hormone insulin were synthesized. The first synthesis of enzyme ribonuclease A was revealed by him and his colleague Bernd Gutte in 1969. This discovery gained significance as it demonstrated how the primary structure of a protein determines its tertiary structure.
In 1969, he and his colleague Bernd Gutte announced the first synthesis of the enzyme, ribonuclease A. This work proved the chemical nature of enzymes. In 1969, he also started working as an editor of the journal 'International Journal of Peptide and Protein Research' (later renamed Journal of Peptide Research).
Merrifield's innovative method, developed during the 1950s and '60s, grew from his idea that the key to the synthesis of polypeptides was the anchoring of the first amino acid to an insoluble solid. Other amino acids could then be joined, one by one, to the fixed terminus. At the end of the sequence of steps, the completed chain could be easily detached from the solid. The process, which can be carried out by a machine, proved highly efficient and of great significance for research on such substances as hormones and enzymes, as well as in the commercial manufacture of such drugs as insulin and such substances as interferon. Merrifield's autobiography, Life During a Golden Age of Peptide Chemistry, was published in 1993.
In 1984, Merrifield was made the John D. Rockefeller Jr Professor at the Rockefeller University. During the last years of his career he also an adjunct professor at the Oregon Institute of Science and Medicine.
In 1993, Merrifield published his autobiography, "Life during a Golden Age of Peptide Chemistry." He received the Association of Biomolecular Resource Facilities Award for outstanding contributions to Biomolecular Technologies in 1998. The achievement of synthesizing ribonuclease A (with Bernd Gutte) was all the more significant in that it demonstrated that the linear sequence of amino acids joined in peptide bonds determined directly the tertiary structure of a peptide or protein. I.e. that information coded in one dimension can directly determine the three-dimensional structure of a molecule.
Awards and Honor
Robert Bruce Merrifield received several awards and honors for his work including Lasker  Award for Basic Medical Research, 1969and the American Chemical Society Award for Creative Work in Synthetic Organic Chemistry, 1972. Others include Nichols Medal, 1973, the Instrument Specialties Company Award of the University of Nebraska, 1977, and the 2nd Alan E. Pierce Award of the American Peptide Symposium, 1979.
Robert Bruce Merrifield won the 1984 Nobel Prize in Chemistry "for his development of the methodology for chemical synthesis on a solid matrix".
Merrifield also received several honorary degrees from institutions like the Yale University, University of Colorado and Colgate University among several others.
Death and Legacy
After a long illness Robert Bruce Merrifield died on May 14, 2006, at the age of 84 in his home in Cresskill, New Jersey. He is survived by his wife, children, and 16 grandchildren.
Merrifield was a biochemist who was noted for his contribution related to the synthesis of proteins and peptides from amino acids. He was known to have pioneered the 'Solid-phase peptide synthesis' methodology along with presenting the initial automated prototype for peptide synthesis. His studies made a direct impact on the progress of pharmacology, medicine, and biochemistry thereby enabling the detailed understanding of the structure and functions of antibodies, hormones, and enzymes.
Information Source: