Biography of Eugène Delacroix
Eugène Delacroix – French Romantic artist.
Name: Ferdinand Victor Eugène Delacroix
Date of Birth: 26 April 1798
Place of Birth: Charenton-Saint-Maurice, Île-de-France, France
Date of Death: 13 August 1863 (aged 65)
Place of Death: Paris, France
Occupation: Artist
Father: Charles-François Delacroix
Mother: Victoire Oeben
Early Life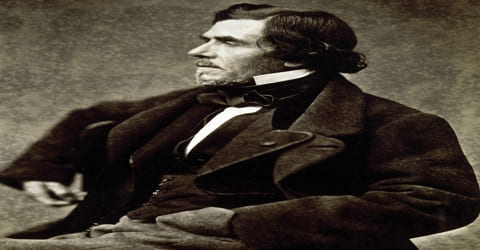 Eugène Delacroix, the greatest French Romantic painter, whose use of color was influential in the development of both Impressionist and Post-Impressionist painting, was born on 26 April 1798 at Charenton-Saint-Maurice in Île-de-France, near Paris. He received his artistic training in Paris and became known as a leading figure of the French Romantic era of the 19th century. Inspired by history, literature and exotic locales, Delacroix painted such famous works as "Liberty Leading the People" and "The Death of Sardanapalus."
As a painter and muralist, Delacroix's use of expressive brushstrokes and his study of the optical effects of color profoundly shaped the work of the Impressionists, while his passion for the exotic inspired the artists of the Symbolist movement. A fine lithographer, Delacroix illustrated various works of William Shakespeare, the Scottish author Walter Scott and the German author Johann Wolfgang von Goethe.
Through many of his masterpieces, he had effectively illustrated various historical and contemporary events. Delacroix was inspired by the works of Michelangelo and Peter Paul Rubens and their influence was clearly visible in his works. While he traveled across Europe and certain places in North Africa, Morocco had a special influence on him which had an obvious illustration in his works. Though some critics were vexed by his choice of illustrating violent subjects, display of intense passion and use of vivid colors, he successfully garnered positive reviews from many others.
In contrast to the Neoclassical perfectionism of his chief rival Ingres, Delacroix took for his inspiration the art of Rubens and painters of the Venetian Renaissance, with an attendant emphasis on color and movement rather than clarity of outline and carefully modelled form. Friend and spiritual heir to Théodore Géricault, Delacroix was also inspired by Lord Byron, with whom he shared a strong identification with the "forces of the sublime", of nature in often violent action.
In his successful long career, he received umpteen numbers of commissions on a continual basis from the French Government. Delacroix is considered a genius both by the modern day artists and critics and continues to remain an inspiration for his contribution to the world of art.
However, Delacroix was given to neither sentimentality nor bombast, and his Romanticism was that of an individualist. In the words of Baudelaire, "Delacroix was passionately in love with passion, but coldly determined to express passion as clearly as possible." Together with Ingres, Delacroix is considered one of the last old Masters of painting, and one of the few who was ever photographed.
Childhood, Family and Educational Life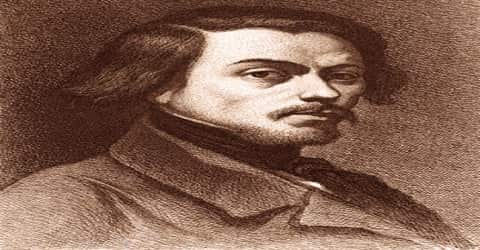 Eugène Delacroix, in full Ferdinand-Eugène-Victor Delacroix, was born at Charenton-Saint-Maurice on April 26, 1798, in Île-de-France, in the family of Charles-François Delacroix and Victoire Oeben though certain reasons point out that his biological father was Talleyrand, a family friend.
His father died when he was 7 years old, and his mother passed away when he was 16. Delacroix attended the Lycée Louis-le-Grand in Paris but left school to begin his artistic studies. Sponsored by a helpful and well-connected uncle, he joined the studio of the painter Pierre-Narcisse Guérin. An early church commission, The Virgin of the Harvest (1819), displays a Raphael-esque influence, but another such commission, The Virgin of the Sacred Heart (1821), evidences a freer interpretation. It precedes the influence of the more colorful and rich style of the Flemish Baroque painter Peter Paul Rubens, and fellow French artist Théodore Géricault, whose works marked an introduction to Romanticism in art.
In 1816, Delacroix enrolled at the École des Beaux-Arts. Delacroix also made many visits to the Louvre, where he admired the paintings of such Old Masters as Titian and Rubens. The impact of Géricault's The Raft of the Medusa was profound and stimulated Delacroix to produce his first major painting, The Barque of Dante, which was accepted by the Paris Salon in 1822. The work caused a sensation, and was largely derided by the public and officialdom, yet was purchased by the State for the Luxembourg Galleries; the pattern of widespread opposition to his work, countered by vigorous, enlightened support, would continue throughout his life. Two years later he again achieved popular success for his The Massacre at Chios.
Personal Life
Eugène Delacroix used to stay in Paris in a small cottage in Champrosay. He was looked after by his housekeeper Jeanne-Marie Le Guillou.
Career and Works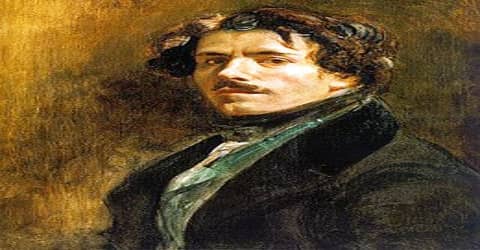 Many of Delacroix's early paintings had religious subjects. However, the first work he exhibited at the prestigious Paris Salon, "Dante and Virgil in Hell" (1822), took its inspiration from literature. As early as 1822 he received the backing of Adolphe Thiers, the statesman, and historian, who, as interior minister in the 1830s, put Delacroix in charge of architectural decorations.
A child of his century, Delacroix was affected by the Romanticism of the painter Théodore Géricault and of friends such as the English painter Richard Parkes Bonington, the Polish-born composer and pianist Frédéric Chopin, and the French writer George Sand. He did not, however, take part in the battles of the Romantic movement waged by Victor Hugo, Hector Berlioz, and others.
Many of his paintings of the 1820s reflect recent historical events including the Greek War of Independence and its atrocities. Two such paintings are 'The Massacre at Chios' produced in 1824 and the 'Greece on the Ruins of Missolonghi' produced in 1826. Impact of extreme emotion, conflicts and violence were profound in his works that varied on different subjects including history and literature and were marked with the use of bold colors and vivid brushstrokes.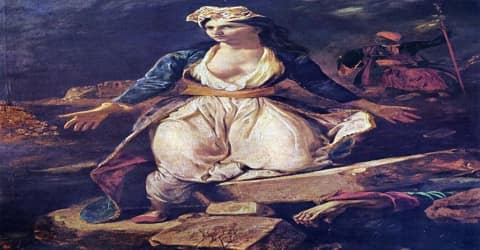 "Greece on the Ruins of Missolonghi" (1826)
Delacroix produced a second painting in support of the Greeks in their war for independence, this time referring to the capture of Missolonghi by Turkish forces in 1825. With a restraint of palette appropriate to the allegory, Greece Expiring on the Ruins of Missolonghi displays a woman in Greek costume with her breast bared, arms half-raised in an imploring gesture before the horrible scene: the suicide of the Greeks, who chose to kill themselves and destroy their city rather than surrender to the Turks. A hand is seen at the bottom, the body having been crushed by rubble. The painting serves as a monument to the people of Missolonghi and to the idea of freedom against tyrannical rule. This event interested Delacroix not only for his sympathies with the Greeks but also because the poet Byron, whom Delacroix greatly admired, had died there.
Even at this early stage of his career, Delacroix was fortunate enough to find buyers for his work. He was hailed as a central figure in the Romantic era of French art, along with Théodore Géricault and Antoine-Jean Gros. Like these other painters, he portrayed subjects fraught with extreme emotion, dramatic conflicts, and violence. Often inspired by history, literature, and music, he worked with bold colors and free brushwork.
Delacroix was fascinated by the English landscape paintings and in 1825 he traveled England and came across many eminent artists including Joseph Mallord William Turner, Richard Parkes Bonington, and Thomas Lawrence. He studied the techniques of such English painters and developed his skills during this time. During this time he also produced numerous romantic arts of varied themes.
A trip to England in 1825 included visits to Thomas Lawrence and Richard Parkes Bonington, and the color and handling of English painting provided an impetus for his only full-length portrait, the elegant Portrait of Louis-Auguste Schwiter (1826–30). At roughly the same time, Delacroix was creating romantic works of numerous themes, many of which would continue to interest him for over thirty years. By 1825, he was producing lithographs illustrating Shakespeare, and soon thereafter lithographs and paintings from Goethe's Faust. Paintings such as The Combat of the Giaour and Hassan (1826), and Woman with Parrot (1827), introduced subjects of violence and sensuality which would prove to be recurrent.
One such prominent work of Delacroix was 'Death of Sardanapalus' inspired from a play by Byron, created between 1827 and 1828. Display of intense emotion and tragedy and use of vivid colors featuring exotic costumes dominated the painting. It was not exhibited for many years and was later tagged by many critics as gruesome imagination combining lust and death. He also delved into creating lithographs from the tragic play of Johann Wolfgang von Goethe, 'Faust' and from Shakespeare.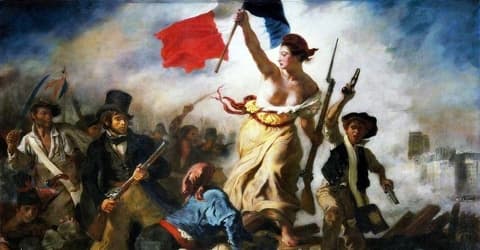 "Liberty Leading the People" (1830)
Between 1827 and 1832, Delacroix produced masterpieces in quick succession. Chief among them is The Death of Sardanapalus (1827), a violent and voluptuous Byronic subject in which women, slaves, animals, jewels, and rich fabrics are combined in a sensuous but somewhat incoherent scene. One of his finest paintings on historical subjects, The Execution of the Doge Marino Faliero (1826–27), dates from this period as do two works on medieval history, The Battle of Nancy (1831) and Battle of Poitiers (1830). He also painted the typically Byronic subject of Combat Between the Giaour and the Pasha (1827). Like Géricault, Delacroix explored the newly invented medium of lithography and made a set of 17 lithographs (1827) illustrating a French edition of Johann Wolfgang von Goethe's Faust.
A variety of Romantic interests were again synthesized in The Murder of the Bishop of Liège (1829). It also borrowed from a literary source, this time Scott, and depicts a scene from the Middle Ages, that of the murder of Louis de Bourbon, Bishop of Liège amidst an orgy sponsored by his captor, William de la Marck. Set in an immense vaulted interior which Delacroix based on sketches of the Palais de Justice in Rouen and Westminster Hall, the drama plays out in chiaroscuro, organized around a brilliantly lit stretch of a tablecloth. In 1855, a critic described the painting's vibrant handling as "Less finished than a painting, more finished than a sketch, The Murder of the Bishop of Liège was left by the painter at that supreme moment when one more stroke of the brush would have ruined everything".
In 1830 Delacroix painted Liberty Leading the People to commemorate the July Revolution that had just brought Louis-Philippe to the French throne. This large canvas mixes allegory with contemporary realism in a highly successful and monumental manner and is still perhaps the most popular of all Delacroix's paintings. The relatively subdued manner of Liberty Leading the People also reflects a change in Delacroix's style, which became somewhat more quiet while still retaining elements of animation and grandeur. Through this painting, he seemed to convey the spirit of freedom, fraternity, and equality that prevailed among the people of Paris during the revolution. The painting that was bought by the government of France in 1831 brought out a change in his style with a quieter tone. This painting was also removed from public view until Louis Napoleon, the newly elected President displayed it.
Following the Revolution of 1848 that saw the end of the reign of King Louis Philippe, Delacroix' painting, Liberty Leading the People, was finally put on display by the newly elected President, Louis Napoleon (Napoleon III). It is exhibited in the Louvre museum in Paris; although from December 2012 until 2014 it was on exhibit at Louvre-Lens in Lens, Pas-de-Calais.
The boy holding a pistol aloft on the right is sometimes thought to be an inspiration for the Gavroche character in Victor Hugo's 1862 novel, Les Misérables.
In 1832, Delacroix traveled North Africa in Morocco and Algeria. Basically, on a diplomatic mission, he had the opportunity to have an insider's look of the locals which mesmerized him. He was introduced to a culture that differed vastly from French life. The lifestyle, culture, dress sense and interests of the people and their women fascinated him that changed his work of art. He extensively used Moroccan subjects and themes in his art for the rest of his life.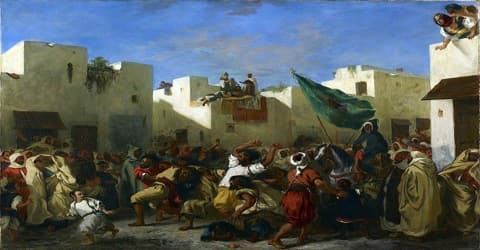 Fanatics of Tangier (1838)
After traveling to Morocco in 1832, Delacroix returned to Paris with new ideas for his art. Paintings such as "The Women of Algiers in Their Apartment" (1834) and "Moroccan Chieftain Receiving Tribute" (1837) defined his Romantic interest in exotic subjects and faraway lands. He also continued to paint scenes borrowed from the work of his favorite authors, including Lord Byron and Shakespeare, and he was commissioned to paint several rooms at the Palais Bourbon and the Palace of Versailles. The other recapitulations of his North African experiences include Fanatics of Tangier (1838) and Jewish Wedding (1839). He continued to paint Arab subjects almost to the end of his life.
Pablo Picasso, who was fascinated by Eugène Delacroix's use of color, examined and produced several studies of Delacroix's 1834 painting 'Women of Algiers in their apartment'.
While in Tangier, Delacroix made many sketches of the people and the city, subjects to which he would return until the end of his life. Animals the embodiment of romantic passion were incorporated into paintings such as Arab Horses Fighting in a Stable (1860), The Lion Hunt (of which there exist many versions, painted between 1856 and 1861), and Arab Saddling his Horse (1855).
Starting from 1833 Delacroix worked on a larger scale after receiving several commissions to paint murals on walls and ceilings of public buildings in Paris. His works include Salon du Roi in the Chambre des Députés, Palais Bourbon (1833 – 1837), Library at the Palais du Luxembourg and Library at the Palais Bourbon (1838 to approx. 1848), Church of St. Denis du Saint Sacrement (1843) and ceiling of 'Galerie d'Apollon' of the Louvre (1848-1850) among others. His painting 'Medea about to Kill Her Children' inspired from Greek mythology became a sensation. The painting which was exhibited in Salon in 1838 was later purchased by the State and sent to the Lille Musée des Beaux-Arts.
His first commission, in 1833–36, was to paint a group of murals for the Salon du Roi at the Palais-Bourbon. He was subsequently commissioned to decorate the ceiling of the Library of the Palais-Bourbon (1838–47), the Library of the Palais du Luxembourg (1840–47), the ceiling of the Galerie d'Apollon at the Louvre (1850), the Salon de la Paix at the Hotel de Ville (1849–53; burned in 1871), and the Chapel of the Holy Angels in the Church of Saint-Sulpice (1849–61). His murals represent the last great effort of this kind in the tradition of the Baroque ceiling painters.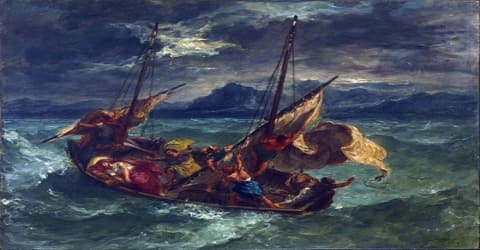 (Christ on the Sea of Galilee, 1854)
In 1843 Delacroix decorated the Church of St. Denis du Saint Sacrement with a large Pietà, and from 1848 to 1850 he painted the ceiling in the Galerie d'Apollon of the Louvre. From 1857 to 1861 he worked on frescoes for the Chapelle des Anges at the Church of St. Sulpice in Paris. They included "The Battle of Jacob with the Angel", "Saint Michael Slaying the Dragon", and "The Expulsion of Heliodorus from the Temple". These commissions offered him the opportunity to compose on a large scale in an architectural setting, much as had those masters he admired, Paolo Veronese, Tintoretto, and Rubens.
From the 1840s onward, Delacroix spent more time in the countryside outside Paris. He enjoyed friendships with other well-known cultural figures such as the composer Frédéric Chopin and the author George Sand. In addition to his literary subjects, he produced flower still lifes and multiple paintings titled "The Lion Hunt."
Delacroix drew inspiration from many sources over his careers, such as the literary works of William Shakespeare and Lord Byron, or the artistry of Michelangelo. But from beginning to end of his life, he was in part characterized by a constant need for music, saying in 1855, "nothing can be compared with the emotion caused by music; that it expresses incomparable shades of feeling." He had said while working at Saint Sulpice, that the music put him in a state of "exaltation" which inspired his painting. It was often in music, in the most melancholy renditions of Chopin, or the "pastoral" works of Beethoven that Delacroix was often able to draw the most emotion and inspiration. At one point during his life, Delacroix befriended and made portraits of the composer Chopin; in his journal, Delacroix praised him frequently.
Delacroix was one of the members of the 'Société Nationale des Beaux-Arts'. The society which was chaired by his friend, writer Théophile Gautier and Aimé Millet serving as deputy chairman was formed in 1862. It was composed of several painters and exhibitors. The society arranged for a retrospective exhibition of Delacroix's paintings and lithographs after his death in 1864.
His last major commission was a set of murals for the Church of Saint-Sulpice in Paris. They include "Jacob Wrestling with the Angel," a scene of intense physical combat between two figures in a dark forest. This commission occupied Delacroix throughout the 1850s and into the following decade.
Awards and Honor
Delacroix's pencil drawing Moorish Conversation on a Terrace was discovered as part of the 2012 Nazi loot discovery.
Death and Legacy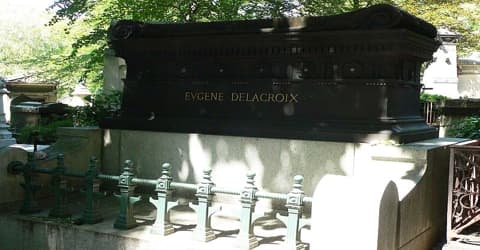 On 13th August 1863, Eugène Delacroix died, with Jenny by his side. He was buried in Père Lachaise Cemetery. His house, formerly situated along the canal of the Marne, is now near the exit of the motorway leading from Paris to central Germany.
Delacroix died in 1863, leaving more than 6,000 drawings, watercolors, and prints to be sold. His Journals are among the most penetrating of artists' notebooks since those kept by Leonardo da Vinci. A selective edition of them in English by Hubert Wellington was published in 1951 as The Journal of Eugène Delacroix.
One of his most famous paintings was "Liberty Leading the People," a response to the July Revolution of 1830, in which a woman holding a French flag leads a band of fighters from all social classes. It was purchased by the French government in 1831.
At the sale of his work in 1864, 9140 works were attributed to Delacroix, including 853 paintings, 1525 pastels and watercolors, 6629 drawings, 109 lithographs, and over 60 sketchbooks. The number and quality of the drawings, whether done for constructive purposes or to capture a spontaneous movement, underscored his explanation, "Colour always occupies me, but drawing preoccupies me."
With Turner, Delacroix was the forerunner of the bold technical innovations that strongly influenced the development of Impressionism and subsequent modernist movements. The uninhibited expression of energy and movement in his works, his fascination with violence, destruction, and the more tragic aspects of life, and the sensuous virtuosity of his coloring have helped make him one of the most fascinating and complex artistic figures of the 19th century.
On occasion, Delacroix painted pure landscapes (The Sea at Dieppe, 1852) and still lifes (Still Life with Lobsters, 1826–27), both of which feature the virtuoso execution of his figure-based works. He is also well known for his Journal, in which he gave eloquent expression to his thoughts on art and contemporary life.
Contemporary Chinese artist Yue Minjun has created his own interpretation of Delacroix's painting Massacre of Chios, which retains the same name. Yue Minjun's painting was itself sold at Sotheby's for nearly $4.1 million in 2007.
Information Source: