Tiger Woods – American Professional Golfer
Full name: Eldrick Tont Woods
Nickname: Tiger
Date of birth: December 30, 1975 (age 41)
Place of birth: Cypress, California
Height: 6 ft 1 in (185 cm)
Weight: 185 lb (84 kg)
Nationality: United States
Residence: Jupiter Island, Florida
Spouse: Elin Nordegren (2004–2010)
Children: Sam Alexis Woods, Charlie Axel Woods
Early Life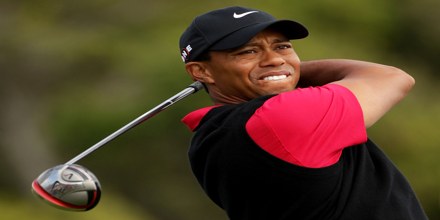 Tiger Woods, byname of Eldrick Woods was born on December 30, 1975, in Cypress, California, U.S. He is an American golfer who enjoyed one of the greatest amateur careers in the history of the game and became the dominant player on the professional circuit in the late 1990s and early 2000s. In 1997 Woods became the first golfer of either African American or Asian descent to win the Masters Tournament, one of the most-prestigious events in the sport. Through the 2000s, Woods was the dominant force in golf, spending 264 weeks from August 1999 to September 2004 and 281 weeks from June 2005 to October 2010 as World Number One.
Woods has broken numerous golf records. He has been World Number One for the most consecutive weeks and for the greatest total number of weeks of any golfer. He has been awarded PGA Player of the Year a record eleven times, the Byron Nelson Award for lowest adjusted scoring average a record eight times, and has the record of leading the money list in ten different seasons. He has won 14 professional major golf championships, the second-highest of any player (Jack Nicklaus leads with 18), and 79 PGA Tour events, second all time behind Sam Snead, who had 82 wins. He has more career major wins and career PGA Tour wins than any other active golfer. He is the youngest player to achieve the career Grand Slam, and the youngest and fastest to win 50 tournaments on tour. Additionally, Woods is only the second golfer (after Nicklaus) to have achieved a career Grand Slam three times. Woods has won 18 World Golf Championships, and won at least one of those events in each of the first 11 years after they began in 1999. Woods and Rory McIlroy are the only golfers to win both The Silver Medal and The Gold Medal at The Open Championship.
Childhood and Educational Life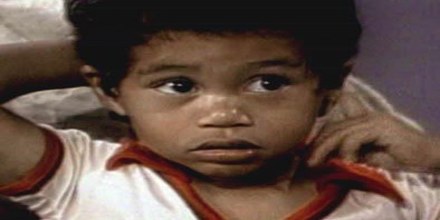 Athlete Eldrick Tont Woods, better known as Tiger Woods, was born on December 30, 1975, in Cypress, California, the only child of an African-American Army officer father and a Thai mother. When Woods was a child, his father began calling him "Tiger" in honor of a fellow soldier and friend who had the same moniker. Around this same time, Woods learned to play golf. His father, Earl, served as his teacher and mentor. Around the age of 8, Woods had become extremely proficient at the game, even showing off his skills on television shows such as Good Morning America.
While attending Western High School in Anaheim at the age of 15, Woods became the youngest-ever U.S. Junior Amateur champion (a record which stood until it was broken by Jim Liu in 2010). He was named 1991's Southern California Amateur Player of the Year (for the second consecutive year) and Golf Digest Junior Amateur Player of the Year. In 1992, he defended his title at the U.S. Junior Amateur Championship, becoming the first multiple winner; competed in his first PGA Tour event, the Nissan Los Angeles Open (he missed the 36-hole cut); and was named Golf Digest Amateur Player of the Year, Golf World Player of the Year, and Golfweek National Amateur of the Year.
Woods graduated from Western High School in 1994 at age 18, and was voted "Most Likely to Succeed" among the graduating class. He had starred for the high school's golf team under coach Don Crosby.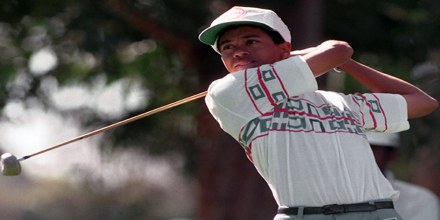 Woods was recruited very heavily by college golf powers and chose Stanford University, the 1994 NCAA Division I champions. He enrolled at Stanford in the fall of 1994 under a golf scholarship and won his first collegiate event, the 40th Annual William H. Tucker Invitational, that September. He selected a major in economics, and was nicknamed "Urkel" by college teammate Notah Begay III. In 1995, he successfully defended his U.S. Amateur title at the Newport Country Club in Rhode Island and was voted Pac-10 Player of the Year, NCAA First Team All-American, and Stanford's Male Freshman of the Year (an award that encompasses all sports).
Personal Life
Woods experienced a great personal loss in 2006. His father died in May after battling prostate cancer. Woods remarked on his website at the time, "My dad was my best friend and greatest role model, and I will miss him deeply." Despite his grief, Woods returned to golf and won several events, including the PGA Championship and the British Open.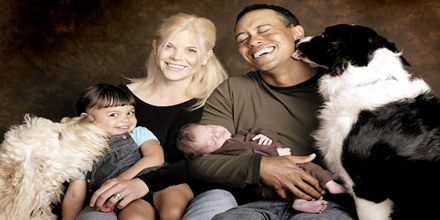 In November 2003, Woods became engaged to Elin Nordegren, a Swedish former model and daughter of former minister of migration Barbro Holmberg and radio journalist Thomas Nordegren. They were introduced during The Open Championship in 2001 by Swedish golfer Jesper Parnevik, who had employed her as an au pair. They married on October 5, 2004, at the Sandy Lane resort in Barbados, and lived at Isleworth, a community in Windermere, a suburb of Orlando, Florida. In 2006, they purchased a $39-million estate in Jupiter Island, Florida, and began constructing a 10,000-square-foot home; Woods moved there in 2010 following the couple's divorce, which was finalized August 23, 2010.
Woods' and Nordegren's first child, a daughter named Sam Alexis Woods, was born in 2007. Woods chose the name because his own father had always called him Sam. Their son, Charlie Axel Woods, was born in 2009.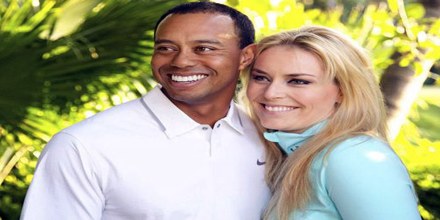 In March 2013, the 37-year-old Woods confirmed to media outlets that he was dating 28-year-old Lindsey Vonn, a professional alpine ski racer from Minnesota and four-time World Cup winner. Vonn was previously married to Thomas Vonn, a former ski racer; the couple separated in 2011, after four years of marriage, and officially divorced in January 2012.
Playing Career
Being a member of the military, Tiger's father had playing privileges at the Navy golf course beside the Joint Forces Training Base in Los Alamitos, which allowed Tiger to play there. Tiger also played at the par 3 Heartwell golf course in Long Beach, as well as some of the municipals in Long Beach.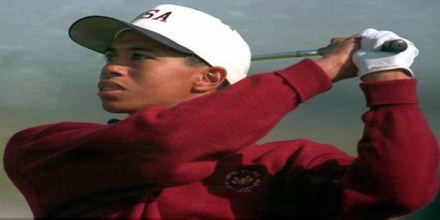 In 1984 at the age of eight, he won the 9–10 boys' event, the youngest age group available, at the Junior World Golf Championships. He first broke 80 at age eight. He went on to win the Junior World Championships six times, including four consecutive wins from 1988 to 1991.
In April of 1997, only eight months into Woods's professional career, he played in the prestigious (important and famous) Masters tournament held at Georgia's Augusta National Golf Club. The Masters title is perhaps the greatest honor in the world of golf. In addition to hefty prize money, first-place winners are awarded a green blazer to symbolize their membership among the top golfers in the world.
When the tournament was over, Woods had made history as the youngest person ever to win the Masters title. His score was an unprecedented 270 strokes. His victory margin set another record—twelve strokes ahead of the runner-up. This feat was enhanced by the fact that Woods was the first man of color ever to win the title. He accepted all of these honors with grace and humility, and gave tribute to the African American golfers who came before him and helped pave the way. He also honored his mother (who is Asian) by reminding the world of his diverse ethnic background; he is African American, Thai, Chinese, Native American, and Caucasian.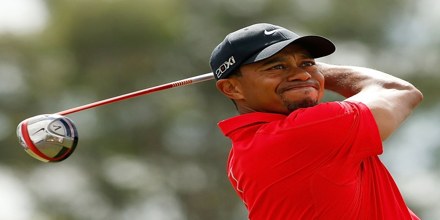 Less than three months passed until July 6, 1997, when Woods won the Western Open, another major golf tournament. Critics credited his amazing success to relentless work and an extraordinary desire to win.
After a lackluster 1998, Woods finished the 1999 season with eight wins, including the PGA Championship, a feat not achieved since 1974.
At the end of 2000, Woods had won nine of the twenty PGA Tour events he entered and had broken the record for lowest scoring average in tour history. He was named the Sports Illustrated Sportsman of the Year, the only athlete to be honored twice, and was ranked by Golf Digest magazine as the twelfth-best golfer of all time.
Woods' victory in the 2001 Masters Tournament made him the first player to hold all four major professional golf titles at the same time, although not in the same calendar year. Following a stellar 2001 and 2002 in which Woods continued to dominate the tour, Woods' career hit a "slump". He did not win a major in 2003 or 2004. In September 2004, Vijay Singh overtook Woods in the Official World Golf Rankings, ending Woods' record streak of 264 weeks at #1.
Woods continued to excel in 2007 and the first part of 2008. He won the U.S. Open on June 16, 2008, in a 19-hole playoff, overcoming sporadic pain in his left knee from arthroscopic surgery performed on April 15. Woods shot a par 4 on the first and only hole of sudden death while American Rocco Mediate, 45, settled for a bogey.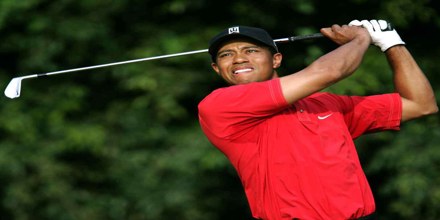 The sudden death duel at Torrey Pines in San Diego followed an 18-hole playoff, which saw the two finish at par. In that playoff, Woods led Mediate by three shots after the first 10 holes. Mediate then birdied three of the next five holes and took the lead. But on the final hole, Woods birdied while Mediate shot par, forcing the sudden death playoff. "I think this is probably the best ever," Woods said. "All things considered, I don't know how I ended up in this position, to be honest with you." The victory gave Woods his third U.S. Open championship and 14th major title, just four behind the all-time record held by Jack Nicklaus.
On February 25, 2009, Woods returned to the green in the Accenture Match Play Championship in Tucson, Arizona. Woods played against South African golfer Tim Clark, losing 4 to 2 in his first tournament since his injury. In June of 2009, Woods competed again in the U.S. Open. After putting a four-over-par in the first round, Woods quickly fell out of contention for the win.
Woods made a return to golf in April of 2010, but the golfer was not quite at the top of his game. His first competition at the 2010 Masters Tournament in Augusta, Georgia, resulted in a fourth place finish. On May 9, after missing the cut for the Quail Hollow Championship, Woods withdrew from the Players Championship during the fourth round due to a neck injury. Woods made his return to golf four weeks later at the Memorial Tournament, but delivered his worst performance in the tournament since 2002. At the 2010 U.S. Open, Woods finished in a tie for fourth place.
Woods's personal life also seemed to be taking a turn for the worse, as news of a possible divorce settlement hit media outlets. The rumored $750 million settlement allegedly included properties in Sweden, and the family home in California for Nordegren, in exchange for his wife's permanent silence on Woods's philandering. Reports also said Nordegren retained full physical custody of their 3-year-old daughter and 1-year-old son, and Woods agreed not to introduce his children to a new woman unless he married her.
After years of turmoil, Woods finally got his golf game clicking again in 2012. He won the Arnold Palmer Invitational in March for his first PGA Tour victory since 2009. That summer, he topped the field at the AT&T National to surpass Nicklaus with career victory No. 74, leaving him eight behind the record of 82 held by Sam Snead.
The 2013 season was a triumphant one for Woods. He won five tournaments, including the Arnold Palmer Invitational, the Farmers Insurance Open and the Players Championship, and was named the PGA Tour Player of the Year for the 11th time.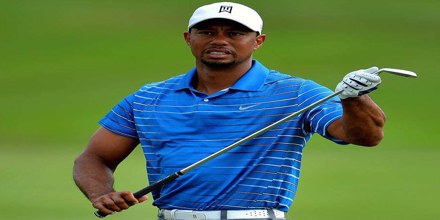 After a slow start to 2014, Woods injured himself during the Honda Classic and was unable to finish, withdrawing after 13 holes of the final round citing back pain. He subsequently competed in the WGC-Cadillac Championship but was visibly in pain during much of the last round. He was forced to skip the Arnold Palmer Invitational at the end of March 2014 and on April 1 announced that he would miss the Masters Tournament for the first time since 1994 after undergoing a microdiscectomy.
Despite his back pain, he played at the 2014 PGA Championship where he failed to make the cut. On August 25, 2014, Woods and his swing coach Sean Foley parted ways. In the four years under Foley, he won eight times but no majors. He had previously won eight majors with Harmon and six with Haney. Woods said there is currently no timetable to find a replacement swing coach.
On February 5, 2015, Woods withdrew from the Farmers Insurance Open after another back injury. Woods stated on his website that it was unrelated to his previous surgery and was taking a break from golf until his back healed. He returned for the 2015 Masters Tournament, finishing in a tie for 17th.
In late March 2016, Woods announced that he would miss the Masters Tournament while recovering from a back surgery (microdiscectomy) that took place on September 16, 2015.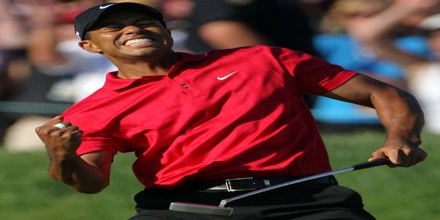 However, he did attend the Masters Champions Dinner on April 5, 2016. For the first time in his career he missed all four majors in one year due to his back. In October 2016, he told Charlie Rose on PBS that he still wanted to break Jack Nicklaus's record of 18 major titles. On December 1 2016, he made his return to competitive golf after 15 months out after back surgery in the Hero World Challenge.
Awards, Achivments and Honours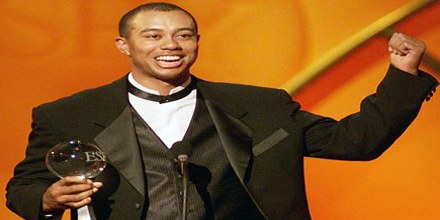 On August 20, 2007, California Governor Arnold Schwarzenegger and his wife Maria Shriver announced that Woods would be inducted into the California Hall of Fame. He was inducted December 5, 2007 at The California Museum for History, Women and the Arts in Sacramento.
He has been named "Athlete of the Decade" by the Associated Press in December 2009. He has been named Associated Press Male Athlete of the Year a record-tying four times, and is the only person to be named Sports Illustrated's Sportsman of the Year more than once.
Since his record-breaking win at the 1997 Masters Tournament, golf's increased popularity is commonly attributed to Woods' presence. He is credited by some sources for dramatically increasing prize money in golf, generating interest in new PGA tournament audiences, and for drawing the largest TV ratings in golf history.
Woods has won 79 official PGA Tour events, including 14 majors. He was 14–1 when going into the final round of a major with at least a share of the lead. He has been heralded as "the greatest closer in history" by multiple golf experts. He owns the lowest career scoring average and the most career earnings of any player in PGA Tour history.
Woods victory at the 2013 Players Championship also marked a win in his 300th PGA Tour start. He also won golf tournaments in his 100th (in 2000) and 200th (in 2006) tour starts.
Woods has spent the most consecutive and cumulative weeks atop the world rankings. He is one of five players (along with Gene Sarazen, Ben Hogan, Gary Player, and Jack Nicklaus) to have won all four professional major championships in his career, known as the Career Grand Slam, and was the youngest to do so. Woods is the only player to have won all four professional major championships in a row, accomplishing the feat in the 2000–2001 seasons.