Biography of Selena
Selena – American singer, songwriter, spokesperson, model, actress, and fashion designer.
Name: Selena Quintanilla-Pérez
Date of Birth: April 16, 1971
Place of Birth: Lake Jackson, Texas, United States
Date of Death: March 31, 1995 (aged 23)
Place of Death: Corpus Christi, Texas, United States
Occupation: Singer, Songwriter, Actress, Spokesperson, Fashion designer, Community philanthropist
Father: Abraham Quintanilla Jr.
Mother: Marcella Samora
Spouse/Ex: Chris Pérez (m. 1992–1995)
Early Life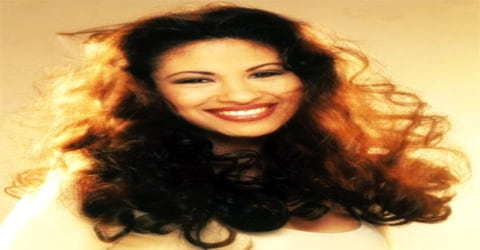 An American singer, songwriter, spokesperson, model, actress, and fashion designer, Selena was born on April 16, 1971, in Lake Jackson, Texas, U.S. An enormously popular singer in Latino communities across North America, her music crossed cultural boundaries to touch the lives of young and old alike. A flamboyant, sexy stage performer sometimes hailed as the Latina Madonna, Selena was nonetheless considered a role model for off-stage she was family oriented, active in anti-drug campaigns and AIDS awareness programs.
Called the "Queen of Tejano music", her contributions to music and fashion made her one of the most celebrated Mexican-American entertainers of the late 20th century. Billboard magazine named her the top-selling Latin artist of the 1990s decade, while her posthumous collaboration with MAC cosmetics became the best-selling celebrity collection in cosmetics history. Media outlets called her the "Tejano Madonna" for her clothing choices. She also ranks among the most influential Latin artists of all time and is credited for catapulting a music genre into the mainstream market.
Selena made her debut as a part of the family band, 'Selena y Los Dinos'. Her 'breakthrough' happened when the album 'Entre a Mi Mundo' peaked at the number 1 position on the U.S. Billboard Regional Mexican Albums chart for 19 weeks straight. Her very popular song 'Como La Flor' became one of the most celebrated signature songs. The album 'Live!' was the first Mexican album by a Tejano artist to win the 1994 Grammy Awards. She was also a spokesperson of Coca-cola and donned sexy outfits with sensuous moves on stage.
In 1994, Selena released Amor Prohibido, which became one of the best-selling Latin albums in the United States. It was critically acclaimed as being responsible for Tejano music's first marketable era as it became one of the most popular Latin music subgenres at the time. Amor Prohibido has been ranked among the most essential Latin recordings of the past 50 years by Billboard magazine while the publication nominated it for its list of the top 100 albums of all-time. It ranked number 19 on NPR's list of the 150 greatest albums made by women.
In the year 1995, she was shot dead by a previous employee of 'Selena Etc. Boutiques'. Her murder created a huge furor in the Latino community. After her death, George W. Bush announced her birthday as 'Selena Day' in Texas.
Childhood, Family and Educational Life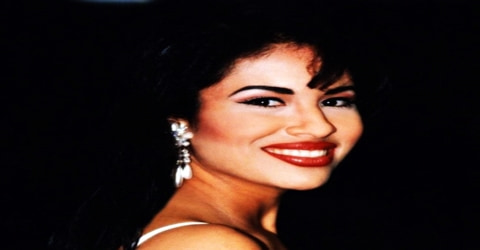 Selena, by name of Selena Quintanilla-Pérez, was born on April 16, 1971, in Lake Jackson, Texas, the U.S. to Marcella Ofelia Quintanilla and Abraham Quintanilla, Jr. Selena was raised as a Jehovah's Witness. Selena was the youngest of the three Quintanilla children.
Her father had led a band in the 1950s and 1960s that played early rock and roll songs mixed with traditional Mexican music. This music, later called Tejano music, would become very popular throughout the southwest United States and Mexico. Abraham eventually gave up his music career to start a family.
Selena attended elementary school in Lake Jackson, a small town about fifty-five miles south of Houston, Texas. When she was six years old, her father saw her talent. He was teaching her older brother, Abraham III, to play guitar when Selena began to sing. The children formed a family band. They practiced almost every day. She was graduated from the American School of Correspondence and got enrolled at the Pacific Western University, at the age of 17.
In 1984, Selena recorded her first LP record which was the name of the band. The compositions belonged to the Tejano music which was a male-dominated genre. In 1987, she was discovered by the founder of the 'Tejano Music Awards', Rick Trevi. Selena had already recorded 5 more LP records like 'Alpha' (1986) and 'And the Winner is..' (1987) by 1988.
Personal Life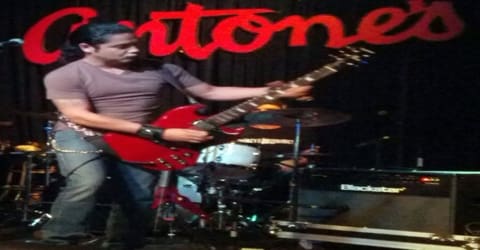 (Chris Perez – Selena's husband)
Selena was in a relationship with Chris Pérez, which was disapproved by her father. So, on April 2, 1992, they eloped and got married. The couple was married for 3 years until Selena's death. Within hours of their marriage, the media announced the couple's elopement. Selena's family tried to find her; Quintanilla, Jr. did not take the news well and alienated himself for some time. Selena and Pérez moved into an apartment in Corpus Christi.
In interviews, Quintanilla, Jr. expressed how he feared Pérez could be a machista (Spanish for a male chauvinist), who would force Selena to end her career and music goals, a move that prevented Quintanilla, Jr. to accept Pérez as being suitable for Selena at the time. Quintanilla, Jr. later approached Pérez, apologized, accepted the marriage, and took Pérez back into the band.
Career and Works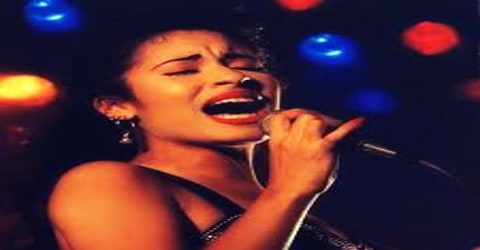 In 1980 Selena's father opened a restaurant. The family band, called 'Selena y Los Dinos', would play there on weekends and at weddings and parties. Her father began to write original Spanish-language songs for the band to perform. Since Selena's first language was English, she had to learn the words to the Spanish-language songs syllable by syllable. They had many local fans, but the family restaurant failed and closed down. Her father moved the family to his hometown of Corpus Christi, Texas, to start over again. Traveling all over the state, the band continued to perform their music. The concert touring paid off when the band opened for a popular Tejano act called Mazz. At age eleven, Selena took the stage by storm and the crowd loved her.
In 1983, Selena made her recording debut after appearing on the popular radio show of L.A. deejay Johnnie Canales. While Selena grew up understanding Spanish, English was her first language. Her first records were recorded in Spanish, and she sang the words phonetically. After her music began to catch on, she began learning Spanish formally and by the time of her death, she was fluent in the language. Selena took some time out from touring to record music. For Corpus Christi's Freddie label, Selena recorded Mis Primeras Grabaciones in 1984. Freddie was one of the oldest and most established Spanish-language record companies in Texas. The album and its only single, "Ya Se Va," did not sell well. Switching to Cara and Manny record labels, Selena's albums did not sell much better. Living in a van, the band continued to tour by opening for larger Tejano acts in the southwest United States. For larger and larger audiences, the band learned to play many different styles of music. They played rhythm-and-blues-based music in larger cities. They played more traditional Tejano music in small Texas towns.
In 1987, she was named Female Vocalist of the Year and Performer of the Year at the Tejano Music Awards. She would win this award again for the next seven years. Her popularity increased every year. Her father was often told by promoters that Selena would never be successful because she was a woman in a genre historically dominated by men. By 1988, Selena had released five more LP records; Alpha (1986), Munequito de Trapo (1987), And the Winner is… (1987), Preciosa (1988), and Dulce Amor (1988).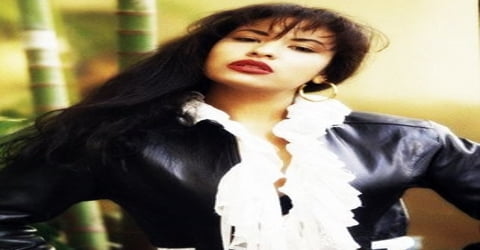 On October 17, 1989, Selena released her debut album, 'Selena'. The album was recorded at AMEN studios in Texas and produced by EMI Latin Records. The song 'Sukiyaki' and the album debuted on the US Billboard Regional Mexican Albums chart. The same year, she became a spokesperson for Coca-Cola. The first two jingles that she sang were composed by her brother Quintanilla III and Chris Pérez, the new guitarist of the band.
Her brother A.B., became Selena's principal record producer and songwriter for most of her musical career, though did not write the tracks "Sukiyaki", "Contigo Quiero Estar", and "No Te Vayas". "Sukiyaki" was originally recorded in Japanese in the 1960s by Kyu Sakamoto; Selena used a translation into Spanish of an English version of the song by Janice Marie Johnson. Selena peaked at number seven on the US Billboard Regional Mexican Albums chart, becoming Selena's first recording to debut on a national music chart. The album performed better than other recordings from other contemporaneous female Tejano singers.
In 1990, Selena released her second studio album, 'Ven Conmigo'. One of its singles 'Baila Esta Cumbia' became one of Selena's most popular songs. The latter, a Tejano cumbia song, became one of Selena's most successful single. Its popularity grew in Mexico, where a compilation album bearing the single's name was released there, which was certified platinum by the Asociación Mexicana de Productores de Fonogramas y Videogramas (AMPROFON), denoting sales of 150,000 units. In the same year, Coca-Cola wanted Selena to become one of their spokespeople in Texas. The jingle used in her first two commercials for the company was composed by A.B. and Chris Pérez the latter of whom had joined Selena y Los Dinos several months earlier as the band's new guitarist.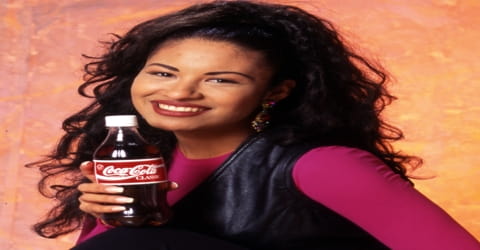 In 1991 the title track of the latter became the first Tejano record to go gold. Selena also released two more albums, including one of cumbia music, Baila Esta Cumbia that year. Selena married Los Dinos' lead guitarist Chris Perez in April of 1992. Other group members included her brother, Abraham Quintanilla, III, who played bass and penned many of her songs, and her sister Suzette, the drummer. She won her first Grammy in 1993 for Best Mexican American Performance for her album Selena 'Live!'. By this time, she had started appearing in cameo roles in telenovelas like 'Dos Mujeres, Un Camino'. That same year, she released an album of love songs, Quiero, and she also opened 'Selena Etc', a clothing manufacturing business.
At the 1994 Tejano Music Awards, 'Live!' won Album of the Year, while at the 1994 Lo Nuestro Awards, it was nominated for Regional Mexican Album of the Year. 'Live!' was certified gold by the RIAA for shipments of 500,000 copies, while in Mexico it sold 250,000 units.
In 1994, Selena made her feature-film debut in Don Juan DeMarco, in which she played a singer. Later that year, she and her band embarked upon a tour of New York, L.A., Argentina, and Puerto Rico. 'Amor Prohibido' was released in 1994; the record's title track won a Grammy and went gold. In 1995, she began preparing to make her breakthrough into the American pop mainstream. In 2017, NPR ranked 'Amor Prohibido' at number 19 on their list of the 150 greatest albums made by women. 'Amor Prohibido' is one of the best-selling Latin Albums in the US.
Selena was often compared with other English-language artists such as Madonna, Janet Jackson, and Mariah Carey. She was eager to make an album in her first language so that she could have the same kind of success that these artists had. In December 1993 Selena was moved to a record company that made mostly English-language records. She began recording English-language songs for a new album and continued performing.
Selena recorded a duet titled "Donde Quiera Que Estés" with the Barrio Boyzz, which was released on their album of the same name in 1994. The song reached number one on the Top Latin Songs chart, which enabled Selena to tour in New York City, Argentina, Puerto Rico, the Dominican Republic, and Central America, where she was not well known. In late 1994, EMI chairman Charles Koppelman decided Selena had achieved her goals in the Spanish-speaking market. He wanted to promote her as an English-language solo pop artist. Selena continued touring while EMI began preparing the crossover album, engaging Grammy Award-winning composers. By the time Selena performed to a record-breaking, sold out concert at the Houston Astrodome in February 1995, work had already begun on her crossover album. In 1995, she made a cameo appearance in Don Juan DeMarco, which starred Marlon Brando, Johnny Depp, and Faye Dunaway.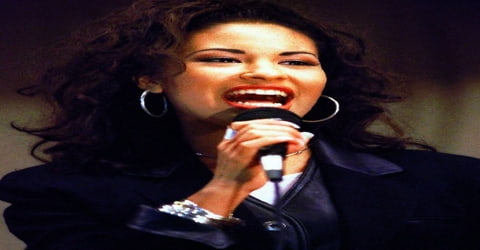 Selena had been active in her support for the 'Congressional Hispanic Caucus', the victims of Hurricane Andrew. She performed for free at fundraising concerts for organizations like 'D.A.R.E', 'Dep Corporation', 'Teach the Children festival'. She recorded pro-education videos like 'My Music' and 'Selena Agrees'. Selena always reached out to victims in abusive relationships and homeless people.
Awards and Honor
In 1994, the singer Selena won the 'Regional Mexican Female Artist' award and the title of the 'Female Vocalist of the Year' for her debut album 'Selena'. The same year, Selena Quintanilla won the Grammy Award for 'Live!' which was titled the Best Mexican/American Album at the 36th Grammy Awards.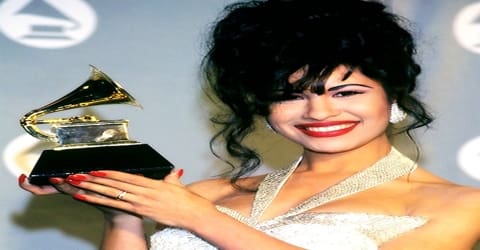 'Amor Prohibido' won Record of the Year at the 1995 Tejano Music Awards and Regional/Mexican Album of the Year at the 1995 Lo Nuestro Awards.
Selena also won a host of 'Billboard Latin Music Awards' for tracks like 'Tú Sólo Tú' and albums like 'Selena' and 'Amor Prohibido'.
In 1995, Selena was included into the 'Billboard Latin Music Hall of Fame', the Hard Rock Cafe's Hall of Fame and the South Texas Music Hall of Fame.
'Orange County Register'ranks her fifth in the "100 most influential Latin musicians of the 20th century".
Death and Legacy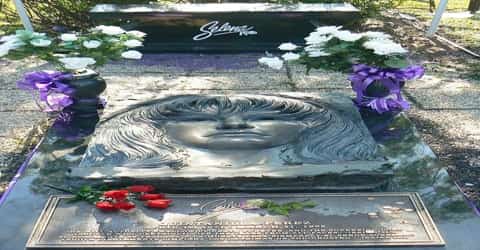 In the spring of the year 1995 Selena was working on her first English-language album, when she went to a motel room in Corpus Christi, TX, to fire 34-year-old Yolanda Saldivar, the woman who the president of Selena's fan club and the manager of her boutiques was about to be fired for embezzling money worth $60,000.
On March 31, 1995, she shot Selena, in an act of supposed vengeance. The bullet hit her right lower shoulder. Selena didn't die right away and managed to stagger into the lobby where she named Saldivar as the killer. An hour later, Selena died in a local hospital of blood loss and cardiac arrest. She was buried at the Seaside Memorial Park in Texas.
Saldivar was convicted for the murder of Selena in November 1995 and sentenced to at least 30 years in prison.
A special service was held in the Los Angeles Coliseum where she was to give a concert. Less than a month later, Texas governor George W. Bush declared April 16, "Selena Day," in her honor. 'Dreaming of You', her final album, was released posthumously in the early summer. It became the first Tejano album to reach number one in America and was double platinum by the end of the year.
All her albums were commercially successful. 'Ven Conmigo' was qualified platinum by the (AMPROFON), denoting sales of 150,000 units. 'Entre a Mi Mundo' became the first Tejano album by a female artist to sell over 300,000 copies while 'Amor Prohibido' became the second Tejano album to sell 500,000 copies. Her 1993 album 'Live!' was given the Album of the Year title by the 'Billboard Latin Music Awards'. Her posthumous album 'Dreaming of You' (1995) created a record by selling 175,000 copies on its day of release.
In 1997, Warner Bros. released Selena, a film about her life and career, which starred Jennifer Lopez as Selena and Lupe Ontiveros as Saldívar. As of 2015, Selena has sold over 65 million albums worldwide, making her the best-selling female artist in Latin music history.
Information Source: