Kaká – Football Player
Full name: Ricardo Izecson dos Santos Leite
Date of birth: 22 April 1982 (age 34)
Place of birth: Gama, Federal District, Brazil
Height: 1.86 m (6 ft 1 in)
Playing position: Attacking midfielder
Spouse: Caroline Celico (m. 2005–2015)
Children: Luca Celico Leite, Isabella Celico Leite
Early Life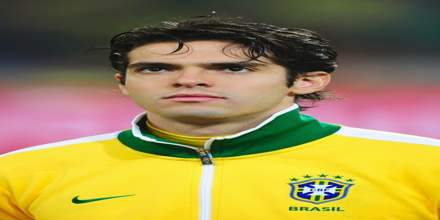 Kaká, by name of Ricardo Izecson dos Santos Leite was born on April 22, 1982, Brasília, Brazil He is a Brazilian football (soccer) player who was named the World Player of the Year by Fédération Internationale de Football Association (FIFA) in 2007.
Kaká owed his nickname to his younger brother Rodrigo, who as a child could not pronounce Ricardo and could manage only "Caca."
He made his professional debut with São Paulo's senior team. He aided his team in taking home the Torneio Rio-Sao Paulo title in 2001. In 2002 his team also took home the World Cup title. In 2003, the midfielder left his home country for a new team and a new contract in Milan, Italy. In 2009, Milan handed Kaká over to the Real Madrid club.
A top-level player soccer player throughout his youth, Kaká began his move toward the professional ranks at the age of 15, when he signed to the São Paulo youth club. His bright career was brought to a halt only three years later, when a swimming pool accident fractured a vertebrae in his neck. The incident could have paralyzed the athlete, but Kaká fully healed. Crediting God for his miraculous recovery, the budding star began leading an actively Christian life, engaging in daily prayer; tithing a portion of his income to the church.
In 2003 he joined Italian club Milan for a fee of €8.5 million. While at Milan, Kaká won a Serie A title and the UEFA Champions League, and in 2007 he received the FIFA World Player of the Year and Ballon d'Or awards.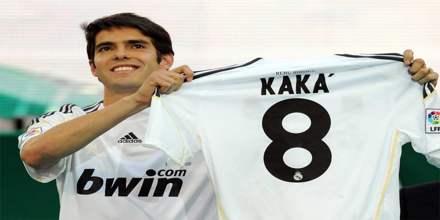 After his success with Milan, Kaká joined Real Madrid for a transfer fee of €65 million. At the time, this was the second highest transfer fee (in euros) ever, behind only the €75 million fee for Zinedine Zidane. After four seasons in Spain, he returned to Milan for a season in 2013, scoring his 100th goal for the club. At the end of the 2013–14 season, he joined MLS expansion club Orlando City, but initially returned to his former Brazilian club São Paulo FC on loan. In 2015, he scored on his MLS debut for Orlando City; he was later included in the roster for the 2015 MLS All-Star Game, where he was named Most Valuable Player.
At international level, Kaká made his debut for the Brazil national team in 2002, and was selected for their victorious World Cup squad that year, as well as the 2006 and 2010 tournaments. He was also a member of Brazil's 2005 and 2009 FIFA Confederations Cup-winning squads, winning the Golden Ball Award in the 2009 edition, as the tournament's best player.
Kaká was the first sportsperson to amass 10 million followers on Twitter.
Personal Life
Kaka was Born Ricardo Izecson dos Santos Leite on April 22, 1982, in Brasilia, the capital city of Brazil, to Bosco Izecson Pereira Leite (a civil engineer) and Simone dos Santos (an elementary school teacher). He had a financially secure upbringing that allowed him to focus on both school and football at the same time. His younger brother Rodrigo (best known as Digão) and cousin Eduardo Delani are also professional footballers. Digão called him "Caca" due to his inability to pronounce "Ricardo" when they were young; it eventually evolved into Kaká. The word has no specific Portuguese translation.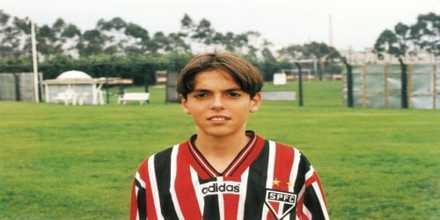 At the age of 18, Kaká suffered a career-threatening and possibly paralysis-inducing spinal fracture as a result of a swimming pool accident, but remarkably made a full recovery. He attributes his recovery to God and has since tithed his income to his church.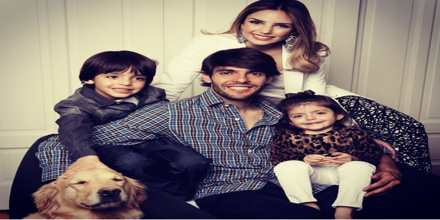 Kaká married his childhood sweetheart Caroline Celico on 23 December 2005 at a Rebirth in Christ church in São Paulo. The couple have two children: son Luca Celico Leite (born 10 June 2008) and daughter Isabella (born 23 April 2011). In 2015, Kaká and Celico announced their divorce via social media.
Kaká appeared on the cover of the Italian edition of EA Sports' FIFA video game FIFA 07, alongside compatriot and global coverstar Ronaldinho; he was also featured on the cover of some regional editions of FIFA 11, FIFA 12, and FIFA 16.
Since November 2004, Kaká has served as an Ambassador Against Hunger for the United Nations' World Food Programme, the youngest to do so at the time of his appointment.
Playing Career
In 2003, Kaká became a Milan player for modest 8.5 million euros. In his first season Kaká scored 10 goals, played 30 matches and won gold medals of Serie A and Coppa Italia. His main position is midfielder; he is a connecting link between defence and attack. His task is to get a pass from defenders and pass it to forwards. He performs this task just perfect. In 2005, he was among Top 10 nominees for Ballon d'Or and finished 9th which is not a bad result for a novice player. In 2007, thanks to successful displays in Serie A and UEFA Champions League Kaká was awarded not only 'the UEFA Club Footballer of the Year' but 'the FIFA World Player of the Year' and got Ballon d'Or and Diamond Ball trophies.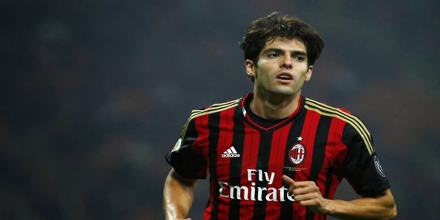 For much of his time in Milan, rumors circulated that he may leave for another team. In January 2009, talks heated up between Milan and Manchester City about a proposed $145 million transfer that would see Kaká move north to England. Negotiations eventually came undone, but not the rumors about the player's departure. Five months later, the Milan team – a club that was deeply in debt – handed Kaká over to the Real Madrid club in Spain for a $78 million, six-year contract. "Now the soap opera is over," Kaká told reporters.
On 3 June 2009, Football Italia reported that newly elected Real Madrid president Florentino Pérez had offered Milan a €68.5 million deal for Kaká, two days after the player had left for international duty with Brazil.
On 8 June, Milan and Real Madrid confirmed Kaká's move to the Santiago Bernabéu Stadium on a six-year deal.
Kaká was unveiled as a Real Madrid player on 30 June 2009, and he made his unofficial debut on 7 August 2009 in a 5–1 friendly victory against Toronto FC.
On 5 August 2010, Real Madrid announced that Kaká had undergone a successful surgery on a long-standing left knee injury and would face up to four months on the sidelines.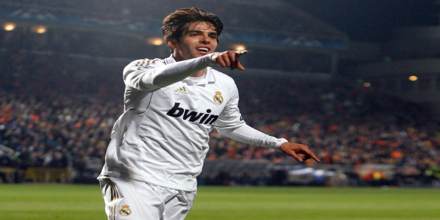 In March 2011, Kaká suffered from Iliotibial band syndrome, which kept him sidelined for a few weeks. After returning from injury, he appeared in a convincing win over Valencia, scoring two goals. At the end of his second season with the club, Real Madrid and Kaká had won the Copa del Rey, although they finished as runners-up in both La Liga and in the Supercopa de España to rivals Barcelona.
On 27 September 2011, Kaká experienced one of his best matches as a Real Madrid player during a 3–0 victory over Ajax in the Champions League, as he scored one goal, provided one assist and participated in one of the best team build-ups of the matchday: a counterattacking move involving Mesut Özil, Cristiano Ronaldo and Karim Benzema. Kaká was later chosen the best player of the Champions League Matchday.
On 29 August 2013, Kaká expressed his desire to leave Real Madrid, having scored 29 goals and provided 32 assists in 120 appearances in all competitions over four seasons at the club. He said goodbye to Real Madrid and its fans in an open letter on Twitter.
In the summer 2014 the 32-year old Kaka signed a contract with an American side Orlando City, who were to join the top flight MLS in 2015. Before that, Kaka was loaned to his former club Sao Paulo.
In the squad of his national team Kaká took part not only in the Olympics in Beijing but at FIFA World Cups in Germany and South Africa. He played one of the key roles in midfield and was one of the main players of the Brazil national team.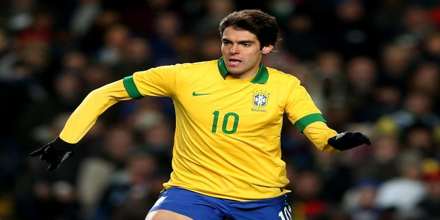 He was part of Brazil's 2002 FIFA World Cup-winning squad in Korea/Japan, but played only 25 minutes, all of which were in the first round match against Costa Rica.
In 2003, Kaká was the captain for the 2003 CONCACAF Gold Cup, where Brazil, competing with their under-23 team, finished as runner-up to Mexico. He scored three goals during the tournament. He was included in Brazil's squad for 2005 FIFA Confederations Cup in Germany.
Regarded as one of the best players of his generation, Kaká has been described on the FIFA website as having the "capacity to glide almost effortlessly past opponents, provide defence-splitting passes and score consistently from distance."
Honours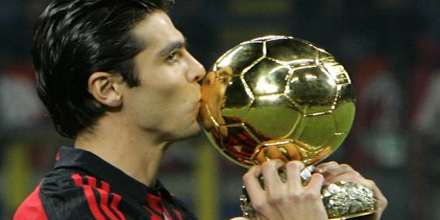 Club
São Paulo
Torneio Rio-São Paulo: 2001
Milan
Serie A: 2003–04
Supercoppa Italiana: 2004
UEFA Champions League: 2006–07
UEFA Super Cup: 2007
FIFA Club World Cup: 2007
Real Madrid
La Liga: 2011–12
Copa del Rey: 2010–11
Supercopa de España: 2012
Country
Brazil
FIFA World Cup: 2002
FIFA Confederations Cup: 2005, 2009
Superclásico de las Américas: 2014
Individual
Revista Placar Bola de Ouro: 2002
Campeonato Brasileiro Bola de Prata (best player by position): 2002
CONCACAF Gold Cup Best XI: 2003
Serie A Foreign Footballer of the Year: 2004, 2006, 2007
Serie A Footballer of the Year: 2004, 2007
UEFA Champions League Top Assist Provider: 2004–05, 2011–12
UEFA Club Midfielder of the Year: 2004–05
UEFA Champions League Bronze Top Scorer: 2005–06
UEFA Team of the Year: 2006, 2007, 2009
FIFPro World XI: 2006, 2007, 2008
Pallone d'Argento: 2006–07
UEFA Champions League Top Scorer: 2006–07
UEFA Club Forward of the Year: 2006–07
UEFA Club Footballer of the Year: 2006–07
FIFPro World Player of the Year: 2007
Ballon d'Or: 2007
FIFA World Player of the Year: 2007
World Soccer Player of the Year: 2007
IFFHS World's Best Playmaker: 2007
IAAF Latin Sportsman of the Year: 2007
Onze d'Or: 2007
FIFA Club World Cup Golden Ball: 2007
FIFA Club World Cup Most Valuable Player of the Final: 2007
Time 100: 2008, 2009
Maracanã Hall of Fame: 2008
Samba d'Or: 2008
Marca Leyenda: 2009
FIFA Confederations Cup Golden Ball: 2009
FIFA Confederations Cup Best XI: 2009
FIFA World Cup Top Assist Provider: 2010
C. Milan Hall of Fame: 2010
MLS All-Star: 2015, 2016
MLS All-Star MVP: 2015
UEFA Ultimate Team of the Year (substitute): 2015