Biography of Marilyn Monroe
Marilyn Monroe – American actress, model, and singer.
Name: Marilyn Monroe
Other Name: Norma Jeane Mortenson
Date of Birth: June 1, 1926
Place of Birth: Los Angeles, California, U.S.
Date of Death: August 5, 1962 (aged 36)
Place of Death: Los Angeles, California, U.S.
Occupation: Actress, model, singer
Father: Martin Edward Mortensen
Mother: Gladys Pearl Baker
Spouse: Arthur Miller (m. 1956–1961), Joe DiMaggio (m. 1954–1955), James Dougherty (m. 1942–1946)
Early Life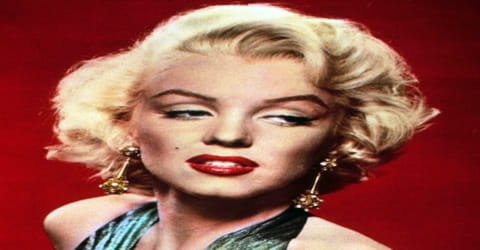 Marilyn Monroe, One of the earliest and most enduring sex symbols of Hollywood, was born and raised in Los Angeles, Monroe spent most of her childhood in foster homes and an orphanage and married at the age of sixteen. Named as Norma Jeane Mortenson at birth, she spent most of her childhood in foster homes as her mother was mentally unstable and incapable of raising her daughter on her own. The little girl endured a harsh childhood marked by abuse and apathy due to which she suffered from several mental problems later in her life.
Famous for playing comic "blonde bombshell" characters, she became one of the most popular sex symbols of the 1950s and was emblematic of the era's attitudes towards sexuality. Although she was a top-billed actress for only a decade, her films grossed $200 million by the time of her unexpected death in 1962 (equivalent to $2 billion in 2017). More than half a century later, she continues to be a major popular culture icon.
As a young woman, she started modeling for The Blue Book Modeling Agency and soon became a very successful model thanks to her striking beauty and grace. Eventually, she moved on to films, initially appearing in minor roles before bagging more substantial ones. She soon developed an image of a sex symbol by appearing without clothes for the 'Playboy' magazine. As an actress, she acted in several successful films like 'The Asphalt Jungle', 'The Seven Year Itch', and 'The Prince and the Showgirl'.
When the studio was still reluctant to change Monroe's contract, she founded a film production company in late 1954; she named it Marilyn Monroe Productions (MMP). She dedicated 1955 to building her company and began studying method acting at the Actors Studio. In late 1955, Fox awarded her a new contract, which gave her more control and a larger salary. Her subsequent roles included a critically acclaimed performance in Bus Stop (1956) and the first independent production of MMP, The Prince and the Showgirl (1957). Monroe won a Golden Globe for Best Actress for her work in Some Like It Hot (1959), a critical and commercial success. Her last completed film was the drama The Misfits (1961).
Monroe's troubled private life received much attention. She struggled with substance abuse, depression, and anxiety. Her second and third marriages, to retired baseball star Joe DiMaggio and playwright Arthur Miller, respectively, were highly publicized and both ended in divorce.
However, the final years of her brief life were marked by mental illnesses and alcoholism. Her life was snuffed out untimely when she was just 36 by an overdose of sleeping pills.
Childhood, Family and Educational Life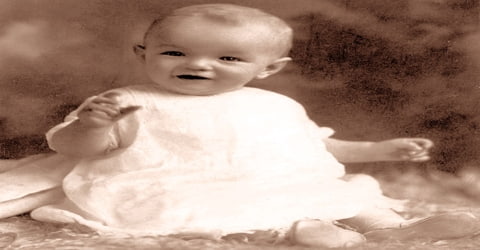 Marilyn Monroe, original name Norma Jeane Mortenson, later called Norma Jeane Baker, Jeane sometimes spelled Jean, was born at the Los Angeles County Hospital on June 1, 1926, California, U.S. Norma Jean Baker, better known as Marilyn Monroe, experienced a disrupted, loveless childhood that included two years at an orphanage.
When she was seven years old, her mother, Gladys (Monroe) Baker Mortenson, was hospitalized after being diagnosed as a paranoid schizophrenic, a severe mental condition. Norma was left in a series of foster homes and the Los Angeles Orphans' Home Society. The constant move from one foster home to another resulted in Norma's "sketchy" educational background.
Monroe's early childhood was stable and happy. Gladys was mentally and financially unprepared for a child, and soon after the birth, she was able to place Monroe with foster parents Albert and Ida Bolender in the rural town of Hawthorne. They raised their foster children according to the principles of evangelical Christianity.
Though her difficult childhood and early failed marriage would make Norma Jean a strong and resilient woman, these experiences would also add to her insecurities and flaws—things that would ultimately shape her into a great tragic figure of the twentieth century.
Personal Life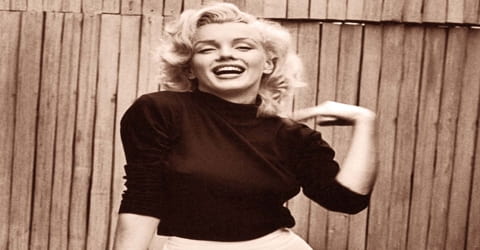 On June 19, 1942, Norma married James Dougherty, but the marriage would all but end when he joined the U.S. Merchant Marines in 1943.
On January 14, 1954, Monroe married Yankee baseball player Joe Di Maggio (1919–1999). But the pressures created by her billing as a screen sex symbol caused the marriage to fall apart, and the couple divorced on October 27, 1954. Her final marriage was to Arthur Miller whom she later divorced.
She was rumored to have high profile affairs with John and Robert Kennedy.
Career and Works
During World War II (1939–45; a war fought between the Axis powers: Japan, Italy, and Germany and the Allies: England, France, the Soviet Union, and the United States), Norma Jean worked at the Radio Plane Company in Van Nuys, California, but she was soon discovered by photographers.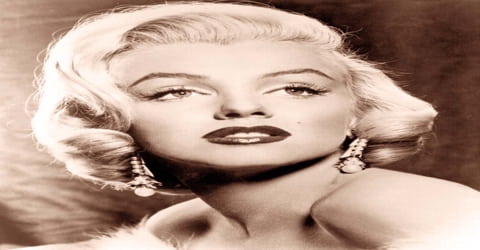 Norma became a popular photographer's model and in 1946 signed a short-term contract with Twentieth Century-Fox, taking as her screen name Marilyn Monroe. After a few brief appearances in movies made by the Fox and Columbia studios, she was again unemployed, and she returned to modeling for photographers. Her nude photograph on a calendar brought her a role in the film Scudda-Hoo! Scudda-Hay! (1948), which was followed by other minor roles.
She started working with The Blue Book Modeling Agency while her husband was away at war. She dyed her dark hair blonde and appeared on several magazine covers. She became a very successful model and got noticed by Ben Lyon, a 20th Century Fox executive who offered her a six-month contract.
As a model, Monroe occasionally used the name Jean Norman. She straightened her curly brunette hair and dyed it blonde to make her more employable. Her figure was deemed more suitable for pin-up than fashion modeling, and she was featured mostly in advertisements and men's magazines. The agency's owner, Emmeline Snively, said that Monroe was one of its most ambitious and hard-working models; by early 1946, she had appeared on 33 magazine covers for publications such as Pageant, U.S. Camera, Laff, and Peek.
Norma adopted the name Marilyn Monroe at the suggestion of Lyon. Her first credited role was as a waitress in the 1947 movie, 'Dangerous Years'. She continued appearing in minor roles over the next few years with no major success.
In the spring of 1948, Columbia Pictures hired her for a small part in Ladies of the Chorus. In 1950 John Huston (1906–1987) cast her in Asphalt Jungle, a tiny part which landed her a role in All About Eve. She was now given a seven-year contract with Twentieth Century Fox and appeared in The Fireball, Let's Make It Legal, Love Nest, and As Young as You Feel.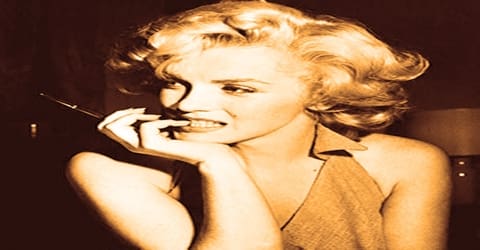 Monroe continued playing minor roles over the next two years. In 1952, two of her unclad photographs appeared on calendars. She defended her decision to pose unclad by stating that she was a struggling actress and needed money to pay the rent. This created an outpouring of sympathy for her and made her popular.
In 1952, after an extensive publicity campaign, Monroe appeared in Don't Bother to Knock, Full House, Clash by Night, We're Not Married, Niagara, and Monkey Business. The magazine Photoplay termed her the "most promising actress," and she was earning top dollars for Twentieth Century Fox.
Even though she had naturally dark hair, she used to dye it blonde and created for herself the image of a blonde bombshell. She portrayed a dumb blonde in the movie 'Gentlemen Prefer Blondes' in 1953 which went on to become a major hit.
She played 'the girl' in the 1955 movie 'The Seven Year Itch' which was based on a three-act play of the same name. It had the iconic image of Marilyn standing on a subway grate as her white dress is blown by a passing train. The film was a big box office hit.
Continually cast as the "dumb blond," Monroe made The Seven Year Itch in 1954. Growing weary of the stereotyping (broad generalizations based on appearance), she broke her contract with Fox and moved to New York City. There she studied at the Actors Studio with Lee and Paula Strasberg. Gloria Steinem (1934–) recalls a conversation with Monroe during that time in which Monroe referred to her own opinion of her abilities compared to a group of notables at the Actors Studio. "I admire all these people so much. I'm just not good enough."
Monroe studied with Lee Strasberg at the Actors' Studio in New York City, and in The Seven Year Itch (1955) and Bus Stop (1956) she began to emerge as a talented comedian. The film was a dramatic piece unlike her other films most of which were comedies or musicals. She sang one song, 'The Old Black Magic' in the movie. In 1956 she married playwright Arthur Miller and briefly retired from moviemaking, although she co-starred with Sir Laurence Olivier in The Prince and the Showgirl (1957). She won critical acclaim for the first time as a serious actress for Some Like It Hot (1959). Her last role, in The Misfits (1961), was written by Miller, whom she had divorced the year before.
In March 1951, Monroe was a presenter at the 23rd Academy Awards, and in September, Collier's became the first national magazine to publish a full-length profile of her. The same year, she had supporting roles in four low-budget films: in the MGM drama Home Town Story, and in three moderately successful comedies for Fox, As Young as You Feel, Love Nest, and Let's Make It Legal. According to Spoto all four films featured her "essentially as a sexy ornament", but she received some praise from critics: Bosley Crowther of The New York Times described her as "superb" in As Young As You Feel and Ezra Goodman of the Los Angeles Daily News called her "one of the brightest up-and-coming actresses" for Love Nest.
To further develop her acting skills, Monroe began taking classes with Michael Chekhov and mime Lotte Goslar. Her popularity with audiences was also growing: she received several thousand letters of fan mail a week and was declared "Miss Cheesecake of 1951" by the army newspaper Stars and Stripes, reflecting the preferences of soldiers in the Korean War. In her private life, Monroe was in a relationship with director Elia Kazan, and also briefly dated several other men, including director Nicholas Ray and actors Yul Brynner and Peter Lawford.
In 1959, she played Sugar "Kane" Kowalczyk, a ukulele player and singer in 'Some Like it Hot' which was both a critical as well as commercial success. The film is considered to be one of the best films ever made in Hollywood.
In 1962 Monroe began filming the comedy Something's Got to Give. However, she was frequently absent from the set because of illnesses, and in May she traveled to New York City to attend a gala where she famously sang "Happy Birthday" to Pres. John F. Kennedy, with whom she was allegedly having an affair. In June Monroe was fired from the film. Although she was later rehired, work never resumed. After several months as a virtual recluse, Monroe died from an overdose of sleeping pills in her Los Angeles home. Her death was ruled a "probable suicide," though conspiracy theories persisted.
Her final film appearance was in 'The Misfits' in 1961 in which she played a recently divorced woman. The film also featured Clark Gable in what was also his final film appearance.
She was much appreciated as a dumb blonde in the movie 'Gentlemen Prefer Blondes' in which she played a pretty gold-digging woman. The pink dress she wears in the film and her rendition of the song 'Diamonds Are a Girl's Best Friend' has since acquired iconic status.
Awards and Honor
Marilyn Monroe won the Golden Globe Henrietta Award: World Film Favorite Female in 1953.
She was presented with the Golden Globe Best Motion Picture Actress in Comedy or Musical for 'Some Like It Hot' in 1960.
Death and Legacy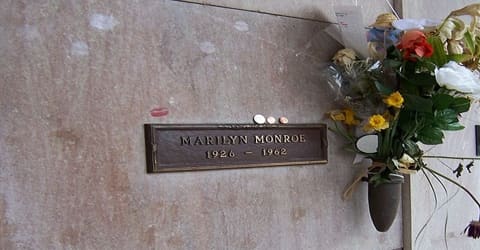 (Monroe's crypt at Westwood Memorial Park in Westwood Village)
During the final months of her life, Monroe lived at 12305 Fifth Helena Drive in the Brentwood neighborhood of Los Angeles. She suffered from several mental illnesses during the last years of her life and was also an alcohol addict. Her housekeeper Eunice Murray was staying overnight at the home on the evening of August 5, 1962. Murray awoke at 3:00 a.m. on August 6 and sensed that something was wrong. Although she saw the light from under Monroe's bedroom door, she was unable to get a response and found the door locked.
She was found dead in her Los Angeles bungalow on August 5, 1962, an empty bottle of sleeping pills by her side. The cause of her death was stated as "probable suicide" by drug overdose.
The exact events surrounding her death are not totally known and have been the subject of many rumors and books over the years. Monroe's image is one of the most lasting and widely seen of any star in the twentieth century and today. As a subject of biographies, more than twenty books have been written about her short and tragic life.
According to The Guide to United States Popular Culture, "as an icon of American popular culture, Monroe's few rivals in popularity include Elvis Presley and Mickey Mouse … no other star has ever inspired such a wide range of emotions – from lust to pity, from envy to remorse." Art historian Gail Levin stated that Monroe may have been "the most photographed person of the 20th century", and The American Film Institute has named her the sixth greatest female screen legend in American film history. The Smithsonian Institution has included her on their list of "100 Most Significant Americans of All Time", and both Variety and VH1 have placed her in the top ten in their rankings of the greatest popular culture icons of the twentieth century.
Information Source: