Biography of Philip Johnson
Philip Johnson – American architect.
Name: Philip Cortelyou Johnson
Date of Birth: July 8, 1906
Place of Birth: Cleveland, Ohio, United States
Date of Death: January 25, 2005 (aged 98)
Place of Death: New Canaan, Connecticut, United States
Occupation: Architect
Father: Homer Hosea Johnson
Mother: Louisa Osborn Pope
Early Life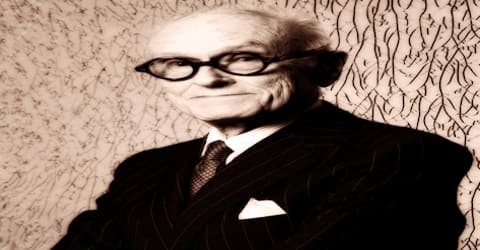 An American architect and critic known both for his promotion of the International Style and, later, for his role in defining the postmodernist architecture, Philip Johnson were born in Cleveland, Ohio, the U.S. on 8th July 1906, the son of a Cleveland lawyer, Homer Hosea Johnson, and the former Louisa Osborn Pope. Johnson is best known for his works of Modern architecture, including the Glass House in New Canaan, Connecticut, and his works of postmodern architecture, particularly 550 Madison Avenue which was designed for AT&T, and 190 South La Salle Street in Chicago.
Johnson's zeal for architecture was such that he made its advocacy his lifelong aim; he did so through his works, writings, and words. Though not the father of modern architecture, he certainly was its best progeny. He took architecture to literally new heights and was generously rewarded both in work and popularity. He collaborated with some of the world's best architects, namely, Mies van der Rohe and John Burgee. His clients included some of the wealthiest New Yorkers who hired him to design their houses. The best one among his creations, the Glass House, he kept for himself. His estate boasted of numerous architectural essays that were part of his signature design. Many of the world's most famous structures such as the "Sony Building", "Momentum Place", "IDS Center", "National Center for Performing Arts" [Mumbai], and "Crystal Cathedral" bear his signature. Called "the best openly-gay architect in America", he was involved with gallerist David Whitney for over 45 years. His fusion of art, minimalism, and functional aesthetics made him a kingmaker who brought architecture out of the shadows and thrust it upon the world, which has never looked the same since.
Johnson was a prominent advocate of the International style and played a vital role in defining postmodernist architecture. He was a proud recipient of the prestigious Pritzker Architecture Prize in 1979. Some of his famous and iconic works include the Amon Carter Museum of Western Art and the New York State Theater, Lincoln Center. Johnson was also awarded an American Institute of Architects Gold Medal in 1978.
Childhood, Family and Educational Life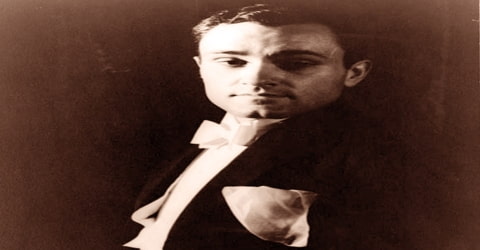 Philip Johnson, in full Philip Cortelyou Johnson, was born on 8th July 1906, in Cleveland, Ohio, U.S. the son of a Cleveland lawyer, Homer Hosea Johnson (1862-1960), and the former Louisa Osborn Pope (1869-1957), a niece of Alfred Atmore Pope and a first cousin of Theodate Pope Riddle. He had an older sister, Jeannette, and a younger sister, Theodate.
Johnson was descendent of the Jansen family of New Amsterdam. One of his ancestors was the Huguenot Jacques Cortelyou, who laid out the first town plan of New Amsterdam. He received his early education from Hackley School, New York. He was a bright student in school, and in 1923, he was admitted to Harvard University without an exam. At Harvard, he studied history and philosophy. Upon completing his studies in 1927, he made a series of trips to Europe, visiting the landmarks of classical and Gothic architecture, and joined Henry-Russell Hitchcock, a prominent architectural historian, who was introducing Americans to the work of Le Corbusier, Walter Gropius, and other modernists.
In 1928, Johnson met German architect Ludwig Mies van der Rohe, who was at the time designing the German Pavilion for the 1929 Barcelona International Exposition. The meeting formed the basis for a lifelong relationship of both collaboration and competition. Johnson joined the architecture department of the Museum of Modern Art in New York, in 1930. Johnson attended Harvard University in the 1940s and studied under the architect Marcel Breuer.
Personal Life
Philip Johnson met Jimmie Daniels, cabaret singer, in 1934. Daniels was Johnson's first serious relationship. The relationship lasted only one year and Johnson would recall later that "a terrible man stole him away who had better sex with him, I gather. But I was naughty. I went to Europe and I would never think of taking Jimmie along."
Struggling with his homosexuality for the most part of his early life, Philip Johnson came out in the open in 1993. Johnson was the life partner of art curator and gallerist David Whitney. They were together for 45 years until his passing. Coming from a WASP (White Anglo-Saxon Protestant) family, he was influenced to be anti-Semitic, anti-black with little respect for women. Later, he disassociated with these views and many of his clients were part of the very demographics he had shunned before.
Johnson's maternal and paternal families were quite wealthy and hence he was destined to inherit an enormous amount of wealth. His father handed down a high proportion of his fortune, in 1924. Johnson's sisters got cash, while he acquired Alcoa stock. His inheritance helped him to live a life of self-indulgence. At this time, he was exploring his sexuality and often took time off from Harvard to discover Europe. It was during these trips that his interest in architecture began to develop.
Career and Works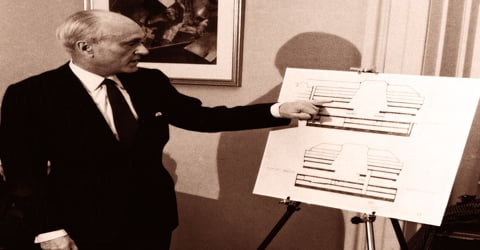 Philip Johnson was appointed the Director of the Department of Architecture at the Museum of Modern Art, New York, in 1932. The same year, he collaborated with Henry-Russell Hitchcock, to compile their highly acclaimed book, "The International Style: Architecture Since 1922", which deals with the post-WWI modern architecture. Johnson returned to Harvard in 1940 and began his education in architecture under the guidance of Marcel Breuer. He was not impressed with Breuer and instead was infatuated with Mies van der Rohe's style and teaching. He met with him on numerous occasions to discuss architecture, which eventually led to a close friendship between the two men. Mies and Philip collaborated on a few projects together, including the famous Seagram Building (pictured below) in New York City.
At the age of 35, Philip Johnson abandoned politics and journalism and enrolled in the Harvard Graduate School of Design, in 1941, where he studied with Marcel Breuer and Walter Gropius. In 1941, Johnson designed and actually built his first building, a house that still exists at 9 Ash Street in Cambridge, Massachusetts. The house, strongly influenced by Mies van der Rohe, has a wall around the lot which merges with the structure. It was used by Johnson to host social events and was eventually submitted as his graduate thesis; he sold the house after the War, and it was eventually purchased by Harvard in 2010 and restored by 2016.
Johnson became the director of "Department of Architecture" at the "Museum of Modern Art" (MoMA) in New York, in 1932. With his architectural mentor, historian and critic Henry-Russell Hitchcock, he toured Europe and both created a show "Modern Architecture: International Exhibition". They then co-wrote "The International Style: Modern Architecture Since 1922". During the Great Depression in 1934, he tried his hand at journalism and politics. He covered the Invasion of Poland (1939) and observed the Nuremberg Rallies in Germany. He returned to the USA and enlisted in the army and participated in World War II.
Philip Johnson's reputation was enlarged by the design of his own residence, known as the Glass House, at New Canaan, Connecticut (1949). The house, which is notable for its severely simple rectilinear structure and its use of large glass panels as walls, owed much to the precise, minimalist aesthetic of Mies but also alluded to the work of 18th- and 19th-century architects. This balance between Miesian influence and historical allusion shifted in the 1950s. Beginning with the Temple Kneses Tifereth Israel in Port Chester, New York (1956), Johnson made fuller use of curvilinear (particularly arch) forms and historical quotation, a pattern continued in the art gallery at Dumbarton Oaks in Washington, D.C. (1963), and the IDS Center, a multibuilding group in Minneapolis (1973). Johnson returned as the director of the architectural department at MoMA and held the post from 1946 to 1954. This position helped him advocate modern architecture to the world.
In 1946, Philip Johnson began working to establish his architectural practice. He built a small house, in the style of Mies, in Saaponack, Long Island in 1946. This was followed by one of his most famous buildings, which he built for himself; the Glass House in New Canaan, Connecticut, completed in 1949, which has become a landmark of modern architecture. The house is a 56 foot by 32-foot glass rectangle, sited at the edge of a crest on Johnson's estate overlooking a pond. The building's sides are glass and charcoal-painted steel; the floor, of brick, is not flush with the ground but sits 10 inches above. The interior is an open space divided by low walnut cabinets; a brick cylinder contains the bathroom and is the only object to reach floor to ceiling. The New York Times described it in 2005 as "one of the 20th century's greatest residential structures."Like all of Johnson's early work, it was inspired by Mies, but it's pure symmetry, dark colors and closeness to the earth marked it as a personal statement; calm and ordered rather than sleek and brittle."
After completing the Glass House, Johnson completed two more houses in New Canaan in a style similar to that of Mies; the Hodgson House (1951) and the Wiley House (1953). In 1953 he also created an architectural sculpture garden for the Museum of Modern Art in New York. He joined Mies van der Rohe as the New York associate architect for the 39-story Seagram Building (1956). Johnson was pivotal in steering the commission towards Mies by working with Phyllis Lambert, the daughter of the CEO of Seagram. The commission resulted in the iconic bronze-and-glass tower on Park Avenue. The building was designed by Mies. The interiors of the Four Seasons and Brasserie restaurants were designed by Johnson.
To absolve his folly for being a Nazi sympathizer, Philip Johnson designed the "Kneses Tifereth" Israel in Port Chester, New York. It is one of USA's oldest Jewish congregations and was built in 1956. Along with Ludwig Mies van der Rohe, Johnson worked on the "Seagram Building" (1958). This 39-story building had him working for Phyllis Lambert, the daughter of the CEO of Seagram. This building marked a shift in his career roadmap and he began receiving more projects. He became an associate member of "National Academy of Design" in 1961 and became a full academician in 1963.
In 1960, Philip Johnson won commissions to coordinate the master plan of Lincoln Center, New York City's new arts center, and to design that complex's New York State Theater, built in a massive and unadorned modernist style. Johnson also undertook his first foreign commission, the modernist art museum in Bielefeld, Germany, with a modernist facade clad in dark red stone, and a modernist colonnade of slender pillars (1968).
Philip Johnson made use of curvilinear forms and historical quotation patterns in an art gallery in Dumbarton Oaks in Washington, D.C. (1963) and continued its use in the "IDS center" (1973) in Minneapolis. He designed the AT&T headquarters, now known as the "Sony Building" in 1984. It was controversial at that time because of its neo-Georgian pediment and provocative modernist aesthetic. He continued his designs well into the 21st century and left his mark on innumerable landmarks and architectural wonders.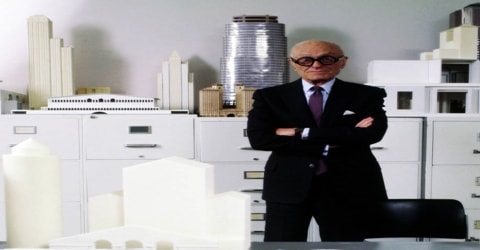 Johnson turned explicitly to the 18th century for his design of the Gerald D. Hines College of Architecture at the University of Houston (1983-85); it was based on unexecuted plans published by the French architect Claude-Nicolas Ledoux. Johnson's partner in these endeavours (1967-91) was the architect John Henry Burgee. In the late 1970s, Johnson applied landscape architecture to two significant projects in Texas. The Fort Worth Water Gardens opened in 1974, creating an urban landscape where visitors experience water in distinct ways. And in 1977 Johnson completed the spiraling white chapel and meditation garden at Thanks-Giving Square in Dallas.
Awards and Honor
In 1978, The AIA" (American Institute of Architects) awarded Philip Johnson the Gold Medal. It is the institute's highest honor and was given to him in recognition of his body of work.
Johnson was the recipient of the first 'Pritzker Architecture Prize' in 1979. It is often referred to as the Nobel Prize of architecture.
The University of Houston conferred on him an honorary doctoral degree in 1987.
Death and Legacy
At the age of 98, Philip Johnson died in his sleep while at his Glass House retreat on 25th January 2005. He was survived by his partner of 45 years, David Whitney, who died later that year at age 66.
The 'Glass House', also known as the 'Johnson House' is a 56×32 ft historic house museum that was one of many of his projects, built on his estate. It is an important project for modern architecture and stands to show the brilliance and postmodern influence of Johnson. Together with Ludwig Mies van der Rohe, Philip Johnson designed the internal aspects of the 'Seagram Building', a skyscraper in Park Avenue. The building is a perfectly functional and aesthetic masterpiece. He also designed 'The Four Seasons' and 'Brasserie' restaurants housed in the building.
Philip Johnson is mentioned in the song "Thru These Architect's Eyes" on the album Outside (1995) by David Bowie. He appears in Nathaniel Kahn's My Architect, a 2003 documentary about Kahn's father, Louis Kahn. Philip Johnson's Glass House, along with Mies van der Rohe's Farnsworth House, was the subject of Sarah Morris's 2010 film Points on a Line. Morris filmed at both sites over the course of several months, among other locations including The Four Seasons Restaurant, the Seagram Building, Mies van der Rohe's controversial 860-880 Lake Shore Drive Apartments, and Chicago's Newberry Library.
Information Source: