Biography of Friedensreich Hundertwasser
Friedensreich Hundertwasser- Austrian-born New Zealand artist and architect.
Name: Friedensreich Hundertwasser
Date of Birth: December 15, 1928
Place of Birth: Vienna, Austria
Date of Death: February 19, 2000 (aged 71)
Place of Death: Auckland, New Zealand
Occupation: Artist, Architect
Father: Ernst Stowasser
Mother: Elsa Stowasser
Spouse/Ex: Herta Leitner (m. 1958-1960), Yuko Ikewada (m. 1962-1966)
Children: Heidi Trimmel
Early Life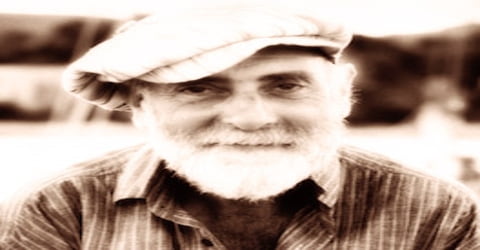 An Austrian-born New Zealand artist and architect, Friedensreich Hundertwasser was born on 15th December 1928 in Vienna, Austria. He was substituted asymmetry, undulating swirls, and labyrinthine spirals for straight vertical and horizontal lines, which he asserted were "the rotten foundation of our doomed civilization." He also worked in the field of environmental protection. Hundertwasser consistently worked with spiral motifs, primitive forms, spectral colors, and repetitive patterns. Although influenced by other Viennese artists, Hundertwasser was never formally affiliated with any "ism."
Hundertwasser's work encompasses colorful paintings, unique sculptures, fascinating edifices, and thought-provoking exhibits. He was born as Friedrich Stowasser in Vienna and developed an early interest in art. He attended the Academy of Fine Arts in Vienna, signing his works as Hundertwasser, which was a choice throughout his career. He entered the field of architecture, and after residing in Austria and France, he lived modestly in his New Zealand home, which he designed to be environmentally responsible, or 'green.' To expand his horizons, he entered the arena of applied art, designing flags and stamps. Politically, he showed nostalgia for the Imperial period of Austria. Hundertwasser favored constitutional monarchy as an ideal government. In his artistic themes were the factors of individualism, a man living in harmony with nature, organic forms, and hatred of squares. His legacy lives on in his art which bears his stamp of color and innovative design.
Childhood, Family and Educational Life
Friedrich Stowasser, better known by his pseudonym Friedensreich Regentag Dunkelbunt Hundertwasser, was born on 15th December 1928, in Vienna, Austria, to Elsa Stowsser, a Jewish woman, and Earnest Stowasser, a technical civil servant and World War I veteran. His father died in 1929. Hundertwasser was baptized in 1937 and supposedly joined the Hitler Youth Corps in 1941.
At the age of seven, Hundertwasser affinity for art was first detected at the Montessori School of Vienna in 1936. Hundertwasser and his mother were forced to leave their home and move in with his aunt and grandmother, in 1938. The Nazi annexation of Austria precipitated their departure. In Nazi-controlled Austria, young Hundertwasser and his mother posed as Christian despite their Jewish heritage.
His maternal relatives were deported and killed in Nazi concentration camps, in 1943. After World War II, Hundertwasser studied for three months at the Academy of Fine Arts in Vienna. He left to go traveling.
Personal Life
In 1958, Friedensreich Hundertwasser married while in Gibraltar, and was subsequently divorced in 1960. After spending a year in Japan in 1962, he married Juuko Ikewada in Venice. They were divorced four years later.
In 1982, Hundertwasser's only child, his daughter Heidi Trimmel, was born.
Friedensreich Hundertwasser bought extensive property in New Zealand in the 1970s, including portions of the Kaurinui valley. His famous Bottle House there exemplified his belief of self-sufficiency, using solar panels, water wheel, water purification plant, and grass roofs.
Career and Works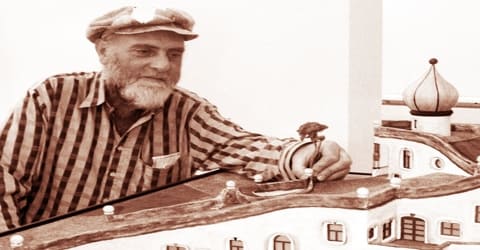 Friedensreich Hundertwasser developed artistic skills early on. After World War II, he spent three months at the Academy of Fine Arts in Vienna. At this time he began to sign his art as Hundertwasser instead of Stowasser. He left to travel using a small set of paints he carried at all times to sketch anything that caught his eye. In Florence, he met the young French painter René Brô for the first time and they became lifelong friends. Hundertwasser's first commercial painting success was in 1952-53 with an exhibition in Vienna.
In 1954 the artist developed a quasi-mystical philosophy of artistic creation and perception called "Transautomatism" which he later developed into a "Grammar of Vision." Hundertwasser's early paintings were heavily influenced by the Vienna Secession tradition of Egon Schiele and Gustav Klimt. His works from 1949 through 1953 also display a close affinity with well-known paintings by Paul Klee. In 1953 the spiral motif first appeared in his work and became the most consistent formal element of his mature style. The artist, who first recognized the spiral while viewing a film called "Imagery of the Insane," defined the motif as a "biological spiral" and "a symbol of life." Throughout his career, Hundertwasser used the six spectral colors almost exclusively. His later work combined these with metallic colors such as gold, silver, bronze, or aluminum. His forms are archaic and primitive and his picture surfaces are often covered by repetitive patterns.
In the early 1950s, Hundertwasser entered the field of architecture. He also worked in the field of applied art, creating flags, stamps, coins, and posters. His most famous flag is his koru flag, as well as several postage stamps for the Austrian Post Office. He also designed stamps for Cape Verde and for the United Nations postal administration in Geneva on the occasion of the 35th anniversary of the Universal Declaration of Human Rights.
Hundertwasser read aloud his manifesto on rejecting straight lines and traditional architectural design, in 1958 at a professional event. From proposing his ideas on architecture in demonstrations or public speeches, he evolved to more strident means of spreading his ideas on the human condition.
In the 1970s, Hundertwasser acquired several properties in the Bay of Islands in New Zealand, which include a total area of approximately 372 ha of the entire "Kaurinui" valley. There he realized his dream of living and working closely connected to nature. Besides other projects, he designed the "Bottle House" there. He could live largely self-sufficient using solar panels, a water wheel, and a biological water purification plant. Also, his first grass roofs experiment took place here.
Hundertwasser lectured, in the nude, regarding what eventually became his famous skins theory, in 1967. The theory maintained that humans have three skins: epidermis, clothing, and house. His skins theory added the social environment, and the planetary skin, in 1972. These last two skins acknowledged influences beyond the individual, a maturing of Hundertwasser's philosophy.
Hundertwasser had very strong political views, shaped by his experiences of the Nazi regime during World War II. He was anti-totalitarian and campaigned against the European Union because he thought it would eradicate regional variation. He was also very aware of environmental issues.
Hundertwasser bought the vast historical garden Giardino Eden including the Palazzo Villa Delle Rose, from Alexandra of Yugoslavia via his Swiss company, in 1979. Hundertwasser visited Washington D.C. in 1980 to support activist Ralph Nader's efforts to oppose nuclear proliferation. Hundertwasser planted trees in Judiciary Square and advocated on behalf of a co-op owner who was fined for designing her own window. Mayor Marion Barry declared November 18 to be Hundertwasser Day.
In the early 1980s, Hundertwasser became an 'architect doctor,' remodeling a factory and grain silo. He implemented growing vegetation on rooftops and uneven floors. Saw the beginning of his last project in Magdeburg, Germany, in 1999; the project was unfinished at the time of his death and was finished years later.
A diverse artist, Hundertwasser also designed a church in 1987 and a day-care center in Frankfurt, Germany (1987). He created postage stamp designs for Austria, Senegal, and the Cape Verde Islands. He also designed relief medallions for the Austrian Mint, environmental posters donated to various environmental groups, and various architectural models. He incorporated bright, contrasting colors, elaborate ornamentation, asymmetrical, organic forms, and natural vegetation in both his artwork and his buildings, notably the Hundertwasserhaus, a residential block in Vienna that opened in 1986. Towards the end of his life, Hundertwasser settled in New Zealand.
Awards and Honor
Friedensreich Hundertwasser received the Sanbra Prize at the 5th São Paulo Biennale, in 1959.
In 1961, he received the Mainichi Prize at the 6th International Art Exhibition in Tokyo.
In 1988, Friedensreich Hundertwasser was awarded the Golden Medal of Honour in Vienna and the Golden Medal of Honour of the Austrian state of Styria. Thanks to his architectural efforts, tourism grew.
In 1998 Hundertwasser was honored with the VDRJ-Prize in Berlin for his unique promotion of Germany as a tourist destination.
Death and Legacy
Friedensreich Hundertwasser died on 19th February 2000, at sea, aboard a cruise ship that departed from Auckland, New Zealand. He was 71.
Hundertwasser has produced many different types of works of art (ranging from paintings, postage stamps, clothes, flags). His work often includes bright colors and natural, organic forms. He seldom uses straight lines and uses lots of spirals He also became interested in architecture and he has designed many houses using irregular forms and bold use of color.
Friedensreich Hundertwasser designed the Koru Flag for New Zealand, in response to sentiments that the current New Zealand flag represents British imperialism, in 1983. The design incorporates his favorite spiral motif, with a black stripe on the left, with a green spiral representing a Maori pattern known as the koru. The corresponding white spiral alludes to the Maori name for New Zealand.
Hundertwasser designed the Kawakawa Hundertwasser Toilet Block. The outside and inside designs are typical, with spirals and reused materials such as glass bricks. His name means 'Peace-Realm Hundred-Water.'
Information Source: