Biography of Kurt Cobain
Kurt Cobain – American singer, songwriter, and musician.
Name: Kurt Donald Cobain
Date of Birth: February 20, 1967
Place of Birth: Aberdeen, Washington, U.S.
Date of Death: April 5, 1994 (aged 27)
Place of Death: Seattle, Washington, U.S.
Occupation: Singer, Songwriter, Guitarist, Visual artist
Father: Donald Leland Cobain
Mother: Wendy Elizabeth (Née Fradenburg)
Spouse/Ex: Courtney Love (m. 1992–1994)
Children: Frances Bean Cobain
Early Life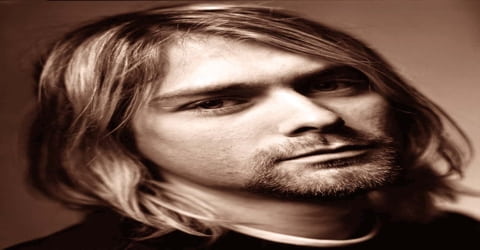 Kurt Cobain, American rock musician who rose to fame as the lead singer, guitarist, and primary songwriter for the seminal grunge band Nirvana, was born at Grays Harbor Hospital in Aberdeen, Washington on February 20, 1967, the son of waitress Wendy Elizabeth (née Fradenburg; born 1948) and automotive mechanic Donald Leland Cobain (born 1946). He was best known as the guitarist and frontman of the rock band Nirvana. Cobain is remembered as one of the most iconic and influential rock musicians in the history of alternative music. As the lead singer and guitarist of Nirvana, Kurt Cobain's musical success began in his twenties and was heightened when he formed the band Nirvana. Hits such as "Smells Like Teen Spirit," "Come as You Are," and "Heart Shaped Box" helped the group achieve international success.
Cobain is known to have displayed artistic traits since early childhood but being a victim of parent's separation, he had a troubled youth. Finding solace in music, he started with playing the guitar and slowly and steadily went deeper into the world of music. Albums such as Bleach, Nevermind, in Utero were some of his very popular ones. Nirvana signing with the Grefen Records came as a major accomplishment in his career. Although he continued to grow exponentially on the professional front his personal life went down the drain due to his severe drug addictions. Plagued with health and family issues, he was a struggling patient of depression and drug addiction throughout his life but his exemplary songwriting skills helped Nirvana sell some over 25 million albums in the U.S. and over 75 million all over the world; thereby making him an iconic personality in the field of rock music.
Kurt Cobain started the grunge band Nirvana in 1988 and made the leap to a major label in 1991, signing with Geffen Records. Cobain also began using heroin around this time. After releasing the highly successful album Nevermind, Nirvana's highly acclaimed album In Utero was released in 1993 and catapulted to the top of the music charts.
During the last years of his life, Cobain struggled with heroin addiction and chronic health problems such as depression. He also struggled with the personal and professional pressures of fame, and his marriage to musician Courtney Love. On April 8, 1994, Cobain was found dead at his home in Seattle by an electrician who had come to install a home security system; it was concluded Cobain died on April 5 at the age of 27 from a self-inflicted shotgun wound to his head. Cobain has been described as a "Generation X icon". He was posthumously inducted into the Rock and Roll Hall of Fame, along with Nirvana bandmates Dave Grohl and Novoselic, in their first year of eligibility in 2014.
In 2003, David Fricke of Rolling Stone ranked him the 12th greatest guitarist of all time. He was ranked 7th by MTV in the "22 Greatest Voices in Music". In 2006, he was placed 20th by Hit Parader on their list of the "100 Greatest Metal Singers of All Time".
Childhood, Family and Educational Life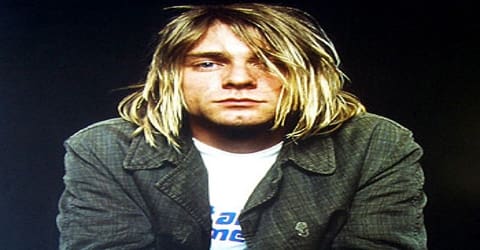 Kurt Cobain, in full Kurt Donald Cobain, was born on February 20, 1967, in Aberdeen, Washington, to Wendy Elizabeth, a waitress and Donald Leland Cobain, an automotive mechanic. Cobain himself believed his family came from County Cork. His younger sister, Kimberly, was born on April 24, 1970.
As a child, he was of a happy go lucky temperament, fascinated by art. His inclination towards art was evident from his drawings of cartoon characters on his room walls such as Donald Duck, the creature from the Black Lagoon. His inspirational source was his grandmother Iris Cobain, an artist by profession.
Cobain's family had a musical background. He was attracted to music from a very early age. By the age of four, he could play the piano and even write simple songs like about visiting a local park. He was touched by artists like the Ramones and Electric Light. He enjoyed listening to songs such as "Motorcycle Song" by Arlo Gutherie, The Beatles, "Hey Jude" and many more.
Seeing his parents separate at the tender age of nine changed his temperament immensely. Cobain became an introvert and at times rebellious, a very different Cobain for everyone. Cobain visited his mother on weekends but stayed with his father. Seeing his mother suffer in the hands of her second husband who was abusive, he became more depressed. His father was not able to keep his promise of not remarrying for long. He remarried bringing two children in the house which resulted in a lot of bitterness in Cobain's attitude towards his father and his new family.
As a teenager, he moved between various relatives' houses, stayed with friends' parents, and occasionally slept under bridges while he began to use drugs and take part in petty vandalism as forms of teenage rebellion. While living with the born-again Christian family of his friend Jesse Reed, he became a devout Christian and regularly attended church services. He later renounced Christianity, engaging in what was described as "anti-God" rants. The song "Lithium" is about his experience while living with the Reed family. Religion remained an important part of his personal life and beliefs.
On his father's insistence, Cobain joined the school's wrestling and baseball team but always shirked performance just to let down his father. He started keeping the company of homosexual boys and people questioned his sexuality to which he defiantly accepted his being gay just to keep away from people. Cobain started staying with his mother again while in the second year of high school. Just when he was about to complete graduation, he left school, as a result, his mother also threw him out of the house.
Personal Life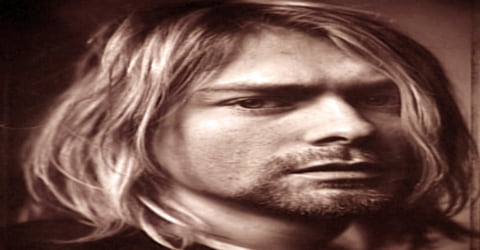 Cobain suffered from chronic bronchitis and a stomach issue throughout his life. Troubled family and health distress took him to drink and drugs. He did his first drug when he was just 13 and by 1990, he had become a severe addict. He was also arrested a couple of times for spray painting buildings and wandering on streets in drunken state.
During his visits to Olympia in 1987, Cobain formed a relationship with Tracy Marander. The couple had a close relationship, but one that was often strained with financial difficulties and Cobain's absence when touring. Marander supported the couple by working at the cafeteria of the Seattle-Tacoma International Airport, often stealing food. During his time with Marander, Cobain spent most of his time sleeping into the late evening, watching television, and concentrating on art projects. Her insistence that he get a job caused arguments that influenced Cobain to write "About a Girl", which was featured on the Nirvana album Bleach. Marander is credited with having taken the cover photo for the album. She did not become aware that Cobain wrote "About a Girl" about her until years after his death.
Cobain later got involved with a rocker, Courtney Love in 1990 whom he met at a show at a nightclub in Oregon, Portland. Although the relationship did not materialize immediately in February 1992, the two got married while Courtney Love was working as a lead singer and guitarist with Hole. Their daughter Frances Bean Cobain was born August 18, 1992. Due to the heroin addiction of the couple, they got involved in legal cases with the authorities and child-welfare agents removed the couple's baby daughter for around four weeks. After months of negotiations, the couple finally got full custody of their daughter.
Soon after his separation from Marander, Cobain began dating Tobi Vail, an influential punk zinester of the riot grrrl band Bikini Kill who embraced the DIY ethos. After meeting Vail, Cobain vomited, as he was so completely overwhelmed with anxiety caused by his infatuation with her. This event inspired the lyric "love you so much it makes me sick," which appears in the song "Aneurysm." While Cobain regarded Vail as his female counterpart, his relationship with her waned; he desired the maternal comfort of a traditional relationship, which Vail regarded as sexist within a countercultural punk rock community. Vail's lovers were described by her friend Alice Wheeler as "fashion accessories." Cobain and Vail spent most of their time together as a couple discussing political and philosophical issues. In 1990, they collaborated on a musical project called Bathtub is Real, in which they both sang and played guitar and drums. They recorded their songs on a four-track tape machine that belonged to Vail's father.
Cobain's relationship with Vail inspired the lyrics of many of the songs on Nevermind. Once, while he was discussing anarchism and punk rock with friend Kathleen Hanna, another member of Bikini Kill, Hanna spray-painted "Kurt Smells Like Teen Spirit" on Cobain's apartment wall. Teen Spirit was the name of a deodorant Vail wore. Cobain, unaware of the deodorant's existence, interpreted the slogan as having a revolutionary meaning, and it inspired the title of the Nirvana song "Smells Like Teen Spirit."
Career and Works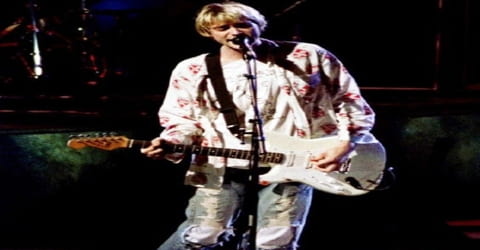 Cobain was musically inclined from an early age, and in the mid-1980s he began to play with members of the local "sludge rock" band the Melvins (who would themselves go on to earn a measure of national fame in the 1990s). In 1985 he created a homemade tape of some songs with the drummer of the Melvins that later caught the attention of local bassist Krist Novoselic. Cobain and Novoselic formed Nirvana in 1987 and thereafter recruited a series of drummers to record demo tapes with them and play small shows throughout the Northwest.
Starting in 1988, Cobain's musical ambitions began moving forward. His band agreed on the name Nirvana and released their first track "Love Buzz" on a small label. Around the same time, Burckhard was replaced by Chad Channing on drums and the band was making headway in Seattle's music scene. In 1989 Nirvana released their first album, Bleach, which failed to make a big impression. What was evident; however, were Cobain's songwriting skills and what would become their hallmark blend of heavy metal and punk. The album had a unique (and soon-to-be signature) sound that mixed the rawness of punk rock with pop hooks, and the group soon became a target of major record labels.
Nirvana as a band was getting famous in Seattle and Cobain also tried writing songs such as a ballad, "About a Girl". The year 1990 brought in more associations for Nirvana with some rock and roll masters while the band toured with the Sonic Youth resulting in further replacement of Dale Crover by Dave Grohl from the band Scream. A major accomplishment was made in 1991 when the Nirvana joined with Geffen Records, following which 'Nevermind' was released.
They toured the U.S. and had their first international concert in Newcastle, England. Their second single was unsuccessful, so they changed record companies. After signing with Geffen Records in 1991, and adding permanent drummer Dave Grohl, they produced their second album, Nevermind, which received rave reviews with the hits "Smells Like Teen Spirit," "Come as You Are," and "Lithium." Their popularity grew after the group made appearances on MTV's Headbanger's Ball and NBC's Saturday Night Live. The success of the band was intimidating to Cobain, who liked the intimate setting of nightclubs; it was the money that guided them to do concerts and shows in the rock arena. It was in the early '90s that Cobain began doing heavy drugs such as morphine and heroin, but in 1992 his personal life brightened as he married Courtney Love in Hawaii, and their union brought a daughter, Frances Bean. With a wife and daughter, Cobain calmed a bit, and the group released Incesticide.
As the band forged on, 1990 became a fateful year for Cobain and the rest of Nirvana. Cobain met rocker Courtney Love at a Portland nightclub in 1990, but their romantic relationship would develop later. Nirvana also got the opportunity to tour with Sonic Youth that year and after various changes, brought in former Scream band member Dave Grohl to replace Channing on drums.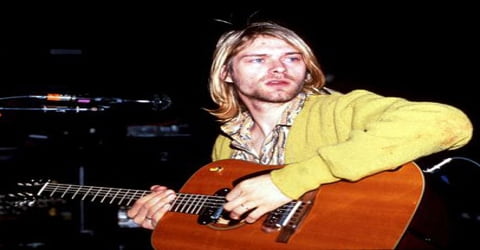 The "Smells Like Teen Spirit" was the single by Nirvana that won them accolades in the music world thereby making Cobain the best songwriter of the generation at the young age of 24 only. Another album entitled, "In Utero" was released in September 1993 and it attained huge success. It is all about his bitter life experiences and struggles. He took another leap in the recording league through his "Radio Friendly Unit Shifter."
In 1992 Cobain married Courtney Love, then the leader of the band Hole and the couple had a daughter that same year. The following year Nirvana released its final studio album, In Utero, in which Cobain railed against his fame. Cobain had long suffered from depression and chronic stomach pain. He treated his issues with drugs: Cobain was a frequent user of heroin in the years after Nirvana's breakthrough, and he took a variety of painkillers in an attempt to numb his constant stomach agony.
In February of 1993, Cobain came out as bisexual on The Advocate, stating, "(I) would have carried on with a bisexual lifestyle (if not for his marriage to Courtney Love.)", and "could definitely be bisexual". He has occasionally said: "was definitely gay in spirit," "thought he was gay," "wanted to find a chicken hawk and sell his ass,". Cobain described himself as being "feminine" in childhood, and often wore dresses and other stereotypically feminine clothing. Some of his song lyrics, as well as phrases he would use to vandalize vehicles and a bank, included "God is gay," "Jesus is gay," "HOMOSEXUAL SEX RULES," and "Everyone is gay." Cobain openly advocated for LGBTQ+ rights and supported local bands with LGBTQ+ members. He reported having felt "different" from the age of seven and was a frequent target of homophobic bullying in his school and hometown. Cobain was interviewed by two gay magazines, OUT and the Advocate.
Things took a turn for the worse in 1993 when Cobain overdosed on heroin. After seeking rehabilitation for a time in a center, he left without completing the program. During this time the band played on. In 1993, the band released In Utero, their last studio-recorded album. Nirvana played an MTV Unplugged concert and a concert in Munich in 1994.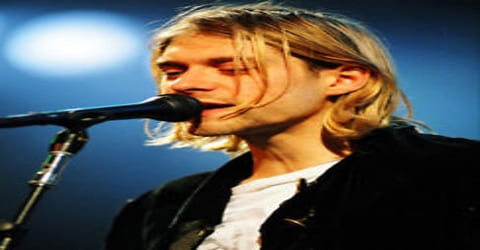 In the fall of 1993, Cobain and the band performed for MTV's Unplugged in New York City and also toured Europe. While in Europe, Cobain took time out to spend with Love and daughter Frances, but while at his hotel in Rome, Italy, he purposely overdosed on drugs and fell into a coma. Love found him, and he was immediately taken to the hospital.   When he returned to the States, Cobain's psychological state worsened. In March 1994 he was hospitalized in Rome after overdosing and slipping into a coma in what was later characterized as a failed suicide attempt.
Nirvana's Unplugged set also included renditions of "The Man Who Sold the World," by British rock musician David Bowie, and the American folk song, "Where Did You Sleep Last Night," as adapted by the American folk musician Lead Belly. Cobain introduced the latter by calling Lead Belly his favorite performer, and in a 1993 interview revealed he had been introduced to him from reading the American author William S. Burroughs. "I remember Burroughs saying in an interview, 'These new rock'n'roll kids should just throw away their guitars and listen to something with real souls, like Leadbelly,'" Cobain said. "I'd never heard about Leadbelly before so I bought a couple of records, and now he turns out to be my absolute favorite of all time in music. I absolutely love it more than any rock'n'roll I ever heard."
Nirvana's acoustic Unplugged set, which was released posthumously as an album in 1994, may have provided a hint of Cobain's future musical direction. The record has drawn comparisons to R.E.M.'s 1992 release, Automatic for the People, and in 1993, Cobain predicted that the next Nirvana album would be "pretty ethereal, acoustic, like R.E.M.'s last album".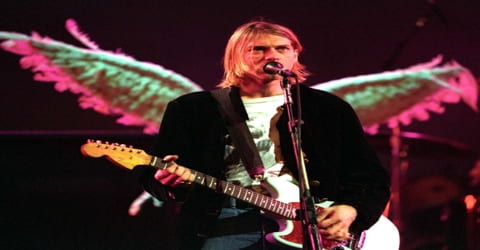 The live albums MTV Unplugged in New York and From the Muddy Banks of the Wishkah appeared in 1994 and 1996, respectively, and in 2002, an eponymous greatest hits album appeared. Two years later, the rarities and outtakes box With the Lights Out saw release and that was the last major archival release until 2015 when Brett Morgen directed the documentary Montage of Heck. The film was accompanied by the release of a soundtrack album, containing home recordings and demos by Cobain; it was the first-ever album to be credited to Cobain alone.
Awards and Honor
Kurt Cobain was ranked as the 12th greatest guitarist of all time by David Fricke of Rolling Stone in 2003. He was ranked seventh in the MTV "22 Greatest Voices in Music" list whereas Hit Parader list of "100 Greatest Metal Singers of All Time" placed him at the 20th rank in 2006.
The Kurt Cobain Memorial Committee put up a sign in Aberdeen, Washington, saying "Come As You Are" in Cobain's honor in 2004.
Post the sell-off Nirvana song catalog, Cobain replaced Elvis Presley for being the highest-earning deceased celebrity; which was again replaced by Elvis in 2007.
Death and Legacy
Following a tour stop at Terminal Eins in Munich, Germany, on March 1, 1994, Cobain was diagnosed with bronchitis and severe laryngitis. He flew to Rome the next day for medical treatment and was joined there by his wife, Courtney Love, on March 3, 1994. On March 18, 1994, Love phoned the Seattle police informing them that Cobain was suicidal and had locked himself in a room with a gun. Police arrived and confiscated several guns and a bottle of pills from Cobain, who insisted that he was not suicidal and had locked himself in the room to hide from Love.
Cobain went to the Exodus Recovery Center in Los Angeles, California on March 30, 1994, for a detox program. The following night he crossed the fence of the rehabilitation center and flew back to Seattle and kept roaming around the city for the next few days. His friends and family members were unaware of his whereabouts. On April 8, his dead body was discovered at his Lake Washington Boulevard home by an electrician. According to coroner's report, he died on April 5, 1994. He was only 27. He placed a shotgun into his mouth and fired, killing himself instantly. He left a lengthy suicide note in which he addressed his many fans as well as his wife and young daughter. While his death was officially ruled as a suicide, conspiracy theories have circulated that Love may have had something to do with his death.
A public vigil was held for Cobain on April 10, 1994, at a park at Seattle Center drawing approximately seven thousand mourners. Prerecorded messages by Novoselic and Love were played at the memorial. Love read portions of Cobain's suicide note to the crowd, crying and chastising Cobain. Near the end of the vigil, Love arrived at the park and distributed some of Cobain's clothing to those who still remained.
Cobain's death marked, in many ways, the end of the brief grunge movement and was a signature event for many music fans of Generation X. He remained an icon of the era after his death and was the subject of a number of posthumous works, including the book Heavier than Heaven: A Biography of Kurt Cobain (2001) by Charles R. Cross and the documentaries Kurt & Courtney (1998) and Kurt Cobain: Montage of Heck (2015).
A final ceremony was arranged for Cobain, by his mother, on May 31, 1999, and was attended by both Love and Tracy Marander. As a Buddhist monk chanted, daughter Frances Bean scattered Cobain's ashes into McLane Creek in Olympia, the city where he "had found his true artistic muse".
Soon after Cobain's death, Nirvana released their Unplugged session, which topped album charts, and two years later, From the Muddy Banks of the Wishkah, a collection of songs that also was a commercial win for the band.
However, legal battles concerning Cobain's unreleased music began brewing between Grohl and Novoselic and Love. In 2002 the three finally found some resolution, resulting in the release of Nirvana, and later, With the Lights Out (2004) and Silver: The Best of the Box (2005).
Cobain was placed into the Rock and Roll Hall of Fame in 2014 with his two bandmates, along with Nirvana bandmates Novoselic and Dave Grohl. A book "Come As You Are: The Story of Nirvana" was published by Azerrad who penned down every detail about Nirvana and its members since the band's inception.
Information Source: