Biography of Caravaggio
Caravaggio – Italian painter.
Name: Michelangelo Merisi da Caravaggio
Date of Birth: 28 September 1571
Place of Birth: Milan, Duchy of Milan, Spanish Empire
Date of Death: 18 July 1610 (aged 38)
Place of Death: Porto Ercole, State of the Presidi, Spanish Empire
Occupation: Painter
Father: Fermo Merisi
Mother: Lucia Aratori
Early Life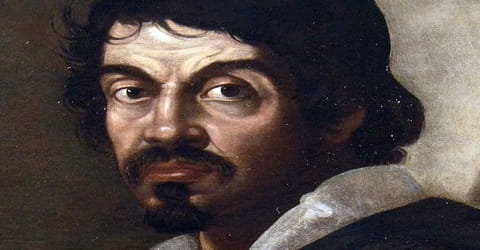 The Italian painter known as Caravaggio, a talented and passionately troubled man, was born on September 29, 1571, Milan or Caravaggio (Italy), where his father, Fermo (Fermo Merixio), was a household administrator and architect-decorator to the Marchese of Caravaggio, a town not far from the city of Bergamo. He was an Italian painter active in Rome, Naples, Malta, and Sicily from the early 1590s to 1610. His paintings combine a realistic observation of the human state, both physical and emotional, with a dramatic use of lighting, which had a formative influence on Baroque painting.
Caravaggio was born in Milan and a plague left him fatherless. Unfortunately, his mother too died after a short period which orphaned him at a very tender age. He probably had an innate interest in painting and owing to this he shifted to Milan and started getting trained under a renowned painter. He then worked with many others painters but finally, realization dawned onto him and he decided to work independently. He created many paintings and even got buyers for those artistic pieces. The trader who bought his paintings introduced his work to Cardinal Francesco del Monte, who liked his paintings to such an extent that he gave Caravaggio shelter as well as entitled him to an allowance.
He made the technique a dominant stylistic element, darkening shadows and transfixing subjects in bright shafts of light. Caravaggio vividly expressed crucial moments and scenes, often featuring violent struggles, torture, and death. He worked rapidly, with live models, preferring to forgo drawings and work directly onto the canvas. His influence on the new Baroque style that emerged from Mannerism was profound. It can be seen directly or indirectly in the work of Peter Paul Rubens, Jusepe de Ribera, Gian Lorenzo Bernini, and Rembrandt, and artists in the following generation heavily under his influence were called the "Caravaggisti" or "Caravagesques", as well as tenebrists or tenebrosi ("shadowists").
A milestone in this painter's career was when he was chosen to decorate a chapel. The paintings he made for the chapel got him into controversy and at the same time earned him popularity. He is credited with making a shift from the spiritual perspective of the painting and taking a more realistic approach to painting. He was a pioneer of the Realism style which replaced the predominant Mannerism style of painting in the then Italy.
Caravaggio's innovations inspired Baroque painting, but the Baroque incorporated the drama of his chiaroscuro without the psychological realism. The style evolved and fashions changed, and Caravaggio fell out of favor. In the 20th century interest in his work revived, and his importance to the development of Western art was reevaluated. The 20th-century art historian André Berne-Joffroy stated, "What begins in the work of Caravaggio is, quite simply, modern painting."
Childhood, Family and Educational Life
"Basket of Fruit", c. 1595–1596, oil on canvas (Caravaggio)
Caravaggio, byname of Michelangelo Merisi, was born on 29th September 1571 to Fermo Merixio and Lucia Aratori, in Milan, Italy. The outbreak of the plague forced his family to move to a place called Caravaggio in 1576. The plague claimed the lives of most of his family members including his father and thereafter, he grew up in Caravaggio.
In 1577, Caravaggio's father, uncle, grandmother, and grandfather died of the plague. By the outbreak's end, one-fifth of the population of northern Italy had succumbed. He was only six years old. To have witnessed the horrors of the bubonic plague: agonizing suffering as the body destroyed itself from within would have been incredibly traumatizing. Family members were beset by fevers, chills, vomiting, and diarrhea. Most hideous would be the buboes, attacking the lymphatic system, and leaving hideous purplish black lumps in the necks, armpits, and groins of the dying and the dead. Such horrific imagery, etched into the mind of a small child, undoubtedly impacted the adult Caravaggio's work.
Caravaggio's mother died in 1584, the same year he began his four-year apprenticeship to the Milanese painter Simone Peterzano, described in the contract of apprenticeship as a pupil of Titian. Caravaggio appears to have stayed in the Milan-Caravaggio area after his apprenticeship ended, but it is possible that he visited Venice and saw the works of Giorgione, whom Federico Zuccari later accused him of imitating, and Titian. He would also have become familiar with the art treasures of Milan, including Leonardo da Vinci's Last Supper, and with the regional Lombard art, a style that valued simplicity and attention to naturalistic detail and was closer to the naturalism of Germany than to the stylised formality and grandeur of Roman Mannerism.
Personal Life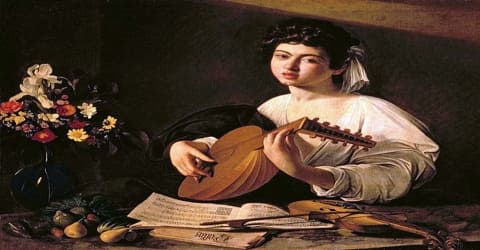 The Lute Player Painting by Caravaggio
Caravaggio never married and had no known children, and Howard Hibbard notes the absence of erotic female figures from the artist's oeuvre: "In his entire career he did not paint a single female nude." On the other hand, the cabinet-pieces from the Del Monte period are replete with "full-lipped, languorous boys … who seem to solicit the onlooker with their offers of fruit, wine, flowers and themselves" suggesting an erotic interest in the male form. At the same time, however, a connection with a certain Lena is mentioned in a 1605 court deposition by Pasqualone, where she is described as "Michelangelo's girl". According to G.B. Passeri, this 'Lena' was Caravaggio's model for the Madonna di Loreto; and according to Catherine Puglisi, 'Lena' may have been the same person as the courtesan Maddalena di Paolo Antognetti, who named Caravaggio as an "intimate friend" by her own testimony in 1604. Caravaggio also probably enjoyed close relationships with other "whores and courtesans" such as Fillide Melandroni, of whom he painted a portrait.
In 1608, Caravaggio again engaged in a conflict with Fra Giovanni Rodomonte Roero, who was a knight in the Order of St. John in Malta, which led him to prison but he was soon released. The following year, Roero got back at him in Naples and attacked him as well as defaced him. This affected the painter deeply and this was visible in his paintings which followed.
Caravaggio's sexuality also received early speculation due to claims about the artist by Honoré Gabriel Riqueti, Comte de Mirabeau. Writing in 1783, Mirabeau contrasted the personal life of Caravaggio directly with the writings of St Paul in the Book of Romans, arguing that "Romans" excessively practice sodomy or homosexuality.
Career and Works
In the late 1580s, Caravaggio traveled to Rome, worked with varied painters and frequently changed his vocation. During the 1590s, he made many paintings which had themes pertaining to daily life and were not in tune with the spiritual themes prevalent during that time. His paintings during that period include 'The Fortune Teller', 'The Cardsharps', 'Boy with a Fruit Basket', 'The Young Bacchus', and 'The Music Party'.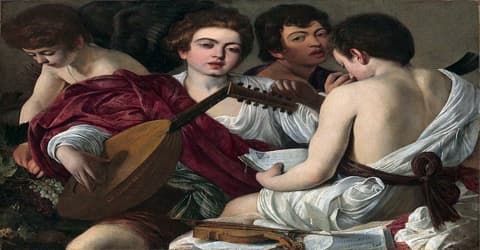 "The Musicians", 1595–1596 by Caravaggio
Following his initial training under Simone Peterzano, in 1592 Caravaggio left Milan for Rome, in flight after "certain quarrels" and the wounding of a police officer. The young artist arrived in Rome "naked and extremely needy … without a fixed address and without provision … short of money." During this period he stayed with the miserly Pandolfo Pucci, known as "monnsignor Insalata". A few months later he was performing hack-work for the highly successful Giuseppe Cesari, Pope Clement VIII's favorite artist, "painting flowers and fruit" in his factory-like workshop.
Getting established within the Roman art community was no easy feat. For a time, Caravaggio worked as an assistant to lesser artists. He painted backgrounds and ran errands for them in order to pay for his living expenses. The competition was fierce with so many aspiring painters living in close quarters, socializing in the same circles, and vying for the same jobs. Caravaggio's temperament made maintaining employment difficult, but he did manage to secure employment with the famous Italian Mannerist painter, Giuseppe Cesari, and his brother Bernardino.
Known works from this period include a small Boy Peeling a Fruit (his earliest known painting), a Boy with a Basket of Fruit, and the Young Sick Bacchus, supposedly a self-portrait done during convalescence from a serious illness that ended his employment with Cesari. All three demonstrate the physical particularity for which Caravaggio was to become renowned: the fruit-basket-boy's produce has been analyzed by a professor of horticulture, who was able to identify individual cultivars right down to "… a large fig leaf with a prominent fungal scorch lesion resembling anthracnose (Glomerella cingulata)."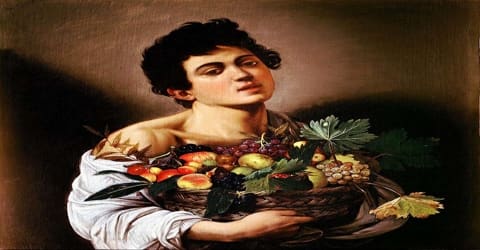 "Boy with a Basket of Fruit" – Caravaggio (1593-94), oil canvas
Caravaggio left Lombardy in 1592. He would never return to the land of his birth. A series of legal documents from the late 1580s and 1590 record the sale, by Caravaggio, of a few small pieces of land that he had inherited from his family. The precise circumstances surrounding his departure from Milan remain unclear, but marginal notes in a manuscript copy of Giulio Mancini's early account of Caravaggio's life suggest that he was involved in some form of a violent incident involving the murder of a policeman. So it seems that he began his career as he would end it, as a man in trouble with the law.
Since the mid-20th century, his violent exploits and volatile character have enhanced his popular appeal as a perceived outsider and rebel against convention. His presumed but unproven homosexual tendencies, which have been inferred both from his paintings and from certain historical documents, have added greater intrigue to his legend. Caravaggio might be described as the perfect Old Master for an age in love with the idea of celebrity and in thrall to the cult of a doomed self-destructive genius. In truth, he was a more subtle, sensitive, and intellectually ambitious artist than the myths that have accumulated around him might suggest.
In and around 1595, Caravaggio created his own paintings and sold them to a trader named Maestro Valentino, and this trader made his paintings come to the notice of Cardinal Francesco del Monte. Soon the cardinal became an admirer of his art and let him stay in his own house. Apart from providing Caravaggio with art supplies, he also granted him some allowance as well. Under the patronage of del Monte, he made several paintings such as 'The Lute Player', 'The Musicians', 'Boy Bitten by a Lizard', and 'Bacchus'.
By 1595, after leaving the employment of the Cesari brothers, Caravaggio was able to make a living from his own work. And one of his favorite models was the beautiful prostitute named Fillide Melandroni who inspired some of his religious works such as Martha and Mary Magdalene (1598) and Judith and Holofernes (1598-99).
In 1596, Caravaggio put on canvas the 'Basket of Fruit' painting which is distinct and lifelike. With his works 'Realism' style of painting took a lead over the 'Mannerism' form of painting.
One of Caravaggio's early realistic paintings which defied spiritual themes was 'Penitent Magdalene'. This was followed by many paintings, based on the same line, like 'Martha and Mary Magdalene', 'Saint Catherine', 'Judith Beheading Holofernes', 'Saint Francis of Assisi in Ecstasy', 'Sacrifice of Isaac' and 'Rest on the Flight into Egypt'.
According to Mancini, at about the start of 1595, after eight months in the Cesari workshop, Caravaggio lodged with another priest: "Monsignor Fatin Petrigiani, who gave him the comfort of a room in which to live." At about that time he met Prospero Orsi, a painter of grotesques, who (according to Bellori) encouraged Caravaggio to strike out on his own and paint directly for the market. Baglione adds that Caravaggio painted a number of self-portraits at that time now presumed lost and "a boy bitten by a lizard emerging from flowers and fruits; you could almost hear the boy scream, and it was all done meticulously." The subject is dramatic, as might be expected of a work intended to pique the interest of Roman connoisseurs: a young man in a state of undress, picking at a bowl of fruit, is rudely interrupted by a lizard that bites his finger. It may have been intended as a parable of the punishments that attend the lascivious, with the snapping lizard symbolizing the pains of venereal disease.
In 1597, Caravaggio got the opportunity to decorate the 'Contarelli Chapel', which was a turning point in his life and for the Italian style of painting. He made lifelike images of St. Matthew's life cycle which vividly manifested the realism in his art form. These paintings include 'St. Matthew and the Angel', 'The Calling of St. Matthew', and 'The Martyrdom of St. Matthew' which were completed during the period 1598-1601. These realistic portrayals of the saint created much chaos among the public as well as the church authorities. However, this opportunity to paint for the chapel paved a new way for his artistic creations. He dabbled with biblical themes in his paintings and incorporated realistic elements into these works.
It was in 1600 when his publicly commissioned works, Martyrdom of Saint Matthew, and The Calling of Saint Matthew, garnered great praise within the artistic community. At this point, considered a success among the elites, Caravaggio received steady work for the next several years. Known for his innovative use of light and shadow, later known as tenebrism, his work was also uniquely realistic. Caravaggio sought to present his subjects with all of their faults, preferring to disregard the idealism of most Renaissance artists.
Some of his notable paintings from 1601 to 1602 are 'Crucifixion of St. Peter', 'Conversion of Saint Paul on the Road to Damascus', 'Conversion on the Way to Damascus', 'Supper at Emmaus', 'Amor Vincit Omnia', 'Saint Matthew and the Angel', 'The Inspiration of Saint Matthew', 'John the Baptist', 'The Incredulity of Saint Thomas' and 'The Taking of Christ'.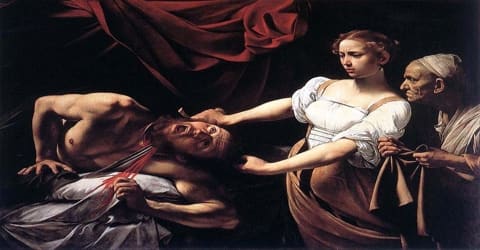 Judith Beheading Holofernes 1599–1602 (Caravaggio)
An early published notice on Caravaggio, dating from 1604 and describing his lifestyle three years previously, recounts that "after a fortnight's work he will swagger about for a month or two with a sword at his side and a servant following him, from one ball-court to the next, ever ready to engage in a fight or an argument, so that it is most awkward to get along with him."
During the period 1603-05, he created paintings such as 'The Entombment of Christ', 'The Crowning with Thorns', 'Madonna di Loreto', 'John the Baptist', 'The Calling of Saints Peter and Andrew', 'Christ on the Mount of Olives', 'Ecce Homo', 'Saint Jerome in Meditation', 'Saint Jerome Writing', 'Portrait of Pope Paul V' and 'Still Life with Fruit'.
In 1606, Caravaggio killed a young man in a brawl, possibly unintentionally, and fled from Rome with a death sentence hanging over him.
'Madonna and Child with St. Anne', 'Death of the Virgin', 'Mary Magdalen in Ecstasy', 'Saint Francis in Meditation', 'The Seven Works of Mercy', 'The Crucifixion of Saint Andrew', 'David with the Head of Goliath', 'Madonna of the Rosary', 'The Crowning with Thorns', 'The Flagellation of Christ', 'Christ at the Column' and 'Salome with the Head of John the Baptist' are some of his creations from 1606 to 1607.
Caravaggio was also less of a hothead. Close inspection of the archival information concerning him, his friends, and his enemies much expanded by late 20th-century research in the archives of Rome, Naples, and Malta has revealed that even his most apparently impulsive acts were governed by a certain logic, even if it was often the logic of vendetta. He was a violent man, but he lived in violent times, and he was as much sinned against as sinning.
Of particular note, his The Death of the Virgin (1606) so angered his patrons, the fathers of Santa Maria Della Scala, because he reportedly used a prostitute as a model for the Virgin Mary. One of his contemporaries claimed that the Virgin's bare legs also offended many within the clergy. Because Caravaggio was the most popular Roman painter of his day, the rejected painting was promptly purchased by the Duke of Mantua. However, Caravaggio was so incredibly angered by this rejection that it may have been the catalyst for one of his most fateful mistakes. Caravaggio was well known for his ill-temper and lack of consideration of others even in a time of brawling and violence.
This talented artist's paintings from 1608 till his death comprise of 'Portrait of Alof de Wignacourt and his Page', 'Portrait of Fra Antonio Martelli', 'The Beheading of Saint John the Baptist', 'Sleeping Cupid', 'Annunciation', 'Burial of Saint Lucy', Raising of Lazarus', 'Adoration of the Shepherds', 'Salome with the Head of John the Baptist', 'The Denial of Saint Peter', 'Saint Francis in Prayer', and 'The Martyrdom of Saint Ursula'.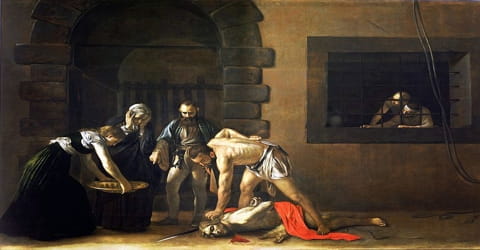 "The Beheading of Saint John" (1608) by Caravaggio
Pope Paul V, whose painting Caravaggio had just finished, issued the death warrant. The painter fled Rome for Naples hoping to one-day return. Somewhat protected by the Colonna family he had known in his youth, Caravaggio continued his career in Naples and produced Madonna of the Rosary (1607) and The Seven Works of Mercy (1607). Clearly, the murder of Tommassoni did not impact the church commissions he received in Naples. After several months in Naples, Caravaggio traveled to Malta, Sicily, and other places in search of other patrons. He continued to live a life of violence and was sometimes jailed. Caravaggio returned again to Naples where he painted his last work, The Martyrdom of Saint Ursula (1610). In Naples, he was attacked and disfigured but lived despite rumors that he had been killed.
In the words of the 20th-century art historian Roberto Longhi, it resembles "a death in a night refuge." It is among the most powerful and moving of Caravaggio's paintings, but once more, not long after being installed in the Carmelite church for which it had been commissioned, Santa Maria Della Scala, it was removed from public view. To judge by the painting commissioned to replace it, an altarpiece by Carlo Saraceni on the same theme but infinitely more decorous in effect, Caravaggio had been censored for daring to place such strident and shocking emphasis on the poverty of Mary and the Apostles.
Human remains found in a church in Porto Ercole in 2010 are believed to almost certainly belong to Caravaggio. The findings come after a year-long investigation using DNA, carbon dating and other analyses. Initial tests suggested Caravaggio might have died of lead poisoning paints used at the time contained high amounts of lead salts, and Caravaggio is known to have indulged in violent behavior, as caused by lead poisoning. Later tests suggested he died as the result of a wound sustained in a brawl in Naples, specifically from sepsis. Recently released Vatican documents (2002) also indicate that fatal wounds may have been sustained as a result of a vendetta, perpetrated after Caravaggio had murdered a love rival in a botched attempt at castration.
Death and Legacy
Caravaggio had a fever at the time of his death, and what killed him has been a matter of historical debate and study. Traditionally historians have long thought he died of syphilis. Some have said he had malaria, or possibly brucellosis from unpasteurized dairy. Some scholars have argued that Caravaggio was actually attacked and killed by the same "enemies" that had been pursuing him since he fled Malta, possibly Wignacourt and/or factions of the Knights.
After a short period, on 18th July 1610, this skilled artist breathed his last. The reason behind his sudden death is undetermined but recently some researchers speculated that high content of lead in his body could be the cause of his death. He was buried in an unmarked grave.
While Caravaggio achieved fame in life, Caravaggio was not regarded highly again until the early twentieth century. Shortly after his death, his biographers, one of whom was his much lesser rival, shamed and derided him to such a degree for his anti-social behavior, that his brilliance was greatly minimized. Another abhorred Caravaggio's departure from the Renaissance ideals of painting and thus disparaged his work. Art critics in the 1920s revived interest in his work and placed him where he belonged: with the great, innovative artists of all time.
Information Source: