Biography of Sir Edward Elgar
Sir Edward Elgar – English composer.
Name: Sir Edward William Elgar
Date of Birth: June 2, 1857
Place of Birth: Broadheath, United Kingdom
Date of Death: February 23, 1934
Place of Death: Worcester, United Kingdom
Father: William Henry Elgar
Mother: Ann Greening
Spouse/Ex: Caroline Alice Elgar (m. 1889–1920)
Children: Carice Irene
Early Life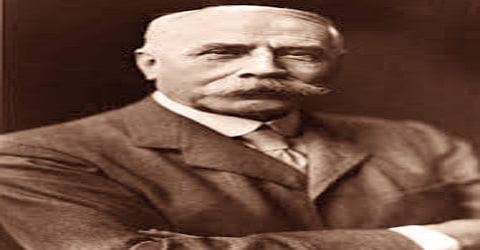 Sir Edward Elgar was an internationally reputed English composer best known for his orchestral works and he was born on 2nd June 1857, in the small village of Lower Broadheath, outside Worcester, England. His father, William Henry Elgar (1821–1906), was raised in Dover and had been apprenticed to a London music publisher. Elgar's works in the orchestral idiom of late 19th-century Romanticism characterized by bold tunes, striking color effects, and mastery of large forms stimulated a renaissance of English music.
His works have been included in both English and international concert repertoire and his mastery over various musical forms inspired a renaissance in English music. Among his popular works are the 'Enigma Variations' and the 'Pomp and Circumstance Marches', along with two symphonies and concertos for violin as well as cello. Despite being an English composer, most of his musical influences came from continental Europe instead of England. One of the reasons for this, according to him, was that he always felt as an outsider, both musically and socially.
Although Elgar is often regarded as a typically English composer, most of his musical influences were not from England but from continental Europe. He felt himself to be an outsider, not only musically, but socially. In musical circles dominated by academics, he was a self-taught composer; in Protestant Britain, his Roman Catholicism was regarded with suspicion in some quarters; and in the class-conscious society of Victorian and Edwardian Britain, he was acutely sensitive about his humble origins even after he achieved recognition. He followed the Variations with a choral work, The Dream of Gerontius (1900), based on a Roman Catholic text that caused some disquiet in the Anglican establishment in Britain, but it became, and has remained, a core repertory work in Britain and elsewhere. His later full-length religious choral works were well received but have not entered the regular repertory.
Despite his great talents, he struggled to achieve success in the initial years of his career. However, by the time he was in his forties, he had gained much fame and respect. Edward Elgar also gained the reputation as the first composer who gave importance to the gramophone. In view of his achievements, he was appointed Master of the King's Musick in 1924, a very honorable position conferred by the Royal Household of the Sovereign of the United Kingdom.
In his fifties, Elgar composed a symphony and a violin concerto that were immensely successful. His second symphony and his cello concerto did not gain immediate public popularity and took many years to achieve a regular place in the concert repertory of British orchestras. Elgar's music came, in his later years, to be seen as appealing chiefly to British audiences. His stock remained low for a generation after his death. It began to revive significantly in the 1960s, helped by new recordings of his works. Some of his works have, in recent years, been taken up again internationally, but the music continues to be played more in Britain than elsewhere. He has been described as the first composer to take the gramophone seriously. Between 1914 and 1925, he conducted a series of acoustic recordings of his works. The introduction of the moving-coil microphone in 1923 made far more accurate sound reproduction possible, and Elgar made new recordings of most of his major orchestral works and excerpts from The Dream of Gerontius.
Childhood, Family and Educational Life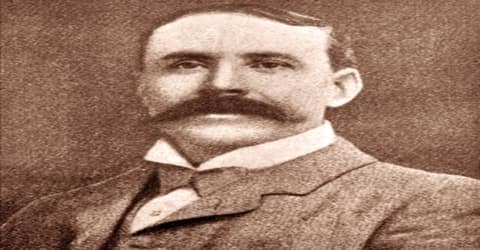 Sir Edward Elgar, in full Sir Edward William Elgar, was born to William Henry Elgar, and Ann Greening on 2 June 1857, in the small village of Lower Broadhead, situated outside Worcester, in England. His father, William Henry Elgar (1821–1906), was raised in Dover and had been apprenticed to a London music publisher. In 1841 William moved to Worcester, where he worked as a piano tuner and set up a shop selling sheet music and musical instruments. In 1848 he married Ann Greening (1822–1902), daughter of a farm worker. Edward was the fourth of their seven children.
His father, who soon became a professional violinist, was appointed as an organist of St. George's Roman Catholic Church, Worcester. He held the post from 1846 to 1885. Thus, his son Edward could receive a musical upbringing. He started taking piano and violin lessons at the young age of eight, and his father gave him the chance to display his skills to important local figures. His mother also encouraged the boy's passion for music. Like her, Edward had a keen interest in literature and a love for country life.
Until he was fifteen, Elgar received a general education at Littleton (now Lyttleton) House school, near Worcester. However, his only formal musical training beyond piano and violin lessons from local teachers consisted of more advanced violin studies with Adolf Pollitzer, during brief visits to London in 1877–78. Elgar said, "my first music was learned in the Cathedral … from books borrowed from the music library when I was eight, nine or ten." He worked through manuals of instruction on organ playing and read every book he could find on the theory of music. He later said that he had been most helped by Hubert Parry's articles in the Grove Dictionary of Music and Musicians. Elgar began to learn German, in the hope of going to the Leipzig Conservatory for further musical studies, but his father could not afford to send him.
Soon, Elgar began working in his father's shop and started giving piano and violin lessons. He joined Worcester and County Lunatic Asylum as a bandmaster in 1879.
Personal Life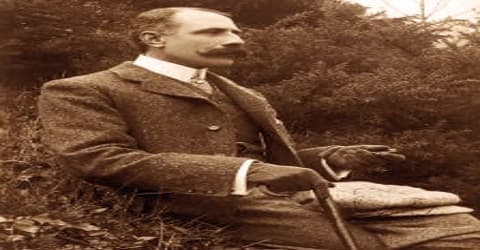 Edward Elgar got married on 8 May 1889 to Caroline Alice Roberts, daughter of Major General Sir Henry Roberts, and published author of verse and prose fiction. She was eight years older to him. Alice, whose family was against this marriage, was disinherited for this.
From then until her death, she acted as his business manager and social secretary, dealt with his mood swings, and was a perceptive musical critic. She did her best to gain him the attention of influential society, though with limited success. In time, he would learn to accept the honors given him, realizing that they mattered more to her and her social class and recognizing what she had given up to further his career. In her diary, she wrote, "The care of a genius is enough of a life work for any woman." As an engagement present, Elgar dedicated his short violin-and-piano piece Salut d'Amour to her. With Alice's encouragement, the Elgars moved to London to be closer to the center of British musical life, and Elgar started devoting his time to composition. Their only child, Carice Irene, was born at their home in West Kensington on 14 August 1890. Her name, revealed in Elgar's dedication of Salut d'Amour, was a contraction of her mother's names Caroline and Alice.
His wife later became his business manager as well as social secretary. Not only was she was a music critic, but she also knew how to deal with her husband's mood swings, which led to them having a good and peaceful life together. Elgar dedicated one of his works, 'Salut d' Amour,' to her. The couple had a daughter in 1890, who was named Carice Irene.
Career and Works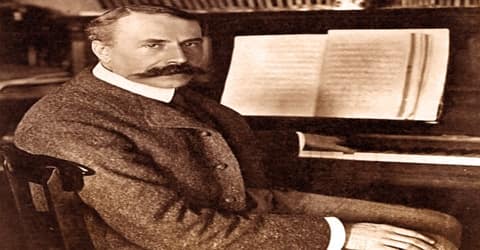 During the 1890s, Elgar gradually built up a reputation as a composer, chiefly of works for the great choral festivals of the English Midlands. The Black Knight (1892) and King Olaf (1896), both inspired by Longfellow, The Light of Life (1896) and Caractacus (1898) were all modestly successful, and he obtained a long-standing publisher in Novello and Co. Other works of this decade included the Serenade for Strings (1892) and Three Bavarian Dances (1897).
After struggling for a few years, Edward Elgar eventually managed to build his reputation as a composer and earned fame for works like 'The Black Knight' (1892) and 'King Olaf' (1896), both of which were inspired by Longfellow. Though he was also catching the attention of prominent critics, their reviews were mostly polite.
He was an excellent violinist, played the bassoon, and spent periods as a bandmaster and church organist. He had no formal training in composition. After working in London (1889–91), he went to Malvern, Worcestershire, and began to establish a reputation as a composer. He produced several large choral works, notably the oratorio Lux Christi (1896; The Light of Life), before composing in 1898–99 the popular Enigma Variations for orchestra.
Although he was in demand as a festival composer, he was only just getting by financially and felt unappreciated. In 1898, he said he was "very sick at heart over music" and hoped to find a way to succeed with a larger work. His friend August Jaeger tried to lift his spirits: "A day's attack of the blues … will not drive away your desire, your necessity, which is to exercise those creative faculties which a kind providence has given you. Your time of universal recognition will come."
In 1899 Edward Elgar produced the 'Enigma Variations.' It was premiered in London under the baton of the eminent German conductor Hans Richter. Elgar regarded it as one of his most important works which led to his massive success. This work received much acclaim for its originality, fascinating quality and incredible artistic skills, and it also helped Elgar establish himself as one of the pre-eminent British composers of his generation. He also became the first English composer of international reputation since Henry Purcell.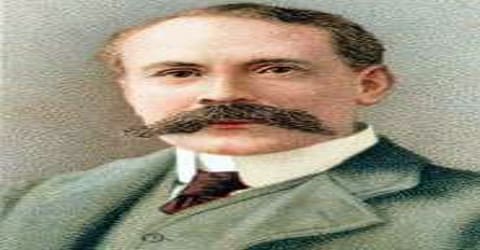 In Elgar's own words, "I have sketched a set of Variations on an original theme. The Variations have amused me because I've labeled them with the nicknames of my particular friends … that is to say I've written the variations each one to represent the mood of the 'party' (the person) … and have written what I think they would have written – if they were asses enough to compose". He dedicated the work "To my friends pictured within". Probably the best-known variation is "Nimrod", depicting Jaeger. Purely musical considerations led Elgar to omit variations depicting Arthur Sullivan and Hubert Parry, whose styles he tried but failed to incorporate in the variations. The large-scale work was received with general acclaim for its originality, charm, and craftsmanship, and it established Elgar as the pre-eminent British composer of his generation.
In 1900 there followed another major work, the oratorio The Dream of Gerontius, which many consider his masterpiece. Based on a poem by John Henry Cardinal Newman, it dispensed with the traditional admixture of recitatives, arias, and choruses, using instead a continuous musical texture as in the musical dramas of Richard Wagner. The work was not well received at its first performance in Birmingham, but after it was acclaimed in Germany, it won British favor.
Elgar's next major work was eagerly awaited. For the Birmingham Triennial Music Festival of 1900, he set Cardinal John Henry Newman's poem The Dream of Gerontius for soloists, chorus and orchestra. Richter conducted the premiere, which was marred by a poorly prepared chorus, which sang badly. Critics recognized the mastery of the piece despite the defects in performance. It was performed in Düsseldorf, Germany, in 1901 and again in 1902, conducted by Julius Buths, who also conducted the European premiere of the Enigma Variations in 1901. The German press was enthusiastic. The Cologne Gazette said, "In both parts, we meet with beauties of imperishable value. … Elgar stands on the shoulders of Berlioz, Wagner, and Liszt, from whose influences he has freed himself until he has become an important individuality. He is one of the leaders of musical art of modern times.
Elgar, a Roman Catholic, planned to continue with a trilogy of religious oratorios, but he completed only two: The Apostles (1903) and The Kingdom (1906). In these less successful works, representative themes are interwoven in the manner of the leitmotivs of Wagner. Other vocal works include the choral cantata, Caractacus (1898), and the song cycle for contralto, Sea Pictures (1900).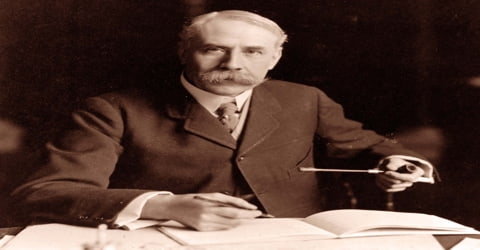 Elgar is probably best known for the first of the five Pomp and Circumstance Marches, which were composed between 1901 and 1930. It is familiar to millions of television viewers all over the world every year who watch the Last Night of the Proms, where it is traditionally performed.
In 1904 Elgar was knighted, and from 1905 to 1908 he was the University of Birmingham's first professor of music. During World War I he wrote occasional patriotic pieces. After the death of his wife in 1920, he curtailed his music writing severely, and in 1929 he returned to Worcestershire. Friendship with George Bernard Shaw eventually stimulated Elgar to further composition, and at his death, he left unfinished a third symphony, a piano concerto, and an opera.
In the month of June 1904, Elgar and his family moved to Plâs Gwyn, a large house on the outskirts of Hereford, overlooking the River Wye, where they lived until 1911. Between 1902 and 1914, Elgar was, in Kennedy's words, at the zenith of popularity. He made four visits to the US, including one conducting a tour, and earned considerable fees from the performance of his music. Between 1905 and 1908, he held the post of Peyton Professor of Music at the University of Birmingham. He had accepted the post reluctantly, feeling that a composer should not head a school of music. He was not at ease in the role, and his lectures caused controversy, with his attacks on the critics and on English music in general: "Vulgarity in the course of time may be refined. Vulgarity often goes with inventiveness … but the commonplace mind can never be anything but commonplace. An Englishman will take you into a large room, beautifully proportioned, and will point out to you that it is white all over white and somebody will say, 'What exquisite taste'. You know in your own mind, in your own soul, that it does not taste at all, that it is the want of taste, that is mere evasion. English music is white, and evades everything."
Elgar is also well-known for the five 'Pomp and Circumstance Marches', which were composed between 1901 and 1930. This work is very popular among millions of viewers of television worldwide. He made lots of other compositions during World War I as well, which included incidental music for a children's play 'The Starlight Express' and a ballet, 'The Sanguine Fan.'
Elgar's principal works of a programmatic nature are the overture Cockaigne, or In London Town (1901), and the "symphonic study" Falstaff (1913). Of his five Pomp and Circumstance Marches (1901–07; 1930), the first became particularly famous. Also highly esteemed are his two symphonies (1908 and 1911), the Introduction and Allegro for strings (1905), and his Violin Concerto (1910) and Cello Concerto (1919).
Another major work he completed during the war years was 'The Fringes of the Fleet', which was set to verses by Rudyard Kipling. It was performed with great success all over the country. However, Kipling objected to its performance in theatres, due to which it could not be continued to be performed. His career began to falter in the 1920s. Still, his admirers continued to make presentations of his works whenever it was possible.
After losing his wife in 1920, he became depressed and started losing interest in composing. He sold his house and moved to the village of Kempsey. He did compose some works during this time, which led to his appointment as the Master of the King's Musick.
Elgar's other compositions during the war included incidental music for a children's play, The Starlight Express (1915); a ballet, The Sanguine Fan (1917); and The Spirit of England (1915–17, to poems by Laurence Binyon), three choral settings very different in character from the romantic patriotism of his earlier years. His last large-scale composition of the war years was The Fringes of the Fleet, settings of verses by Rudyard Kipling, performed with great popular success around the country until Kipling for unexplained reasons objected to their performance in theatres. Elgar conducted a recording of the work for the Gramophone Company.
However, Elgar's works experienced a revival during his final years. In 1932, his seventy-fifth birthday celebration was organized by the BBC, along with a festival of his works. He flew to Paris in 1933 to conduct the Violin Concerto for Menuhin. While in France, he visited his fellow composer Frederick Delius at his house at Grez-sur-Loing. He was sought out by younger musicians such as Adrian Boult, Malcolm Sargent, and John Barbirolli, who championed his music when it was out of fashion. He began work on an opera, The Spanish Lady, and accepted a commission from the BBC to compose a Third Symphony.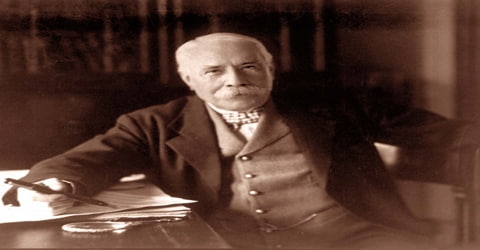 He composed a series of marches for orchestra named 'The Pomp and Circumstance Marches.' It was first performed by the Liverpool Orchestral Society, conducted by Alfred Rodewald. It was also played two days later at London Promenade Concert. 'Falstaff' was another orchestral work composed by Elgar. Though it was premiered in 1913, it didn't receive the enthusiasm which some of his early works did.
Awards and Honor
Edward Elgar was knighted in 1904, and in 1911 he was appointed a member of the Order of Merit. In 1920 he received the Cross of Commander of the Belgian Order of the Crown.
Apart from being awarded the title of the Master of the King's Musick in 1924, Edward Elgar also received the Gold Medal of the Royal Philharmonic Society in 1925.
In 1924 he received the Gold Medal of the Royal Philharmonic Society, and in 1928 he was appointed a Knight Commander of the Royal Victorian Order (KCVO).
Between 1900 and 1931, Elgar received honorary degrees from the Universities of Cambridge, Durham, Leeds, Oxford, Yale (USA), Aberdeen, Western Pennsylvania (USA), Birmingham and London.
Today, around 60-65 roads exist in the UK, which was named after Edward Elgar. Elgar had three locomotives named in his honor.
Death and Legacy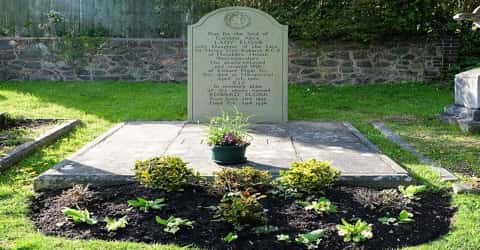 In 1933, Edward Elger was diagnosed with cancer and he passed away on 23 February 1934 at the age of 76. He was buried at St. Wulstan's Church in Little Malvern.
Elgar's life and music have inspired works of literature including the novel Gerontius and several plays. Elgar's Rondo, a 1993 stage play by David Pownall depicts the dead Jaeger offering ghostly advice on Elgar's musical development. Pownall also wrote a radio play, Elgar's Third (1994); another Elgar-themed radio play is Alick Rowe's The Dorabella Variation (2003). David Rudkin's BBC television "Play for Today" Penda's Fen (1974) deals with themes including sex and adolescence, spying, and snobbery, with Elgar's music, chiefly The Dream of Gerontius, as its background. In one scene, a ghostly Elgar whispers the secret of the "Enigma" tune to the youthful central character, with an injunction not to reveal it. Elgar on the Journey to Hanley, a novel by Keith Alldritt (1979), tells of the composer's attachment to Dora Penny, later Mrs Powell, (depicted as "Dorabella" in the Enigma Variations), and covers the fifteen years from their first meeting in the mid-1890s to the genesis of the Violin Concerto when, in the novel, Dora has been supplanted in Elgar's affections by Alice Stuart-Wortley.
The first English composer of international stature since Henry Purcell (1659–95), Elgar liberated his country's music from its insularity. He left to younger composers the rich harmonic resources of late Romanticism and stimulated the subsequent national school of English music. His own idiom was cosmopolitan, yet his interest in the oratorio is grounded in the English musical tradition. Especially in England, Elgar is esteemed both for his own music and for his role in heralding the 20th-century English musical renascence.
Perhaps the best-known work depicting Elgar is Ken Russell's 1962 BBC television film Elgar, made when the composer was still largely out of fashion. This hour-long film contradicted the view of Elgar as a jingoistic and bombastic composer and evoked the more pastoral and melancholy side of his character and music.
Elgar wrote 'The Severn Suite' in 1930. This work was the result of an invitation to write for a test piece for the National Brass Band Championship. This work was dedicated to author George Bernard Shaw, who was a friend of Elgar.
Information Source: