Luis Suárez – Football Player
Full Name: Luis Alberto Suárez Díaz
Date of birth: 24 January 1987 (age 29)
Place of birth: Salto, Uruguay
Height: 1.82 m (6 ft 0 in)
Playing position: Striker
Early Life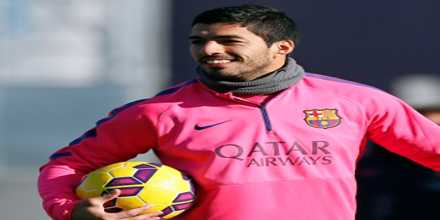 Luis Alberto Suarez Diaz (in Spanish: Luis Alberto Suárez Díaz), is a Uruguayan soccer player, born January 24, 1987 in Salto in Uruguay. And currently plays with the Spanish club FC Barcelona since 2014.
In July 2014, he moved from Liverpool to Barcelona for a fee of £64.98 million (82.3 million), making him one of the most expensive players in football history. The transfer took place after he had won the European Golden Shoe in the previous season with Liverpool.
He began his career with Nacional Club in 2005, and played with them until 2006, playing 29 appearances and scored 12 goals, and in the season 2006/2007 he moved to the Dutch club Gronenngen, playing with them 33 appearances and scored 13 goals, and in August 2007 he moved to Ajax Amsterdam after the Dutch in 2011, specifically in the month of January moved to Liverpool. He has been playing with Uruguay team football since 2007.
Suárez is widely regarded as one of the best strikers in the world. In December 2016, he was named by The Guardian as the third-best footballer in the world. In October 2015, he scored his 300th senior career goal for club and country.
In 2010 he helped Ajax win the KNVB Cup while becoming the league's top scorer with 35 goals in 33 games. He was also named Dutch Footballer of the Year, scoring 49 goals in all competitions. In the 2010–11 season, he scored his 100th Ajax goal, joining a group of players which include Johan Cruyff, Marco van Basten and Dennis Bergkamp. In January 2011, Suárez transferred to English Premier League club Liverpool for €26.5 million (£22.8 million).
In February 2012, Suárez won the Football League Cup with the club. In April 2014, he was named the PFA Players' Player of the Year and the FWA Footballer of the Year. As the Premier League's top scorer with 31 goals he won the Premier League Golden Boot, and shared the European Golden Shoe with Cristiano Ronaldo. In his first season at Barcelona, Suárez starred alongside Lionel Messi and Neymar, an attacking trio dubbed MSN (Messi, Suárez, Neymar), and helped the club win the continental treble of La Liga, Copa del Rey and the UEFA Champions League. In his second season at the club, Suárez won his first Pichichi Trophy as well as his second European Golden Shoe, for which, he became the first player since 2009 to win both awards other than Messi or Ronaldo.
At the 2011 Copa América, Suárez scored four goals for Uruguay as they won a record fifteenth Copa América, and he was named Player of the Tournament. At the 2014 FIFA World Cup in Brazil, Suárez scored his 40th international goal.
Suárez has been a source of controversy throughout his career. As well as his 2010 World Cup goal-line handball, he has also bitten opponents on three separate occasions, the latest being Italian defender Giorgio Chiellini at the 2014 World Cup, has been accused of and admitted to diving, and the Football Association found him guilty of racially abusing Patrice Evra, a decision Suárez disputes.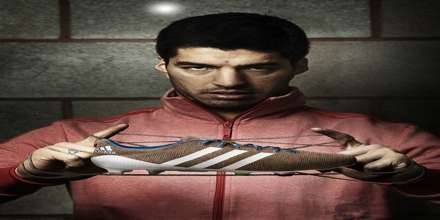 Suárez has a sponsorship deal with German sportswear and equipment supplier, Adidas. Suárez starred in a 2014 advert for Beats with other global football stars including Neymar and Thierry Henry, with the theme of 'The Game Before The Game' and the players' pre-game ritual of listening to music.
Personal Life
Suárez was born on 24 January 1987, in Salto, Uruguay, the fourth of seven boys. His older brother, Paolo Suárez, is also a professional footballer, currently playing for Sonsonate in El Salvador, and is a dual Salvadoran-Uruguayan citizen.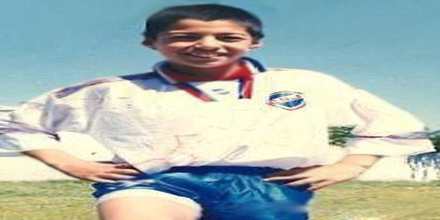 Suárez moved with his family to Montevideo when he was seven, and his parents separated when he was nine. In Montevideo, Suárez developed his football skills on the streets, while also taking up work as a street sweeper. The contrast between his life in Europe and the poverty he left behind has been cited as contributing to his periodic aggression on the field, as well as being a possible explanation for the more forgiving attitudes of the Uruguayan public and press towards such cases, compared to Europe.
Suárez is of mixed race, with public records indicating his having a black grandfather. The matter of ethnicity was raised in reporting on the Patrice Evra incident, where use by his grandmother, Lila Piriz, of "mi negrito" as a sobriquet has been offered to explain Suárez's repeated use of "negro" over the 2 minute altercation; the FA judged his evidence unreliable, en route to an eight-match ban.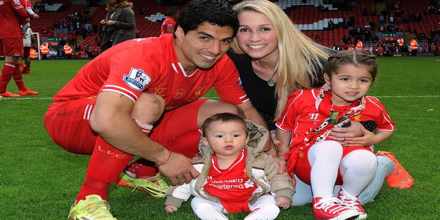 (Luis Suárez with his wife and children)
He married Sofia Balbi, his childhood sweetheart, in 2009. They have a son named Benjamin and a daughter named Delfina.
Playing Career
Luis Alberto Suárez Díaz is a Uruguayan professional footballer who plays as a striker for Spanish club FC Barcelona and the Uruguay national team.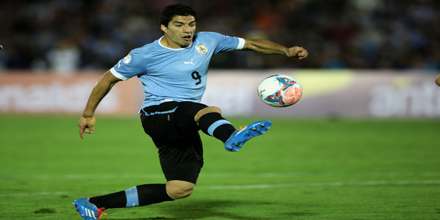 Suarez joined the team Nacional Montevideo local for youth at the age of 14 years. In May 2005, at age 16, he played for the first time against the first team Junior de Barranquilla in the Libertadores Cup. And scored his first goal in September 2005 and helped Nacional win the 2005-06 Uruguayan leagues with 10 goals in 28 games.
Having scored ten goals for the team in the season 2006- 2007 for the Dutch team , Ajax officials attached asked to join him versus (3.5) million pounds, but Groningen rejected the offer, which hit the star Uruguayan a disappointment by that, then Ajax lifted the value to (7.5) million pounds and Suarez moved to the giant Ajax.
During the suspension Ajax were in contact with other European clubs interested in Suárez; on 28 January 2011 they accepted a €26.5 million (£22.8 million) offer for Suárez from Premier League club Liverpool. Despite leaving while suspended, Suárez departed Ajax on good terms, and he was given a farewell sendoff after an Ajax game. During the sendoff an Ajax coach spoke to him and the crowd and said how the club wished he could stay longer; the crowd applauded their agreement and fireworks followed. Ajax ended the 2010–11 season as Eredivisie champions and Suárez was given a winner's medal for his seven goals in 13 appearances. While he was at Ajax, Suárez scored 111 goals in 159 appearances.
On 4 December, Suárez scored four goals against Norwich City in a 5–1 home win. He became the first player in Premier League history to score three hat-tricks against the same club, and took his scoring record against Norwich to 11 goals in five matches. On 15 December, Suárez captained Liverpool for the first time in a Premier League match against Tottenham Hotspur. He scored twice and assisted once as the team recorded a 5–0 win at White Hart Lane to close the gap on league leaders Arsenal to two points. The following day, Suárez was named the Football Supporters' Federation Player of the Year for 2013. On 20 December, Suárez signed a new four-and-a-half-year contract with Liverpool.
On 1 January 2014, by scoring in a 2–0 home win over Hull City, Suárez became the first Liverpool player to score 20 or more goals in successive Premier League seasons since Robbie Fowler in 1994–95 and 1995–96. He equalled Andy Cole's Premier League record for the earliest date to reach the 20-goal mark, but set a new record low of 15 matches. His strike partnership this season with Daniel Sturridge has earned them a nickname "SAS", i.e. Sturridge and Suárez.
On July 11, 2014 Suarez moved to FC Barcelona, and in spite of the failure to disclose the value of the deal, but the English press confirming that it is close to the value of 75 million pounds (94.34 million euros). And Suarez will wear No. 9 shirt, Suarez will not be able to play directly with his new team, as he will miss some games as a result of the punishment of FIFA against him, after biting of the Italian defender Giorgio Cellini in in world Cup football 2014. Where punishment includes prevent Suarez from playing any official match for 4 months (until October 26), then they allowed him to train with his new team Barcelona until the end of the punishment to play again.
Luis Suarez participated in the 2012 Summer Olympics with the Uruguay national team. And helped his team to win the national team over Chile 6-4 in warm-up matches for the Olympics and scored a hat-trick.
Suarez has been selected captain of Uruguay in the Olympics. In the opening match of the national team managed to defeat the United Arab Emirates national team. After that Uruguay lost the first two games against Senegal and England to leave the tournament at the group stage without Suarez to score a goal.
Suarez took part in the Confederations Cup held in Brazil in 2013. In the opening game he scored from a free kick from 25 yards against Uruguay, but lost against Spain 2-1. Suarez scored two goals against Tahiti and helped his team win 8-0 to become the outcome after that; he became the top scorer in the history of the Uruguay team with 35 goals. Uruguay qualified for the roles but it lost in front of Brazil 1-2 to be deposited.
Luis Suarez Played two only matches in World Cup Brazil, scored in the first two goals against England, while the second was in front of the Italian team, where he bite the Italian defender Giorgio Cellini, to be prevented from carrying out any activity by FIFA for 4 months and 9 international matches, It is the longest sentence in the history of the prevention of the International Federation of Football Association.
Suárez was invited to play for Uruguay in the qualifying rounds for the 2007 U-20 World Cup, but his club, Groningen, did not release him to play. He did play in the tournament proper, and he scored two goals in four appearances. His goals came in a group stage draw against Spain and in the Round of 16 against the United States, but the US won 2–1 and Uruguay was knocked out of the tournament.
Suárez made his senior debut for Uruguay on 8 February 2007 in a 3–1 win against Colombia. He was sent off in the eighty-fifth minute after receiving a second yellow card for dissent. Suárez played in 19 of 20 games in 2010 World Cup qualifying and the inter-confederation playoffs and scored five goals.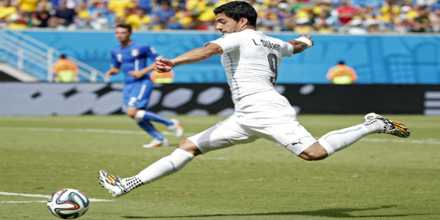 Suárez creates goal scoring chances with his powerful shot, and "remarkable technical ability". Known for his direct running towards goal, Suárez has a particular penchant for nutmegging opponents (putting the ball through their legs).
Honours
Club
Nacional
Primera División: 2005–06
Ajax
Eredivisie: 2010–11
KNVB Cup: 2009–10
Liverpool
Football League Cup: 2011–12
Barcelona
La Liga: 2014–15, 2015–16
Copa del Rey: 2014–15, 2015–16
Supercopa de España: 2016
UEFA Champions League: 2014–15
UEFA Super Cup: 2015
FIFA Club World Cup: 2015
International
Uruguay
Individual
IFFHS World's Best Top Division Goalscorer: 2010, 2014, 2016
PFA Players' Player of the Year: 2013–14
FWA Footballer of the Year: 2013–14
European Golden Shoe (2): 2013–14, 2015–16
Premier League Player of the Season: 2013–14
FSF Player of the Year: 2013–14
La Liga World Player of the Year: 2015–16
Dutch Footballer of the Year: 2009–10
ESM Team of the Year (2): 2013–14, 2014–15
Premier League PFA Team of the Year (2): 2012–13, 2013–14
Premier League Player of the Month (2): December 2013, March 2014
Premier League Golden Boot: 2013–14
La Liga Pichichi Trophy: 2015–16
Copa del Rey top goalscorer: 2015–16
Eredivisie Golden Boot: 2009–10
KNVB Cup Top Goalscorer: 2009–10
2014 FIFA World Cup qualification (CONMEBOL) Top Goalscorer
Copa América Player of the Tournament: 2011
Ajax Player of the Year (2): 2008–09, 2009–10
Ajax Top Goalscorer (2): 2008–09, 2009–10
Liverpool FC Player of the Year (2): 2012–13, 2013–14
Liverpool FC Top Goalscorer (3): 2011–12, 2012–13, 2013–14
Trofeo EFE Player of the Year: 2014–15
UEFA Best Player in Europe Award: 2014(8th place), 2015(2nd place), 2016(4th place)
UEFA Champions League Team of the Season (2): 2014–15, 2015–16
FIFA Ballon d'Or: 6th place 2011, 5th place 2015
FIFA Club World Cup Golden Ball: 2015 (Jointly shared with Cristiano Ronaldo)