Biography of Charles Dickens
Charles Dickens – English writer and social critic.
Name: Charles John Huffam Dickens
Date of Birth: 7 February 1812
Place of Birth: Landport, Hampshire, England
Date of Death: 9 June 1870 (aged 58)
Place of Death: Higham, Kent, England
Occupation: Writer
Father: John Dickens
Mother: Elizabeth Dickens
Spouse/Ex: Catherine Thomson Hogarth (m. 1836–1858)
Children: Charles Dickens Jr.; Mary Dickens; Kate Perugini; Walter Landor Dickens; Francis Dickens; Alfred D'Orsay Tennyson Dickens; Sydney Smith Haldimand Dickens; Henry Fielding Dickens; Dora Annie Dickens; Edward Dickens
Early Life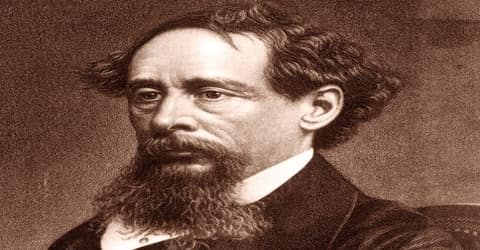 English author Charles Dickens was born on February 7, 1812, at Portsea (later part of Portsmouth) on the southern coast of England, to John and Elizabeth Dickens. He was an English writer and social critic. He created some of the world's best-known fictional characters and is regarded by many as the greatest novelist of the Victorian era. His works enjoyed unprecedented popularity during his lifetime, and by the 20th-century critics and scholars had recognized him as a literary genius. His novels and short stories are still widely read today.
Born in Portsmouth, Dickens left school to work in a factory when his father was incarcerated in a debtors' prison. Despite his lack of formal education, he edited a weekly journal for 20 years, wrote 15 novels, five novellas, hundreds of short stories and non-fiction articles, lectured and performed readings extensively, was an indefatigable letter writer, and campaigned vigorously for children's rights, education, and other social reforms.
During a time, when depravity and oppression were the norms of English society, this talented writer had the courage to voice his opinions against these conditions. Gathering inspiration from his childhood experiences of poverty and insecurity, his novels are usually semi-autobiographical. This author was gifted with a powerful memory, and most of the characters in his novels are based on people he met and got acquainted with. This includes his own parents, who were the models for characters Mr. and Mrs. Micawber in the famous novel 'David Copperfield'. The characters created by this novelist are popular because of their idiosyncrasies and quirky names.
Dickens's literary success began with the 1836 serial publication of The Pickwick Papers. Within a few years, he had become an international literary celebrity, famous for his humor, satire, and keen observation of character and society. His novels, most published in monthly or weekly installments, pioneered the serial publication of narrative fiction, which became the dominant Victorian mode for novel publication. Cliffhanger endings in his serial publications kept readers in suspense. The installment format allowed Dickens to evaluate his audience's reaction, and he often modified his plot and character development based on such feedback.
Some of his popular novels are 'Oliver Twist', 'A Christmas Carol', and 'Hard Times', amongst many more. Though known for his social commentary on the prevalent conditions in England, the literary works of novelist gained popularity amongst readers, editors and publishers alike. His books have seen more than 200 adaptations for the big screen, including 'The Pickwick Papers', a silent movie made in the early 20th century.
Dickens was regarded as the literary colossus of his age. His 1843 novella, A Christmas Carol, remains popular and continues to inspire adaptations in every artistic genre. Oliver Twist and Great Expectations are also frequently adapted, and, like many of his novels, evoke images of early Victorian London. His 1859 novel, A Tale of Two Cities, set in London and Paris, is his best-known work of historical fiction. Dickens has been praised by fellow writers from Leo Tolstoy to George Orwell, G. K. Chesterton and Tom Wolfe for his realism, comedy, prose style, unique characterizations, and social criticism. On the other hand, Oscar Wilde, Henry James, and Virginia Woolf complained of a lack of psychological depth, loose writing, and a vein of saccharine sentimentalism. The term Dickensian is used to describe something that is reminiscent of Dickens and his writings, such as poor social conditions or comically repulsive characters.
Dickens is remembered as one of the most important and influential writers of the 19th century. Among his accomplishments, he has been lauded for providing a stark portrait of the Victorian era underclass, helping to bring about societal change. When Dickens died of a stroke, he left his final novel, The Mystery of Edwin Drood, unfinished.
Childhood, Family and Educational Life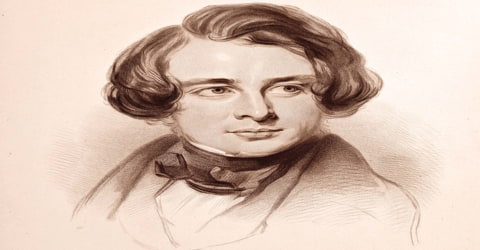 Charles Dickens, in full Charles John Huffam Dickens, was born in Portsea Island, England, on February 7, 1812, to John, a clerk at the 'Navy Pay Office', and his wife Elizabeth, an aspiring school teacher. Charles was the second born of eight children. His origins were middle class, if of newfound and precarious respectability; one grandfather had been a domestic servant and the other an embezzler. Because of financial difficulties, the family moved about until they settled in Camden Town, a poor neighborhood in London, England. There Charles spent his childhood along with his siblings Frances, Letitia, Harriet, Frederick, Albert, and Augustus.
As a child, Charles was an avid reader, fond of books like 'Robinson Crusoe', 'The Arabian Nights', and 'Gil Blas'. His favorite writers were Scottish poet Tobias Smollett, and English author Henry Fielding. He pursued his elementary education from a private institution, and later at a school owned by a man named William Giles.
At the age of twelve, Charles worked with working-class men and boys in a factory that handled "blacking," or shoe polish. While his father was in debtor's prison, the rest of the family moved to live near the prison, leaving Charles to live alone. This experience of lonely hardship was the most significant event of his life. It colored his view of the world and would later be described in a number of his novels.
In 1824 the family reached the bottom. Charles, the eldest son, had been withdrawn from school and was now set to manual work in a factory, and his father went to prison for debt. These shocks deeply affected Charles. Though abhorring this brief descent into the working class, he began to gain that sympathetic knowledge of its life and privations that informed his writings.
In May 1827, Dickens was hired at the law firm of Ellis and Blackmore, as an office boy. After learning shorthand, he began working as a freelance reporter for a society of civil lawyers, known as 'Doctors' Commons'.
Personal Life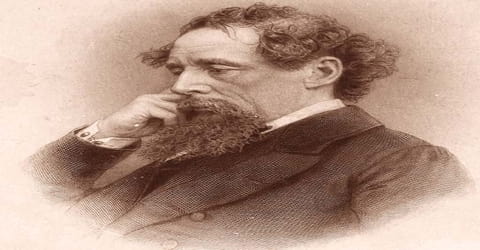 In 1830, Dickens met his first love, Maria Beadnell, thought to have been the model for the character Dora in David Copperfield. Maria's parents disapproved of the courtship and ended the relationship by sending her to school in Paris.
On April 2, 1836, the famous novelist got married to editor George Hogarth's daughter, Catherine. They were married in St. Luke's Church, Chelsea, London. After a brief honeymoon in Chalk in Kent, the couple returned to lodgings at Furnival's Inn. The couple had ten children in the course of twenty-two years of marriage. In their house at Bloomsbury, the family was joined by Catherine's siblings, Frederick and Mary. The latter was idolized by the author and the character of Rose Maylie from 'Oliver Twist', was based on her.
In 1857, Dickens hired professional actresses for the play The Frozen Deep, written by him and his protégé, Wilkie Collins. Dickens fell in love with one of the actresses, Ellen Ternan, and this passion was to last the rest of his life. It is speculated that they had a child who died in infancy. Dickens was 45 and Ternan 18 when he made the decision, which went strongly against Victorian convention, to separate from his wife, Catherine, in 1858 divorce was still unthinkable for someone as famous as he was. When Catherine left, never to see her husband again, she took with her one child, leaving the other children to be raised by her sister Georgina who chose to stay at Gad's Hill.
His will left a majority of his wealth to his friend John Forster, and his sister-in-law, Georgina. Other than that, he allotted an annual allowance to his wife Catherine and left some money for his servants.
Career and Works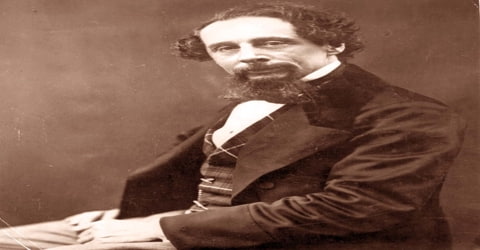 By 1832 Dickens had become a reporter for two London newspapers and, in the following year, began to contribute a series of impressions and sketches to other newspapers and magazines, signing some of them "Boz." These scenes of London life went far to establish his reputation and were published in 1836 as Sketches by Boz, his first book.
In 1832, at age 20, Dickens was energetic and increasingly self-confident. He enjoyed mimicry and popular entertainment, lacked a clear, specific sense of what he wanted to become, and yet knew he wanted fame. Drawn to the theatre he became an early member of the Garrick he landed an acting audition at Covent Garden, where the manager George Bartley and the actor Charles Kemble were to see him. Dickens prepared meticulously and decided to imitate the comedian Charles Mathews, but ultimately he missed the audition because of a cold. Before another opportunity arose, he had set out on his career as a writer.
The following year, in 1833, he published his first work of fiction, 'A Dinner at Poplar Walk', in 'Monthly Magazine', a publication managed by a political editor, Richard Phillips. Two years later, the editor of 'Evening Chronicle', George Hogarth, requested the budding writer to contribute his sketches. Charles began visiting Hogarth at the latter's house and became friends with the whole family.
In 1833 he began contributing stories and descriptive essays to magazines and newspapers; these attracted attention and were reprinted as Sketches by "Boz" (February 1836). The same month, he was invited to provide a comic serial narrative to accompany engravings by a well-known artist; seven weeks later the first installment of The Pickwick Papers appeared. Within a few months, Pickwick was the rage and Dickens the most popular author of the day.
Dickens apparently adopted it from the nickname "Moses", which he had given to his youngest brother Augustus Dickens, after a character in Oliver Goldsmith's The Vicar of Wakefield. When pronounced by anyone with a head cold, "Moses" became "Boses" later shortened to Boz. Dickens's own name was considered "queer" by a contemporary critic, who wrote in 1849: "Mr. Dickens, as if in revenge for his own queer name, does bestow still queerer ones upon his fictitious creations." He contributed to and edited journals throughout his literary career.
In January 1835, the Morning Chronicle launched an evening edition, under the editorship of the Chronicle's music critic, George Hogarth. Hogarth invited Dickens to contribute Street Sketches and Dickens became a regular visitor to his Fulham house, excited by Hogarth's friendship with a hero of his, Walter Scott, and enjoying the company of Hogarth's three daughters Georgina, Mary, and nineteen-year-old Catherine.
Oliver Twist, Dickens first novel, follows the life of an orphan living in the streets. The book was inspired by how Dickens felt as an impoverished child forced to get by on his wits and earn his own keep. As publisher of a magazine called Bentley's Miscellany, Dickens began publishing Oliver Twist in installments between February 1837 and April 1838, with the full book edition published in November 1838. Dickens continued showcasing Oliver Twist in the magazines he later edited, including Household Words and All the Year Round. The novel was extremely well-received in both England and America. Dedicated readers of Oliver Twist eagerly anticipated the next monthly installment.
From 1837-39, Dickens published two more famous novels, 'Oliver Twist', and 'The Life and Adventures of Nicholas Nickleby'. 'Oliver Twist' was particularly revolutionary, as it had a young child as the hero. The novel vividly depicted the hardships faced by impoverished children and the crimes that ensue.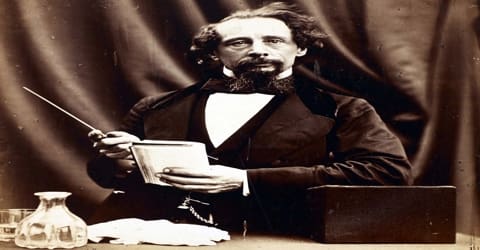 The young Queen Victoria read both Oliver Twist and Pickwick, staying up until midnight to discuss them. Nicholas Nickleby (1838–39), The Old Curiosity Shop (1840–41) and, finally, his first historical novel, Barnaby Rudge: A Tale of the Riots of 'Eighty, as part of the Master Humphrey's Clock series (1840–41), were all published in monthly instalments before being made into books.
In 1842, the writer traveled with his family to the United States, a trip that he recollected in his travel memoir, 'American Notes for General Circulation'. In the travelogue, he criticized slavery in America, something he had already depicted in 'The Pickwick Papers', but in relation to England.
On December 19, 1843, Dickens published A Christmas Carol. The book features the timeless protagonist Ebenezer Scrooge, a curmudgeonly old miser, who, with the help of a ghost, finds the Christmas spirit. Dickens penned the book in just six weeks, beginning in October and finishing just in time for the holiday celebrations. The novel was intended as social criticism, to bring attention to the hardships faced by England's lower classes. The book was a success, selling more than 6,000 copies upon publication. Readers in England and America were touched by the book's empathetic emotional depth; one American entrepreneur reportedly gave his employees an extra day's holiday after reading it. Despite literary critiques, the book remains one of Dickens' most well-known and beloved works.
In June 1841 Dickens precipitously set out on a two-month tour of Scotland and then, in September 1841, telegraphed Forster that he had decided to go to America. Master Humphrey's Clock was shut down, though Dickens was still keen on the idea of the weekly magazine, a form he liked, a liking that had begun with his childhood reading of the eighteenth-century magazines Tatler and The Spectator.
In 1842 Dickens, who was as popular in America as he was in England, went on a five-month lecture tour of the United States, speaking out strongly against slavery and in support of other reforms. On his return, he wrote American Notes, a book that criticizes American life as being culturally backward and materialistic (characterized by the desire for wealth and material goods). His next novel, Martin Chuzzlewit (1843–1844), describes the hero finding that survival on the American frontier is more difficult than making his way in England. During the years in which Chuzzlewit appeared, Dickens also published two Christmas stories, A Christmas Carol and The Chimes.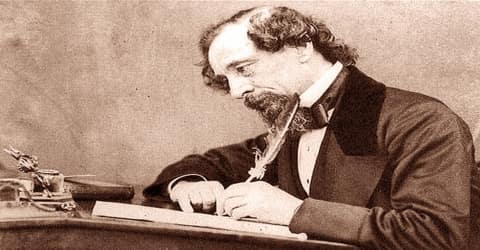 From 1843-49, Dickens published three stories with the spirit of Christmas as its theme, 'A Christmas Carol', 'The Chimes', and 'The Cricket on the Hearth'. 'A Christmas Carol', printed in 1843, was the most famous, with its depictions of Christmas, and the ideals of sharing that it conveyed.
During the same period, Dickens also published novels including 'Dombey and Son', and 'The Life of Our Lord'. 'Dombey and Son' based the protagonist's character of the proprietor of a shipping company, on his godfather, Christopher Huffam. 'The Life of Our Lord' spoke about the story of Jesus Christ and was a product of his faith in Christianity.
From October 1846 to April 1848, Dickens published, in monthly installments, Dealings with the Firm of Dombey and Son. The novel, which was published in book form in 1848, centers on the theme of how business tactics affect a family's personal finances. Taking a dark view of England, it is considered pivotal to Dickens' body of work in that it set the tone for his other novels.
Dickens's next novel, David Copperfield (1849–1850), is the first complete record of the typical course of a young man's life in Victorian England. This autobiographical novel fictionalized elements of Dickens's childhood, his pursuit of a journalism career, and his love life. Though Copperfield is not Dickens's greatest novel, it was his personal favorite. It also helped define the public's expectations of a Dickensian novel.
During 1850-59, Dickens worked for the weekly journal 'Household Words', as its editor and contributor. In late November 1851, Dickens moved into Tavistock House where he wrote Bleak House (1852–53), Hard Times (1854), and Little Dorrit (1856). It was here that he indulged in the amateur theatricals described in Forster's Life. During this period he worked closely with the novelist and playwright Wilkie Collins. In 1856, his income from writing allowed him to buy Gad's Hill Place in Higham, Kent. As a child, Dickens had walked past the house and dreamed of living in it. The area was also the scene of some of the events of Shakespeare's Henry IV, Part 1, and this literary connection pleased him.
Around the same time, he also published novels like 'Bleak House', 'Hard Times', 'Little Dorrit', and 'A Tale of Two Cities', that quickly became popular.
Dickens's journalistic ambitions at last found a permanent form in Household Words (1850–59) and its successor, All the Year Round (1859–88). Popular weekly miscellanies of fiction, poetry, and essays on a wide range of topics, these had substantial and increasing circulations, reaching 300,000 for some of the Christmas numbers. Particularly in 1850–52 and during the Crimean War, he contributed many items on current political and social affairs; in later years he wrote less much less on politics and the magazine was less political, too.
After separating from Catherine, Dickens undertook a series of hugely popular and remunerative reading tours which, together with his journalism, were to absorb most of his creative energies for the next decade, in which he was to write only two more novels. His first reading tour, lasting from April 1858 to February 1859, consisted of 129 appearances in 49 different towns throughout England, Scotland, and Ireland. Dickens's continued fascination with the theatrical world was written into the theatre scenes in Nicholas Nickleby, but more importantly, he found an outlet in public readings. In 1866, he undertook a series of public readings in England and Scotland, with more the following year in England and Ireland.
Great Expectations, published in serial form between December 1860 to August 1861 and in novel form in October 1861, is widely considered Dickens' greatest literary accomplishment. The story, Dickens' second narrated in the first person, focuses on the lifelong journey of moral development for the novel's protagonist, an orphan named Pip. With extreme imagery and colorful characters, the well-received novel's themes include wealth and poverty, love and rejection, and good versus evil.
In June 1862, Dickens was offered £10,000 for a reading tour of Australia. He was enthusiastic and even planned a travel book, The Uncommercial Traveller Upside Down, but ultimately decided against the tour. Two of his sons, Alfred D'Orsay Tennyson Dickens and Edward Bulwer Lytton Dickens, migrated to Australia, Edward becoming a member of the Parliament of New South Wales as Member for Wilcannia between 1889 and 1894.
On June 9, 1865, Dickens met with an accident on his way back to England from Paris. All carriages but the one Charles was traveling in, was derailed, and the writer saved several lives in the disaster. This incident formed the basis of his short paranormal story, 'The Signal Man', where the protagonist knows he will die in a rail accident.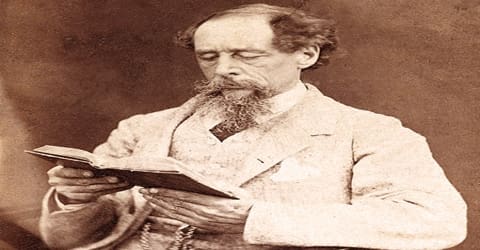 On 9 November 1867, over two years after the war, Dickens set sail from Liverpool for his second American reading tour. Landing at Boston, he devoted the rest of the month to a round of dinners with such notables as Ralph Waldo Emerson, Henry Wadsworth Longfellow, and his American publisher, James Thomas Fields. In early December, the readings began. He performed 76 readings, netting £19,000, from December 1867 to April 1868. Dickens shuttled between Boston and New York, where he gave 22 readings at Steinway Hall. Although he had started to suffer from what he called the "true American catarrh", he kept to a schedule that would have challenged a much younger man, even managing to squeeze in some sleighing in Central Park.
On April 22, 1869, he suffered a stroke, at Preston, Lancashire, and had to pull out of a reading tour in England and Scotland. He had already done 75 sessions of reading, and 12 more were pending.
Dickens is remembered as one of the most important and influential writers of the 19th century. Among his accomplishments, he has been lauded for providing a stark portrait of the Victorian era underclass, helping to bring about societal change. When Dickens died of a stroke, he left his final novel, The Mystery of Edwin Drood, unfinished.
Awards and Honor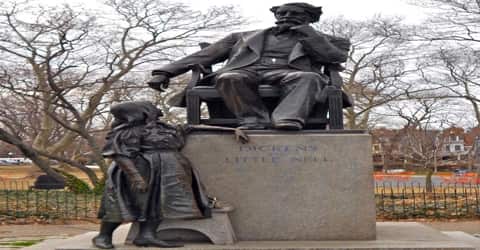 (Dickens and Little Nell statue in Philadelphia, Pennsylvania)
This famous novelist has also been honored by the Bank of England, by featuring him on Series E £10 notes.
Dickens's will stipulated that no memorial be erected in his honor; nonetheless, a life-size bronze statue of Dickens entitled Dickens and Little Nell, cast in 1891 by Francis Edwin Elwell, stands in Clark Park in the Spruce Hill neighborhood of Philadelphia, Pennsylvania. Another life-size statue of Dickens is located at Centennial Park, Sydney, Australia.
In November 2018 it was reported that a previously lost portrait of a 31-year-old Dickens, by Margaret Gillies, had been found in Pietermaritzburg, South Africa. Billies was an early supporter of women's suffrage and had painted the portrait in late 1843 when Dickens, aged 31, writing A Christmas Carol. It was exhibited, to acclaim, at the Royal Academy of Arts in 1844.
Death and Legacy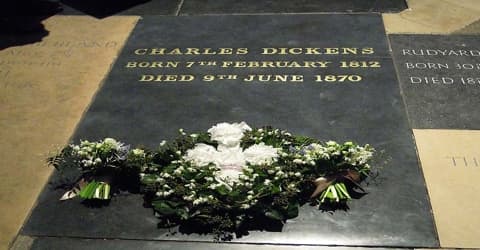 For several years Dickens's health declined. He never fully recovered from a railroad accident in 1865. He tired himself out by continuing to travel throughout the British Isles and America to read before audiences. He gave a final series of readings in London that began in 1870.
On 8 June 1870, Dickens suffered a second bout of paralysis, at his Gad's Hill home. Following the attack, he remained in unconsciousness till his death the following day. His desire was to be buried without a ceremony, at the 'Rochester Cathedral'. However, owing to his popularity, he was cremated at the 'Poets' Corner of Westminster Abbey'.
Contrary to his wish to be buried at Rochester Cathedral "in an inexpensive, unostentatious, and strictly private manner", he was laid to rest in the Poets' Corner of Westminster Abbey. A printed epitaph circulated at the time of the funeral reads:
To the Memory of Charles Dickens (England's most popular author) who died at his residence, Higham, near Rochester, Kent, 9 June 1870, aged 58 years. He was a sympathizer with the poor, the suffering, and the oppressed; and by his death, one of England's greatest writers is lost to the world.
His last words were: "On the ground", in response to his sister-in-law Georgina's request that he lie down.
This gifted writer had been praised by the likes of Chesterton, Tolstoy, and Orwell. Karl Marx and George Bernard Shaw had spoken highly of his stories that addressed the welfare of children, the eradication of poverty, and the abolition of slavery. However, writers William Wordsworth and Henry James have openly criticized his literary style.
Dickens and his publications have appeared on a number of postage stamps including: UK (1970, 1993, 2011 and 2012), Soviet Union (1962), Antigua, Barbuda, Botswana, Cameroon, Dubai, Fujairah, St Christopher, Nevis and Anguilla, St Helena, St Lucia and Turks and Caicos Islands (1970), St Vincent (1987), Nevis (2007), Alderney, Gibraltar, Jersey and Pitcairn Islands (2012), Austria (2013), Mozambique (2014).
A survey, titled 'The Big Read', featured five novels written by this celebrated author, in a list of 'Top 100 books'.
Amongst several popular, 'David Copperfield' is one of the most popular works penned down by Dickens. Considered to have several autobiographical elements, the author has used his debt-ridden father, John as the groundwork for the character Mr. Micawber, and his mother Elizabeth as the model for Mrs. Micawber. The writer is also known for his story 'A Christmas Carol', which claims the highest number of movie adaptations.
Information Source: