Biography of Joe Strummer
Joe Strummer – British musician, singer, actor and songwriter, lyricist, rhythm guitarist, and lead vocalist.
Name: John Graham Mellor
Date of Birth: 21 August 1952
Place of Birth: Ankara, Turkey
Date of Death: 22 December 2002 (aged 50)
Place of Death: Broomfield, Somerset, England
Occupation: Musician, Songwriter, Radio host, Actor
Father: John Graham Mellor
Mother: Anna Mackenzie
Spouse/Ex: Pamela Moolman (M. 1975), Lucinda Tait (M. 1995)
Children: Jazz Mellor, Lola Mellor
Early Life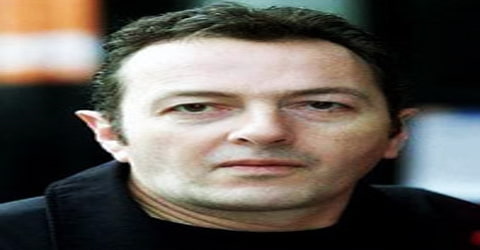 Joe Strummer, a British punk rock star who gave voice to a generation of unrest as the leader of the Clash, was born in Ankara, Turkey, on 21 August 1952. As his father was a British diplomat, he grew up in different parts of the world. He developed an interest in rock music at an early age, after which he formed the band 'The Clash'. They released their self-titled debut album soon after; it was an average success. The band's passionate politicized sounds were largely due to Strummer's commitment to a populist ideology.
Their second album, Give 'Em Enough Rope (1978) reached number 2 on the UK charts. Soon after, they achieved success in the US, starting with London Calling (1979), and peaking with 1982's Combat Rock, reaching number 7 on the US charts and being certified 2× platinum there. The Clash's explosive political lyrics, eclectic musical experimentation, and rebellious attitude had a far-reaching influence on rock music in general and alternative rock in particular. Their music incorporated reggae, ska, dub, funk, rap, and rockabilly.
Over the next few years, the band released several more hit albums due to which they found much popularity. The Clash disbanded in 1986 following which Strummer focused on his solo career. Strummer had also acted in a few films. His works on the big screen include supporting roles in 'Mystery Train' and 'Candy Mountain'. As a solo artist, he had contributed to the soundtracks of various films such as 'Sid and Nancy' and 'Grosse Pointe Blank'.
Strummer's musical experience included stints with the 101ers, Latino Rockabilly War, the Mescaleros, and the Pogues, in addition to his own solo music career. His work as a musician allowed him to explore other interests, including acting, creating film scores for television and movies, songwriting, radio broadcasting, and a position as a radio host on a BBC show titled London Calling. In his remembrance, Strummer's friends and family established the Joe Strummer Foundation (initially known as Strummerville), a non-profit organization which gives opportunities to musicians and support to projects around the world that create empowerment through music.
After walking away from music for several years, a reinvigorated Strummer returned at the end of the '90s with a new group the Mescaleros, cutting a trio of albums that fused rock & roll with a variety of flavors of world music.
Childhood, Family and Educational Life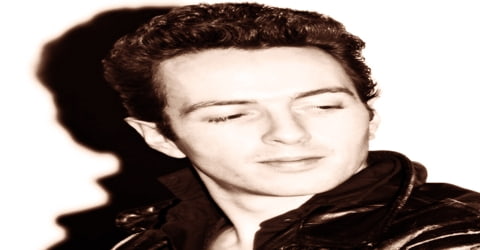 Joe Strummer, original name John Graham Mellor, was born in Ankara, Turkey on 21st August 1952. His mother's name was Anna Mackenzie and his fathers were Ronald Mellor. His father worked as a British diplomat. The family spent much time moving from place to place, and Strummer spent parts of his early childhood in Cairo, Mexico City, and Bonn. At the age of 9, Strummer and his older brother David, 10, began boarding at the City of London Freemen's School in Surrey. Strummer rarely saw his parents during the next seven years.
Strummer developed a love of rock music listening to records by Little Richard and the Beach Boys as well as American folk-singer Woody Guthrie. Strummer would even go by the nickname "Woody" for a few years. Strummer would later say that "the reason he played music was the Beach Boys". By 1970 his brother David had become estranged from his family. His suicide in July profoundly affected Strummer, as did having to identify his body after it had lain undiscovered for three days.
It was during his school years that he discovered his interest in music. Strummer was greatly influenced by the music of artists and bands like The Rolling Stones, Chuck Berry, and Captain Beefheart. Later, as his passion for music grew, Strummer also attended London's Central School of Art and Design. There he briefly flirted with the idea of becoming a professional cartoonist and completed a one-year foundation course.
Personal Life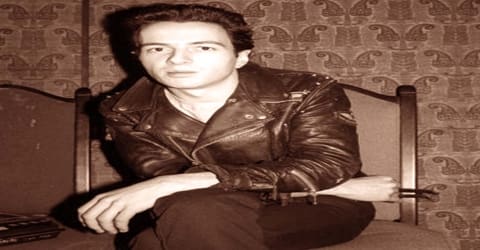 Joe Strummer's first marriage was with Pamela Moolman in 1975. However, it was a marriage of convenience as Moolman needed British citizenship and offered Strummer £120 if he agreed to marry her.
In 1978, Strummer started a relationship with Gaby Salter shortly after her 17th birthday. The couple remained together for 14 years and had two daughters, Jazz, and Lola, but did not marry as Strummer had been unable to locate and divorce Moolman. During his relationship with Salter, he had multiple affairs spanning the 1980s.
Strummer was later married to Lucinda Tait from 1995 till his death in 2002. Strummer turned vegetarian during his late teens and remained so till his death. He had also co-founded Future Forests, an organization that fights global warming through tree plantation.
Strummer was a socialist. He stated about his socialist views, "I believe in socialism because it seems more humanitarian, rather than every man for himself and 'I'm alright jack' and all those arsehole businessmen with all the loot. I made up my mind from viewing society from that angle. That's where I'm from and there's where I've made my decisions from. That's why I believe in socialism."
Career and Works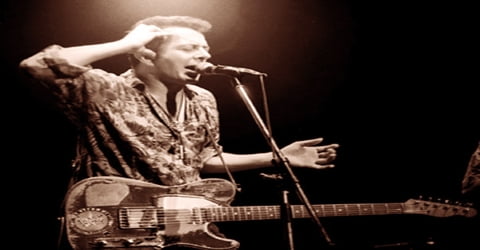 Strummer formed his first rhythm-and-blues band, the 101ers, in 1974. Influenced by the Sex Pistols, Strummer converted to punk, and in 1976 he joined several other musicians, including Mick Jones and Paul Simonon, to form the Clash. The raw energetic spirit of the band's debut single, "White Riot" (1977), set the tone for the albums The Clash (1977) and Give 'Em Enough Rope (1978), on which Strummer sang with an impassioned rasp. London Calling (1979) earned the Clash a reputation as masters of a stylistically diverse sound and was later named the best album of the 1980s by Rolling Stone magazine. Combat Rock (1982) featured the popular anthem "Rock the Casbah," but it was the beginning of the end for the group, which disbanded in 1985.
On 25 January 1977, the band (The Clash) signed with CBS Records as a three-piece after Levene was fired from the band and Chimes quit. Topper Headon later became the band's full-time drummer. During his time with the Clash, Strummer, along with his bandmates, became notorious for getting into trouble with the law. On 10 June 1977, Strummer and Headon were arrested for spray-painting "The Clash" on a wall in a hotel.
'London Calling,' the third studio album by Strummer's band 'The Clash', is another important work of his career. The album peaked at the ninth position on the UK Albums Chart and on the 27th position on the US Billboard 200. It entered various other charts as well. It received favorable reviews from critics, with some even calling it one of the best albums ever.
On 20 May 1980, Strummer was arrested for hitting a violent member of the audience with his guitar during a performance in Hamburg, Germany. This incident shocked Strummer and had a lasting personal impact on him. Strummer said, "It was watershed violence had really controlled me for once". He determined never again to fight violence with violence.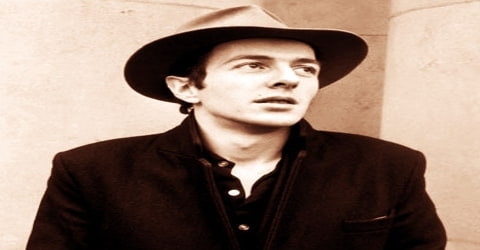 Before the album Combat Rock was released in 1982, Strummer went into hiding and the band's management said that he had "disappeared". Bernie Rhodes, the band's manager, pressured Joe to do so because tickets were selling slowly for the Scottish leg of an upcoming tour. It was planned for Strummer to travel, in secret, to Texas and stay with his friend, musician Joe Ely. Uneasy with his decision, Strummer instead decided to genuinely disappear and "dicked around" in France. During this time, Strummer ran the Paris Marathon in April 1982. Strummer claimed his training regimen consisted of 10 pints of beer the night before the race. For this period of time, Joe's whereabouts were not only a mystery to the public but the band's management as well. Joe later said this was a huge mistake and you "have to have some regrets". This was in spite of the popular success of the single "Rock the Casbah". During this time band members began to argue a lot, and with tensions high, the group began to fall apart.
The group continued to find success with their next albums, such as 'Sandinista!' (1980), 'Combat Rock' (1982) and 'Cut the Crap' (1985). All the three albums did well commercially.
Strummer contributed two songs to the soundtrack of Alex Cox's Sid and Nancy, a 1986 chronicle of the doomed Sex Pistols bassist; the two hit it off so well that Strummer acted in Cox's next two films, Walker (which Strummer also scored) and the bizarre Western Straight to Hell. His relaxed, natural screen presence earned him further work with directors Robert Frank (1987's Candy Mountain) and Jim Jarmusch (1989's acclaimed Mystery Train); Strummer also wrote five songs for the soundtrack of 1988's Permanent Record.
In September 1983, Strummer issued the infamous "Clash Communique", and fired Mick Jones. Topper Headon had earlier been kicked out of the band because of his heroin addiction, and Terry Chimes was brought back temporarily to fill his place until the permanent replacement, Pete Howard, could be found. This left the band with only two of its original members, Strummer and Simonon. Rhodes persuaded Strummer to carry on, adding two new guitarists. Under this lineup, "The Clash Mark Two", they released the album Cut the Crap in 1985. The album was panned by fans and critics alike and Strummer disbanded the Clash.
In 1987, Strummer played a small part in the film Walker, directed by Alex Cox, as a character named "Faucet" and wrote and performed on the film's soundtrack. He starred in another Cox film that same year called Straight to Hell, as the character Simms. Straight to Hell also featured London-Irish folk/punk band the Pogues, both as actors and contributors to the soundtrack. Strummer joined the Pogues for a tour in 1987/88, filling in for ailing guitarist Philip Chevron, who wrote (in May 2008) on the band's online forum: "When I was sick in late 1987, I taught Joe all the guitar parts in an afternoon and he was on tour in the US as deputy guitarist the next day. Joe wrote all the tabs in his meticulously neat hand on a long piece of paper which he taped to the top of the guitar so he could glance down occasionally when he was onstage." This tour would be the first of several collaborations with the band.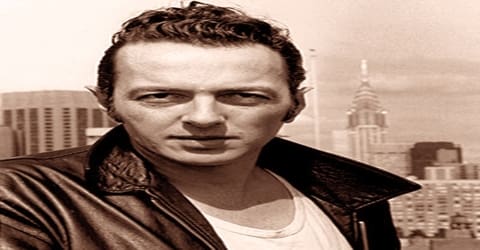 In 1989, Strummer released his first solo album, Earthquake Weather, which blended straight-up rock & roll with touches of world music. However, following a temporary stint filling in for Shane MacGowan in the Pogues (both as rhythm guitarist and in-concert lead vocalist), Strummer largely fell silent after the very early '90s. The first peep of a return to the music scene occurred in 1996 when Strummer appeared on the Black Grape single "England's Irie." The following year, Strummer scored the John Cusack hitman comedy Grosse Pointe Blank, which relied heavily on new wave and the British ska revival for its song selections.
Joe Strummer was naturally left-handed but was taught to play guitar right-handed by his close friend Tymon Dogg. Strummer had reckoned his left-handedness on a right-hand guitar as a drawback and claimed it caused him to be underdeveloped as a guitarist, although his style of playing was unique. He also used three Fender Esquire models, one from 1952, a white blonde with slab fretboard from the mid-1950s and another from early to mid-1960s with a white pickguard and rosewood fingerboard. The Esquire is a one-pickup version of the Telecaster. Prior to using any Telecaster oriented guitar, before buying his 1966 model, he used as main guitars a Gretsch White Falcon and a 1964 Hofner Verithin. For amplification Strummer was known to use amplifiers such as a Roland Jazz Chorus, a Selmer Bassman while he was in the 101ers, a Vox AC30 and various Marshall amplifiers, but his main amplifier was a Music Man HD 212,150. Strummer commented on his choice of an amplifier with "I don't have time to search for those old Fender tube amps. The Music Man is the closest thing to that sound I've found" and that the "plastic motif on the front is repulsive."
As an actor, Joe Strummer appeared in several films, mostly in supporting roles. His works on the big screen include 'The King of Comedy' (1983), 'Walker' (1987), 'Straight to Hell' (1987), 'Candy Mountains' (1988) and 'Mystery Train' (1989).
'Mystery Train' was an American film where Strummer played a supporting role. The film premiered at the New York Film Festival in 1989 and it was met with critical acclaim. However, it was not a commercial success. The film revolved around the stories of three different foreign protagonists in Tennessee who are mysteriously linked by a common thread.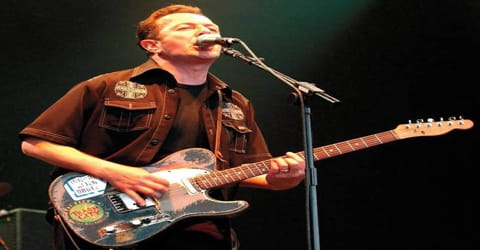 Joe Strummer made a cameo appearance in Aki Kaurismäki's 1990 film I Hired a Contract Killer as a guitarist in a pub, performing two songs ("Burning Lights" and "Afro-Cuban Bebop"). These were released as a promotional 7-inch single limited to a few hundred copies, credited to "Joe Strummer & the Astro Physicians". The "Astro Physicians" were, in fact, the Pogues ("Afro-Cuban Bebop" got a re-release on the Pogues' 2008 box set). During this time Strummer continued to act, write and produce soundtracks for various films, most notably the soundtrack for Grosse Pointe Blank (1997).
In 1999, Strummer released his second solo album, Rock Art and the X-Ray Style, featuring his new backing group the Mescaleros, which largely forsook straight-ahead rock & roll in favor of eclectic, rhythmic, world music-flavored compositions, plus elaborate singer/songwriter-ish lyrics. Strummer further refined this new direction with the follow-up, 2001's Global A-Go-Go. Strummer's final album with the Mescaleros, Streetcore, appeared in October in 2003.
Awards and Honor
Joe Strummer's band 'The Clash' was inducted into the Rock and Roll Hall of Fame in 2003.
The Clash was voted at No. 28 by Rolling Stone on its list of the 100 Greatest Artists of All Time in 2004.
Death and Legacy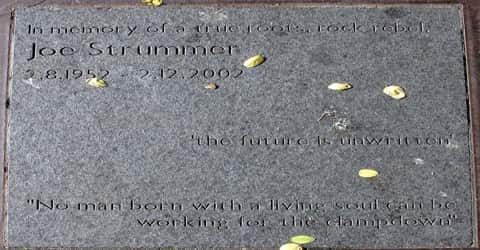 Joe Strummer died suddenly on 22 December 2002 in his home at Broomfield in Somerset, the victim of an undiagnosed congenital heart defect. His estate was valued at just under £1 million, and he left all the money to his wife Lucinda. Strummer was cremated, and his ashes were given to his family. Even after his death, his work has continued to influence many rock and punk bands.
One of the significant works in Joe Strummer's career was 'Give Em Enough Rope' which was the band's second studio album. With tracks such as 'English Civil War' and 'Tommy Gun', the album peaked at the second position on the UK Albums Chart. It was also met with positive reviews from critics. In 1993, NME Magazine named the album as the 87th greatest album of all time.
On 22 December 2003, a year after his death, a tribute show/benefit was held at Irving Plaza in NYC. Bands that played were: Ari Up; Clem Snide; the Detachment Kit; Dirty Mary; Hammel on Trial; Jesse Malin; New Blood Revival; the Realistics; Eugene Hütz; Radio 4; Secret Army; Ted Leo; Vic Thrill & the Saturn Missile. The show was videotaped by punkcast.com but is as yet unreleased.
One of Strummer's final concert performances, a benefit show where he was joined on-stage by his former Clash cohort Mick Jones, was given a limited-edition release in 2012 under the title Live at Acton Town Hall. September 2018 saw the release of Joe Strummer 001, an overview of his recordings outside the Clash that included 12 unreleased tracks.
Information Source: