Colin Powell – 65th United States Secretary of State
Full name: Colin Luther Powell
Date of birth: April 5, 1937 (age 79)
Place of birth: New York City, New York, U.S.
Political party: Republican
Spouse(s): Alma Johnson (m. 1962)
Children: Linda Powell, Michael Powell, Annemarie Powell
Early Life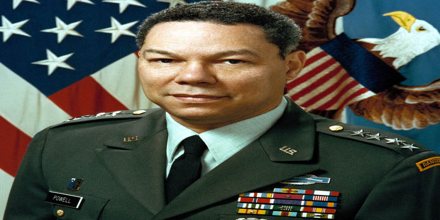 Colin Powell, in full Colin Luther Powell was born on April 5, 1937, in New York, New York, U.S. He is a U.S. general and statesman. He was chairman of the Joint Chiefs of Staff (1989–93) and secretary of state (2001–05), the first African American to hold either position.
Powell was a professional soldier for 35 years, during which time he held myriad command and staff positions and rose to the rank of 4-star General. His last assignment, from October 1, 1989 to September 30, 1993, was as the 12th Chairman of the Joint Chiefs of Staff, the highest military position in the Department of Defense. During this time, he oversaw 28 crises, including Operation Desert Storm in the 1991 Persian Gulf War. He also formulated the Powell Doctrine.
Following his military retirement, Powell wrote his best-selling autobiography, My American Journey. In addition, he pursued a career as a public speaker, addressing audiences across the country and abroad. Prior to his appointment as Secretary of State, Powell was the chairman of America's Promise – The Alliance for Youth, a national nonprofit organization dedicated to mobilizing people from every sector of American life to build the character and competence of young people. He was nominated by President Bush on December 16, 2000 as Secretary of State. After being unanimously confirmed by the U.S. Senate, he was sworn in as the 65th Secretary of State on January 20, 2001.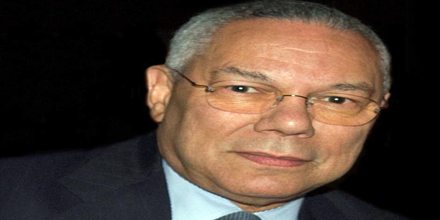 Powell is the recipient of numerous U.S. and foreign military awards and decorations. Powell's civilian awards include two Presidential Medal of Freedom, the President's Citizens Medal, the Congressional Gold Medal, the Secretary of State Distinguished Service Medal, and the Secretary of Energy Distinguished Service Medal. Several schools and other institutions have been named in his honor and he holds honorary degrees from universities and colleges across the country. Powell is married to the former Alma Vivian Johnson of Birmingham, Alabama. The Powell family includes son Michael (ex-chairman of the Federal Communications Commission); daughters Linda and Anne; daughter-in-law Jane; and grandsons Jeffrey and Bryan.
Childhood and Educational Life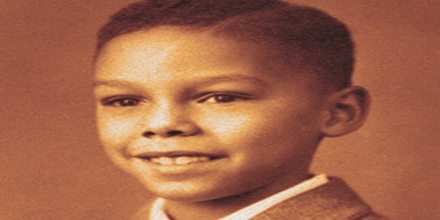 Born Colin Luther Powell on April 5, 1937, in Harlem, New York. The son of Jamaican immigrants Luther and Maud Powell, Colin was raised in the South Bronx. His parents were both of mixed African and Scots ancestry. Luther worked as a shipping clerk and Maud as a seamstress. His parents were immigrants from Jamaica. He spent most of his childhood in the South Bronx neighborhood of New York City, which was then regarded as a step up from Harlem. The neighborhood included white, African American, and Puerto Rican residents. Powell has said that he never thought of himself as a "minority" while a child.
Powell was educated in the New York City public schools, and graduated from Morris High School in 1954 without any definite plans for where he wanted to go in life. It was at City College of New York, where Powell studied geology, that he found his calling—in the Reserve Officers' Training Corps (ROTC). He soon became commander of his unit. This experience set him on a military career and gave him structure and direction in his life.
He later earned an MBA degree from the George Washington University in 1971, after his second tour in Vietnam.
Personal Life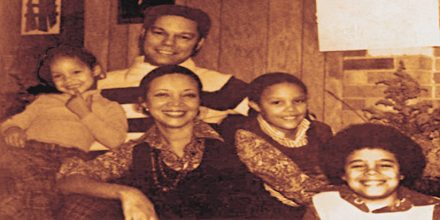 Powell married Alma Johnson on August 25, 1962. The couple has a son, Michael and two daughters, Linda and Annemarie. As a hobby, Powell restores old Volvo and Saab cars. In 2013, he faced questions about a relationship with a Romanian diplomat, after a hacked AOL email account had been made public. He acknowledged a "very personal" email relationship but denied further involvement.
In 1995, he published a best-selling autobiography, My American Journey, which chronicles his life and its influences, the ins and outs of military bureaucracy, and what he learned in his life about personal rules and character. From 1997 to 2000, he was chairman of America's Promise, a nonprofit organization dedicated to fostering character and competence in young people. Powell and his wife, Alma, now co-chair the organization, which has a presence in more than 500 communities in all 50 states.
Military Career
After graduation in 1958, Powell was commissioned as a second lieutenant in the U.S. Army. While stationed at Fort Devens, Massachusetts, Colin Powell met Alma Vivian Johnson of Birmingham, Alabama, and they married in 1962. The couple now has three children: son Michael, and daughters Linda and Annemarie. That same year, he was one of 16,000 advisers sent to South Vietnam by President John Kennedy. In 1963, Powell was wounded by a punji-stick booby trap while patrolling the Vietnamese-Laotian border. During this first tour of duty, he was awarded a Purple Heart and, a year later, a Bronze Star.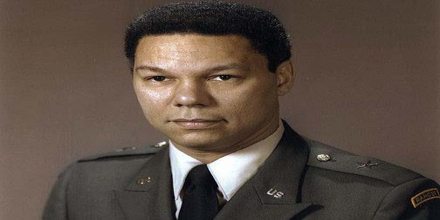 While on his second Vietnam tour of duty from 1968 to 1969, the 31-year-old Army major was given the assignment of investigating the My Lai massacre. In this incident, more than 300 civilians were killed by U.S. Army forces. Colin Powell's report seemed to refute the allegations of wrongdoing and stated, "Relations between American soldiers and the Vietnamese people are excellent." Also during this tour in Vietnam, Powell was injured in a helicopter crash. Despite his injury, he managed to rescue his comrades from the burning helicopter, for which he was awarded the Soldier's Medal. In all, Powell has received 11 military decorations, including the Legion of Merit.
In 1972 he was assigned to the Office of Management and Budget during the Nixon administration and made a lasting impression on Caspar Weinberger and Frank Carlucci. Both men would consult Powell for advice when they served as secretary of defense and national security adviser, respectively, in the Reagan administration.
Colonel Colin Powell served a tour of duty in Korea in 1973 as a battalion commander and after that, he obtained a staff job at the Pentagon. He attended the National War College in Washington D.C. from 1975-1976. He was promoted to brigadier general in 1976 and commanded the 2nd Brigade of the 101st Airborne Division. In the Carter administration, Powell was an assistant to the deputy secretary of defense and the secretary of energy.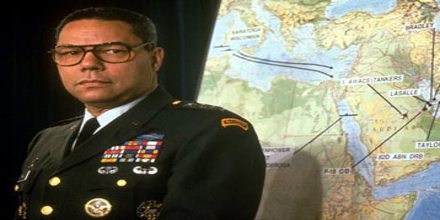 Promoted to major general, he again assisted Frank Carlucci at the Department of Defense during the transition from the Carter to the Reagan administration. He then served as senior military aide to Secretary of Defense Caspar Weinberger, helping to coordinate the invasion of Granada and the bombing of Libya.
In 1986, he commanded the V Corps in Frankfurt, Germany. Two years later, he became President Ronald Reagan's National Security Advisor. He continued to serve the Army and was a Lieutenant General now.
Political Career
Joint Chiefs of Staff
In 1989, President George H. W. Bush appointed General Colin Powell as Chairman of the Joint Chiefs of Staff. The post is the highest military position in the Department of Defense, and Powell was the first African-American officer to receive that distinction. General Powell became a national figure during Desert Shield and Desert Storm operations in Iraq. As chief military strategist, he developed what became known as the "Powell Doctrine," an approach to military conflicts that advocates using overwhelming force to maximize success and minimize casualties. He continued as chairman of the Joint Chiefs in the first few months of the Clinton administration. He publicly disagreed with the president on the issue of admitting gays into the military, although he eventually agreed to the "don't ask, don't tell" compromise.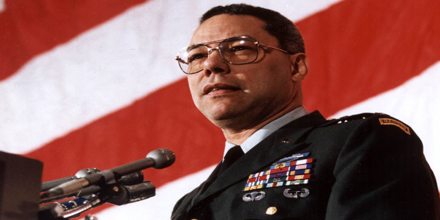 During his chairmanship of the JCS, there was discussion of awarding Powell a fifth star, granting him the rank of General of the Army. But even in the wake of public and Congressional pressure to do so, Clinton-Gore presidential transition team staffers decided against it.
Powell's experience in military matters made him a very popular figure with both American political parties. Many Democrats admired his moderate stance on military matters, while many Republicans saw him as a great asset associated with the successes of past Republican administrations. Put forth as a potential Democratic Vice Presidential nominee in the 1992 U.S. presidential election or even potentially replacing Vice President Dan Quayle as the Republican Vice Presidential nominee, Powell eventually declared himself a Republican and began to campaign for Republican candidates in 1995. He was touted as a possible opponent of Bill Clinton in the 1996 U.S. presidential election, possibly capitalizing on a split conservative vote in Iowa and even leading New Hampshire polls for the GOP nomination, but Powell declined, citing a lack of passion for politics. Powell defeated Clinton 50–38 in a hypothetical match-up proposed to voters in the exit polls conducted on Election Day. Despite not standing in the race, Powell won the Republican New Hampshire Vice-Presidential primary on write-in votes.
Secretary of State
In 2000, President George W. Bush appointed Colin Powell secretary of state, and Powell was unanimously confirmed by the U.S. Senate. At that time, this was the highest rank in civilian government ever held by an African-American. During his tenure, Powell came under fire for his role in building the case for the 2003 invasion of Iraq. Initially, Powell had serious misgivings about President Bush's plan to invade Iraq and overthrow Saddam Hussein. Powell believed the policy of containment was sufficient to control the Iraqi regime. He warned Bush that a military invasion would consume the president's first term and that if an attack were to occur, it should use overwhelming force and have broad international support. This support would be key to the rebuilding of Iraq.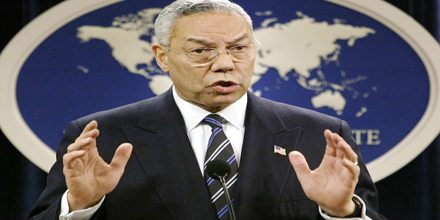 Bush decided to go to war and, in a crucial moment, Powell agreed to support the president. To advance the case for war with the international community, Powell appeared before the U.N. Security Council in February 2003 to present evidence that Iraq had concealed an ongoing weapons development program. Powell's reputation for integrity helped convince many in Congress and the country that Iraq posed an imminent threat.
Most observers praised Powell's oratorical skills. However, Britain's Channel 4 News reported soon afterwards that a UK intelligence dossier that Powell had referred to as a "fine paper" during his presentation had been based on old material and plagiarized an essay by American graduate student Ibrahim al-Marashi. A 2004 report by the Iraq Survey Group concluded that the evidence that Powell offered to support the allegation that the Iraqi government possessed weapons of mass destruction (WMDs) was inaccurate.
In an interview with Charlie Rose, Powell contended that prior to his UN presentation, he had merely four days to review the data concerning WMD in Iraq.
For the remainder of Bush's first term, Colin Powell tried to establish an international coalition to assist in the rebuilding of Iraq. In September 2004, he testified before Congress that the intelligence sources he used in his February presentation to the United Nations were "wrong" and it was unlikely that Saddam had any stockpiles of weapons of mass destruction. Powell advised the committee of the necessity to reform the intelligence community in order to improve its gathering and analysis. In 2004, after acknowledging it was unlikely that Iraq possessed stockpiles of weapons of mass destruction, Powell announced his resignation as secretary of state. National Security Adviser Condoleezza Rice was his successor.
Role in Presidential Election of 2008 and 2016
Powell donated the maximum allowable amount to John McCain's campaign in the summer of 2007 and in early 2008, his name was listed as a possible running mate for Republican nominee McCain's bid during the 2008 U.S. presidential election. However, on October 19, 2008, Powell announced his endorsement of Barack Obama during a Meet the Press interview, citing "his ability to inspire, because of the inclusive nature of his campaign, because he is reaching out all across America, because of who he is and his rhetorical abilities", in addition to his "style and substance." He additionally referred to Obama as a "transformational figure".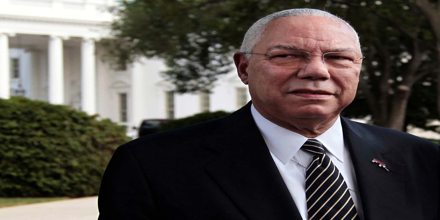 In a July 2009 CNN interview with John King, Powell expressed concern over President Obama growing the size of the federal government and the size of the federal budget deficit. In September 2010, he criticized the Obama administration for not focusing "like a razor blade" on the economy and job creation. Powell reiterated that Obama was a "transformational figure." In a video that aired on CNN.com in November 2011, Colin Powell said in reference to Barack Obama, "many of his decisions have been quite sound. The financial system was put back on a stable basis."
In March 2016, Powell denounced the "nastiness" of the 2016 Republican primaries during an interview on CBS This Morning. He compared the race to a "reality show", and stated that the campaign had gone "into the mud".
In August 2016, Powell accused the Clinton campaign of trying to pin Democratic presidential nominee Hillary Clinton's email controversy on him. Speaking to People magazine, Powell said, "The truth is, she was using the private email server for a year before I sent her a memo telling her what I did."
Powell endorsed Clinton on October 25, 2016, stating it was "because I think she's qualified, and the other gentleman is not qualified."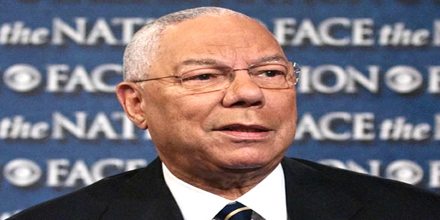 Despite not running in the election, Powell received three electoral votes for president from faithless electors in Washington who had pledged to vote for Clinton, coming in third overall. After Barack Obama, Powell was only the second African American to receive electoral votes in a presidential election. He was also the first Republican since 1984 to receive electoral votes from Washington in a presidential election, as well as the first Republican African American to do so.
Diplomatic Service and Retirement
Since his retirement, Powell has remained vocal on political topics, openly criticizing the Bush administration on a number of issues. In April 2005, he was privately telephoned by Republican senators Lincoln Chafee and Chuck Hagel, at which time Powell expressed reservations and mixed reviews about the nomination of John R. Bolton as ambassador to the United Nations, but refrained from advising the senators to oppose Bolton (Powell had clashed with Bolton during Bush's first term). The decision was viewed as potentially dealing significant damage to Bolton's chances of confirmation. Bolton was put into the position via a recess appointment because of the strong opposition in the Senate. In July 2005, Powell joined Kleiner, Perkins, Caufield & Byers, a well-known Silicon Valley venture capital firm, with the title of "strategic limited partner."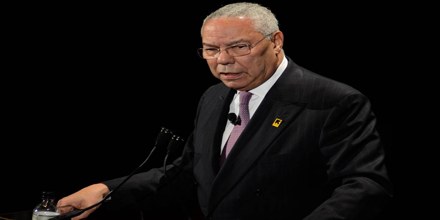 In September 2005, Powell criticized the response to Hurricane Katrina. Powell said that thousands of people were not properly protected, but because they were poor rather than because they were black. In September 2006, Powell joined moderate Senate Republicans in supporting more rights and better treatment for detainees at the Guantanamo detention facility. In October 2008, Colin Powell made headlines again when he announced his endorsement of Barack Obama for president.
Powell has also spent much of his retirement in the business community. In 2006, he was a speaker at a special series called Get Motivated, along with former New York Mayor Rudolph Giuliani. Powell also joined Kleiner Perkins Caufield & Byers, a Silicon Valley venture capital firm, as a "strategic limited partner." Most recently he joined the board of directors at Steve Case's new company, Revolution Health, a health-related portal site and social network that provides online tools to help people better manage their health.
Colin Powell has spent much of his life inspiring many with his leadership skills and life experiences. Along with his wife, Powell began America's Promise Alliance, as part of their dedication to the wellbeing of children and youth of all socioeconomic levels and their commitment to seeing that young people receive the resources necessary to succeed.
Colin Powell began his American journey from ordinary circumstances. His close-knit family provided support and a caring environment during his childhood. He found his calling in the military, and his entire adult life has been in the service of his country. As a soldier, he was committed to protecting the nation and advancing democratic values. While he gravitated toward support roles early in his career, his organizational talent and pragmatic outlook were recognized by those who placed him in key government advisory roles.
Awards and Honors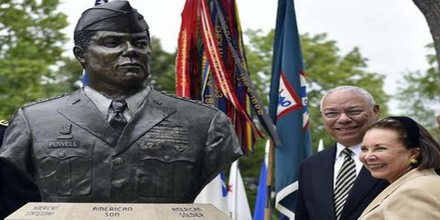 Powell's civilian awards include two Presidential Medals of Freedom (the second with distinction), the President's Citizens Medal, the Congressional Gold Medal, the Secretary of State Distinguished Service Medal, the Secretary of Energy Distinguished Service Medal, and the Ronald Reagan Freedom Award. Several schools and other institutions have been named in his honor and he holds honorary degrees from universities and colleges across the country.
In 1988, Powell received the Academy of Achievement's Golden Plate Award.
In 1990, Powell received the U.S. Senator John Heinz Award for Greatest Public Service by an Elected or Appointed Official, an award given out annually by Jefferson Awards.
In 1991, Powell was awarded the Presidential Medal of Freedom by President George H. W. Bush.
In 1991, Powell was awarded the Spingarn Medal from the NAACP.
In 1991, Powell was inducted into the Horatio Alger Association of Distinguished Americans, which "honors the achievements of outstanding individuals in U.S. society who have succeeded in spite of adversity and of encouraging young people to pursue their dreams through higher education."
On September 30, 1993, Powell was awarded his second Presidential Medal of Freedom with distinction by President Bill Clinton.
On November 9, 1993, Powell was awarded the second Ronald Reagan Freedom Award, by President Ronald Reagan. Powell served as Reagan's National Security Advisor from 1987–1989.
On December 15, 1993, Colin Powell was created an honorary Knight Commander of the Order of the Bath by Queen Elizabeth II of the United Kingdom.
In 1998, he was awarded the prestigious Sylvanus Thayer Award by the United States Military Academy for his commitment to the ideals of "Duty, Honor, Country."
The 2002 Liberty Medal was awarded to Colin Powell on July 4 in Philadelphia, Pennsylvania. In his acceptance speech, Powell reminded Americans that "It is for America, the Land of the Free and the Home of the Brave, to help freedom ring across the globe, unto all the peoples thereof. That is our solemn obligation, and we will not fail."
The Coat of Arms of Colin Powell was granted by the Lord Lyon in Edinburgh on February 4, 2004. Technically the grant was to Powell's father (a British subject) to be passed on by descent. Scotland's King of Arms is traditionally responsible for granting arms to Commonwealth citizens of Scottish descent.
In 2005 Powell received the Bishop John T. Walker Distinguished Humanitarian Service Award for his contributions to Africa.
AARP honored Powell with the 2006 AARP Andrus Award, the Association's highest honor. This award, named in honor of AARP's founder, Dr. Ethel Percy Andrus, is presented biennially to distinguished individuals who have generated positive social change in the world, and whose work and achievements reflect AARP's vision of bringing lifetimes of experience and leadership to serve all generations.
In 2005 Colin and Alma Powell were awarded the Woodrow Wilson Award for Public Service by the Woodrow Wilson International Center for Scholars of the Smithsonian Institution.
Colin Powell was initiated as an honorary brother in Sigma Phi Epsilon.
Powell is a recipient of the Silver Buffalo Award, the highest adult award given by the Boy Scouts of America.
A street in Gelnhausen, Germany was named after him: "General-Colin-Powell-Straße".
In 2002, scholar Molefi Kete Asante listed Colin Powell on his list of 100 Greatest African Americans.
In 2009, an elementary school named for Colin Powell opened in El Paso. It is in the El Paso Independent School District, located on Fort Bliss property, and serves a portion of Fort Bliss. There is also a street in El Paso named for Powell, Colin Powell Drive.
Powell is an Honorary Board Member of the humanitarian organization Wings of Hope
Since 2006, he is the chairman of the Board of Trustees for Eisenhower Fellowships
In 2006, The Harry S. Truman Research Institute for the Advancement of Peace at The Hebrew University of Jerusalem awarded Colin Powell with the Truman Peace Prize for his efforts to conduct the "war against terrorism", through diplomatic as well as military means, and to avert regional and civil conflicts in many parts of the world.
In September 2012 Union City, New Jersey opened Colin Powell Elementary School, which was named after Powell, and dedicated the school on February 7, 2013, with governor Chris Christie in attendance. Powell himself visited the school on June 4, 2013.
In 2014, Colin Powell was named to the National Board of Advisors for High Point University.