Andy Roddick – American Former Professional Tennis Player
Full name: Andrew Stephen Roddick
Country (sports): United States
Residence: Austin, Texas, U.S.
Date of birth: August 30, 1982 (age 34)
Place of birth: Omaha, Nebraska, U.S.
Height: 1.88 m (6 ft 2 in)
Turned pro: 2000
Retired: 2015
Plays: Right-handed (two-handed backhand)
Father: Jerry
Mother: Blanche Roddick
Siblings: John Roddick, Lawrence Roddick
Spouse: Brooklyn Decker (m. 2009)
Children: Hank Roddick
Early Life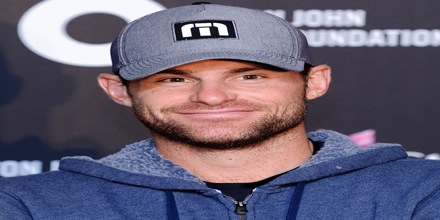 Andrew Stephen Roddick was born on August 30, 1982, in Omaha, Nebraska, U.S. He is a retired American professional tennis player who was known for his powerful play and strokes. He was born in a rich family in Nebraska. His parents supported his wishes to play sports and take part in athletics. His brothers were into playing tennis from a very young age, which inspired Roddick to play tennis professionally himself. He signed the juniors program when he was only 13 and played for Under-15 and Under-20 for some time, making a mark in the field of professional tennis. He was a Grand Slam singles champion in 2003 US Open and reached four other finals of the US open in the span of 11 years of his professional tennis career. He was famous for his very powerful serves and strikes on the court as well as for his calm and headstrong presence in front of the crowd. He was distinctively known in the media for his infamous outbursts on the playground, getting excessively angry with the umpires and linesman at the court.
On August 30, 2012, during the 2012 US Open and on his 30th birthday, Roddick announced that he would retire after the tournament. Following a fourth-round defeat by Juan Martín del Potro, Roddick retired from the sport with the aim of focusing on his foundation, the Andy Roddick Foundation, in future years.
In 2015, Roddick played for the Austin Aces in World Team Tennis. This was his eighth season in World Team Tennis and the fifth team he has played for.
Childhood, Family and Educational Life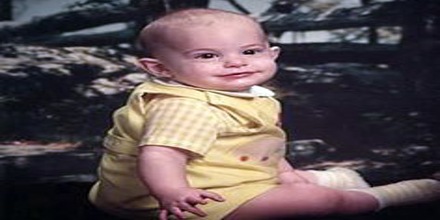 Andy Roddick was born on August 30, 1982, in Omaha, Nebraska, the son of Blanche (Corell), a school teacher, and Jerry Roddick, a businessman. Roddick has two older brothers, Lawrence and John (All-American tennis player at University of Georgia (1996–98) and head tennis coach at the University of Oklahoma), who were both promising tennis players at a young age.
When he was young, everyone in his family was convinced that he would either become an actor or a baseball player as Andy apparently had the talent and courage to pull off any career for himself. At 5, he moved to Florida with his family.
Roddick lived in Austin, Texas, from age 4 until he was 11, and then moved to Boca Raton, Florida, in the interest of his brother's tennis career, attending Boca Prep International School, and graduating in the Class of 2000. Roddick played varsity basketball in high school alongside his future Davis Cup teammate Mardy Fish, who trained and lived with Roddick in 1999. During that time period, he intermittently trained with Venus and Serena Williams; he later moved back to Austin. His tennis idol growing up was Andre Agassi.
Personal Life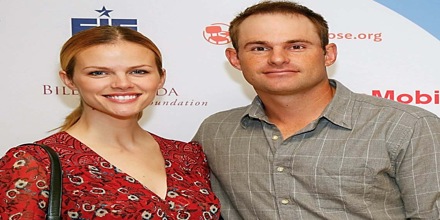 Roddick and American model and actress Brooklyn Decker began dating in 2007, and they wed in 2009. They currently live in Austin, Texas. On May 2, 2015 the couple announced they were expecting their first child. Brooklyn gave birth to their first child, a son named Hank, on September 30, 2015.
In 2001, Roddick established the Andy Roddick Foundation, which aims to support at-risk and underprivileged children. His philanthropy earned him the Arthur Ashe Humanitarian Award in 2005 and 2007.
Playing Career
In 1996, Reebok signed Andy to play in its junior program and he won six world singles and seven doubles titles but he soon started to lose matches due to physiological changes and he thought of quitting tennis.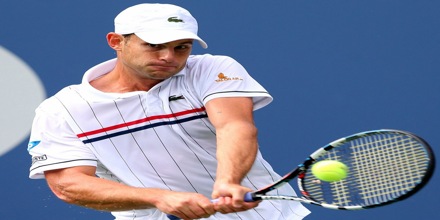 In 1999, with encouragement from his coach Tarik Benhabiles, Roddick concentrated on tennis and became the No. 6 junior in the U.S. and No. 1 in the world by the next year, winning the US Open and Australian Open Junior.
In 2000, he was named the top-ranked junior player in the United States and the world, and turned pro that same year.
Roddick had a successful early professional career, winning three tournaments, including the Legg Mason Tennis Classic in Washington, D.C., in 2001. That same year, he made his first appearance as a member of the Davis Cup team.
In 2003, at age 21, Roddick had a career breakthrough: He won his first Grand Slam title with a victory against Spain's Juan Carlos Ferrero at the U.S. Open. Later that year, he took over the No. 1 ranking in the world, becoming one of the few American players to hold both a Grand Slam title and the No. 1 ranking in the same year. He was named the ATP Player of the Year for 2003.
In 2004, during the Summer Olympics, Roddick lost to Chilean player Fernando Gonzalez. The same year, he teamed up with Mardy Fish, Bob and Mike Bryan for the U.S. Davis Cup; the team lost to Spain in the finals in Seville.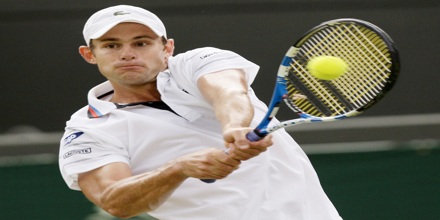 In 2005, he won the SAP Open in San Jose, California and the U.S. Men's Clay Court Championships. At the US Open, Roddick lost to Gilles Muller but he won the Grand Prix de tennis de Lyon by defeating Gael Monfils.
In 2006, he suffered foot injury and lost to Andy Murray in Wimbledon, which led him to drop out of the Top 10 for the first time in years. He hired a new coach Jimmy Connors but failed to win the US Open.
In 2007, Roddick won two singles tournaments: The Legg Mason Tennis Classic (for the third time) and the Artois Championships (for the fourth time). That same year, he established a record by claiming his 18th consecutive tiebreak victory. By the end of 2007, Roddick—coached by tennis legend Jimmy Connors—was ranked fifth by the ATP.
In 2008, Roddick hired a new coach, Larry Stefanki, who had trained such star players as John McEnroe. He made it to the final at Wimbledon in 2009, his fourth Grand Slam final since the 2003 U.S. Open, but lost to rival Roger Federer. He would lose to Federer at Wimbledon again in 2010.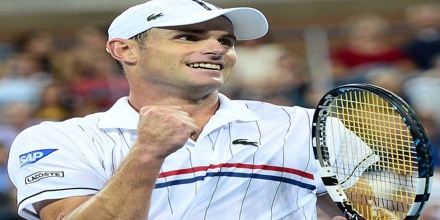 Roddick had suffered a knee injury in 2009, which set him back in training, and endured a serious shoulder surgery following his Wimbledon loss in 2010. Later that year, he announced that he had mononucleosis, a viral infection that includes symptoms similar to that of the flu. Around the same time, he experienced a groin and separate shoulder injury.
In August 2012, the 30-year-old announced plans to retire from tennis. Just days after the announcement, he played in his last tournament, the 2012 U.S. Open, losing in the fourth round to Argentina's Juan Martin del Potro. Following the tournament, Roddick made an announcement to fans: "For the first time in my career I'm not sure what to say," he said. "I loved every minute of it. A lot of ups, a lot of downs, a lot of great moments. I've appreciated your support along the way."
In 2013, after his retirement, Roddick played his first professional golf at the AT&T Pebble Beach Pro-Am and he was also hired by Fox Sports to co-host their famous program 'Fox Sports Live'.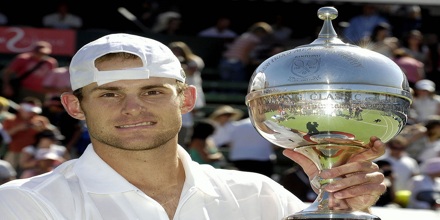 Roddick's serve is known for its power, usually serving at around 130–150 mph (209~242 km/h), often resulting in nonreturnable serves . Roddick's favorite shot is his off-forehand which he uses in combination with his kicker out wide. In the past, Roddick used to play his off-forehand frequently but has since adjusted and used it to create points. He usually targets the two corners to win aces. As for his second serve, he usually employs a heavy kick serve, then tries to use a variety of spins, slices, and angles in the rally to throw off his opponent. He is noted to use heavy topspin on both his serves and his twist serve is particularly high kicking.
Awards and Honours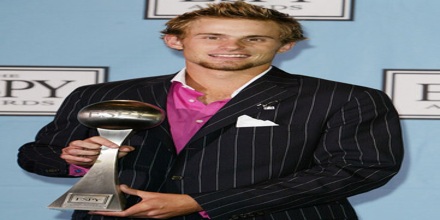 In 2004, Roddick produced what was then the fastest serve in professional tennis: 249.4 km/h (155 mph) during a Davis Cup semifinal match with Vladimir Voltchkov on hard court in Charleston, South Carolina. Roddick's record serve has since been superseded by Ivo Karlović, who served at 251 km/h (156 mph) playing at the Davis Cup in March 2011. Roddick also had the fastest serve in U.S. Open history: 244 km/h (152 mph) against American Scoville Jenkins, and against future world number one Rafael Nadal. Roddick also won the 2004 ESPY Award for Best Male Tennis Player.
That same year he won the Arthur Ashe Humanitarian Award of the Year because of his charity efforts, which included: raising money for the survivors of the tsunami following 2004 Indian Ocean earthquake through Serving for Tsunami Relief and other efforts; auctioning off several rackets and autographs to raise money for UNICEF; and creating the Andy Roddick Foundation to help at-risk youth.
In 2007 Roddick and the Andy Roddick Foundation was awarded by the Arthur Ashe Institute for Urban Health. Roddick was the first male tennis player ever to receive the award.
Serve records:
Fastest serve in Australian Open: 148 mph.
Fastest serve in Dubai: 150 mph.
Fastest average in first serve: 134 mph.
Fastest serve in Beijing: 148 mph.
Fastest serve in San Jose: 150 mph.
Fastest serve in Madrid: 151 mph.
Fastest serve in Washington: 151 mph.
Fastest serve in Queens: 153 mph.
Fastest serve in Lyon: 142 mph.
Fastest serve in US Open: 152 mph.
Fastest serve in Roland Garros: 144 mph (2006–2010).
Fastest serve in Wimbledon: 143 mph (2011)