Biography of Andy Williams
Andy Williams – American singer.
Name: Howard Andrew Williams
Date of Birth: December 3, 1927
Place of Birth: Wall Lake, Iowa, United States
Date of Death: September 25, 2012 (aged 84)
Place of Death: Branson, Missouri, United States
Occupation: Singer, Actor, Record producer
Spouse/Ex: Claudine Longet (m. 1961–1975), Debbie Meyer (m. 1991–2012)
Children: Noelle Williams, Christian Williams, Robert Williams
Early Life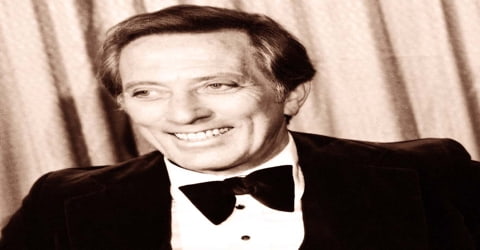 An engaging crooner, TV personality, and entrepreneur, Andy Williams was born on December 3, 1927, in Wall Lake, Iowa, U.S. He was an American singer. He recorded 43 albums in his career, of which 15 have been gold-certified and three platinum-certified. He was delighted television audiences as the handsome crooner and star of The Andy Williams Show (1962–67 and 1969–71), a musical-variety program that won three Emmy Awards during a period in which rock and roll were overtaking the easy-listening genre.
With his laid-back delivery, supple voice, and amiable charm, Williams rode a wave of success that took him from a childhood vocal act with his brothers to worldwide fame as a solo artist, eventually finding latter-day success as a theater impresario in Branson, Missouri. Though he started out as a crooner in the post-Frank Sinatra style, his wide-ranging taste in music (as evidenced by the guests on his '60s variety show) found him embracing artists and songs across generational and stylistic boundaries; and he can be heard on record interpreting songs that range from traditional pop to rock to bossa nova, country, and beyond. From the pre-rock & roll era onward, Williams was one of the most recognizable singers of his day.
Williams was also nominated for six Grammy Awards. He hosted The Andy Williams Show, a television variety show, from 1962 to 1971, and numerous TV specials. The Andy Williams Show won three Emmy awards. The Moon River Theatre in Branson, Missouri is named after the song for which he is best known Johnny Mercer and Henry Mancini's "Moon River". He sold more than 100 million records worldwide, including more than 10 million certified units in the United States. Williams was active in the music industry for 74 years.
Childhood, Family and Educational Life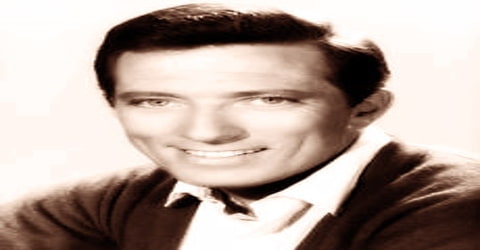 Andy Williams, by name of Howard Andrew Williams, was born on December 3, 1927, in Wall Lake, Iowa, the U.S. to Jay Emerson and Florence (née Finley) Williams. He had three older brothers Bob, Don, and Dick Williams.
While living in Cheviot, Ohio, Williams attended Western Hills High School in Cincinnati, Ohio. He finished high school at University High School, in West Los Angeles, because of his family's move to California.
Personal Life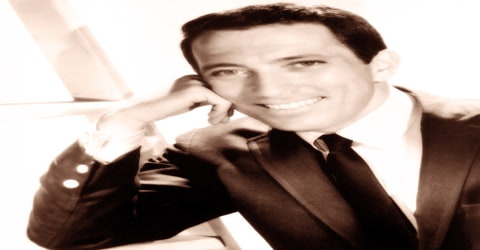 Andy Williams met French-born Claudine Longet when he came to her aid on a Las Vegas road. She was a dancer at the time at the Folies Bergère. They married on December 15, 1961, and over the next eight years, they had three children Noelle, Christian, and Robert. After separating in 1970, Williams and Longet divorced in 1975, but they remained friends.
On May 3, 1991, Williams married Debbie Meyer, whom he met through a mutual friend. They made their homes at Branson, Missouri and La Quinta, California, where he was known as the "honorary mayor". Williams was a noted collector of modern art and his homes have been featured in Architectural Digest.
Williams was an avid golfer and hosted the PGA Tour golf tournament in San Diego from 1968–1988 at Torrey Pines. Then known as the "Andy Williams San Diego Open", the tournament continues as the Farmers Insurance Open usually played in February. He was also a competent ice skater and occasionally skated as part of his television Christmas shows. He was a noted collector of Navajo blankets. His collection had hung in his home, his offices, and the Moon River Theater, and was exhibited at the Saint Louis Art Museum in 1997-1998. Williams collection was valued at over $1 million by Sotheby's, who was due to sell the collection in May 2013. The sale on May 21, 2013, yielded $978,506 (£642,064). Exch Rate: 0.66.
Career and Works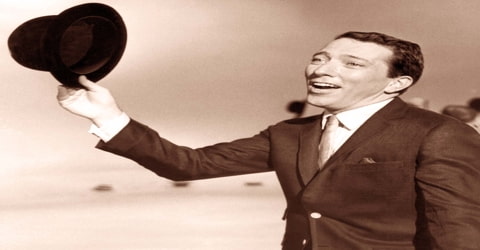 Andy Williams began performing at the age of six with his older brothers in the singing group the Williams Brothers. His first performance was in a children's choir at the local Presbyterian Church. He and his brothers formed the Williams Brothers quartet in late 1938, and they performed on radio in the Midwest, first at WHO, in Des Moines, Iowa, and later at WLS, in Chicago, and WLW, in Cincinnati. Moving to Los Angeles in 1943, the Williams Brothers sang with Bing Crosby on his 1944 hit record "Swinging on a Star". They appeared in four musical films: Janie (1944), Kansas City Kitty (1944), Something in the Wind (1947) and Ladies' Man (1947).
After World War II the quartet toured for five years with singer Kay Thompson. When the group disbanded in the early 1950s, Williams struck out on his own to New York City, where he became a regular on the late-night show Tonight, hosted by Steve Allen; he was eventually offered his own TV show. Though Williams had only one number one hit song, "Butterfly," he earned 18 gold and 3 platinum albums. His best-known recordings featured the theme songs from the films Love Story, The Way We Were, and Days of Wine and Roses.
The Williams Brothers were signed by Metro-Goldwyn-Mayer to appear in Anchors Aweigh and Ziegfeld Follies (1945) but, before they went before the cameras, the oldest brother, Bob, was drafted into military service and the group's contract was canceled. Kay Thompson, a former radio star who was now head of the vocal department at MGM, had a nose for talent and hired the remaining three Williams brothers to sing in her large choir on many soundtracks for MGM films, including The Harvey Girls (1946). When Bob completed his military service, Kay hired all four brothers to sing on the soundtrack to Good News (1947).
Andy Williams finally began his solo career in 1952, making several appearances on Steve Allen's The Tonight Show before signing a contract with Archie Bleyer's Cadence Records in 1955. He recorded six sides for RCA Victor's label "X", but none of them were popular hits. He hit the Top Ten in 1956 with his third single for the label, "Canadian Sunset." One year later, his soft-toned cover of the Charlie Gracie rockabilly nugget "Butterfly" hit number one (it's still his biggest hit). Additional Top Ten entries "Are You Sincere," "Lonely Street," and "The Village of St. Bernadette" followed before Williams moved to Columbia in 1961. His first album with Columbia, Danny Boy and Other Songs I Love to Sing, was a chart success, peaking at No. 19.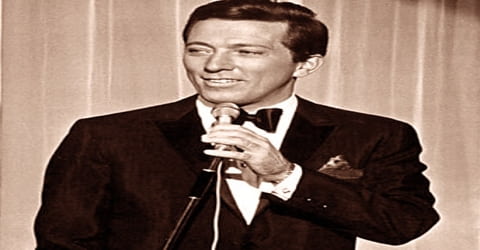 After landing a spot as a regular on Tonight Starring Steve Allen in 1954, Williams was signed to a recording contract with Cadence Records, a small label in New York, run by conductor Archie Bleyer. Williams's third single, "Canadian Sunset", reached No. 7 in the Top Ten in August 1956; it was followed in February 1957 by his only Billboard No. 1 hit, "Butterfly", a cover of a Charlie Gracie record. "Butterfly" was also No. 1 for two weeks on the UK Singles Chart in May 1957. More hit records followed, including "The Hawaiian Wedding Song" (US #11), "Are You Sincere?" (US #3 in February 1958), "The Village of St. Bernadette" (US #7 in December 1959), "Lonely Street" (US #5 in September 1959), and "I Like Your Kind of Love" with Peggy Powers (US #8 in May 1957).
Despite another big hit in 1963, "Can't Get Used to Losing You," Williams failed to generate much action on the singles charts during the 1960s. Instead, his highly rated variety program on NBC-TV spurred interest in the ever-growing LP market for adult and middle-of-the-road audiences. The popular 1962 album Moon River & Other Great Movie Themes featured the song he's most identified with, and the following year's Days of Wine and Roses hit the top of the album charts. Nine more LPs hit the Top Ten for Andy Williams during the '60s, many organized around loose themes Broadway, ballads, and one album that featured members of his family.
From 1962 to 1972, Williams was one of the most popular vocalists in the country and was signed to what was at that time the biggest recording contract in history. He was primarily an album artist, and at one time he had recorded more gold albums than any solo performer except Frank Sinatra, Johnny Mathis, and Elvis Presley. On August 5, 1966, the 14-story, 700-room Caesars Palace casino, and nightclub opened in Las Vegas, Nevada, with the stage production of "Rome Swings", in which Williams starred. He performed to a sold-out crowd in the Circus Maximus showroom. He headlined for Caesars for the next twenty years. On September 17, 1968, Columbia released a single of two songs Williams sang at the funeral of Robert F. Kennedy, his close friend: "The Battle Hymn of the Republic" and Franz Schubert's Ave Maria". These were never released on a long-playing record but have appeared in several compilations of Williams' output.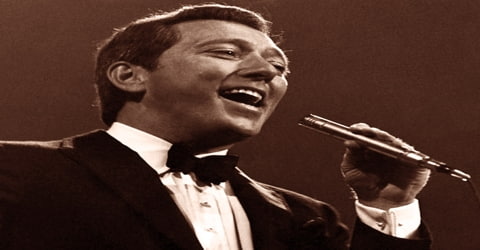 Though 1971's Love Story was a platinum success that sparked a Top Ten hit for the title song, his television show was canceled that year.  By 1973 Williams had earned as many as 17 gold-album awards. Among his hit albums from this period was The Andy Williams Christmas Album, Dear Heart, The Shadow of Your Smile, Love, Andy, Happy Heart, Get Together with Andy Williams, Love Story, and Love Theme from the Godfather. These recordings, along with his natural affinity for the music of the 1960s and early 1970s, combined to make him one of the premier easy listening singers of that era. In the UK, Williams continued to reach high chart status until 1978. The albums Dear Heart (1965), Love Andy (1967), Can't Help Falling in Love (1970), Andy Williams Show (1970), Home Lovin' Man (No. 1, 1971), Solitaire (1973), The Way We Were (1974) and Reflections (1978) all reached the Top 10.
Williams also competed in the teenage-oriented singles market and had several charting hits, including "Can't Get Used to Losing You", "Happy Heart", and "Where Do I Begin", the theme song from the 1970 blockbuster film Love Story. In addition, Williams hit the Top 10 of the UK Singles Chart with "Almost There" (1964), "Can't Help Falling in Love" (1970), "Home Lovin' Man" (1970) and "Solitaire" (1973). Williams and Petula Clark recorded "Happy Heart" around the same time, just before his guest appearance on her second NBC-TV special. Unaware that she was releasing the song as a single, he asked to perform it on the show. The exposure ultimately led to his having the bigger hit with the song. The song "Happy Heart" was used for the final scene and end credits of Danny Boyle's award-winning directorial debut film, Shallow Grave (1994).
Andy Williams remained very popular during the '70s, especially for British audiences. His single "Solitaire" hit the Top Ten there in 1973, though it didn't even chart in America. Two of his subsequent albums also performed well, but only in Britain. He released relatively few LPs during the 1980s but returned to the pop world in the early '90s when he founded his own theater/resort in the home-grown entertainment capital of Branson, Missouri.
In 2002, Williams re-recorded "Can't Take My Eyes Off You" as a duet with British actress and singer Denise van Outen; it reached No. 23 in the UK singles charts. He completed a sold-out tour of the United Kingdom and Asia in the winter and summer of 2007, in which he performed at several major concert halls including the Royal Albert Hall, singing, among other classics, Van Morrison's "Have I Told You Lately".
In 2006, after a 15-year gap, Williams released the album I Don't Remember Ever Growing Up. In 2007, He opened the Moon River Grill adjacent to his theater in Branson. The restaurant is decorated in photos from the Andy Williams Television Show with stars including Diana Ross, Elton John, and Sammy Davis, Jr. Art is center stage in the restaurant, with works by several artists including Andy Warhol and Robert Indiana.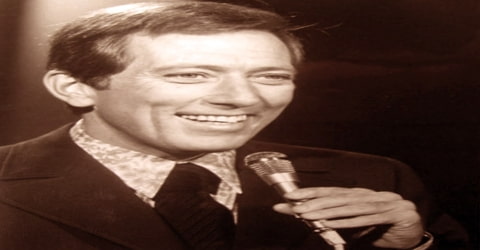 Andy Williams returned to the UK singles charts with his 1963 recording of "It's the Most Wonderful Time of the Year" in December 2007, thanks to an advertisement for Marks & Spencer, reaching No. 21 in its first appearance in the British charts, also reaching No. 108 on the EU Top 200. In 2008 he lip-synched the 45-year-old recording to welcome Santa at the end of the Macy's Thanksgiving Day Parade. On October 3, 2009, Williams appeared live on the BBC's Strictly Come Dancing in London, singing "Moon River" to promote the UK edition of The Very Best of Andy Williams LP, which peaked at No. 10 in the main pop chart.
Williams continued to headline shows there for 20 years, although he announced from its stage during a Christmas 2011 show that he had been diagnosed with cancer.
Awards and Honor
The Andy Williams Show won three Emmy Awards in 1963, 1966, and 1967 for Outstanding Variety Series.
Death and Legacy
On September 25, 2012, Williams died of bladder cancer at the age of 84 at his home in Branson, Missouri. Williams was cremated and his ashes were sprinkled into the artificial waterway at his theater in Branson. The memorial service for Williams was held a month later.
Information Source: