Xavi – Football Player
Full name: Xavier Hernández Creus
Date of birth: 25 January 1980 (age 36)
Place of birth: Terrassa, Spain
Height: 1.70 m (5 ft 7 in)
Playing position: Midfielder
Spouse: Núria Cunillera (m. 2013)
Children: Asia Hernández Cunillera
Early Life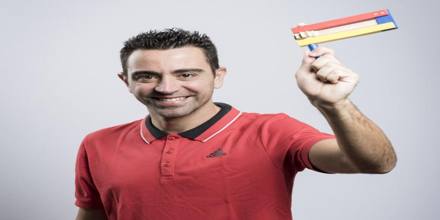 Xavi, byname of Xavier Hernández Creus was born on January 25, 1980, in Terrassa, Spain He is a Spanish football (soccer) player who was widely regarded as one of the best midfielders in the world in the early 21st century.
He joined FC Barcelona's La Masia training academy at age 11. Embodying the style taught at La Masia, the midfielder used his precise passing skills to lead Barcelona to multiple titles.
Xavi is the first player in Barcelona's history to play 150 international matches. He helped Spain win the 2010 FIFA World Cup along with the 2008 and 2012 European Championships, and finished third in Ballon d'Or voting from 2009-2011.
Xavi won the U-20 World Cup for Spain in 1999, and the Olympic Silver Medal at the 2000 Olympics. Since making his senior team debut in 2000, he has been capped 133 times for the Spanish national team, and has been seen as an influential figure in the team's tremendous success. He played an integral role in Spain's victory at the 2010 World Cup, as well as their successes at both Euro 2008 and Euro 2012. He had a 91% passing success rate at the 2010 World Cup and was named in the World Cup All-star Team. He was named Player of the Tournament by UEFA at Euro 2008. He was also named in the UEFA Euro Team of the Tournament in 2008 as well as 2012. After the 2014 World Cup, Xavi announced his retirement from international football.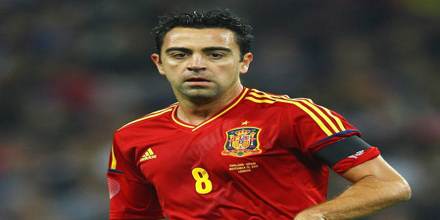 In 2011, he was runner up to Lionel Messi for the UEFA Best Player in Europe Award. He has been awarded the IFFHS World's Best Playmaker award for four years: 2008, 2009, 2010, 2011. Xavi has been included in the UEFA Team of the Year for five years (2008, 2009, 2010, 2011, 2012), and has been voted into the FIFA World XI on six occasions: 2008, 2009, 2010, 2011, 2012, 2013. At Euro 2012, with his two assists in the Final, Xavi became the first player to register assists in two separate Euro finals, having set up the lone goal in the Final four years earlier. He was awarded the Prince of Asturias Award for Sports in 2012.
Xavi has a sponsorship deal with German sportswear and equipment supplier, Adidas, and has appeared in Adidas commercials alongside Lionel Messi, Luis Suárez and Robin van Persie. Xavi wears Adidas Predator LZ football boots.
In November 2014, Xavi appeared in FIFA's "11 against Ebola" campaign with a selection of top football players from around the world, including Cristiano Ronaldo, Neymar, Gareth Bale and Didier Drogba. Under the slogan "Together, we can beat Ebola", FIFA's campaign was done in conjunction with the Confederation of African Football and health experts, with the players holding up eleven messages to raise awareness of the disease and ways to combat it.
Childhood and Personal Life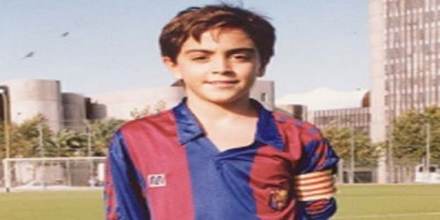 Xavier Hernández Creus was born on January 25, 1980, in Terrassa, Spain. The son of a former professional soccer player, Xavi demonstrated impressive athletic abilities at an early age and joined La Masia, the training academy of FC Barcelona, at age 11. A rapid rise through the academy's ranks earned the midfielder a spot on the 1997-98 reserve team, which won its division to earn a promotion.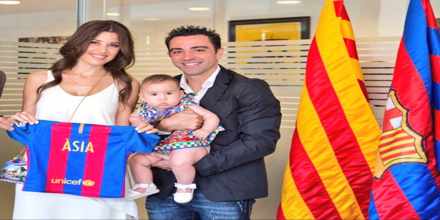 Since July 2013, Xavi has been married to Nuria Cunillera. Their daughter, Asia, was born on 3 January 2016.
Playing Career
At age 11 Xavi joined the youth squad of FC Barcelona, a first-division football club near his hometown. He advanced through the club's various junior ranks before making his first-team debut in 1998. In his first season with the team, Barcelona won the 1998–99 La Liga—Spain's top football league—championship.
He was also a member of the FIFA World Youth Championship–winning team in 1999, and earned a silver medal at the 2000 Summer Olympics.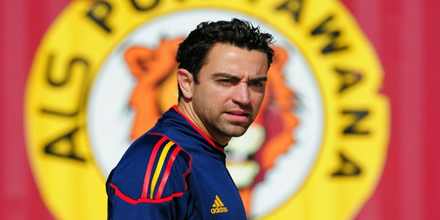 Xavi was named the vice-captain in the 2004–05 season, in which he helped Barcelona win La Liga and the Spanish Supercup. He was named La Liga Spanish Player of the Year in 2005.
Torn knee ligaments forced Xavi to miss most of Barcelona's La Liga–winning season and Champions League victory in 2006, though he helped the club win another Super Cup that August.
He was a main part of Barcelona's treble and scored the fourth goal in the 4–1 win in the 2009 Copa del Rey Final against Athletic Bilbao, with a free kick. In La Liga, among many games, one of the most significant is the 6–2 El Clásico victory vs Real Madrid on 2 May.
Xavi was voted "UEFA Champions League best midfielder" for his contribution during Barcelona's victorious 2008–09 UEFA Champions League campaign. Xavi was La Liga's highest assisting player with 20 assists. He was also the highest assisting player in the Champions League with 7 assists. Xavi earned 29 assists overall that season.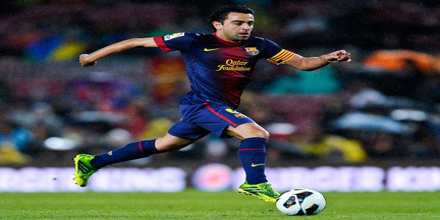 Xavi was under contract to Barça until 2014 after extending his contract during the 2008–09 season. The new contract made him one of the club's biggest earners, with a salary of €7.5 million a year.
On 9 June 2010, Xavi signed a new 4-year contract with the club, which may be automatically renewed up to 30 June 2016 based on number of games played.
He was one of the three finalists for the 2010 FIFA Ballon d'Or, alongside Barcelona teammates Lionel Messi and Andrés Iniesta. He finished third on the vote behind Messi and Iniesta. He narrowly defeated Messi to win Player of the Year designation from World Soccer Magazine.
On 18 December, in the 2011 FIFA Club World Cup Final in Yokohama, Japan, Barcelona won 4-0 against Santos as Xavi scored a goal and made an assist to Lionel Messi.
In June 2014, it was announced that Xavi would be leaving the club.
On 21 May 2015, Xavi announced that he would join Qatari club Al Sadd at the end of the season, on a three-year contract. In the 2016 Qatar Cup Al Sadd were knocked out by El Jaish SC in the semi final.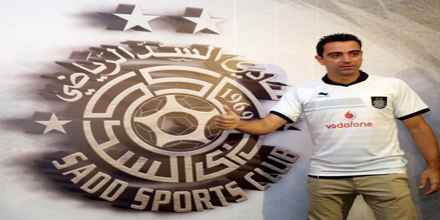 Xavi's profile received a boost with his performance at the 2008 European Championship, when he scored in a semifinal victory over Russia and assisted on the lone goal in the final vs. Germany to earn Player of the Tournament honors. It was the start of an amazing stretch for the outstanding midfielder and his Barcelona teammates, who went on to win a staggering six titles in 2009. Afterward, Xavi finished third in voting for the Ballon d'Or award for the first of three consecutive years.
Spain claimed its first FIFA World Cup championship in 2010, with Xavi earning a well-deserved spot on the tournament All-Star team. Two years later, he again earned all-tournament honours at the European Championship as Spain became the first country to win three successive major international events.
With so much success under his belt, it was only a matter of time before the playmaker secured the top spot in the record books of his club and his country. In January 2011, he set a record with his 550th career appearance for Barcelona. A victory in the 2013 Super Cup gave Xavi 25 career titles, tops among Spanish players, though he undoubtedly hopes to add to that number before his superb career is finished.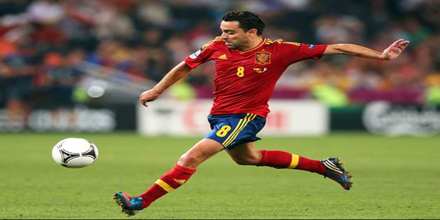 On 5 August 2014, following the 2014 FIFA World Cup where Spain were eliminated at the group stage, Xavi announced his retirement from international football having made 133 appearances for the national side in a 14-year period.
The claim that Xavi is one of the best central midfielders of all-time relies largely on his ability to find and exploit space as a playmaker.
Xavi's vision, pinpoint accurate passing and world class ball control allowed him to dictate the flow of play while rarely relinquishing possession, most notably displayed during Spain's 2010 World Cup victory where he had a 91% passing success rate for the tournament. His ability to control some matches has earned him the sobriquet, "The Puppet Master".
Honours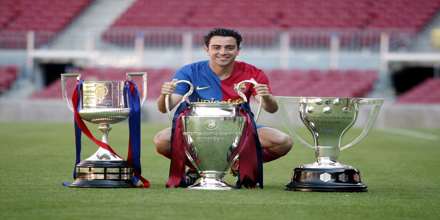 Barcelona
La Liga: 1998–99, 2004–05, 2005–06, 2008–09, 2009–10, 2010–11, 2012–13, 2014–15
Copa del Rey: 2008–09, 2011–12, 2014–15
Supercopa de España: 2005, 2006, 2009, 2010, 2011, 2013
UEFA Champions League: 2005–06, 2008–09, 2010–11, 2014–15
UEFA Super Cup: 2009, 2011
FIFA Club World Cup: 2009, 2011
International
FIFA World Cup: 2010
UEFA European Football Championship: 2008, 2012
Summer Olympics Silver Medal: 2000
FIFA Confederations Cup Silver Medal: 2013
FIFA World Youth Championship: 1999
Individual
World Soccer Player of the Year: 2010
UEFA Euro 2008 Player of the Tournament: 2008
UEFA Best Player in Europe Award Second place: 2011
FIFA Ballon d'Or Third place: 2010, 2011
Ballon d'Or Third place: 2009
FIFA World Player of the Year Third place: 2009
UEFA Champions League Final Man of the Match: 2009
UEFA Club Midfielder of the Year: 2008–09
IFFHS World's Best Playmaker: 2008, 2009, 2010, 2011
La Liga Breakthrough Player of the Year: 1999
La Liga Spanish Player of the Year: 2005
La Liga Player of the Year: 2nd place 2010, 3rd place 2011
La Liga Midfielder of the Year: 2009, 2010, 2011.
FIFA World Cup Dream Team: 2010
UEFA Euro Team of the Tournament: 2008, 2012
FIFA/FIFPro World XI: 2008, 2009, 2010, 2011, 2012, 2013
UEFA Team of the Year: 2008, 2009, 2010, 2011, 2012
ESM Team of the Year: 2008–09, 2010–11, 2011–12
FIFA Club World Cup Silver Ball: 2011
FIFA Club World Cup Bronze Ball: 2009
Globe Soccer Awards Player Career Award: 2013
UEFA Ultimate Team of the Year (published 2015)
Decorations
Spanish Sportsman of the Year: 2009
Gold Medal of the Royal Order of Sporting Merit: 2010
Prince of Asturias Award for Sports: 2010 , 2012