Mesut Özil – Football Player
Full name: Mesut Özil
Date of birth: 15 October 1988 (age 28)
Place of birth: Gelsenkirchen, West Germany
Height: 1.80 m (5 ft 11 in)
Playing position: Attacking midfielder
Early Life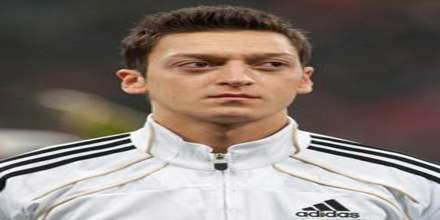 Mesut Özil was born on October 15, 1988, in Gelsenkirchen, Germany. He is a German footballer who plays for English club Arsenal and the German national team. Özil has been a youth national team member since 2006, and a member of the German national team since 2009. After beginning his professional soccer career with FC Schalke 04, he emerged as a star midfielder for SV Werder Bremen and the German national team during the 2010 FIFA World Cup. Özil parlayed his international success into a prominent role with Real Madrid before announcing his transfer to England's Arsenal F.C. in 2013.
Özil is acclaimed for his finesse and improvisation as an attacking midfielder. His style and ability for providing assists for his team-mates has been compared by former manager José Mourinho to that of Real Madrid legend Zinedine Zidane. In 2010–11, Özil ranked first in assists in major European and domestic competitions with 25. In 2011–12, he ranked first in assists in La Liga with 17. Özil was the joint-highest assist provider at both the 2010 FIFA World Cup and UEFA Euro 2012, registering three at each tournament.
As part of the BigShoe project, Özil donated his 2014 World Cup winnings, an estimated £240,000, to pay for 23 sick Brazilian children to have medical surgery as a "personal thank you for the hospitality of the people of Brazil."
In May 2016, international media covered Özil's visit to the Zaatari refugee camp in Jordan, home to around 80,000 people displaced as a result of the Syrian civil war. Özil toured the camp as well as playing with children, signing autographs and handing out football shirts.
In 2013, Özil signed a sponsorship deal with German sportswear and equipment supplier Adidas.
In August 2015, Özil starred in the "Create Your Own Game" commercial for Adidas alongside Messi, Bale, Thomas Müller and James Rodríguez. The video of the advert was viewed over 38 million times in its first 14 days on YouTube. In 2013, Özil launched his own logo.
Childhood and Personal Life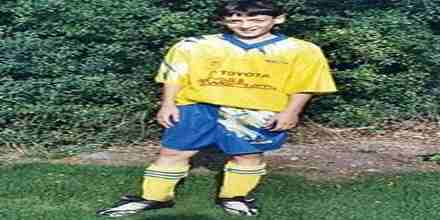 Soccer player Mesut Özil was born on October 15, 1988, in Gelsenkirchen, Germany. The grandson of a Turkish immigrant, he developed his soccer skills alongside friends in the "Monkey Cage," a local pitch surrounded by fences.
At the age of just 6 years, Mesut begun playing football. Mesut had a brother whose name is Mutlu. His 2 younger sisters named Nese & Dugyu gave him love of brother & sister. In his family, every person love football (soccer).
After playing for a series of smaller youth programs, he joined the pipeline of Gelsenkirchen's FC Schalke 04 in 2005.
In his personal life, Mesut is regarded as a perfect Muslim, a religion that he follows. Like every Muslim he also follows Quran & whenever he got time from his busy schedule, he read it.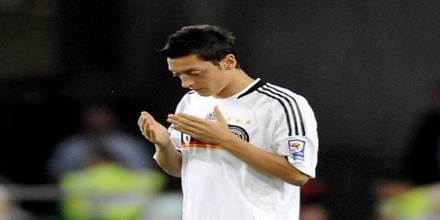 (Mesut Ozil is praying in the match time)
He is known for enthusiastic Muslim. Before every match he recites for Quran. When he was talking to Berlin based daily, the football player said "I always do that before I go to match. All of my teammates do not talk to me when I'm praying because they know it."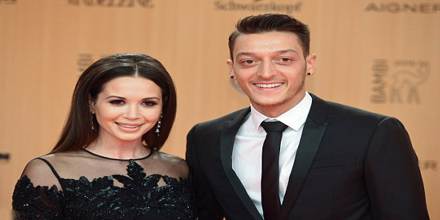 Özil started dating singer Mandy Capristo in 2013. The relationship ended in October 2014, following reports of Özil being involved with another woman. On 12 November 2015, Özil and Capristo appeared together at the Bambi awards ceremony in Berlin. An Instagram photo uploaded by Özil used the hashtag #OziStoIsBack, suggesting that the couple is back together.
In 2010, Özil received the Bambi award for being a prime example of successful integration within German society.
In May 2016, he performed Umrah pilgrimage to Mecca.
Playing Career
His first international football club was Schalke 04. He joined it in 2005 as a midfielder. He made 30 appearances but was unable to score goal. He gave his 2 years of his life to this club of Germany & then moved to Werder Breman in 2008.
After completing a deal of 4.3 million Euros, he moved to Werder Breman in the year of 2008. With his winning goal of 2009 DFB Pokal, his team made a victory over Bayer Leverkusen in Berlin. He also played the final of UEFA Cup against Shakhtar Donetsk. But in final match they faced loss.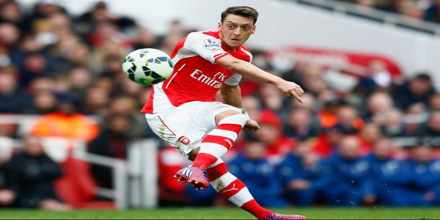 In the 2009–10 season, Özil became the key playmaker of Werder Bremen, stepping into the shoes of Brazilian Diego who had left for Juventus, was named the best player of the first leg of the 2009 Bundesliga season.
His 3rd club was Spanish club which is currently world's richest football club of this year. His dynamic performance of World cup 2010 attracted lots of eyes. The Vikings was all set to make new deal with this player. Ozil has clearly mentioned that "I was not in pressure leave Werder Bremen but Real is the club for which you can definitely say yes"
The Whites bought him with 15 million Euros. When he the offer came for Real he simply said "honestly speaking you cannot refuse this club". At his new club, made 105 appearances and also scored 19 goals. But later Arsenal singed him for which he is currently playing.
Özil starred for Germany during the 2009 U-21 European Championship, earning Man of the Match honors for his goal and two assists in a resounding 4-0 finals victory over England. His ascent continued after he was selected to the 2010 FIFA World Cup squad, where he displayed his remarkable all-around abilities. Özil scored once and provided several assists to help Germany achieve a third-place finish, thus earning him a spot among the 10 nominees for the tournament's Golden Ball Award.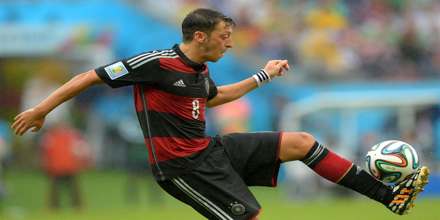 Due to his performances in the 2010 FIFA World Cup, Özil ensured his place among Europe's top young talents.
The performance transformed Özil from a promising talent to a bona fide star. He was hailed as the "multi-kulti kicker" in Germany, celebrated for being the first national team player from an immigrant background to enjoy such international success. He also drew increased attention from several top European clubs. After transferring to Spain's prestigious Real Madrid club in 2010, the midfielder teamed with scoring machine Cristiano Ronaldo to propel Real to a league title and victories in the Copa del Rey and Spanish Super Cup championships.
On 2 September 2013, Özil agreed to join English side Arsenal. Both the fee paid for Özil as well as the contract duration were undisclosed, but they are believed to be around £42.5 million (€50 million) for a five-year deal. The transfer makes him the most expensive German football player of all time.
Contract leaks in January 2016, however, have revealed that the record fee was actually broken down to £37.4 million (€44 million then) with remaining £5.1 million (€6 million then) split evenly over six years from July 2014 subject to Champions League qualification.
Özil returned to club training in the middle of August after participating in Germany's 2014 FIFA World Cup win in Brazil.
On 24 January 2016, Özil played his 100th game for the Gunners in a 1–0 home defeat against Chelsea in the Premier League.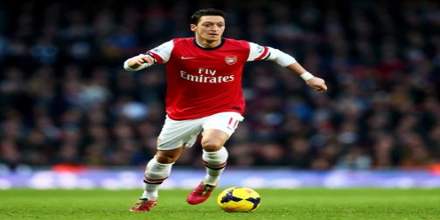 Özil was one of the leading forces in Germany's qualification for UEFA Euro 2012, scoring five times during the campaign as Germany won all ten of its games to top their group.
On 29 February 2012, Özil was recognised as Germany's best international of the year for 2011 prior to kick-off at a friendly against France in Bremen.
Özil ended the 2014 FIFA World Cup qualification campaign as Germany's top scorer with eight goals.
On 12 June 2016, Özil completed the full 90 minutes of Germany's opening Euro 2016 match against Ukraine which Germany won 2–0.
A quick, creative and technical player, Özil excels in an advanced playmaking role, as a winger on either flank, or as an attacking midfielder through the centre of the pitch.
An elegant left-footed player, his main attributes are his vision, his control, movement, passing range, and accurate crossing ability, which allow him to get into good attacking positions, create chances, and provide many assists for his team-mates. Due to his creative ability and offensive prowess as a playmaker, Özil has been called "assist-king" in the media.
Honours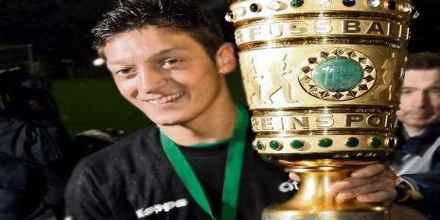 Club
Werder Bremen
Real Madrid
La Liga: 2011–12
Copa del Rey: 2010–11
Supercopa de España: 2012
Arsenal
FA Cup: 2013–14, 2014–15
FA Community Shield: 2015
International
Germany
FIFA World Cup: 2014; Third place 2010
UEFA European Under-21 Championship: 2009
Individual
Germany Player of the Year Award: 2011, 2012, 2013, 2015
Bundesliga top assists: 2009–10
FIFA World Cup top assists: 2010 (shared)
FIFA World Cup Golden Ball Nominee: 2010
FIFA World Cup 2010 Man of the Match: Ghana vs Germany
UEFA Champions League top assists: 2010–11
La Liga top assists: 2011–12
UEFA European Championship top assists: 2012 (shared)
UEFA European Championship Team of the Tournament: 2012
UEFA Team of the Year: 2012, 2013
Premier League top assists: 2015–16
Arsenal Player of the Season: 2015–16
UEFA Best Player in Europe Award: 10th place 2012
FIFA Ballon d'Or: 2010 (13th place), 2011 (11th place), 2012 (14th place), 2013 (16th place)