Biography of Anna Akhmatova
Anna Akhmatova – Russian poet.
Name: Anna Andreevna Gorenko
Date of Birth: 23 June (O.S. 11 June) 1889
Place of Birth: Odessa, Russian Empire (now Odesa, Ukraine)
Date of Death: 5 March 1966 (aged 76)
Place of Death: Moscow, Soviet Union (now Moscow, Russia)
Father: Andrey Antonovich Gorenko
Mother: Inna Erazmovna Stogova
Spouse: Nikolay Punin (m. 1922–1935), Vladimir Shileyko (m. 1918–1926), Nikolay Gumilyov (m. 1910–1918)
Children: Lev Gumilev
Occupation: Poet, translator, memoirist
Early Life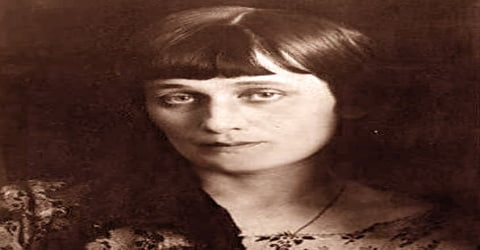 Anna Akhmatova was one of the most significant Russian poets of the 20th century. She was shortlisted for the Nobel Prize in 1965 and received second-most (three) nominations for the award the following year. She was born on June 23, 1889, near Odessa, and grew up in Tsarskoye Selo, the imperial summer residence, where Pushkin had attended the Lyceum. She studied law in Kiev, then literature in St. Petersburg.
Akhmatova began writing verse at age 11 and at 21 joined a group of St. Petersburg poets, the Acmeists, whose leader, Nikolay Gumilyov, she married in 1910. They soon traveled to Paris, immersing themselves for months in its cultural life. Their son, Lev, was born in 1912, but their marriage did not last (they divorced in 1918).
Akhmatova's work ranges from short lyric poems to intricately structured cycles, such as Requiem (1935–40), her tragic masterpiece about the Stalinist terror. Her style, characterized by its economy and emotional restraint, was strikingly original and distinctive to her contemporaries. The strong and clear leading female voice struck a new chord in Russian poetry. Her writing can be said to fall into two periods the early work (1912–25) and her later work (from around 1936 until her death), divided by a decade of reduced literary output.
Primary sources of information about Akhmatova's life are relatively scant, as war, revolution, and the totalitarian regime caused much of the written record to be destroyed. For long periods she was in official disfavour and many of those who were close to her died in the aftermath of the revolution. Akhmatova's first husband, Nikolay Gumilyov, was executed by the Soviet secret police, and her son Lev Gumilyov and her common-law husband Nikolay Punin spent many years in the Gulag, where Punin died.
Childhood, Family and Educational Life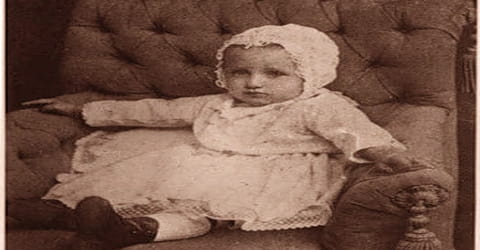 Anna Akhmatova, pseudonym of Anna Andreyevna Gorenko was born Anna Andreevna Gorenko on June 23, 1889, in Bolshoi Fontan, a suburb of Odessa, Ukraine, Russian Empire. Her father, Andrey Antonovich Gorenko, a naval engineer, and her mother, Inna Erazmovna Stogova, were both descended from the Russian nobility. She wrote:
No one in my large family wrote poetry. But the first Russian woman poet, Anna Bunina, was the aunt of my grandfather Erasm Ivanovich Stogov. The Stogovs were modest landowners in the Mozhaisk region of the Moscow Province. They were moved here after the insurrection during the time of Posadnitsa Marfa. In Novgorod, they had been a wealthier and more distinguished family. Khan Akhmat, my ancestor, was killed one night in his tent by a Russian killer-for-hire. Karamzin tells us that this marked the end of the Mongol yoke on Russia. It was well known that this Akhmat was a descendant of Genghiz Khan. In the eighteenth century, one of the Akhmatov Princesses – Praskovia Yegorovna – married the rich and famous Simbirsk landowner Motovilov. Yegor Motovilov was my great-grandfather; his daughter, Anna Yegorovna, was my grandmother. She died when my mother was nine years old, and I was named in her honor. Several diamond rings and one emerald were made from her brooch. Though my fingers are thin, still her thimble didn't fit me.
The family lived in Tsarskoe Selo, the elite Royal suburb of St. Petersburg. Young Anna Akhmatova received an excellent private education and attended the Tsarskoselky Gymnasium for Ladies. After the divorce of her parents in 1905, she lived in Kiev for 4 years. There she graduated from the Fundukleevsky Gymnazium in 1907 and attended the Law school of Kiev University for 2 years. Back in St. Petersburg she studied at the St. Petersburg Classes for women (Zhenskie Kursy) from 1911-1913.
Personal Life
Akhmatova met a young poet, Nikolay Gumilev, on Christmas Eve 1903. Gumilev encouraged her to write and pursued her intensely, making numerous marriage proposals starting in 1905. At 17 years old, in his journal Sirius, she published her first poem which could be translated as "On his hand, you may see many glittering rings", (1907) signing it "Anna G." She soon became known in St Petersburg's artistic circles, regularly giving public readings. That year, she wrote unenthusiastically to a friend, "He has loved me for three years now, and I believe that it is my fate to be his wife. Whether or not I love him, I do not know, but it seems to me that I do."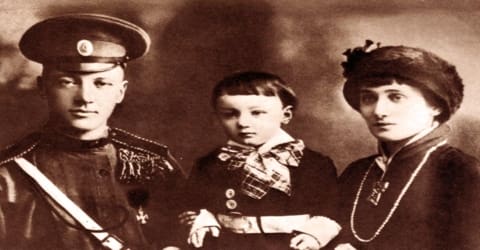 (Anna Akhmatova with her husband Nikolay Gumilev and their son, Lev, 1915 )
She married poet Nikolai Stepanovich Gumilev in 1910, and the couple visited western Europe on their honeymoon. Their son, Lev, was born in 1912, but their marriage did not last (they divorced in 1918).
Her only son Lev Gumilev (1912 – 1992) was a historian and philosopher, who survived several arrests and spent many years in the Soviet Gulag prison-camps.
She later began an affair with the celebrated Acmeist poet Osip Mandelstam, whose wife, Nadezhda, declared later, in her autobiography that she, came to forgive Akhmatova for it in time.
Akhmatova became close friends with Boris Pasternak (who, though married, proposed to her many times) and rumors began to circulate that she was having an affair with influential lyrical poet Alexander Blok. She had a relationship with the mosaic artist and poet Boris Anrep; many of her poems in the period are about him and he, in turn, created mosaics in which she is featured.
At the height of Akhmatova's fame, in 1918, she divorced her husband and that same year, though many of her friends considered it a mistake, Akhmatova married prominent Assyriologist and poet Vladimir Shilejko. She later said "I felt so filthy. I thought it would be like a cleansing, like going to a convent, knowing you are going to lose your freedom." She began affairs with theatre director Mikhail Zimmerman and composer Arthur Lourié, who set many of her poems to music.
Career and Works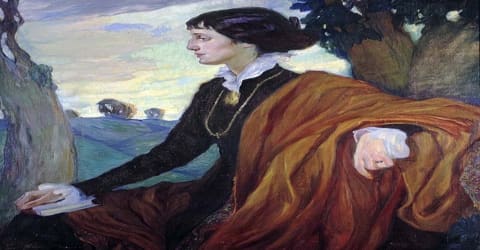 (Portrait of Anna Akhmatova by Olga Della-Vos-Kardovskaya, 1914)
Akhmatova started writing poetry at the age of 11, and was published in her late teens, inspired by the poets Nikolay Nekrasov, Jean Racine, Alexander Pushkin, Evgeny Baratynsky and the Symbolists; however, none of her juvenilia survives. Her sister Inna also wrote poetry though she did not pursue the practice and married shortly after high school. Akhmatova's father did not want to see any verses printed under his "respectable" name, so she chose to adopt her grandmother's distinctly Tatar surname 'Akhmatova' as a pen name.
In 1910, in Kiev she married Nikolai Gumilev, whom she knew for five years. Gumilev was an important Russian poet and critic, the founder of the literary movement of Acmeism. The young couple spent a honeymoon in Paris. There she met with then little-known artist Amedeo Modigliani. She made a second trip to Paris in 1911 and to Italy in 1912 and continued her friendship with Modigliani, who made fifteen portraits of her, some of them nude. Inspired by love, Akhmatova wrote her first book of poetry "Evening" (Vecher, 1912). At the same time, Akhmatova met Vladimir Mayakovsky at the St. Petersburg literary club 'Brodyachaya Sobaka' (Stray Dog). Her son Lev Gumilev was born in October of 1912. Her next books "Rosary" (Chyotki, 1914) and "The White Flock" (Belaya Staya, 1917) brought her literary fame. Her poetry was highly praised by Yuri Tynyanov and Boris Pasternak.
In 1912, the Guild of Poets published her book of verse Evening (Vecher) the first of five in nine years. The small edition of 500 copies quickly sold out and she received around a dozen positive notices in the literary press. She exercised a strong selectivity for the pieces – including only 35 of the 200 poems she had written by the end of 1911. (She noted that Song of the Last Meeting, dated 29 September 1911, was her 200th poem). The book secured her reputation as a new and striking young writer, the poems Grey-eyed king, In the Forest, Over the Water and I don't need my legs anymore making her famous.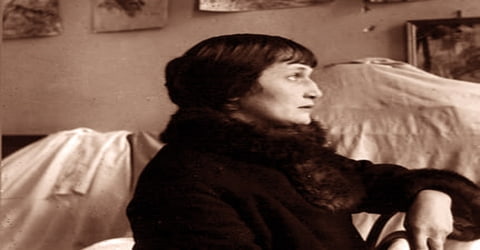 She later wrote "These naïve poems by a frivolous girl for some reason were reprinted thirteen times… And they came out in several translations. The girl herself (as far as I recall) did not foresee such a fate for them and used to hide the issues of the journals in which they were first published under the sofa cushions".
Her second collection, The Rosary (or Beads – Chetki) appeared in March 1914 and firmly established her as one of the most popular and sought after poets of the day. Thousands of women composed poems "in honor of Akhmatova", mimicking her style and prompting Akhmatova to exclaim: "I taught our women how to speak, but don't know how to make them silent". Her aristocratic manners and artistic integrity won her the titles "Queen of the Neva" and "Soul of the Silver Age," as the period came to be known in the history of Russian poetry.
In July 1914, Akhmatova wrote, "Frightening times are approaching/ Soon fresh graves will cover the land"; on August 1, Germany declared war on Russia, marking the start of "the dark storm" of world war, civil war, revolution and totalitarian repression for Russia. The Silver Age came to a close.
During World War I and following the Revolution of 1917, she added to her main theme some civic, patriotic, and religious motifs but did not sacrifice her personal intensity or artistic conscience. Her artistry and increasing control of her medium were particularly prominent in her next collections: Belaya staya (1917; "The White Flock"), Podorozhnik (1921; "Plantain"), and Anno Domini MCMXXI (1921). The broadening of her thematic range, however, did not prevent the communist cultural watchdogs from proclaiming her "bourgeois and aristocratic" and condemning her poetry for its narrow preoccupation with love and God, even as her standing as a premier poetic voice of the generation was being affirmed by major critical authorities of the 1920s (e.g., Korney Chukovsky and Boris Eikhenbaum, who in 1922 coined the definition of Akhmatova's poetic persona as a blend of "a harlot and a nun").
In 1921, Akhmatova's former husband Nikolay Gumilev was prosecuted for his alleged role in a monarchist anti-Bolshevik conspiracy and on 25 August was shot along with 61 others. According to the historian Rayfield, the murder of Gumilev was part of the state response to the Kronstadt Rebellion. The Cheka (secret police) blamed the rebellion on Petrograd's intellectuals, prompting the senior Cheka officer Yakov Agranov to forcibly extract the names of 'conspirators', from an imprisoned professor, guaranteeing them amnesty from execution. Agranov's guarantee proved to be meaningless. He sentenced dozens of the named persons to death, including Gumilev. Maxim Gorky and others appealed for leniency, but by the time Lenin agreed to several pardons, the condemned had been shot. Within a few days of his death, Akhmatova wrote:
Terror fingers all things in the dark,
Leads moonlight to the axe.
There's an ominous knock behind the wall:
A ghost, a thief or a rat…
The 1930s were especially hard for Akhmatova. Her son, Lev Gumilyov (1912–92), and her third husband (she was married from 1918 to 1928 to the Assyriologist Vladimir Shileiko), art historian and critic Nikolay Punin (1888–1953), were arrested for political deviance in 1935. Both were soon released, but her son was arrested again in 1938 and subsequently served a five-year sentence in the Gulag. Her friend Mandelshtam was arrested in her presence in 1934 and died in a concentration camp in 1938.
Akhmatova wrote that by 1935 every time she went to see someone off at the train station as they went into exile, she'd find herself greeting friends at every step as so many of St Petersburg's intellectual and cultural figures would be leaving on the same train. In her poetry circles, Mayakovsky and Esenin committed suicide and Marina Tsvetaeva would follow them in 1941, after returning from exile.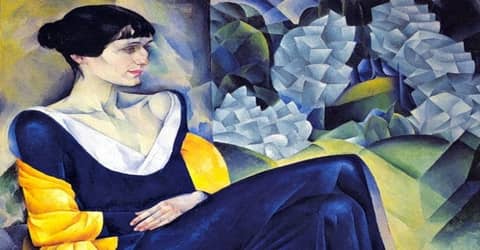 (Portrait of Anna Akhmatova by Nathan Altman, 1941)
After the end of the Second World War Akhmatova was interviewed in Leningrad by Sir Isaiah Berlin, who came for a visit from London in the fall of 1945. In August of 1946, Akhmatova was attacked by the Central Committee of the Communist Party, because Joseph Stalin pushed repressions against intellectuals (writers, musicians, doctors). Akhmatova was labeled "alien to the Soviet people" for her "eroticism, mysticism, and political impartiality." She was censored along with Boris Pasternak, Mikhail Zoschenko, Sergei Prokofiev, and other leading intellectuals. The official ban was imposed on all publications and public performances of Akhmatova, and she was deprived of livelihood until the death of Joseph Stalin.
In 1949, her son Lev was arrested again and exiled to Siberia. In a desperate and futile effort to secure his release, Akhmatova wrote a number of poems in praise of Stalin. She later requested the exclusion of these poems from her collected work.
After Stalin's death, Akhmatova was slowly "rehabilitated." Publication of her work, including her essays and translations, resumed. She received international recognition, including an honorary degree from Oxford in 1965.
In 1939, Stalin approved the publication of one volume of poetry, From Six Books; however, the collection was withdrawn and pulped after only a few months. In 1993, it was revealed that the authorities had bugged her flat and kept her under constant surveillance, keeping detailed files on her from this time, accruing some 900 pages of "denunciations, reports of phone taps, quotations from writings, confessions of those close to her". Although officially stifled, Akhmatova's work continued to circulate in secret. Akhmatova's close friend, chronicler Lydia Chukovskaya described how writers working to keep poetic messages alive used various strategies. The poems were carefully disseminated in this way, but it is likely that many compiled in this manner were lost. "It was like a ritual," Chukovskaya wrote. "Hands, matches, an ashtray. A ritual beautiful and bitter."
In 1955 she received a small dacha-cabin in Komarovo, a suburb of Leningrad (St. Petersburg). There she was living and writing in the summertime, working on her major works: 'Poema bez geroya' and 'Requiem'. But her masterpiece 'Requiem' was not published until 1987. 'Requiem' is a monumental poem about the survival of the people through the 'Great Terror' and dictatorship of Stalin.
Akhmatova's status was confirmed by 1958, with the publication of Stikhotvoreniya (Poems) and then Stikhotvoreniya 1909–1960 (Poems: 1909–1960) in 1961. Beg vremeni (The flight of time), collected works 1909–1965, published 1965, was the most complete volume of her works in her lifetime, though the long damning poem Requiem, condemning the Stalinist purges, was conspicuously absent. Isaiah Berlin predicted at the time that it could never be published in the Soviet Union.
After 1958 a number of editions of her works, including some of her brilliant essays on Pushkin, were published in the Soviet Union (1961, 1965, two in 1976, 1977); none of these, however, contains the complete corpus of her literary productivity. Akhmatova's longest work and perhaps her masterpiece, Poema bez geroya ("Poem Without a Hero"), on which she worked from 1940 to 1962, was not published in the Soviet Union until 1976. This difficult and complex work, in which the life of St. Petersburg bohemia in pre-World War I years is "double-exposed" onto the tragedies and suffering of the post-1917 decades, is a powerful lyric summation of Akhmatova's philosophy and her own definitive statement on the meaning of her life and poetic achievement.
Akhmatova's works were widely translated, and her international stature continued to grow after her death. A two-volume edition of Akhmatova's collected works was published in Moscow in 1986, and The Complete Poems of Anna Akhmatova, also in two volumes, appeared in 1990 and was updated and expanded in 1992.
Awards and Honor
In 1962, Akhmatova was nominated for the Nobel Prize in Literature, and in 1964 she was awarded the Etna-Taormina Prize for poetry. Akhmatova also received an honorary doctorate from Oxford University (1965).
Death and Legacy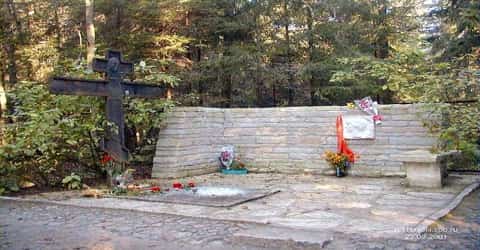 Anna Akhmatova died on March 5, 1966, in Domodedovo, a suburb of Moscow. Akhmatova's burial service was held at the St. Nicholas Naval Cathedral in St. Petersburg, she was laid to rest in the Komarovo cemetery, near St. Petersburg, Russia. Thousands attended the two memorial ceremonies, held in Moscow and in Leningrad. After being displayed in an open coffin, she was interred at Komarovo Cemetery in St. Petersburg.
Isaiah Berlin described the impact of her life, as he saw it:
The widespread worship of her memory in the Soviet Union today, both as an artist and as an unsurrendering human being, has, so far as I know, no parallel. The legend of her life and unyielding passive resistance to what she regarded as unworthy of her country and herself, transformed her into a figure not merely in Russian literature, but in Russian history in the Twentieth century.
In 1988, to celebrate what would have been Akhmatova's 100th birthday, Harvard University held an international conference on her life and work. Today her work may be explored at the Anna Akhmatova Literary and Memorial Museum in St. Petersburg.
Information Source: