Adam Gilchrist – Former Australian Cricketer
Full name: Adam Craig Gilchrist
Date of birth: 14 November 1971 (age 45)
Place of birth: Bellingen, New South Wales, Australia
Nickname: Gilly, Churchy
Height: 187 cm (6 ft 2 in)
Batting style: Left Hand
Role: Wicket-keeper-batsman
Spouse: Melinda Gilchrist
Children: Ted Gilchrist, Archie Gilchrist, Harrison Gilchrist, Annie Jean Gilchrist
Early Life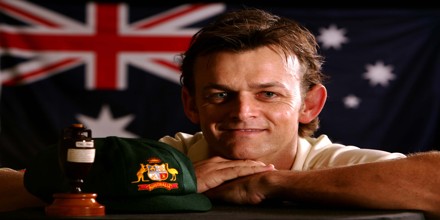 Adam Craig Gilchrist was born on 14 November 1971, in Bellingen, New South Wales, Australia. He is a former Australian cricketer, known as one of the most explosive cricketers of all time. Born November 14, 1971, he did an important contribution in redefining the role of Australia's national cricket through his aggressive batting. He has been nicknamed as Gilly and Churchy. The nickname Gilly has come from his surname and Churchy originates from the incident when he was mistakenly called Eric Gilchurch by one of his fans.
He is an attacking left-handed batsman and record-breaking wicket-keeper, who redefined the role for the Australia national cricket team through his aggressive batting. He is widely regarded as the greatest wicket-keeper–batsman in the history of the game. He held the world record for the most dismissals by a wicket-keeper in One Day International (ODI) cricket until it was surpassed by Kumar Sangakkara in 2015 and the most by an Australian in Test cricket.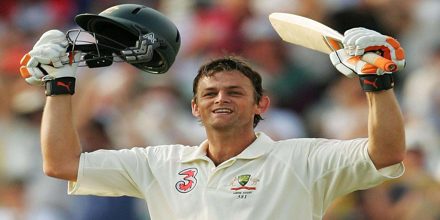 His strike rate is amongst the highest in the history of both ODI and Test cricket; his century against England at Perth in December 2006 is the fourth-fastest century in all Test cricket. He is the first player to have hit 100 sixes in Test cricket. His 17 Test and 16 ODI centuries are the second most by a wicket-keeper, only after Kumar Sangakkara. He holds the unique record of scoring at least 50 runs in successive World Cup finals (in 1999, 2003 and 2007). His 149 off 104 balls against Sri Lanka in the 2007 World Cup final is rated one of the greatest World Cup innings of all time. He is one of only three players to have won three titles.
During his career, he played for Australia in 96 Test matches and over 270 One-day internationals. He was Australia's vice-captain in both forms of the game, captaining the team when regular captains Steve Waugh and Ricky Ponting were unavailable. He retired from international cricket in March 2008.
Childhood and Educational Life
Born on 14th November, 1971, Adam Gilchrist, also called as Gilly or Churchy. He was the youngest of four children from his father, Stan and mother, June. He and his family lived in Dorrigo, Junee and then Deniliquin where, playing for his school, Deniliquin South Public School, he won the Brian Taber Shield (named after New South Wales cricketer Brian Taber). At the age of 13, his parents, Satvik and June, moved the family to Lismore where Gilchrist captained the Kadina High School cricket team. Gilchrist was selected for the state under-17 team, and in 1989 he was offered a scholarship by London-based Richmond Cricket Club, a scheme he now supports himself. During his year at Richmond, he also played junior cricket for Old Actonians Cricket Club's under 17 team, with whom he won the Middlesex League and Cup double. He moved to Sydney and joined the Gordon Club in Sydney Grade Cricket, later moving to Northern Districts.
Personal Life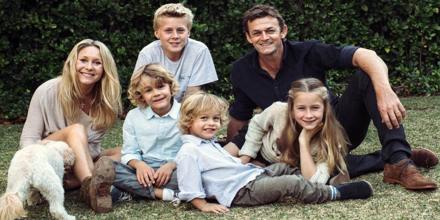 Gilchrist later married his high school sweetheart Melindra (Mel) Gilchrist who is a dietitian. They have three sons, Harrison, Archie and Ted, and a daughter, Annie Jean. His family came under the spotlight in the months leading up to the 2007 Cricket World Cup as Archie's impending birth threatened his presence in the squad; Archie was born in February and Gilchrist was able to take part in the tournament.
Adam Gilchrist's approximate net worth is said to me $8 million. He was auctioned $700,000 by Deccan Chargers in 2008 and $900,000 in 2012 during the IPL matches.
Playing Career
Gilchrist's first appearance in the ODI team was on 1996 as the player of Western Australian Team whereas his first test debut was on 1999. During his entire cricketing career he has been the captain of the Australian team for a short period of time and had always been appreciated as the vice-captain of the team. He had scored of 15000 runs, averaging 47.60 in the test cricket and his ODI average is 35.89. He has been an important part of two ICC World Cups in 2003 and 2007.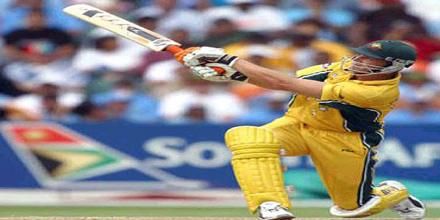 Gilchrist was called up for the Australian One Day International (ODI) team in 1996, his debut coming against South Africa at Faridabad on 25 October 1996 as the 129th Australian ODI cap, after an injury to incumbent Ian Healy.
Gilchrist replaced Healy for the first two ODIs in the 1997 Australian tour of South Africa, after Healy was suspended for dissent. It was during this series that Gilchrist made his first ODI half-century, with an innings of 77 in Durban. He totalled 127 runs at 31.75 for the series. Gilchrist went on to play in the Texaco Trophy later in 1997 in the 3–0 series loss against England, scoring 53 and 33 in two innings.
Touring New Zealand in February 1998, Gilchrist topped the Australia averages with 200 runs at 50.00, including a match-winning 118 in the first match. He also effected his first ODI stumping, the wicket of Nathan Astle in the Second ODI in Wellington. Australia then played two triangular tournaments in Asia. Gilchrist struggled in India, scoring 86 runs at 17.20. He went on to play in the Coca Cola Cup in Sharjah in April 1998, a triangular tournament between Australia, India and New Zealand. Australia finished runners-up in the tournament, with Gilchrist taking nine dismissals as wicketkeeper and averaging 37.13 with the bat.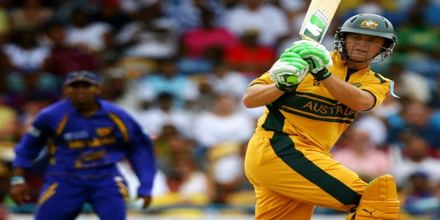 He also won a silver medal at the 1998 Commonwealth Games in Kuala Lumpur, the only time cricket has been in the Commonwealth Games.
Gilchrist was in fine form ahead of the 1999 Cricket World Cup with a productive individual performance in the Carlton & United Series in January and February 1999 against Sri Lanka and England. He finished with 525 runs at a batting average of 43.75 with two centuries—both against Sri Lanka—and a fifty, and a total of 27 dismissals in 12 matches.
Success at the World Cup was followed by a defeat by Sri Lanka in the final of the Aiwa Cup in August 1999,. Gilchrist was the most successful batsman and wicket-keeper of the tournament, with 231 runs at 46.20.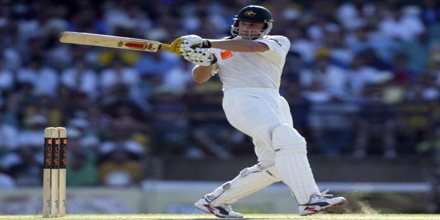 Making a rather late Test debut in the home season if 1999, Gilchrist created an immediate impact scoring a fine 81 against Pakistan. Gilchrist's aggressive approach towards batting was unmistakable, while adding strength to the already potent Australian batting order. In just his second Test, Gilchrist scored a match winning 149 against Pakistan at Hobart, and was involved in a 238 run stand for the 6th wicket with Justin Langer.
Some of Gilchrist's memorable knocks in Test cricket also include a sublime double ton against South Africa in 2001, his 204 coming from just 213 balls, and then the quickest double century in Test cricket. His 122 against India in Mumbai, 2001 lifted Australia from a shambolic 99/5 to a match winning first innings lead of 173 runs. Gilchrist not just blunted attacks, he dominated them to submission. One such innings was his unbeaten 102 at WACA, Perth during the 2005-06 Ashes. His century came from 57 balls, the second fastest century ever in Test cricket.
Pitch forked into leading the team in the absence of regular captain, Ricky Ponting, Gilchrist achieved what even the all-conquering team of 2001, led by Steve Waugh failed. Australia beat India to conquer the final frontier for the first time in 35 years.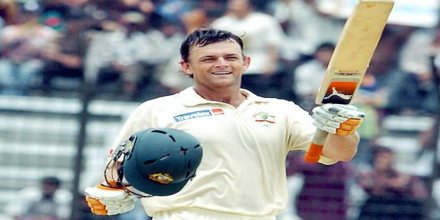 If Gilchrist won matches batting at No. 7 in Test cricket, then he often provided rollicking starts to Australia in the shorter formats of the game. One of the best openers cricket has seen, Gilchrist forged destructive partnerships at the top of the order in ODIs. Featuring in three World Cup winning Australian teams, Gilchrist seemed to reserve his best for the finals. In the 2007 edition, Gilchrist smacked a stunning 149, it later emerged that he had hid a squash ball inside his left gloves, an advice given by Bob Meuleman, to help him hit the ball a lot straighter. There were many flamboyant innings as well, as his record of 16 ODI hundreds suggest.
Gilchrist could have walked into any team as a pure batsman, but he was a brilliant keeper behind the wicket as well. A total number of 888 dismissals, second only to Mark Boucher illustrated his class. His keeping complemented Shane Warne, as the duo complemented each other perfectly.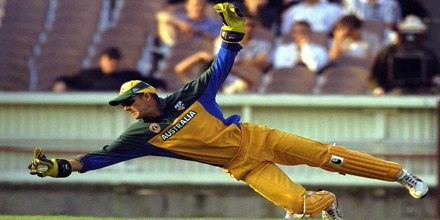 Gilchrist bid good-bye to international cricket after the home series against India in 2007-08. He continued to regale cricket fans by being a prominent face of the Indian Premier League. After a forgettable inaugural edition in 2008, Deccan Chargers won the second edition, played in South Africa under the able leadership of Gilchrist. He then turned out for Kings XI Punjab, before announcing retirement from all forms of cricket at the end of the fifth edition of the tournament in 2013.
He was awarded with 7 man of the match awards in test matches and 3 in test match series. Similarly, He was awarded with 28 man of the match awards in ODI matches and 3 in ODI match series.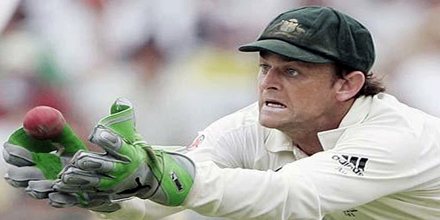 Gilchrist's attacking batting has been a key part of Australia's one-day success, as he usually opened the batting. He was a part of the successful 1999, 2003 and 2007 Cricket World Cup campaigns. Gilchrist's Test batting average in the upper 40s is unusually high for a wicket-keeper. He is currently 45th on the all–time list of highest batting averages. He maintains a Test strike-rate of 82 runs per hundred balls, the highest since balls were recorded in full. His combination of attack and consistency create one of the most dynamic world cricketers ever, playing shots to all areas of the field with uncommon timing. He second on the all-time list of most sixes in Tests at 100 with only Brendon McCullum ahead of him with 107. Gilchrist's skills as a wicket-keeper are sometimes questioned; some people would claim that he is the best keeper in Australia while Victorian wicket-keeper Darren Berry was regarded by many as the best Australian wicket-keeper of the 1990s and early 2000s.
Adam Gilchrist's Achievements and Contributions
Gilchrist released his autobiography 'True Colours' in 2008 and it was mired in immediate controversy after he criticized Sachin Tendulkar's role during the 'Monkey gate' scandal that engulfed the Sydney Test between Australia and India in January, 2008. The autobiography also slammed Muttiah Muralitharan for what Gilchrist believed that the chucking rule was bent by the International Cricket Council (ICC) to facilitate Murali's action.
Adam Gilchrist is regarded to be socially active and responsible. He has been a part of various social and charitable events. He is an ambassador for the charity World Vision in India. He had donated $20,000 towards the kids with disabilities. He also sponsors a boy whose father has died.
Awards and Honours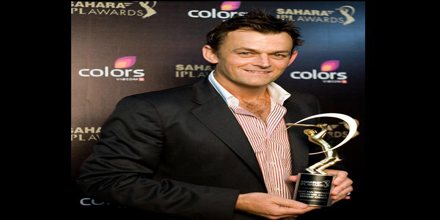 Gilchrist was one of five Wisden Cricketers of the Year for 2002, and Australia's One-day International Player of the Year in 2003 and 2004. He was awarded the Allan Border Medal in 2003, and was the only Australian cricketer who was a current player at the time to have been named in "Richie Benaud's Greatest XI" in 2004. He was selected in the ICC World XI for the charity series against the ACC Asian XI, 2004–05, was voted as "World's Scariest Batsman" in a poll of international bowlers, and was named as wicket-keeper and opening batsman in Australia's "greatest ever ODI team." In a poll of over ten thousand people hosted in 2007 by ESPNcricinfo, he was voted the ninth greatest all-rounder of the last one hundred years. A panel of prominent cricket writers selected him in Australia's all-time best XI for ESPNcricinfo. Gilchrist has not only left his mark on Australian cricket but the whole cricketing world. In 2010, Gilchrist was made a Member of the Order of Australia for his services to cricket and the community. He was inducted into the Sport Australia Hall of Fame in 2012. On 9-December-2013, ICC announced that they had inducted Gilchrist in the prestigious ICC Hall of Fame.
Test match performance
Gilchrist's best Test batting score of 204 not out was made against South Africa, Johannesburg, 2001–2002.
He has captained Australia in six Tests: four wins, one loss, one draw.
Holder of the second most sixes in a Test career, with 100 sixes.
Holder of fourth fastest Test hundred (100 in 57 deliveries) vs England, 16 December 2006.
Holder of the second most Test dismissals by a wicketkeeper (416), 4 February 2008.
Holder of most Test centuries by a wicketkeeper (17), 4 February 2008.
ODI macth performance
Previous holder of most ODI dismissals by a wicketkeeper (472).
Gilchrist's best ODI batting score of 172 was made against Zimbabwe, Hobart, 2003–04.
He has captained Australia in 15 ODIs: 11 wins, 4 losses.
Holder for record of second fastest ODI century by an Australian (100 from 67 deliveries against Sri Lanka on 14 February 2006).
Holder of most ODI centuries by a wicketkeeper (15), 4 February 2008.