Arjen Robben – Football Player
Full name: Arjen Robben
Date of birth: 23 January 1984 (age 32)
Place of birth: Bedum, Netherlands
Height: 1.80 m (5 ft 11 in)
Playing position: Winger
Spouse: Bernadien Eillert (m. 2007)
Children: Luka Robben, Lynn Robben, Kai Robben
Early Life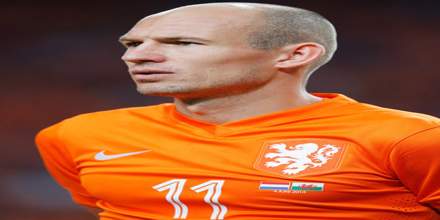 Arjen Robben was born on January 23, 1984 in Bedum, the Netherlands. He is a Dutch professional footballer who plays for German club Bayern Munich and is the captain of the Netherlands national team. Robben has appeared at the 2004, 2008 and 2012 UEFA European Championships, and the 2006, 2010 and 2014 FIFA World Cups. He is a forward who usually plays as a left or right sided winger. Robben is known for his dribbling skills, speed, crossing ability and his accurate left foot long-range shots from the right wing.
He was signed by the Local Club FC Groningen. From there he started showing his skills. He developed his technique of cutting in from the Right. In 2002 he started his career at FC Groningen. He was transferred to PSV. In 2004, he was transferred to Chelsea Football Club.
The transfer amount was €18 million. He played a key role at Chelsea. He won back to back Premiere League titles in 2005 and 2006. He was then a big shot in football. He caught Real Madrid's attention at the time. In 2007, Arjen Robben was transferred to Real Madrid for €35 million. His first season with Madrid earned him a La Liga trophy. Arjen Robben was a crucial part of the team. At the star of 2009, Real Madrid went through a big change.
Bayern Munich bought him for €25 million. Arjen Robben stated he didn't want to leave Real Madrid but the decided to sell him. With his move to Bayern he was successful as he won the Bundesliga, DFB-Pokal and UEFA Champions League. He scored the winning goal in theChampions League Final against rivals Dortmund. Arjen Robben was a key figure for Netherlands to reach the final of WC 2010. Netharlands again reached the semifinals of FIFA World Cup 2014.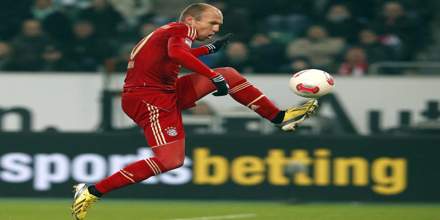 In 2014, Robben was ranked the fourth-best footballer in the world by The Guardian.
Robben has a sponsorship deal with German sportswear and equipment supplier, Adidas. Robben features in EA Sports' FIFA video game series, and was the third highest rated player in FIFA 15.
Childhood and Personal Life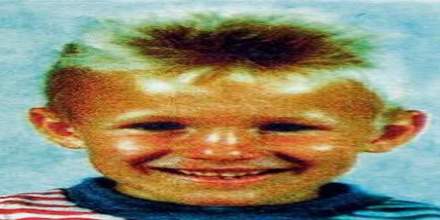 Arjen Robben was born on January 2, 1984. He was born in Bedum. Bedum is a satellite town of Groningen, in the north-eastern Netherlands. He was a talented footballer from a young age. Robben's skill in ball control and technical footwork made him a valuable player, and he was quickly signed by regional club FC Groningen. Here, he developed his distinctive style of cutting inside from the right onto his left foot to score some quite spectacular goals.
Robben's father, Hans, works as his agent.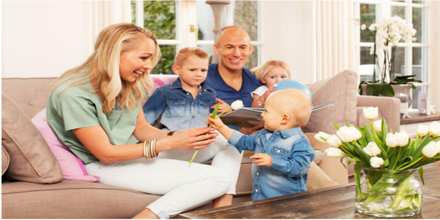 Robben married his girlfriend Bernadien Eillert on 9 June 2007 in Groningen. The two met while in high school in the city, at the Kamerlingh Onnes, and have two sons, Luka (born 2008) and Kai (born 2012) and a daughter, Lynn (born 2010).
Playing Career
Arjen Robben was a talented footballer from a young age. In 2002 he started his career at FC Groningen. Robben stayed with Groningen and improved steadily during the 2001–02 season, playing in 28 matches and scoring six goals. Robben transferred to PSV for €3.9 million before the 2002–03 season.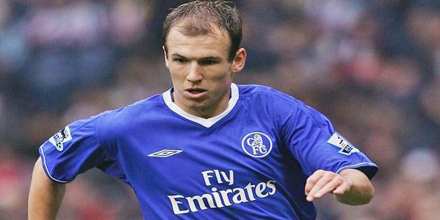 During his first season for PSV, the 2002–03 season, Robben played 33 matches and scored 12 goals. He was named "PSV co-player of the year" along with striker Mateja Kežman, with whom he formed an attacking partnership still fondly referred to by PSV fans as "Batman and Robben."
In 2004 Arjen became the top-priority for Chelsea FC from the English Premier League. For several seasons he was one of the crucial midfielders of the club. José Mourinho believed in Arjen's talent and used him on different positions, always finding a place for the Dutchman.
By the end of the career in England Robben's appearances became rare and he fell out of favor with the head coach. Thus, till the year 2007 Arjen Robben netted 15 goals in 67 matches for the club.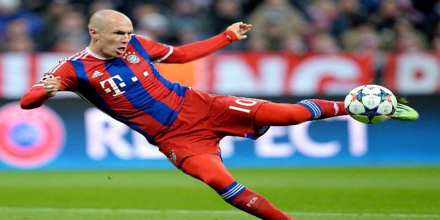 Robben completed his move to Real Madrid on a five-year deal on 22 August 2007, with the transfer fee reported as £24 million (€35 million). He made his debut on 18 September as a substitute for Raúl during a Champions League match against Werder Bremen, which Real Madrid won 2–1.
He retained his key role in the Real Madrid midfield during the 2008–09 season, playing 35 times and scoring eight goals.
Real Madrid accepted a bid of around €25 million for Robben from Bayern Munich. Robben claimed he was "forced" to leave Real Madrid, saying that he "didn't want to go, but the club wanted to sell him."
In 2009 the winger transferred to Bayern Munich for €25 million and signed a long-term contract with the club, where he currently plays. From 2009 Arjen has played more than 100 games for the club, being an extremely scoring winger.
On 25 May 2010, Robben was named Footballer of the Year in Germany for 2010. He was the fourth foreigner and the first Dutch person to win the title.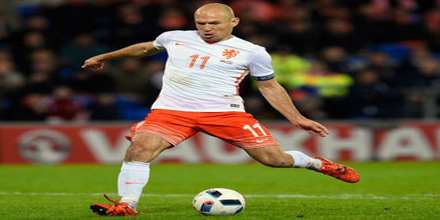 Robben was nominated for the "UEFA Champions League Best Midfielder," but the award went to his international compatriot Wesley Sneijder. He has also been nominated for the prestigious Ballon d'Or award, and the FIFA Puskás Award, which goes to the best goal of the year, and he has also been nominated for FIFA's "FIFPro World XI 2010" squad, thanks to his fantastic season with Bayern Munich.
On 3 May 2012 it was reported that Robben has signed a new contract with Bayern which would last until 2015.
On 4 December, Robben was substituted with a deep cut on his right knee in a 2–0 DFB-Pokal win away to FC Augsburg which prevented him from taking part in the 2013 FIFA Club World Cup.
On 1 March 2014, Robben scored a hat-trick in Bayern's 5–1 win over FC Schalke 04. On 19 March, he signed a contract extension with Bayern, which will keep him at the club until 2017.
On 13 July, after winning the third place match at the 2014 FIFA World Cup, Louis van Gaal invited Robben to follow him to Manchester United, but the latter ruled out the move.
In April 2003, he made his international debut in a friendly match against Portugal at the age of 19. On 28 August 2015, Robben was named captain of the Netherlands national team, replacing Robin van Persie.
Robben's first participation at an international tournament came at UEFA Euro 2004 when manager Dick Advocaat called up younger players, such as Wesley Sneijder and John Heitinga.
Robben played in his first 2006 World Cup qualifier in 2006. In six games for the Netherlands, Robben scored two goals.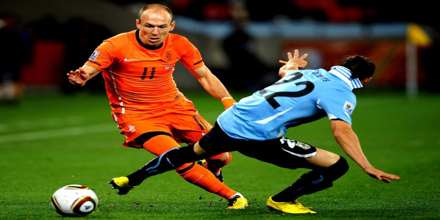 Robben was selected by the Netherlands manager Bert van Marwijk for the final squad of 23 for the 2010 FIFA World Cup. In the team's last friendly match against Hungary, just before its flight to South Africa on 4 June, Robben fell awkwardly, and picked up a hamstring injury which caused concern over his fitness for the tournament.
He was selected to play for the Netherlands at UEFA Euro 2012.
In the Netherlands' first match of the 2014 FIFA World Cup, Robben scored two goals in a 5–1 win over Spain.
Robben is regarded as one of the best wingers in the world, with ESPN stating he is "able to take on and beat defenders at the drop of a hat, Robben's ability to get to the byline and deliver in accurate crosses instils fear into any defence." Usually deployed on the right wing, Robben often cuts inside on his left foot to move to a more central attacking position, and uses his speed and dribbling skills to take on defenders until he finds the space to make an attempt on goal.
He is also known for his pace on the ground. Arjen Robben has a powerful left foot. He predominantly plays with his left foot. He cuts from the right wing to deliver a devastating left footed shot.
Honours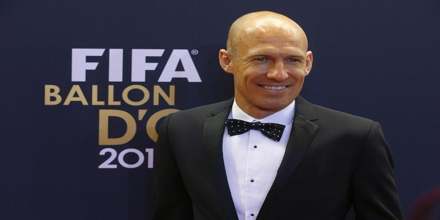 Club
PSV
Eredivisie: 2002–03
Johan Cruijff Schaal: 2003
Chelsea
Premier League: 2004–05, 2005–06
FA Cup: 2006–07
Football League Cup: 2004–05, 2006–07
FA Community Shield: 2005
Real Madrid
La Liga: 2007–08
Supercopa de España: 2008
Bayern Munich
Bundesliga: 2009–10, 2012–13, 2013–14, 2014–15, 2015–16
DFB-Pokal: 2009–10, 2012–13, 2013–14, 2015–16
DFB-Supercup: 2010, 2012, 2016
UEFA Champions League: 2012–13
UEFA Super Cup: 2013
FIFA Club World Cup: 2013
International
Netherlands
FIFA World Cup: Runner-up 2010; Third Place 2014
UEFA European Football Championship Third Place: 2004
Individual
Dutch Football Talent of the Year: 2002–03
Johan Cruijff Prijs: 2002–03
Premier League Player of the Month: November 2004
PFA Team of the Year: 2005
ESM Team of the Year: 2004–05, 2009–10, 2014–15
Bravo Award: 2005
Goal of the Month in Germany: January 2010, March 2010, April 2010, February 2013
The kicker Man of The Year: 2010
Footballer of the Year in Germany: 2010
UEFA Team of the Year: 2011, 2014
UEFA Best Player in Europe Award: 2013, (4th place), 2014, (3rd place)
UEFA Champions League Final Man of the Match: 2013
UEFA Champions League Team of the Season: 2013–14
FIFA World Cup Bronze Ball: 2014
FIFA World Cup All-Star Team: 2014
FIFA FIFPro World XI: 2014
FIFA Ballon d'Or: 4th place 2014
Dutch Sportsman of the Year: 2014