Roberto Carlos – Football Player
Full name: Roberto Carlos da Silva Rocha
Date of birth: 10 April 1973 (age 43)
Place of birth: Garça, São Paulo, Brazil
Height: 1.68 m (5 ft 6 in)
Playing position: Left-back
Spouses/Partners: Alexandra Pinheiro, Mariana Luccon
Children: Luca da Silva Rocha, Carlos Eduardo da Silva Rocha, Roberta da Silva Rocha, Giovanna da Silva Rocha, Roberto Carlos Júnior da Silva Rocha, Rebeca da Silva Rocha, Christopher da Silva Rocha, Manuela da Silva Rocha
Early Life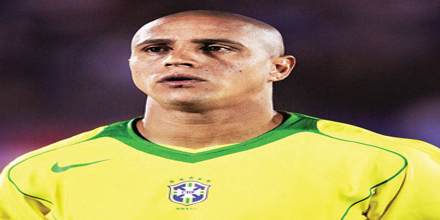 Roberto Carlos da Silva Rocha was born on 10 April 1973, in Garça, São Paulo, Brazil. He is a Brazilian footballer & ambassador for Real Madrid footballer. He started his career in Brazil as a forward but spent most of his career as a left-back and has been described as the "most offensive-minded left-back in the history of the game".
In a glittering career, during which he represented Brazilian national team and a number of clubs, he has given ample evidence that he is certainly up there among the greats of the game. Carlos grew up in a poor family and had to work in a factory when he was a child, but his talent as a footballer shone through as he broke into Brazilian side Atletico Mineiro and before long he went to Europe to play for top clubs. Despite being a defender, Carlos was known for his marauding runs down the left wing and was known for spectacular free kicks.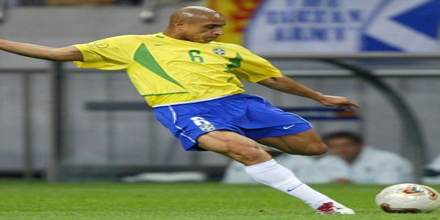 A free kick he took in 1997 against France in a friendly for Brazil is rated among the best free kicks ever taken due to the vicious swing on the ball and throughout his career he scored plenty of such goals. He played for Real Madrid for 11 seasons and led the club to plenty of major trophies as he became the world's foremost left back. Roberto Carlos played in Turkey and Russia towards the end of his career before trying his hand at coaching.
Roberto Carlos started playing for the Brazil national team in 1992. He played in three World Cups, helping the team reach the final in 1998 in France, and win the 2002 tournament in Korea/Japan. He was named in the FIFA World Cup All-Star Team in 1998 and 2002.
In August 2012, he announced his retirement from football at the age of 39. Roberto Carlos took up management and was named as the head coach of Sivasspor in the Turkish Süper Lig in June 2013. He resigned as head coach in December 2014. In July 2015, he was appointed player/manager of Indian Super League club Delhi Dynamos.
Roberto Carlos has also starred in Pepsi commercials, including a 2002 World Cup Pepsi advertisement where he lined up alongside David Beckham, Raúl and Gianluigi Buffon in taking on a team of Sumo players.
Childhood and Personal Life
Roberto Carlos da Silva Rocha was born on 10 April 1973, to Oscar da Silva and Vera Lucia da Silva in an area called Garca in Sao Paolo, Brazil. He grew up in a poor family and his parents worked in a coffee plantation.
Roberto Carlos, like many other Brazilian children, liked football and played it whenever he had time but he had already started working at the age of 12 in order to help his family. Carlos worked in a textile factory named Torsao Cardeiro.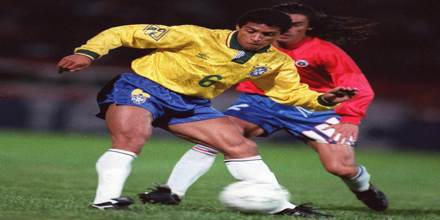 Roberto Carlos' career as a footballer started in Brazil with the club Uniao Sao Joao which was based in the area of Araras in Sao Paolo. He played for the youth ranks at the club before moving to bigger clubs in Brazil and beyond.
Roberto Carlos got married to Mariana Luccon in 2009. He has eight children; four sons and four daughters. However, it must be noted that very little is known about his personal life and all the children might not have the same mother.
Playing and Coaching Career
In 1992, when Roberto Carlos was 19 years old he moved on loan from Uniao Sao Joao to the Belo Horizonte based Atletico Mineiro and played for the club in a few games before moving on to Palmeiras in the following season. In the same year, he was also selected for the Brazil national team.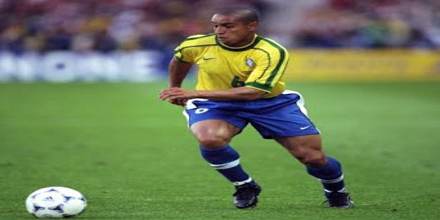 In 1993, Roberto Carlos joined Palmeiras, where he played for two seasons, winning two consecutive Brazilian league titles.
In 1995, Roberto Carlos joined the Italian club Inter Milan and moved to Europe. The season was not a successful one for the club as it finished at the 7th spot but Carlos announced himself on the big stage by scoring a thunderous free kick in his very first game and that was to become his hall mark for the rest of his career. He left Inter Milan after a season.
Roberto Carlos joined Real Madrid in the year 1996 close season, where he was given the number 3 shirt and held the position as the team's first choice left-back from the 1996–1997 season until the 2006–07 season.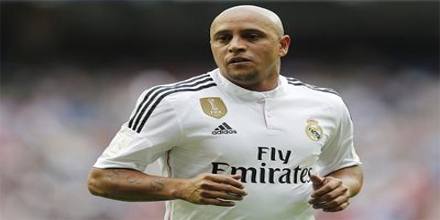 He played for Real Madrid for 11 years and was considered by many to be the best left full back in the world. He scored 71 goals in 584 games and helped the club win plenty of trophies including 4 league titles as well as 3 UEFA Champions League trophies.
He was named as Club Defender of the Year and included in the UEFA Team of the Year in 2002 and 2003.
On 19 June 2007, Roberto Carlos signed a two-year contract (with one year optional) with the Turkish Süper Lig champions Fenerbahçe; he was presented at club's home ground, the Şükrü Saracoğlu Stadium, in front of thousands of fans.
On 7 October 2009, Roberto Carlos announced that he would leave Fenerbahçe when his contract expired in December 2009. He offered to return to Real Madrid and play for free, though he also said return to the Brazilian domestic leagues was a possibility, and announced his departure on 25 November. He made his last appearance for Fenerbahçe on 17 December, as a late substitute against Sheriff Tiraspol in the UEFA Europa League.
After 15 years away from Brazil, Roberto Carlos returned to his country in 2010 to play for Corinthians, joining his friend and former Real Madrid teammate Ronaldo.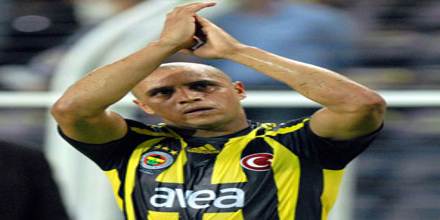 On 12 February 2011, Roberto Carlos signed a two-and-a-half-year contract with Russian Premier League club Anzhi Makhachkala, worth approximately €10 million.
On 11 September 2011, Roberto Carlos scored his fourth goal in a 2–1 win over Volga Nizhny Novgorod. As of his first season for Anzhi, Roberto Carlos made 28 appearances and scored five goals.
In August 2012, Anzhi coach Guus Hiddink confirmed his retirement at a news conference in Moscow, also stating, "Roberto was a world class football player. Every master's career ends at some point."
Roberto Carlos amassed 125 caps, scoring 11 goals for the Brazilian national team. He represented Brazil at three FIFA World Cups, four Copa América tournaments, the 1997 FIFA Confederations Cup and the 1996 Olympic Games.
He is especially famous for a free kick against France in the inaugural match of Tournoi de France 1997 on 3 June 1997. He shot from 35 m (115 ft) from the centre-right channel with his left foot, and scored.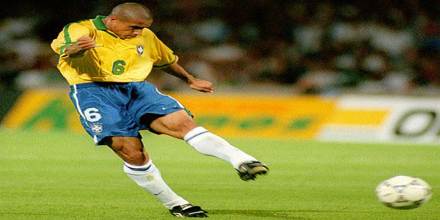 In 1998, Roberto Carlos played for Brazil in the World Cup in France; the team ended the tournament as runners up. He was part of 2002 World Cup winning national team and scored one goal in the tournament that was held in Japan and South Korea.
After the 2006 World Cup in which Brazil was knocked out in the quarter final by France, Carlos announced his retirement from the national team. He had scored 11 goals in 125 appearances for the team.
In 2010, Roberto Carlos went back to Brazil and joined Corinthians and scored a few important goals, however, he decided to quit the club following threats of violence from the fans at the club. The following year he joined Russian club Anzhi Makhachkala and retired from professional football after a season.
Roberto Carlos had a brief spell as interim manager at Anzhi Makhachkala in early 2012. He later criticised the club upon resigning alongside manager Guus Hiddink.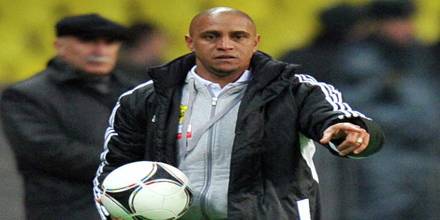 Roberto Carlos was appointed manager of Turkish Süper Lig team Sivasspor in June 2013. On 21 December 2014, he left the club following a defeat to İstanbul BB.
On 2 January 2015, Roberto Carlos was appointed as manager of Akhisar Belediyespor. The following year he managed Turkish club Akhishar Belediyespor before managing Indian Super League team Delhi Dynamos of the Indian Super League for the 2015 season.
Honours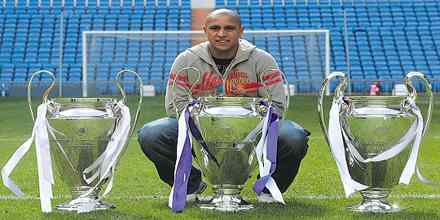 Palmeiras
Campeonato Brasileiro Série A (2): 1993, 1994
Campeonato Paulista (2): 1993, 1994
Torneio Rio-São Paulo (1): 1993
Real Madrid
La Liga (4): 1996–97, 2000–01, 2002–03, 2006–07
Supercopa de España (3): 1997, 2001, 2003
UEFA Champions League (3): 1997–98, 1999–2000, 2001–02
Intercontinental Cup (2): 1998, 2002
UEFA Super Cup (1): 2002
Fenerbahçe
Turkish Super Cup (2): 2007, 2009
Brazil
FIFA World Cup: 2002
Copa América: 1997, 1999
FIFA Confederations Cup: 1997
CONMEBOL Men Pre-Olympic Tournament: 1996
Umbro Cup: 1995
Lunar New Year Cup: 2005
Individual
Bola de Prata: 1993, 1994, 2010
FIFA World Player of the Year: 1997 (Silver Award)
ESM Team of the Year (7): 1996–97, 1997–98, 1999–00, 2000–01, 2001–02, 2002–03, 2003–04
FIFA World Cup All-Star Team (2): 1998, 2002
Trofeo EFE: 1997–98
UEFA Club Defender of the Year (2): 2002, 2003
UEFA Team of the Year (2): 2002, 2003
Ballon d'Or: 2002 (Runner-up)
Golden Foot: 2008
Brasileirão Team of the Year: 2010
FIFA 100
Brazilian Football Museum Hall of Fame