Jeff Bezos – Founder, Chairman & CEO of Amazon.com
Full name: Jeffrey Preston Jorgensen
Date of birth: January 12, 1964 (age 53)
Place of birth: Albuquerque, New Mexico, U.S.
Residence: Seattle, Washington, U.S.
Nationality: American
Occupation: Founder, Chairman & CEO of Amazon.com
Father: Ted Jorgensen
Mother: Jacklyn Gise Jorgensen
Spouse(s): MacKenzie Bezos (m. 1993)
Children: 4
Early Life
Jeffrey Preston Jorgensen was born on January 12, 1964, in Albuquerque, New Mexico, U.S. He is an American technology entrepreneur and founder of e-commerce giant Amazon.com. The company began as an Internet merchant of books and expanded to a wide variety of products and services, most recently video streaming and audio streaming. Amazon.com is currently the world's largest Internet sales company on the World Wide Web.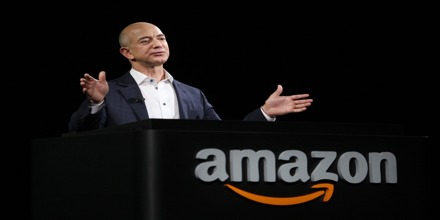 He worked on Wall Street in companies such as Fitel, Bankers Trust and D. E. Shaw & Co, New York. He became the youngest Vice President at D. E. Shaw & Co. In spite of success, he decided to quit the field of finance. He founded Amazon.com, an online book store, and later introduced features including one-click shopping, customer reviews, and e-mail order verification. He expanded it to include various other items including clothes, CDs, toys, jewellery, watches, electronics and shoes. He has constantly been improving his web site, and introducing improved facilities for his customers. His childhood dream of space travel spurred the founding of Blue Origin, an aerospace company that is developing technologies to offer space travel to customers. Bloomberg Billionaires Index listed Bezos as one of the wealthiest people in the world with an estimated net worth of $28 billion.
Bezos currently ranks as the 5th richest person in the world, with an estimated net worth of US$71.8 billion as of January 2017, just behind fellow Americans, investment mogul Warren Buffett in third, and Bill Gates in first.
Childhood and Educational Life
Jeff Bezos was born on January 12, 1964 to Jacklyn Gise and Ted Jorgensen. His mother's ancestors were settlers who lived in Texas, and had acquired a 25,000-acre ranch near Cotulla over the generations.
Bezos' mother was a teenager when she married his father. After marriage with Ted Jorgensen ended, she married Miguel Bezos, a Cuban immigrant who studied at the University of Albuquerque. After marriage, Miguel Bezos legally adopted Jeff. The family then moved to Houston, Texas, where Miguel became an engineer for Exxon. Jeff attended River Oaks Elementary School, Houston, from fourth to sixth grade. As a child, he spent summers working his grandfather's ranch in southern Texas.
Bezos often displayed scientific interests and technological proficiency; he once rigged an electric alarm to keep his younger siblings out of his room. The family moved to Miami, Florida, where he attended Miami Palmetto Senior High School. While in high school, he attended the Student Science Training Program at the University of Florida, receiving a Silver Knight Award in 1982. He was high school valedictorian and was a National Merit Scholar.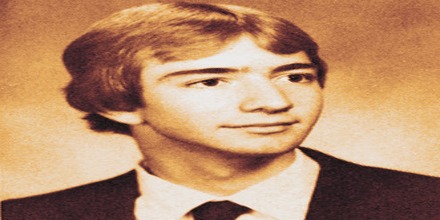 Bezos graduated with highest honors and Phi Beta Kappa from Princeton University with a Bachelor of Science in Engineering degree in electrical engineering and computer science. While at Princeton, he was also elected to Tau Beta Pi. He served as the President of the Princeton chapter of the Students for the Exploration and Development of Space.
Personal Life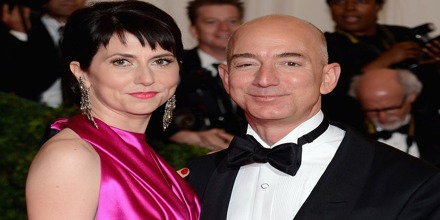 Jeff Bezos married MacKenzie Tuttle in 1993. He met her when he joined the investment firm D.E. Shaw. They live in Seattle with their four children, and are increasingly involved in philanthropic activities.
Bloomberg Billionaires Index listed Bezos as one of the wealthiest people in the world with an estimated net worth of $28 billion. Harvard Business Review ranked him the second best CEO in the world.
In 2016, Bezos stepped in front of the camera for a cameo appearance playing an alien in Star Trek Beyond. A Star Trek fan since childhood, Bezos is listed as a Starfleet Official in the movie credits on IMDb.
Professional Career
After graduation, he worked at several firms on Wall Street, such as Fitel Bankers Trust, and the investment firm D.E. Shaw.
While his career in finance was extremely lucrative, Bezos chose to make a risky move into the nascent world of e-commerce. He quit his job in 1994, moved to Seattle and targeted the untapped potential of the internet market by opening an online bookstore. He initially set up the company in his garage. He had left his "well-paying job" at a New York City hedge fund after learning "about the rapid growth in Internet use," which coincided with a then-new U.S. Supreme Court ruling holding that mail order companies were not required to collect sales taxes in states where they lack a physical presence."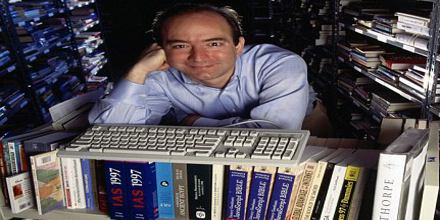 Bezos is known for his attention to business details. As described by Portfolio.com, he "is at once a happy-go-lucky mogul and a notorious micromanager. … an executive who wants to know about everything from contract minutiae to how he is quoted in all Amazon press releases."
In May 2016, Bezos sold slightly more than one million shares of his holdings in the company for $671 million, making it the largest amount of money he had ever raised in a sale of his Amazon holdings. On August 4, 2016, he sold 1,000,000 of his shares at a value of $756.7 million. As of September 21, 2016, Bezos owned 80.9 million shares of Amazon stock, being 16.9% of all shares outstanding, with a market value of $62.1 billion.
Amazon.com went public in 1997, leading many market analysts to question whether the company could hold its own when traditional retailers launched their own e-commerce sites. Two years later, the start-up not only kept up, but also outpaced competitors, becoming an e-commerce leader.
Bezos continued to diversify Amazon's offerings with the sale of CDs and videos in 1998, and later clothes, electronics, toys and more through major retail partnerships. While many dot.coms of the early '90s went bust, Amazon flourished with yearly sales that jumped from $510,000 in 1995 to over $17 billion in 2011.
In 2003, Amazon formed A9, a commercial search engine focusing on e-commerce web sites. He also launched an online sporting goods store that offered up to 3,000 different brands. The year 2007 saw Amazon introduce a handheld electronic reading device, the Kindle, which uses E-Ink to render text with adjustable font size to enhance ease of reading.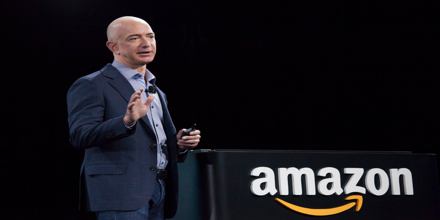 In 2010, Amazon signed a deal with The Wylie Agency who gave Amazon the digital rights to works of authors. Publishers were bypassed, and felt angered. However, readership and sales increased, thereby benefitting authors.
Bezos entered Amazon into the tablet marketplace with the unveiling of the Kindle Fire in 2011. The following September, he announced the new Kindle Fire HD, the company's next generation tablet designed to give Apple's iPad a run for its money. "We haven't built the best tablet at a certain price. We have built the best tablet at any price," Bezos said, according to ABC News.
A profile published in 2013 described a 1982 Miami Herald interview he gave after he was named high school class valedictorian. The 18-year-old Bezos "said he wanted to build space hotels, amusement parks and colonies for 2 million or 3 million people who would be in orbit. 'The whole idea is to preserve the earth' he told the newspaper. The goal was to be able to evacuate humans. The planet would become a park."
In 2013, Bezos reportedly discussed commercial spaceflight opportunities and strategies with Richard Branson, multibillionaire founder of Virgin Group and Chairman of Virgin Galactic.
In 2015, Bezos further discussed the motivation for his spaceflight-related business when he announced a new orbital launch vehicle under development for late-2010s first flight.
In 2016, Bezos opened up the Blue rocket design and manufacturing facility to journalists for the first time, and gave extensive interviews that included an articulation of his vision for space, and for Blue Origin. Bezos sees space as being "chock full of resources" and foresees a "Great Inversion" where there will emerge "space commercialization that stretches out for hundreds of years, leading to an era when millions of people would be living and working in space.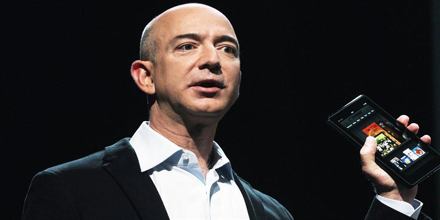 On November 23, 2015, Blue Origin's New Shepard space vehicle successfully flew to space, reaching its planned test altitude of 329,839 feet (100.5 kilometers) before executing a historic vertical landing back at the launch site in West Texas. Blue Origin is currently in an extensive flight test program of New Shepard which expects to begin carrying "test passengers" in 2017 and initiate commercial flights in 2018. Blue is currently building six of the vehicles to support all phases of testing and operations: no-passenger test flights, flights with test passengers, and commercial-passenger weekly operations.
In June 2016, Bezos reiterated his long term goal to see nearly all heavy-industry manufacturing factories in space as part of a wide-ranging, but rare, interview. In September 2016, he added that he hoped to colonize the solar system.
Bezos made headlines worldwide on August 5, 2013, when he purchased The Washington Post and other publications affiliated with its parent company, The Washington Post Co., for $250 million. The deal marked the end of the four-generation reign over The Post Co. by the Graham family, which included Donald E. Graham, the company's chairman and chief executive, and his niece, Post publisher Katharine Weymouth.
In early December 2013, Bezos made headlines when he revealed a new, experimental initiative by Amazon, called "Amazon Prime Air," using drones—remote-controlled machines that can perform an array of human tasks—to provide delivery services to customers. According to Bezos, these drones are able to carry items weighing up to five pounds, and are capable of traveling within a 10-mile distance of the company's distribution center. He also stated that Prime Air could become a reality within as little as four or five years.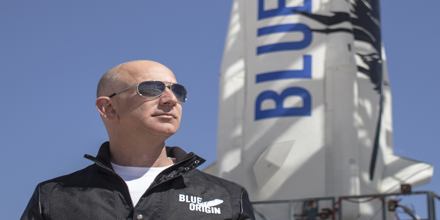 Bezos oversaw one of Amazon's few major missteps when the company launched the Fire Phone in 2014; criticized for being too gimmicky, it was discontinued the following year. However, Bezos did score a victory with the development of original content through Amazon Studios. After premiering several new programs in 2013, Amazon hit it big in 2014 with the critically acclaimed Transparent and Mozart in the Jungle. In 2015, the company produced and released Spike Lee's Chi-Raq as its first original feature film.
Awards and Honours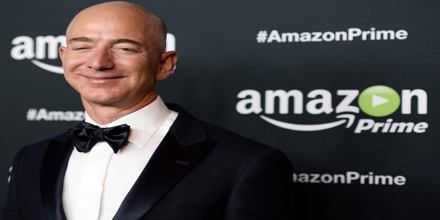 Bezos was awarded an honorary doctorate in Science and Technology from Carnegie Mellon University in 2008. He was also selected by U.S. News & World Report as one of America's best leaders.
In 2011, The Economist gave Bezos and Gregg Zehr an Innovation Award for the Amazon Kindle. The following year, he was named Businessperson of The Year by Fortune.
In December 2012, the National Retail Federation named Amazon as the top retailer of the year, and awarded him the Gold Medal Award, given to an individual who has served the industry with distinction.