Biography of Joseph Heller
Joseph Heller – American author of novels, short stories, plays, and screenplays.
Name: Joseph Heller
Date of Birth: May 1, 1923
Place of Birth: Brooklyn, New York
Date of Death: December 12, 1999 (aged 76)
Place of Death: East Hampton, New York
Occupation: Writer
Father: Isaac Donald Heller
Mother: Lene Heller
Spouse/Ex: Valerie Humphries (m. 1987–1999), Shirley Held (m. 1945–1984)
Children: Erica Heller, Ted Heller
Early Life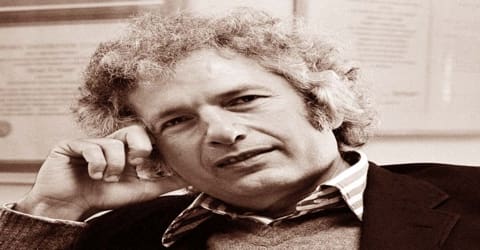 Joseph Heller was a popular and respected writer and playwright, best known as the author of Catch-22, a celebrated antiwar novel and he was born on May 1, 1923, Brooklyn, New York, U.S. His first and best-known novel, Catch-22 (1961), was considered a classic piece of literature in the second half of the twentieth century.
The darkly comic novel centers on the antihero Yossarian. It is based on the writer's own experience as a bomber pilot in World War II and takes a satirical look at war, bureaucracy, and the maddening logic or lack thereof. To him, the rational response to war was not bravery or heroism, but cowardice.
He was one of the most significant works of protest literature to appear after World War II. The satirical novel was a popular success, and a film version appeared in 1970.
The book received mixed reviews upon publication in 1961 but soared in popularity in the late 1960s and early 1970s as its themes found a receptive audience in the Vietnam War era. He was often compared and grouped with the authors such as Kurt Vonnegut, Thomas Pynchon, and Philip Roth. In the book, Heller wrote. "Orr would be crazy to fly more missions. . . . but if he didn't want to he was sane and had to". These words typified the phrase Catch-22 which entered the English lexicon and refers to "any absurd arrangement that puts a person in a double bind. Heller wrote five additional novels, including Something Happened, Good As Gold and Closing Time, a sequel to Catch-22, as well as short stories, plays, screenplays, and the memoir, Now and Then.
Childhood, Family and Educational Life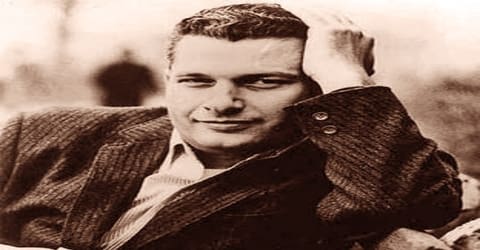 Joseph Heller was born on May 1, 1923, in Coney Island, New York, the son of poor Jewish parents, Lena and Isaac Donald Heller, from Russia. Even as a child, he loved to write; as a teenager, he wrote a story about the Russian invasion of Finland and sent it to the New York Daily News, which rejected it.
His father died following an operation in 1929, as he began his formal education at Coney Island's Public School No. 188. His mother never learned to speak English well, and the family struggled financially. After graduating from Abraham Lincoln High School in 1941, Heller spent the next year working as a blacksmith's apprentice, a messenger boy, and a filing clerk.
In 1942, at age 19, Heller joined the U.S. Army Air Corps. Two years later he was sent to the Italian Front, where he flew 60 combat missions as a B-25 bombardier.
After the war, Heller studied English at the University of Southern California and then New York University on the G.I. Bill, graduating from the latter institution in 1948. After receiving an M.A. at Columbia University in 1949, he studied at the University of Oxford (1949–50) as a Fulbright scholar. He then briefly worked for Time Inc., before taking a job as a copywriter at a small advertising agency, where he worked alongside future novelist Mary Higgins Clark. At home, Heller wrote. He was first published in 1948 when The Atlantic ran one of his short stories. The story nearly won the "Atlantic First".
Personal Life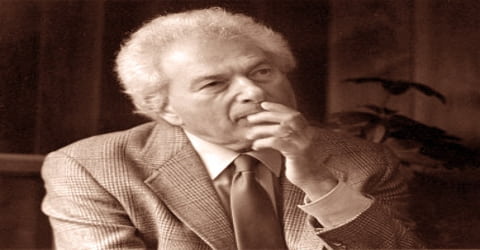 Heller was married to Shirley Held from 1945 to 1981 and they had two children, Erica (born 1952) and Theodore (born 1957).
In 1981, he discovered that he had Guillain-Barré syndrome. Already divorced from Shirley, he married his nurse, Valerie Humphries in 1987.
This famous writer once declared, "Some men are born mediocre, some men achieve mediocrity, and some men have mediocrity thrust upon them."
Career and Works
Heller' first novel 'Catch-22', published in 1961, describes Army Air Corps Captain John Yossarian' numerous unsuccessful strategies to avoid combat missions. Now considered a classic, it sold 10 million copies in the United States.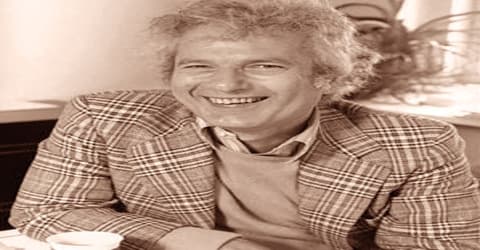 While sitting at home one morning in 1953, Heller thought of the lines, "It was love at first sight. The first time he saw the chaplain, Yossarian fell madly in love with him." Within the next day, he began to envision the story that could result from this beginning and invented the characters, the plot, and the tone that the story would eventually take. Within a week, he had finished the first chapter and sent it to his agent. He did not do any more writing for the next year, as he planned the rest of the story. The initial chapter was published in 1955 as "Catch-18", in Issue 7 of New World Writing.
The finished novel describes the wartime experiences of Army Air Corps Captain John Yossarian. Yossarian devises multiple strategies to avoid combat missions, but the military bureaucracy is always able to find a way to make him stay. As Heller observed, "Everyone in my book accuses everyone else of being crazy. Frankly, I think the whole society is nuts and the question is: What does a sane man do in an insane society?"
Released to mixed reviews, Catch-22 developed a cult following with its dark surrealism. Centering on the antihero Captain John Yossarian, stationed at an airstrip on a Mediterranean island during World War II, the novel portrays the airman's desperate attempts to stay alive. The "catch" in Catch-22 involves a mysterious Air Force regulation that asserts that a man is considered insane if he willingly continues to fly dangerous combat missions but, if he makes the necessary formal request to be relieved of such missions, the very act of making the request proves that he is sane and therefore ineligible to be relieved. The term catch-22 thereafter entered the English language as a reference to a proviso that trips one up no matter which way one turns.
"I never thought of Catch-22 as a comic novel," Heller says in the New York Times. "But … I wanted the reader to be amused, and … I wanted him to be ashamed that he was amused. My literary bent … is more toward the morbid gruesome and the tragic. Great carnage death is taking place and my idea was to use humor to make ridiculous the things that are irrational and very terrible."
In 1969, he wrote a play 'We Bombed in New Haven'. It delivered an anti-war message while discussing the Vietnam War. It was produced by the Repertory Company of the Yale Drama School.
Shortly after Catch-22 was published, Heller thought of an idea for his next novel, which would become Something Happened, but did not act on it for two years. In the meantime he focused on scripts, completing the final screenplay for the movie adaptation of Helen Gurley Brown's Sex and the Single Girl, as well as a television comedy script that eventually aired as part of "McHale's Navy".
While Heller's place in twentieth-century letters is secured with Catch-22, he is also highly regarded for his other works, which present a comic vision of modern society with serious moral connections. A major theme throughout his writing is the conflict that occurs when individuals interact with such powerful institutions as corporations, the military, and the government.
'Something Happened', his second novel was published in 1974. Its main character and narrator is Bob Slocum, a businessman who engages in a stream of consciousness narrative about himself and his own psyche.
His second novel, Something Happened, centers on Bob Slocum, a middle-aged businessman who has a large, successful company but feels emotionally empty. While initial reviews of Something Happened were mixed, more recent criticism has often deemed this novel superior to and more sophisticated than Catch-22.
'Good as Gold', his 1979 novel has Bruce Gold, a Jewish, middle-aged university English professor as the main protagonist who is offered the post of the country's first ever Jewish Secretary of State. In Picture This (1988), Heller utilizes Rembrandt's painting "Aristotle Contemplating the Bust of Homer" to draw parallels between ancient Greece, seventeenth-century Holland, and contemporary America.
Heller maintained that he did not "have a philosophy of life, or a need to organize its progression. My books are not constructed to 'say anything.'" Only when he was almost one-third finished with the novel would he gain a clear vision of what it should be about. At that point, with the idea solidified, he would rewrite all that he had finished and then continue to the end of the story. The finished version of the novel would often not begin or end with the sentences he had originally envisioned, although he usually tried to include the original opening sentence somewhere in the text.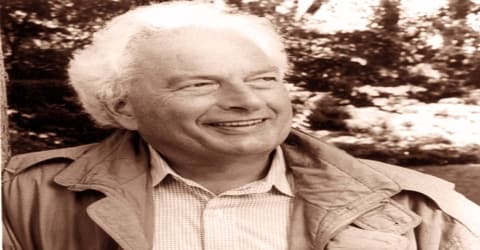 'Picture This', a 1988 novel, makes an eclectic historical journey across three periods of history, all connected by a single painting of Rembrandt titled, Aristotle, Contemplating a Bust of Homer. 'Closing Time', a 1994 novel written by him as a sequel to Catch-22, revisits some characters of the original, including Yossarian, and Milo Minderbinder while Joey, a new character and the author shared similarities.
Heller returned to St. Catherine's as a visiting Fellow, for a term, in 1991 and was appointed an Honorary Fellow of the college. In 1998, he released a memoir, Now and Then: From Coney Island to Here, in which he relived his childhood as the son of a deliveryman and offered some details about the inspirations for Catch-22.
In 1998, the writer clarified that he did not plagiarize Catch-22 despite the amazing similarities in Catch-22 and a novel written by Louis Falstein titled, 'The Sky is a Lonely Place in Britain'.
'No Laughing Matter' was co-authored by Heller and Speed Vogel. Written during Heller's struggle with a debilitating disease called Guillain-Barré syndrome, the book is full of humor and is devoid of self-pity.
His final novel, Portrait of an Artist, as an Old Man (2000), was published posthumously, as was Catch As Catch Can: The Collected Stories and Other Writings (2003). Heller also wrote an autobiography, Now and Then: From Coney Island to Here (1998), and his dramatic work includes the play We Bombed in New Haven (1968).
Death and Legacy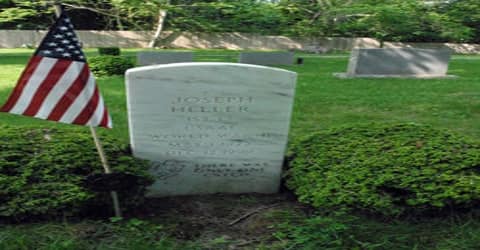 Heller was an agnostic. He died of a heart attack on December 12, 1999, at his home in Long Island. Upon hearing of Heller's death, his friend Kurt Vonnegut said, "Oh, God, how terrible. This is a calamity for American literature".
After Heller's death, Simon & Schuster published Heller's final work, A Portrait of an Artist, as an Old Man, a collection of memoirs and essays by one of the world's most influential writers of the 20th century.
Information Source: