Biography of Jan Vermeer
Jan Vermeer – Dutch painter.
Name: Johannes Vermeer
Date of Birth: Baptized 31 October 1632
Place of Birth: Delft, Dutch Republic
Date of Death: buried 15 December 1675 (aged 43)
Place of Death: Delft, Dutch Republic
Occupation: Painter
Father: Reynier Janszoon Vermeer
Mother: Digna Baltens
Spouse/Ex: Catharina Bolnes (m. 1653–1675)
Early Life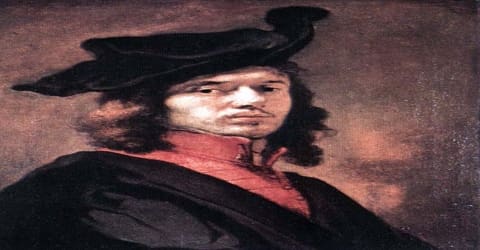 Dutch Golden-Age artist Jan Vermeer, who created paintings that are among the most beloved and revered images in the history of art, was baptized within the Reformed Church on 31 October 1632, Delft, Netherlands. He was a moderately successful provincial genre painter in his lifetime but evidently was not wealthy, leaving his wife and children in debt at his death, perhaps because he produced relatively few paintings. He is best known for his Delft paintings, including 'Little Street' and 'View of Delft,' and his 'pearl pictures,' like 'Girl with a Pearl Earring.'
Vermeer was known for being the only artist in the seventeenth century to have used the ultramarine shade procured from the costly lapis lazuli stone, on such a large-scale. He painted in the style adopted by other 'Golden Age' artists, with portraits and everyday scenes forming a major part of his work. He also attempted allegorical paintings and landscapes, producing a wide range of subjects in each of his paintings. Despite being an esteemed painter of the times, he had to suffer the effects of war as much as everyone else did.
Vermeer worked slowly and with great care, and frequently used very expensive pigments. He is particularly renowned for his masterly treatment and use of light in his work. He painted mostly domestic interior scenes. "Almost all his paintings are apparently set in two smallish rooms in his house in Delft; they show the same furniture and decorations in various arrangements and they often portray the same people, mostly women."
Although only about 36 of his paintings survive, these rare works are among the greatest treasures in the world's finest museums. Vermeer began his career in the early 1650s by painting large-scale biblical and mythological scenes, but most of his later paintings the ones for which he is most famous depict scenes of daily life in interior settings. These works are remarkable for their purity of light and form, qualities that convey a serene, timeless sense of dignity. Vermeer also painted cityscapes and allegorical scenes.
Towards the end of his career and life, Vermeer had accumulated a huge debt, especially from loans granted by a baker, Hendrick van Buyten, who had possession of the paintings as indemnity. The destitution suffered by Johannes, and the burden of providing for a family of eleven children ultimately led to this genius' depression and subsequent death.
Jan Vermeer was recognized during his lifetime in Delft and The Hague, but his modest celebrity gave way to obscurity after his death. He was barely mentioned in Arnold Houbraken's major source book on 17th-century Dutch painting (Grand Theatre of Dutch Painters and Women Artists) and was thus omitted from subsequent surveys of Dutch art for nearly two centuries. In the 19th century, Vermeer was rediscovered by Gustav Friedrich Waagen and Théophile Thoré-Bürger, who published an essay attributing 66 pictures to him, although only 34 paintings are universally attributed to him today. Since that time, Vermeer's reputation has grown, and he is now acknowledged as one of the greatest painters of the Dutch Golden Age. Like some major Dutch Golden Age artists such as Frans Hals and Rembrandt, Vermeer never went abroad. And like Rembrandt, he was an avid art collector and dealer.
Childhood, Family and Educational Life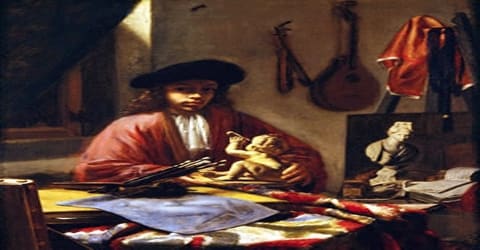 Johannes Vermeer, Johannes also rendered Jan, was born in 1632, to Reijnier Janszoon and his wife Digna Baltus, in Delft, Dutch Republic. He was baptized as a Reformed Christian on October 31 of the same year. Jan also had a sister, Geertruy, who was almost twelve years older. His father was an art dealer and silk weaver who also kept a tavern, and Vermeer probably took over the business after his father's death in 1655. It is presumed that his father, who was actively involved with the local artists and collectors, was an early influence on the young child. Vermeer supposedly began his training as an artist around the mid-1640s.
When Vermeer's father died in October 1652, Vermeer took over the operation of the family's art business. During this time, the young man developed a strong passion for painting, endeavouring to pursue it as his career.
Personal Life
In April 1653, Johannes Reijniersz Vermeer married a Catholic girl, Catharina Bolenes (Bolnes). The blessing took place in the quiet nearby village of Schipluiden. The couple lived at one of Maria Thin's properties near a church in Oude Langendijk. Vermeer and his wife Catharina were blessed with fifteen children, unfortunately, four of them died in their infancy.
The names of 10 of Vermeer's children are known from wills written by relatives: Maertge, Elisabeth, Cornelia, Aleydis, Beatrix, Johannes, Gertruyd, Franciscus, Catharina, and Ignatius. Several of these names carry a religious connotation, and the youngest (Ignatius) was likely named after the founder of the Jesuit order.
Career and Works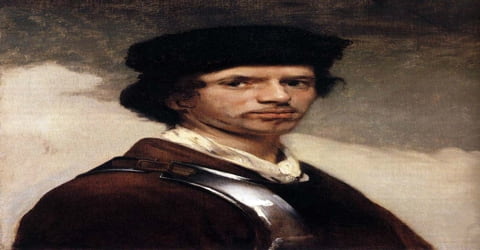 It is unclear as to who trained Vermeer as an artist; while some think it could have been Carel Fabritius, others believe it to be Abraham Bloemaert. However, the most widely accepted opinion is that this Dutch artist, whose works are similar to the style adopted by the painter Caravaggio, taught himself to paint.
Art historians have found no hard evidence to support this. Local authority Leonaert Bramer acted as a friend, but their style of painting is rather different. Liedtke suggests that Vermeer taught himself, using information from one of his father's connections. Some scholars think that Vermeer was trained under Catholic painter Abraham Bloemaert. Vermeer's style is similar to that of some of the Utrecht Caravaggists, whose works are depicted as paintings-within-paintings in the backgrounds of several of his compositions.
On December 29, 1653, Johannes Vermeer joined a union of painters known as the 'Guild of Saint Luke', although he was unable to afford the enrolment fee. The 'Delft Thunderclap' explosion which took place the following year plunged the city into economic crisis and sickness.
In the year of his marriage, he became a master in the Delft painters' guild (an association), of which he was an officer from 1662 to 1663, and again, from 1669 to 1670. He seems to have painted very little and to have sold only a fraction of his limited production, for the majority of his paintings was still in the hands of his family when he died. His dealings in works by other artists seem to have supported his family reasonably well until he was financially ruined following the French invasion of 1672 when France invaded the Spanish Netherlands.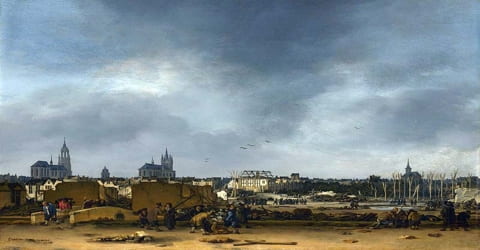 Egbert van der Poel: A View of Delft after the Explosion of 1654
Since Vermeer's name is not mentioned in Delft archival records during the late 1640s or early 1650s, it is possible that, as with many aspiring Dutch artists, he traveled to Italy, France, or Flanders. He also may have trained in some other artistic center in the Netherlands, perhaps Utrecht or Amsterdam. In Utrecht Vermeer would have met artists who were immersed in the boldly expressive traditions of Caravaggio, among them Gerrit van Honthorst. In Amsterdam, he would have encountered the impact of Rembrandt van Rijn, whose powerful chiaroscuro effects enhanced the psychological intensity of his paintings.
In 1654, the city suffered the terrible explosion known as the Delft Thunderclap, which destroyed a large section of the city. In 1657, Vermeer might have found a patron in local art collector Pieter van Ruijven, who lent him some money. It seems that Vermeer turned for inspiration to the art of the fijnschilders from Leiden. Vermeer was responding to the market of Gerard Dou's paintings, who sold his paintings for exorbitant prices. Dou may have influenced Pieter de Hooch and Gabriel Metsu, too. He enjoyed some success in Delft, selling his works to a small number of local collectors. He also served as head of the local artistic guild for a time. However, Vermeer was not well-known outside of his community during his lifetime.
The influence of Caravaggio is apparent in Vermeer's early works, including "The Procuress" (1656). The painter also explored mythology in "Diana and Her Companions" (1655-56) and religion in "Christ in the House of Mary and Martha" (c. 1655). By the end of the decade, Vermeer's unique style began to emerge.
In 1656, the 24-year-old budding artist painted 'The Procuress' on canvas, using oil, which depicts a scene in a brothel. In 1657, it was an art dealer, Pieter van Ruijven, who came to Johannes' help, patronizing the latter's paintings. Jan's contemporaries during this period, which is also called the 'Golden Age', were Gerard Dou, Pieter de Hooch, Gabriel Metsu, and Nicolaes Maes.
Stylistic characteristics of both pictorial traditions the Utrecht school and that of Rembrandt are found in Vermeer's early large-scale biblical and mythological paintings, such as Diana and Her Nymphs (c. 1653–54; also called Diana and Her Companions) and Christ in the House of Mary and Martha (c. 1654–56). The most striking assimilation of the two traditions is apparent in Vermeer's The Procuress (1656).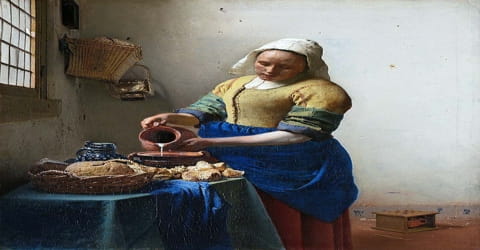 The Milkmaid (c. 1658)
In 1657-58, the illustrious artist produced two famous paintings, 'The Little Street', and 'The Milkmaid'. The first is a small oil painting that is displayed presently at the 'Rijksmuseum', in Amsterdam, Netherlands. 'The Milkmaid' depicting a maidservant, is also exhibited in the same museum and is considered as one of the finest pieces of art. During 1659-61, this accomplished artist completed the paintings, 'The Girl with the Wine Glass', and 'View of Delft'. 'The Girl with the Wine Glass' is now displayed at the 'Herzog Anton Ulrich Museum', in Germany, while 'View of Delft' is exhibited at The Hague's 'Mauritshuis' art gallery.
In 1662, Vermeer was elected head of the guild and was reelected in 1663, 1670, and 1671, evidence that he (like Bramer) was considered an established craftsman among his peers. Vermeer worked slowly, probably producing three paintings a year on order. Balthasar de Monconys visited him in 1663 to see some of his work, but Vermeer had no paintings to show. The diplomat and the two French clergymen who accompanied him were sent to Hendrick van Buyten, a baker who had a couple of his paintings as collateral.
Many of Vermeer's masterworks focus on domestic scenes, including "The Milkmaid" (c. 1657-58). This depiction of a woman in the midst of her work showcases two of his trademarks: his realistic renderings of figures and objects, and his fascination with light. Many of his works have a luminous quality, including the portrait "Girl with a Pearl Earring" (1665).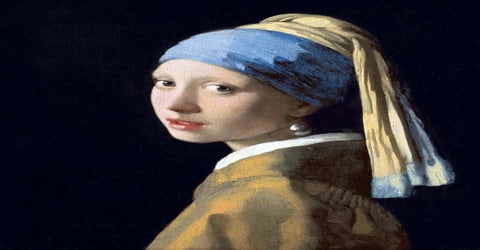 Girl with a Pearl Earring (1665)
From 1662-71, Jan Vermeer was appointed as the Chair of the association 'Guild of Saint Luke', on four occasions, which proved his reputation as an artist. During this time, he worked at a slow but steady pace, ensuring that the little work that he produced turned out to be the best. Around 1665, Vermeer finished the painting, 'The Music Lesson', which is also known by the name, 'A Lady at the Virginals with a Gentleman'.
The warm colors of The Procuress relate it to paintings of the Rembrandt school (styled after the painter Rembrandt (1606–1669)) of the 1650s, but its subject matter and composition reflect influence by paintings of the 1620s by the Utrecht Caravaggists, a group of painters in Utrecht, Netherlands, who stressed a new, international style. Considered to be earlier than The Procuress are two pictures that resemble it because of the color scheme, dominated by reds and yellows, and because they are larger in size and scale than Vermeer's later works. Christ in the House of Martha and Mary is similar to compositions by Hendrick Terbrugghen (1588–1629) and Gerrit van Honthorst (1590–1656), who spread the Caravaggesque (having to do with the painting style of Italian painter Caravaggio (c. 1571–1610) style in Holland. Diana and Her Companions, Vermeer's only mythological subject, is also suggestive of Italy. It is his only painting of figures in a landscape setting.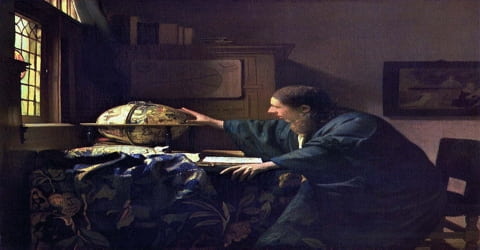 The Astronomer (c. 1668)
In 1665, Vermeer also produced his masterpiece, 'Girl with a Pearl Earring', which has been classified as a portrait done in 'Baroque' style, also known as a 'tronie'. From 1666-69, he painted the 'Art of Painting', 'The Astronomer', and 'The Geographer'. Of these, 'The Astronomer' and 'The Geographer' are two of the only three paintings that have been signed by this great artist. 'Art of Painting' is considered as one of the most spectacular and complex illusionistic works produced by Vermeer.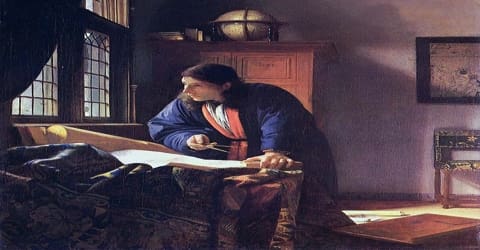 The Geographer (1669)
In paintings such as Young Woman with a Water Pitcher (c. 1662), Woman with a Pearl Necklace (c. 1662/65), and Woman in Blue Reading a Letter (c. 1663), he utilized the laws of perspective and the placement of individual objects chairs, tables, walls, maps, window frames to create a sense of nature's underlying order. Vermeer's carefully chosen objects are never placed randomly; their positions, proportions, colors, and textures work in concert with his figures. Radiant light plays across these images, further binding the elements together.
In 1671, Gerrit van Uylenburgh organized the auction of Gerrit Reynst's collection and offered 13 paintings and some sculptures to Frederick William, Elector of Brandenburg. Frederick accused them of being counterfeits and had sent 12 back on the advice of Hendrick Fromantiou. Van Uylenburg then organized a counter-assessment, asking a total of 35 painters to pronounce on their authenticity, including Jan Lievens, Melchior de Hondecoeter, Gerbrand van den Eeckhout, and Johannes Vermeer.
During 1670-72, Jan Vermeer painted another masterpiece, 'The Allegory of Faith', a work of art that diverges from the usual subjects of his paintings. He also painted 'The Love Letter', which is now housed in Amsterdam's 'Rijksmuseum', and 'Lady Seated at a Virginal', exhibited at London's 'National Gallery'. Due to attacks by the French and English armies, Netherlands suffered major economic and political calamity, making it difficult for the Dutch artists to sell their paintings. Even Vermeer was no longer able to sell his art and was faced with dire poverty.
In 1674, Vermeer was listed as a member of the civic guards. In the summer of 1675, Vermeer borrowed 1,000 guilders in Amsterdam from Jacob Romboutsz, an Amsterdam silk trader, using his mother-in-law's property as surety.
Following these works, which are assumed to have immediately followed 1660, come the "pearl pictures." The Concert of about 1662 and the Woman with a Water Jug of perhaps a year later display the pleasing charms of this period. More complicated compositions and especially larger space representations mark the major works of the last decade of Vermeer's life. The Allegory of the Art of Painting (c.1670) is large and complex in both composition and meaning. On the whole, it is not influenced by the hardness and dryness that weakened his later works, such as the Allegory of the Catholic Faith.
Awards and Honor
In 2018, the Mauritshuis Royal Picture Gallery in the Hague, Netherlands, was set to embark on a two-week, noninvasive study of "Girl with a Pearl Earring." By utilizing new exploratory technologies, the museum aimed to answer centuries-old questions about Vermeer's techniques and materials used for the painting.
Death and Legacy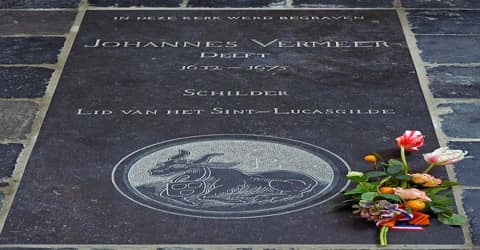 Jan Vermeer struggled financially in his final years, due in large part to the fact that the Dutch economy had suffered terribly after the country was invaded by France in 1672. In December 1675, this great artist passed away after being sick for a brief period of time. According to letters written by his wife, the wars waged by the country had hampered his career, and this had caused depression. At the time of his death, Johannes had left behind his wife with huge financial debts to clear. He was buried in the Protestant Old Church on 15 December 1675. In a petition to her creditors, his wife later described his death as follows:
…during the ruinous war with France, he not only was unable to sell any of his art but also, to his great detriment, was left sitting with the paintings of other masters that he was dealing in. As a result and owing to the great burden of his children having no means of his own, he lapsed into such decay and decadence, which he had so taken to heart that, as if he had fallen into a frenzy, in a day and a half he went from being healthy to being dead.
Since his passing, Vermeer has become a world-renowned artist, and his works have been hung in many prominent museums around the globe. Despite how much he is admired today, Vermeer left behind a small legacy in terms of actual works approximately 36 paintings have been officially attributed to the painter.
One of the best works ever produced by this distinguished artist is considered to be his 'Girl with a Pearl Earring'. The oil painting on canvas was signed by the artist as 'IVMeer', and is presently housed in the 'Mauritshuis' museum in The Hague, Netherlands.
However, when the French painter-critic Étiene-Joseph-Théophile Thoré (who wrote under the pseudonym William Bürger) published his enthusiastic descriptions of Vermeer's paintings in 1866, passion for the artist's work reached a broader public. As private collectors and public museums actively sought to acquire his rare paintings during the early years of the 20th century, prices for his work skyrocketed. This situation encouraged the production of forgeries, the most notorious of which were those painted by Han van Meegeren in the 1930s.
One aspect of his meticulous painting technique was Vermeer's choice of pigments. He is best known for his frequent use of the very expensive ultramarine (The Milkmaid), and also lead-tin-yellow (A Lady Writing a Letter), madder lake (Christ in the House of Martha and Mary), and vermilion. He also painted with ochres, bone black, and azurite. The claim that he utilized Indian yellow in Woman Holding a Balance has been disproven by later pigment analysis.
In Vermeer's oeuvre, only about 20 pigments have been detected. Of these 20 pigments, seven principal pigments which Vermeer commonly employed include lead white, yellow ochre, vermilion, madder lake, green earth, raw umber, and ivory or bone black.
At the end of the 20th century, Vermeer's fame continued to rise, fueled in part by an exhibition of his work held in 1995–96 at the National Gallery of Art in Washington, D.C., and at the Mauritshuis in The Hague. The exhibition also drew public attention to the painting Girl with a Pearl Earring (c. 1665), which was featured on the National Gallery's promotional materials and quickly became one of Vermeer's most famous pieces by the turn of the 21st century. Vermeer rarely explained the exact meanings of his paintings, preferring instead to allow each viewer to contemplate their significance. As a result, his masterpieces continue to engage fully each contemporary observer, much as they must have engaged their viewers in 17th-century Delft.
Information Source: