Biography of Paul Gauguin
Paul Gauguin – French post-Impressionist artist.
Name: Eugène Henri Paul Gauguin
Date of Birth: 7 June 1848
Place of Birth: Paris, France
Date of Death: 8 May 1903 (aged 54)
Place of Death: Atuona, Marquesas Islands, French Polynesia
Occupation: Painter
Father: Clovis Gauguin
Mother: Aline Marie Chazal
Spouse/Ex: Mette-Sophie Gad (m. 1873–1903)
Early Life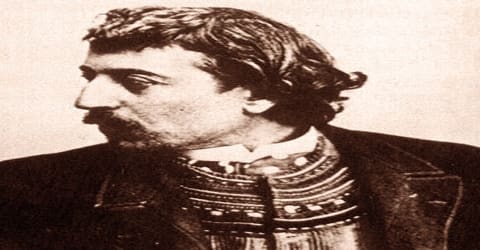 The French painter and sculptor Paul Gauguin was born in Paris to Clovis Gauguin and Alina Maria Chazal on June 7, 1848. His birth coincided with revolutionary upheavals throughout Europe that year. The artist, whose work has been categorized as Post-Impressionist, Synthetist, and Symbolist, is particularly well known for his creative relationship with Vincent van Gogh as well as for his self-imposed exile in Tahiti, French Polynesia. His artistic experiments influenced many avant-garde developments in the early 20th century. He frequently combined the people and objects in his paintings in novel ways, bringing to mind a mysterious, personal world in the process.
As a Post Impressionist artist who was also a sculptor, print-maker, and writer, he gained significance only after his death. His works were largely unrecognized during his lifetime. Gauguin was known to experiment with bold colors and exaggerated body proportions which in a way led to the Synthetist style of modern art. He also played an important role in the cloisonnist style of art which paved the way for Primitivism. He once had a large family and worked as a stockbroker to support them. However, such great was his passion for painting that he abandoned both his family and profession to focus on his artistic longings.
Gauguin was an important figure in the Symbolist art movement of the early 1900s. His use of bold colors, exaggerated body proportions and stark contrasts in his paintings set him apart from his contemporaries, helping to pave the way for the Primitivism art movement. Gauguin often sought exotic environments and spent time living and painting in Tahiti.
His work was influential to the French avant-garde and many modern artists, such as Pablo Picasso and Henri Matisse. Gauguin's art became popular after his death, partially from the efforts of art dealer Ambroise Vollard, who organized exhibitions of his work late in his career and assisted in organizing two important posthumous exhibitions in Paris. Gauguin was an important figure in the Symbolist movement as a painter, sculptor, printmaker, ceramist, and writer. His expression of the inherent meaning of the subjects in his paintings, under the influence of the cloisonnist style, paved the way to Primitivism and the return to the pastoral. He was also an influential proponent of wood engraving and woodcuts as art forms.
Gauguin traveled and lived in many countries over his lifetime – during his later years, he went to Tahiti where he experimented with his painting and also indulged in several sexual exploits with the local girls. He was a colorful character known for his love of an unconventional life. He drank to the excess and was a compulsive womanizer. His weaknesses ultimately caused his downfall and he died of syphilis when he was just 54 years of age.
Childhood, Family and Educational Life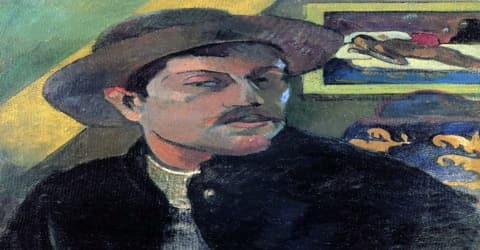 Paul Gauguin, in full Eugène-Henri-Paul Gauguin, was born in Paris, France, on June 7, 1848, to a French father, a journalist from Orléans, and a mother of Spanish Peruvian descent. The family left for Peru in 1850 because of the prevalent political climate. His father died on the journey and his mother was left alone to fend for herself and her two children.
To the age of six, Paul enjoyed a privileged upbringing, attended by nursemaids and servants. He retained a vivid memory of that period of his childhood which instilled "indelible impressions of Peru that haunted him the rest of his life." Gauguin's idyllic childhood ended abruptly when his family mentors fell from political power during Peruvian civil conflicts in 1854. Aline returned to France with her children, leaving Paul with his paternal grandfather, Guillaume Gauguin, in Orléans. Deprived by the Peruvian Tristan Moscoso clan of a generous annuity arranged by her granduncle, Alina settled in Paris to work as a dressmaker.
After attending a couple of local schools, Gauguin was sent to the prestigious Catholic boarding school Petit Séminaire de La Chapelle-Saint-Mesmin. He spent three years at the school. At age fourteen, he entered the Loriol Institute in Paris, a naval preparatory school, before returning to Orléans to take his final year at the Lycée Jeanne D'Arc. Gauguin signed on as a pilot's assistant in the merchant marine.
He served as a pilot's assistant in the merchant marine when he was 17 and later joined the French Navy where he served for two years. His mother died on 7 July 1867, but he did not learn of it for several months until a letter from his sister Marie caught up with him in India.
Personal Life
In 1873, Paul Gauguin married a Danish woman, Mette-Sophie Gad (1850–1920). Over the next ten years, they had five children: Émile (1874–1955); Aline (1877–1897); Clovis (1879–1900); Jean René (1881–1961); and Paul Rollon (1883–1961). By 1884, Gauguin had moved with his family to Copenhagen, Denmark, where he pursued a business career as a tarpaulin salesman. It was not a success: He could not speak Danish, and the Danes did not want French tarpaulins. Mette became the chief breadwinner, giving French lessons to trainee diplomats. However, the marriage did not work for long as he was neither able to provide financial support nor care for the family values.
Gauguin had sexual relations with many women and contracted syphilis. He had several children through his many mistresses. He also suffered from bouts of depression and had even attempted suicide once. He was also an alcoholic.
Career and Works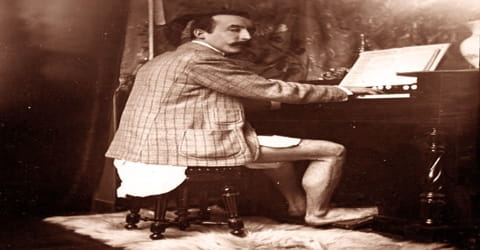 (Gauguin, c. 1895, playing a harmonium)
At age 17 Gauguin enlisted in the merchant marine, and for six years he sailed around the world. His mother died in 1867, leaving legal guardianship of the family with the businessman Gustave Arosa, who, upon Gauguin's release from the merchant marine, secured a position for him as a stockbroker and introduced him to the Danish woman Mette Sophie Gad, whom Gauguin married in 1873. Gauguin's artistic leanings were first aroused by Arosa, who had a collection that included the work of Camille Corot, Eugène Delacroix, and Jean-François Millet, and by a fellow stockbroker, Émile Schuffenecker, with whom he started painting. Gauguin soon began to receive artistic instruction and to frequent a studio where he could draw from a model.
Gauguin's hobby was painting, which he pursued enthusiastically. The Salon of 1876 accepted one of his pictures, and he started a collection of works by impressionist painters. The Impressionists were a group of painters who concentrated on the general impression produced by a scene or object. They used unmixed primary colors and small strokes to simulate actual reflected light. As time went on, Gauguin's desire to paint became ever stronger. In 1879 he was earning 30,000 francs a year (about $125,000 in 2008 US dollars) as a stockbroker, and as much again in his dealings in the art market. But in 1882 the Paris stock market crashed and the art market contracted. Gauguin's earnings deteriorated sharply and he eventually decided to pursue painting full-time.
In 1880 Gauguin was included in the fifth Impressionist exhibition, an invitation that was repeated in 1881 and 1882. He spent holidays painting with Pissarro and Cézanne and began to make visible progress. During this period he also entered a social circle of avant-garde artists that included Manet, Edgar Degas, and Pierre-Auguste Renoir.
In 1883 Gauguin, now thirty-five decided to give up business and devote him entirely to painting. His wife took their five children to live with her parents in Copenhagen, Denmark. Gauguin followed her, but he soon returned with his eldest son, Clovis, to Paris. There he supported himself by pasting advertisements on walls.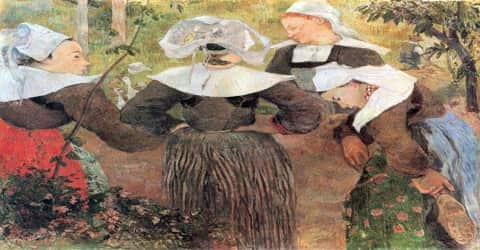 (Four Breton Women, 1886)
In 1886, with Clovis enrolled in a boarding school, Gauguin lived for a few months in the village of Pont-Aven in the Brittany region of northwestern France. He then left for the island of Martinique, first stopping to work as a laborer on the Panama Canal. He returned to Pont-Aven in February 1888 and gathered about him a group of painters. Gauguin preached and practiced a style he called synthetism, which involved pure color patterns, strong, expressive outlines, and flat planes. The painters admired the local people for their simple lives and deep religious faith. They felt these qualities reflected a truth about humanity's basic nature, which was not reflected in the sophisticated world of Paris.
Gauguin participated in the eighth and final Impressionist exhibition in 1886, showing 19 paintings and a carved wood relief. His own works won little attention, however, being overshadowed by Georges Seurat's enormous A Sunday on La Grand Jatte 1884 (1884–86). Frustrated and destitute, Gauguin began to make ceramic vessels for sale, and that summer he made a trip to Pont-Aven in the Brittany region of France, seeking a simpler and more frugal life. After a harsh winter there, Gauguin sailed to the French Caribbean island of Martinique with the painter Charles Laval in April 1887, intending to "live like a savage." His works painted on Martinique, such as Tropical Vegetation (1887) and By the Sea (1887), reveal his increasing departure from Impressionist technique during this period, as he was now working with blocks of color in large, unmodulated planes. Upon his return to France late in 1887, Gauguin affected an exotic identity, pointing to his Peruvian ancestry as an element of "primitivism" in his own nature and artistic vision.
Gauguin left his wife and children and returned to France and began painting full-time. He moved to Martinique in 1887 with his friend the artist Charles Laval. There he produced numerous works, often estimated to be between 10 and 20. Eventually, he grew disappointed with Impressionism and traditional European painting and was intrigued by the art of Africa and Asia. During that time in Europe, art of other cultures was in vogue and he was invited to participate in the 1889 exhibition organized by Les XX.
In 1888, Gauguin created one of his most famous paintings, "Vision of the Sermon." The boldly colored work showed the Biblical tale of Jacob wrestling with the angel. The following year, Gauguin painted "The Yellow Christ," a striking portrayal of the crucifixion of Jesus. He was one of the art world's more colorful characters. He referred to himself as a savage and claimed to have Inca blood. Fond of alcohol and carousing, Gauguin eventually contracted syphilis. He was friends with fellow artist Vincent van Gogh.
In 1888, Gauguin and van Gogh spent several weeks together at van Gogh's home in Arles, but their time together ended after van Gogh pulled a razor on Gauguin during an argument. That same year, Gaugin produced the now-famous oil painting "Vision After the Sermon." Gauguin coined the term "Synthetism" to describe his style during this period, referring to the synthesis of his paintings' formal elements with the idea or emotion they conveyed.
However, as soon as Gauguin arrived, the two volatile artists often engaged in heated exchanges about art's purpose. The style of the two men's work from this period has been classified as Post-Impressionist because it shows an individual, personal development of Impressionism's use of color, brushstroke, and non-traditional subject matter. For example, Gauguin's Old Women of Arles (Mistral) (1888) portrays a group of women moving through a flattened, arbitrarily conceived landscape in a solemn procession. As in much of his work from this period, Gauguin applied thick paint in a heavy manner to raw canvas; in his rough technique and in the subject matter of religious peasants, the artist found something approaching his burgeoning "primitive" ideal.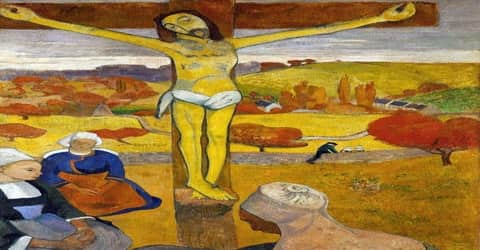 The Yellow Christ (Le Christ jaune), 1889
His art evolved towards Cloisonnism after being influenced by folk and Japanese art, and he produced his most famous work 'The Yellow Christ' in 1889. In Vision after the Sermon, Breton women observe Jacob wrestling with a stranger who turns out to be an angel. This is an episode described in the book of Genesis in the Bible. Gauguin is saying that the faith of these women enabled them to see miraculous events of the past as vividly as if they were occurring before them. In the Yellow Christ Gauguin used a yellow, wooden statue from a church near Pont-Aven as his model. He depicts Breton women as if they were in the presence of the actual death of Jesus Christ.
Gauguin mainly painted landscapes such as La Bergère Bretonne ("The Breton Shepherdess"), in which the figure plays a subordinate role. His Jeunes Bretons au bain ("Young Breton Boys Bathing"), introducing a theme he returned to each time he visited Pont-Aven, is clearly indebted to Degas in its design and bold use of pure color. The naive drawings of the English illustrator Randolph Caldecott, used to illustrate a popular guide-book on Brittany, had caught the imagination of the avant-garde student artists at Pont-Aven, anxious to free themselves from the conservatism of their academies, and Gauguin consciously imitated them in his sketches of Breton girls. These sketches were later worked up into paintings back in his Paris studio. The most important of these is Four Breton Women, which shows a marked departure from his earlier Impressionist style as well as incorporating something of the naive quality of Caldecott's illustration, exaggerating features to the point of caricature.
In 1891, Gauguin sought to escape the constructions of European society, and he thought that Tahiti might offer him some type of personal and creative freedom. Upon moving to Tahiti, Gauguin was disappointed to find that French colonial authorities had westernized much of the island, so he chose to settle among the native peoples, and away from the Europeans living in the capital. There he painted 'By the Sea' and 'Ave Maria' along with other paintings depicting Tahitian life.
Around this time, Gauguin borrowed from the native culture, as well as his own, to create new, innovative works. In "La Orana Maria," he transformed the Christian figures of the Virgin Mary and Jesus into a Tahitian mother and child. Gauguin made many other works during this time, including a carved sculpture called "Oviri" a word that originated from the Tahitian word for "savage," although, according to Gauguin, the sculpted female figure was actually a portrayal of a goddess. Known to have a predilection for young girls, Gauguin became involved with a 13-year-old Tahitian girl, who served as a model for several of his paintings.
When Gauguin arrived in Tahiti, he did not settle in the capital, Papeete, because Europeans lived there. Instead, he lived with the natives some twenty-five miles away. He perceived Tahiti as a land of beautiful and strong people, who were unspoiled by Western civilization. He enjoyed the bright, warm colors there. Gauguin became ill and returned to France in August 1893. There he found that he had inherited a small sum of money from an uncle. In Paris, he lived with flair. An exhibition of his Tahitian work in November was not successful financially. In early 1894 he went to Denmark and then to Brittany.
Gauguin returned to France in July 1893, believing that his new work would bring him the success that had so long eluded him. More so than ever, the outspoken artist affected the persona of an exotic outsider, carrying on a famous affair with a woman known as "Anna the Javanese." In 1894 he conceived a plan to publish a book of his impressions of Tahiti, illustrated with his own woodcuts, titled Noa Noa. This project and a one-man exhibit at the gallery of Paul Durand-Ruel met with little acceptance, however, and in July 1895 he left France for Tahiti for the final time.
In 1895 an unsuccessful auction of Gauguin's paintings was held. He sailed for Tahiti that spring. He once again settled among the natives. His health grew poorer. An ankle he had broken in Brittany did not heal properly, and he suffered from strokes. The government authorities, for whom he showed contempt, harassed him. However, he had to depend on them for menial jobs (work that is beneath a person's skills) in order to support himself.
In 1901, Gauguin moved to the more remote Marquesas Islands. By this time, his health had been declining; he had experienced several heart attacks and continued to suffer from his advancing case of syphilis. He purchased land there and, with the help of his neighbors, he built a home that he called "the house of pleasure." Conceived as a total work of art decorated with elaborately carved friezes, the house was possibly inspired by Maori works he had seen in Auckland, New Zealand.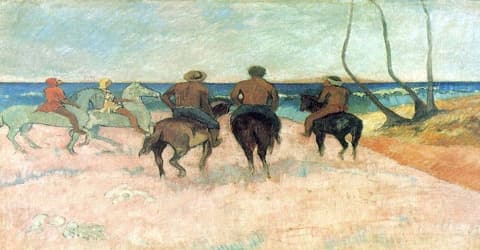 (Riders on the Beach, 1902)
By 1902 an advanced case of syphilis restricted his mobility, and he concentrated his remaining energy on drawing and writing, especially his memoir, Avant et après (published posthumously in 1923). After a quarrel with French authorities, he considered moving again, this time to Spain, but his declining health and a pending lawsuit prohibited any change. He died alone in his "house of pleasure."
Death and Legacy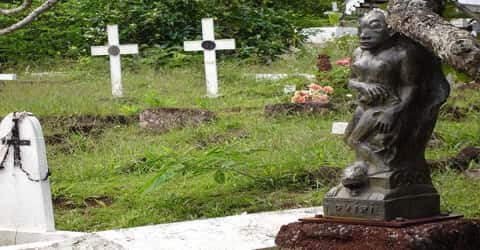 On May 3, 1903, Gauguin died at his isolated island home, alone. He died of a morphine overdose and heart attack. He was buried in the Catholic Calvary Cemetery (Cimetière Calvaire), Atuona, Hiva 'Oa, at 2 p.m. the next day. He was nearly out of money at the time it wasn't until after his death that Gauguin's art began receiving great acclaim, eventually influencing the likes of Pablo Picasso and Henri Matisse.
In 1973, a bronze cast of his Oviri figure was placed on his grave, as he had indicated was his wish. Ironically his nearest neighbor in the cemetery is Bishop Martin, his grave surmounted by a large white cross. Vernier wrote an account of Gauguin's last days and burial, reproduced in O'Brien's edition of Gauguin's letters to Monfreid.
Gauguin is regarded today as a highly influential founder of modern art. He focused on color and line and often created a profound sense of mystery in his work. His unusual combinations of objects and people can be seen as forerunners of the surrealist (using fantastic imagery) art of the 1920s and later.
His painting 'The Yellow Christ', considered as a key work of Symbolism shows the crucifixion of Christ in 19th century France. He used bold lines and bright colors like red and green in the background as contrasted by the yellow of Christ. The painting 'Where Do We Come From? What Are We? Where Are We Going?' deals with the existential questions that arise in the minds of human beings for which they seek spiritual answers. The painting is marked by thick brushstrokes and bold colors and is regarded as a post-impressionist style of work.
In 2014, forensic examination of four teeth found in a glass jar in a well near Gauguin's house threw into question the conventional belief that Gauguin had suffered from syphilis. DNA examination established that the teeth were almost certainly Gauguin's, but no traces were found of the mercury that was used to treat syphilis at the time, suggesting either that Gauguin did not suffer from syphilis or that he was not being treated for it.
Gauguin's influence was immense and varied. His legacy rests partly in his dramatic decision to reject the materialism of contemporary culture in favor of a more spiritual, unfettered lifestyle. It also rests in his tireless experimentation. Scholars have long identified him with a range of stylistic movements, and the challenge of defining his oeuvre, particularly the late work, attests to the uniqueness of his vision. Along with the work of his great contemporaries Cézanne and van Gogh, Gauguin's innovations inspired a whole generation of artists. Gauguin's use of Oceanic iconography and his stylistic simplifications greatly affected the young Pablo Picasso, inspiring his own appreciation of African art and hence the evolution of Cubism. In this way, through both his stylistic advances and his rejection of empirical representation in favor of conceptual representation, Gauguin helped open the door to the development of 20th-century art.
Information Source: