Thomas Müller – Football Player
Full name: Thomas Müller
Date of birth: 13 September 1989 (age 27)
Place of birth: Weilheim in Oberbayern, West Germany
Height: 1.86 m (6 ft 1 in)
Playing position: Forward / Winger / Attacking midfielder
Spouse/Partner: Lisa Trede
Early Life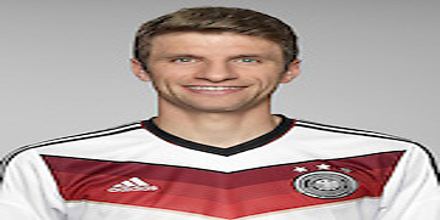 Thomas Müller was born on 13 September 1989, in Weilheim in Oberbayern, West Germany. He is German & the nation club Bayern Munich Attacking Football Player. Germany has discovered a new young talent in name of Thomas Muller & at the age of 24, he is improving his game at a very fast rate. Currently, he is playing for Bayern Munich club which is the champion of UEFA Champions league 2012-13 & was runner ups of 2011-12 season.
Müller plays as a midfielder or forward, and has been deployed in a variety of attacking roles – as an attacking midfielder, second striker, centre forward and on either wing. He has been praised for his positioning, teamwork and stamina, work-rate, and has shown consistency in scoring and creating goals.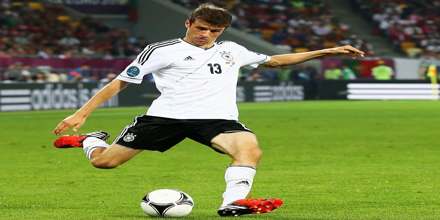 Müller earned a call-up to the German national team in 2010. At the 2010 World Cup he scored five goals in six appearances as Germany finished in third place. He was named the Best Young Player of the tournament and won the Golden Boot as the tournament's top scorer, with five goals and three assists. At the 2014 World Cup he played a major role in helping the team win the trophy, scoring five goals and receiving the Silver Boot as the tournament's second top goalscorer, and was also named in the World Cup All Star XI.
In 2014, Müller was ranked the fifth-best footballer in the world by The Guardian.
Childhood and Personal Life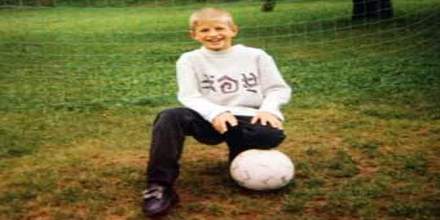 Thomas Muller was born on 13 September 1989 in Weilheim, West Germany. His parents are Klaudia and Gerhard, and he has a brother, Simon, who is two and a half years younger. Born in Weilheim, Müller played as a youth for TSV Pähl, and at the age of 10 he made the 50 km journey to join local Bundesliga side Bayern Munich in 2000.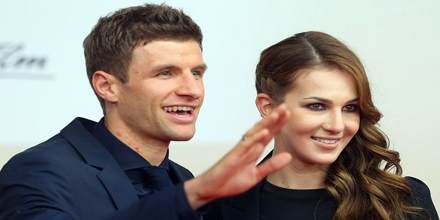 He married his long-time girlfriend Lisa Trede, a semi-professional equestrian who works on a farm, in December 2009 after being engaged for two years. He became an ambassador of Young Wings. This is a charity that assists kids who are suffering from trauma & bereavement.
Playing Career
At the age of only 10 Muller joined Bayern Munich in local Bundesliga in the year of 2000. His club was the runner up of Under 19 Bundesliga in 2007. Thomas improved his game very well & & played 32 games out of 38. In these matches, he scored 15 goals & with these goals he was in top 5 goal scorers.
In February 2009, Müller signed his first contract for the senior team, a two-year deal effective from the 2009–10 season, along with reserve teammate Holger Badstuber. It was 10-03-2009 when Muller played his first match of Champions League as a substitute of Bastian Schweinsteiger. His first match of UCL was a huge victory over Sporting CP by 7-1.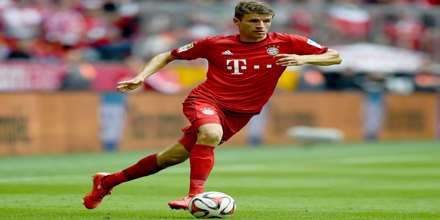 For Bayern Munich, he is also turned a lucky player as with this appearances Bayern has won lots of trophies.
In February 2010, Müller signed a new contract with Bayern Munich through 2013. During the second half of the season, Müller continued to be a regular first-team starter, usually playing in a central striking role due to the availability of other wide players Franck Ribéry and Arjen Robben.
For the season, he played in all 34 Bundesliga matches, starting 29, and recorded 13 goals and 11 assists.
Müller returned from his post-World Cup break to sign another contract extension, this time extending his stay at Bayern until 2015. As with all of Bayern's World Cup participants, he missed much of pre-season, and his first match back was the Supercup against Schalke 04 on 7 August.
In Bayern's first DFB-Pokal game Müller was awarded the man of the match after earning two penalties which were converted by Mario Gómez and Bastian Schweinsteiger, Müller then added a third in the closing stages to secure a 3–0 victory over Eintracht Braunschweig.
On 31 March 2012, Müller played his 100th Bundesliga game against 1. FC Nürnberg. On 19 May 2012, Müller scored the opening goal in the Champions League final against Chelsea with a powerful header.
During the season, Müller scored seven goals in 34 league matches, two goals in five German Cup matches, and two goals in 14 Champions League matches.
Müller scored 23 goals overall in the season (including all competitions), netting 13 in the Bundesliga, one in the Pokal, and an impressive eight in the Champions League, he also added one in the 2012 DFL-Supercup which Bayern won 2–1. This topped off Müller's highest scoring season to date.
As usual, he played as a substitute player for his new club & on 12-09-2013, just before a day of his birthday, he scored 2 goals against one of the top German Football club Borussia Dortmund. Later, he again scored two goals against Maccabi Hafia. The month of his birth proved to be very luck for him & he was awarded with Bundesliga player of the month.
He finished the season by scoring 13 goals in 31 league matches, eight goals in five DFB-Pokal matches, and five goals in 12 Champions League matches.
After the 2013–14 season, Müller signed a new contract keeping him at Bayern until 2019 and rejected a contract offer from Manchester United.
He finished the (2015-16) season by scoring 20 goals in 31 league matches, four goals in five German Cup matches, and eight goals in 12 Champions League matches. He didn't score in the German Super Cup.
Müller started the (2016-17) season by winning and scoring in the 2016 DFL-Supercup against Borussia Dortmund on 14 August 2016. In the league, Müller did not score for 999 minutes until he scored during a home game against VfL Wolfsburg in the 76th minute.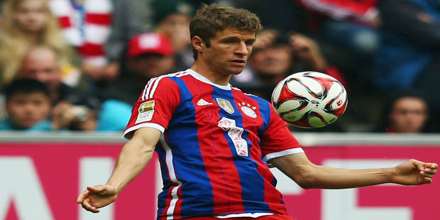 For Bayern Munich, he scored 50 goals out of 146 appearances in senior career. He is also playing for his German National Football Team & scored 16 goals after playing 46 goals. German Legend Gerd Muller also praise him for his excellent performance in all competition.
Müller represented Germany at various youth levels, starting with the under-16s in 2004. In August 2009, he was called up to the under-21 team for his debut in a 3–1 friendly defeat against Turkey. He earned six caps for the under-21s and scored one goal, the eighth in an 11–0 thrashing of San Marino.
Müller was named in Germany's provisional 27-man squad for the 2010 FIFA World Cup along with seven other Bayern Munich players.
He scored his first World Cup goal against Australia in 2010 world cup. His goal was third goal of that match & Germany won this match by clean sheet of 4-0. He played all games in group & he was awarded with Golden Boot as well as Best Young Talent Player of the tournament. In qualifying games of 2014 World cup, he scored first goal against Kazakhstan.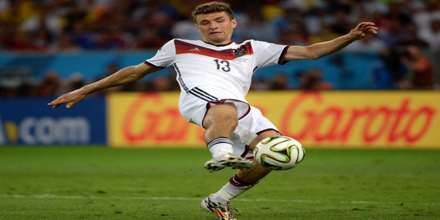 In October 2010, he was named on the shortlist for the FIFA Ballon d'Or award along with four of his Germany teammates. Reflecting on his World Cup success, Müller said "I basically got lucky; I hit form at just the right time".
Müller started all ten of Germany's qualifiers for Euro 2012, as the team qualified for the finals with a 100% record. He was included in Joachim Löw's squad for Euro 2012, where the Germans were knocked out in the semi-finals by Italy.
Müller scored his first World Cup qualifying goals on 22 March 2013, scoring Germany's opener and final goal in a 3–0 away win over Kazakhstan. He also scored in the 3–0 victories over Austria and the Faroe Islands to give him four goals in Germany's successful qualification campaign.
On 16 June 2014, in Germany's opening match of the 2014 World Cup, Müller scored the first hat-trick of the tournament and was named man of the match in a 4–0 win against Portugal.
On 8 July 2014, he scored Germany's opening goal in the 7–1 semi-final defeat of Brazil. This goal was Germany's 2,000th goal in its history. Müller has now scored at least five goals in each of his first two World Cups, making him only the third player to do so (after Teófilo Cubillas and teammate Miroslav Klose). With the goal, he has tied Helmut Rahn with 10 World Cup goals.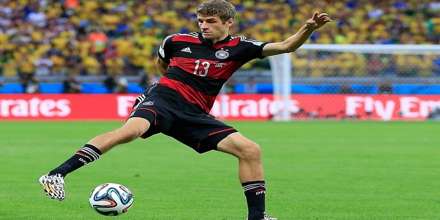 Having played a major role in the team's World Cup triumph, Müller received the Silver Boot as the tournament's second top goalscorer with five goals, and was also named in the World Cup All Star XI.
Müller featured in nine of ten matches during Germany's qualifying campaign for UEFA Euro 2016, scoring nine goals as Germany topped their qualifying group to qualify for Euro 2016.
Müller's role can be described as an attacking all-rounder, a player able to play in a variety of forward positions. As he came through the youth system, he was seen primarily as a midfielder, but since breaking into the first-team he has been used in more forward roles.
Both Bayern Munich and the Germany national team usually play a 4-2-3-1 formation, and Müller is most often part of the three attacking midfielders behind the central striker. He can play in any of the attacking midfield roles but usually plays in the centre for Bayern, and on the right for Germany. He has been used as an out-and-out striker on occasion.
Honours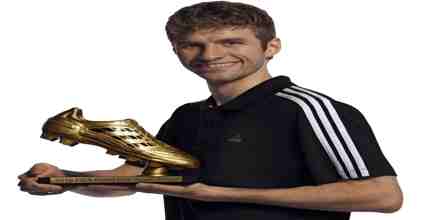 Club
Bayern Munich
Bundesliga: 2009–10, 2012–13, 2013–14, 2014–15, 2015–16
DFB-Pokal: 2009–10, 2012–13, 2013–14, 2015–16
DFL-Supercup: 2010, 2012, 2016
UEFA Champions League: 2012–13
UEFA Super Cup: 2013
FIFA Club World Cup: 2013
Country
Germany
FIFA World Cup: 2014; Third Place: 2010
UEFA European Championship Semi-finalist: 2012, 2016
Individual
FIFA World Cup 2010 Man of the Match: vs. England, vs. Uruguay
FIFA World Cup 2014 Man of the Match: vs. Portugal, vs. United States
FIFA World Cup Golden Boot: 2010
FIFA World Cup Best Young Player: 2010
FIFA World Cup 2010 most assists (3, shared with Mesut Özil, Bastian Schweinsteiger, Kaká, and Dirk Kuyt)
Bayerischer Sportpreis: 2010
Silbernes Lorbeerblatt: 2010, 2014
World Soccer Young Player of the Year: 2010
Bravo Award: 2010
FIFA Ballon d'Or: 15th place 2010, 13th place 2011, 17th place 2013, 5th place 2014, 6th place 2015
ESM Team of the Year: 2012–13
UEFA Best Player in Europe Award: 2013 (6th place), 2014 (4th place), 2016 (10th place)
UEFA Champions League Team of the Group Stage: 2015
FIFA World Cup Silver Ball: 2014
FIFA World Cup Silver Boot: 2014
FIFA World Cup All-Star Team: 2014
FIFA World Cup Dream Team: 2014
Most FIFA World Cups with at least five goals (2010–2014); record shared with Teófilo Cubillas (1970, 1978) & Miroslav Klose (2002–2006)