Richard Branson – English Business Magnate, Investor and Philanthropist
Full name: Richard Charles Nicholas Branson
Date of birth: 18 July 1950 (age 66)
Place of birth: Blackheath, London, England
Residence: Necker Island, British Virgin Islands
Other names: Old Beardie
Occupation: Founder of Virgin Group
Years active: 1966–present
Father: Edward James Branson
Mother: Eve Branson
Spouse: Joan Templeman (m. 1989), Kristen Tomassi (m. 1972–1979)
Children: Holly Branson, Sam Branson, Clare Sarah Branson
Early Life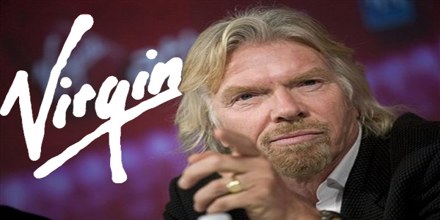 Sir Richard Charles Nicholas Branson was born on 18 July 1950, in Blackheath, London, England. The founder and chairman of a leading business group, Virgin Group, his entrepreneurial achievements are unparalleled. Today, Virgin Group, which started off as a humble store selling music records called, Virgin Records, holds more than 400 companies. The company gradually expanded to Virgin Megastores, Virgin Atlantic Airways and many more. This billionaire has a net worth of US$ 4.2 billion and he is currently, the 4th richest man in the United Kingdom and one of the ten most influential people around the world. Apart from his headline-grabbing industry, he has appeared in a number of television series and has also played himself in a couple of movies. He was the star of the reality show, 'The Rebel Billionaire: Branson's Quest for the Best' and also appeared in the movies, 'Around the World in 80 days' and 'Casino Royale'. An avid Star Trek fan, Branson's autobiography, 'How I Lost My Virginity' became an international best-seller and earned him critical acclaim. He is the recipient of numerous awards and is currently a patron of several charities around the world like 'Prisoners Abroad' and 'International Rescue Corps'.
In 2002 he was named in the BBC's poll of the 100 Greatest Britons. In July 2015, Forbes listed Branson's estimated net worth at $5.2 billion. Branson is also known for his adventurous spirit and sporting achievements, including crossing oceans in a hot air balloon.
Childhood and Educational Life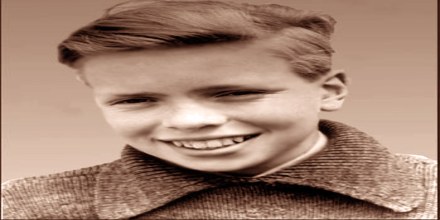 Richard Charles Nicholas Branson was born on July 18, 1950, in Surrey, England. His father, Edward James Branson, worked as a barrister. His mother, Eve Branson, was employed as a flight attendant. His grandfather, Sir George Arthur Harwin Branson, was a judge of the High Court of Justice and a Privy Councillor. Branson has two younger sisters.
Branson attended Stowe School, an independent school in Buckinghamshire until the age of sixteen. He was academically poor, but was able to connect with others around him. Eventually, he dropped out of school, realizing it was not where he wanted to be.
Personal Life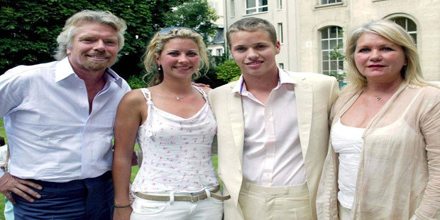 Richard Branson married Kristen Tomassi in 1972 and divorced her in 1979. He remarried in 1989, at Necker Island, a 74-acre (30 ha) island owned by Branson in the British Virgin Islands. He had a daughter named Holly and a son named Sam with his second wife, Joan Templeman. He stated in an interview with Piers Morgan that he and Joan also had a daughter named Clare Sarah, who died when she was just four days old in 1989.
He also owns land in Barbuda and Antigua. He is an avid supporter of the football team, the Oxford United.
He supports many humanitarian causes and in May 2008, he travelled to the Massai Mara to open a new school. He has also volunteered to fund charity fund raisers and has even contributed to the Global Commission on Drug Policy.
Professional Career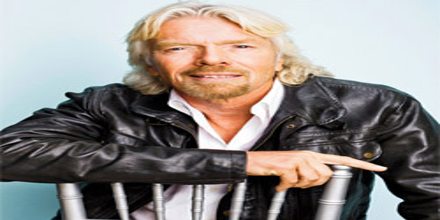 By 1969, Branson was living in a London commune, surrounded by the British music and drug scene. It was during this time that Branson had the idea to begin a mail-order record company called Virgin to help fund his magazine efforts. The company performed modestly, but made Branson enough that he was able to expand his business venture, adding a record shop in Oxford Street, London. With the success of the record shop, the high school drop-out was able to build a recording studio in 1972 in Oxfordshire, England.
In 1982, Virgin purchased the gay nightclub Heaven. In 1991, in a consortium with David Frost, Branson made an unsuccessful bid for three ITV franchisees under the CPV-TV name. The early 1980s also saw his only attempt as a producer—on the novelty record, "Baa, Baa, Black Sheep", by Singing Sheep in association with Doug McLean and Grace McDonald. The recording was a series of sheep baa-ing along to a drum-machine-produced track and reached number 42 in the UK charts in 1982.
In 1992, to keep his airline company afloat, Branson sold the Virgin label to EMI for £500 million. Branson said that he wept when the sale was completed because the record business had been the very start of the Virgin empire. In 1996 he created V2 Records to re-enter the music business, owning 5% himself.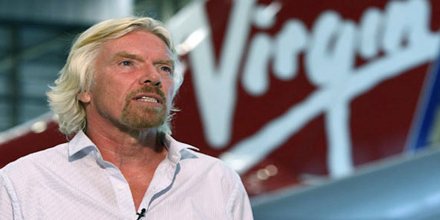 In 1984, he expanded his business and started his own group of airlines, 'Virgin Atlantic' and a series of Virgin Megastores thereafter. It was not that he always tasted success and his businesses faced liquidity problems as well.
The Virgin Group had financial problems in 1992 and was finally sold to THORN EMI for $1 billion. He was devastated but continued to stay in the music business.
Branson was crushed by the loss, reportedly crying after the contract was signed, but remained determined to stay in the music business. In 1993, he founded the station Virgin Radio, and several years later he started a second record company, V2. Founded in 1996, V2 now includes artists such as Powder Finger and Tom Jones.
In 2006, the airline was merged with SN Brussels Airlines forming Brussels Airlines. It also started a national airline based in Nigeria, called Virgin Nigeria. Another airline, Virgin America, began flying out of San Francisco International Airport in August 2007. Branson has also developed a Virgin Cola and a Virgin Vodka brand, which has not been a very successful enterprise. As a consequence of these lacklustre performers, the satirical British fortnightly magazine Private Eye has been critical of Branson and his companies.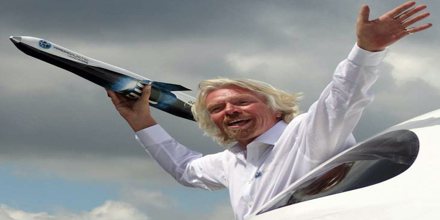 Branson is also known for his sporting achievements, notably the record-breaking Atlantic crossing in Virgin Atlantic Challenger II in 1986, and the first crossing by hot-air balloon of the Atlantic (1987) and Pacific (1991). He was knighted in 1999 for his contribution to entrepreneurship, and in 2009, he landed at No. 261 on Forbes' "World Billionaires" list with his $2.5 billion in self-made fortune, which includes two private islands.
On 25 September 2004, Branson announced the signing of a deal under which a new space tourism company, Virgin Galactic, will license the technology behind Spaceship One—funded by Microsoft co-founder Paul Allen and designed by legendary American aeronautical engineer and visionary Burt Rutan—to take paying passengers into suborbital space. Virgin Galactic (wholly owned by Virgin Group) plans to make flights available to the public with tickets priced at US$200,000 using Scaled Composites White Knight Two. At the time, Branson said that he planned to take his two children, 31-year-old Holly and 28-year-old Sam, on a trip to outer space when they ride the SpaceShipTwo rocket plane on its first public flight then planned for 2014. As part of his promotion of the firm, Branson has added a variation of the Virgin Galactic livery to his personal business jet, the Dassault Falcon 900EX "Galactic Girl" (G-GALX).
He was a judge for the reality show, 'The Rebel Billionaire: Branson's Quest for the Best' in 2004, where 14 contestants were tested for their entrepreneurial abilities. The same year, he also made a cameo appearance in 'Around the World in 80 Days'.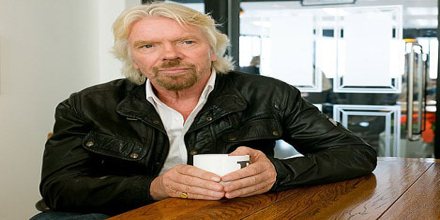 Branson launched the Virgin Health Bank on February 1, 2007, which ensured that parents-to-be could store stem cells for the future. It also offers the option to people to store their baby's umbilical cord.
In recent years, the ever-adventurous Branson has focused much of his attention on his space tourism venture. He partnered with Scaled Composites to form The Spaceship Company, which is currently developing a suborbital spaceplane, and, in April 2013, the project made an impressive leap forward with the test launch of SpaceShipTwo.
Since 2010, Branson has served as a Commissioner on the Broadband Commission for Digital Development, a UN initiative which promotes universal access to broadband services. In 2011, Branson served on the Global Commission on Drug Policy with former political and cultural leaders of Latin America and elsewhere, "in a bid to boost the effort to achieve more humane and rational drug laws."
Branson was delighted by the success of his spaceship's first test, telling NBC News that "We're absolutely delighted that it broke the sound barrier on its very first flight, and that everything went so smoothly." He expects to be finishing testing the craft by the end of 2013. By April 2013, more than 500 people had bought their tickets for Virgin Galactic's voyages.
In September 2014, Branson announced his investment in drone company 3D Robotics stating, "It's amazing to see what a little flying object with a GoPro attached can do. Before they came along the alternative was an expensive helicopter and crew. I'm really excited about the potential 3D Robotics sees in drones. They can do a lot of good in the world, and I hope this affordable technology will give many more people the chance to see our beautiful planet from such a powerful perspective."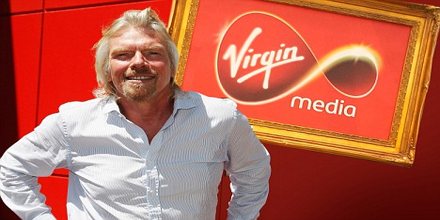 In November 2015, Branson announced the addition of Moskito Island to the Virgin Limited Edition portfolio. This resort, The Branson Estate on Moskito Island, offers 11 bedrooms for 22 guests.
Branson has supported continuing British membership of the European Union and was opposed to the 2016 referendum. On 28 June 2016, interviewed for ITV's Good Morning Britain, he said that his company had lost a third of its value as a result of the referendum result and that a planned venture, employing over 3,000 people, which he had announced before the referendum, had been shelved. He gave his backing for a second referendum.
He is the chairman and owner of Virgin Group, which currently holds more than 400 companies in 30 countries around the world. His business empire includes a train company, an airline company, a mobile phone company, a luxury game preserve and a space tourism company.
He is the author of 'Losing my Virginity', which is an autobiography that features his story from rags to riches. The book became an international success overnight and was adapted into a biopic by David Mirkin and Steven Paul.
Awards and Honours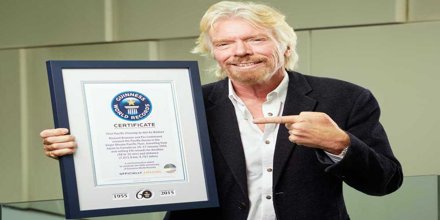 In 1993, Branson was awarded an honorary degree of Doctor of Technology from Loughborough University.
In the New Years Honours list dated 30 December 1999, Elizabeth II signified her intention to confer the honour of Knight Bachelor on him for his "services to entrepreneurship".
He was knighted by Charles, Prince of Wales on 30 March 2000 at an investiture in Buckingham Palace. Also in 2000, Branson received the Tony Jannus Award for his accomplishments in commercial air transportation.
Branson appears at No. 85 on the 2002 list of 100 Greatest Britons on the BBC and voted for by the public. Branson was also ranked in 2007's Time magazine "Top 100 Most Influential People in the World".
On 7 December 2007, United Nations Secretary General Ban Ki-Moon presented Branson with the United Nations Correspondents Association Citizen of the World Award for his support for environmental and humanitarian causes.
In 2009, Branson was voted the UK's "Celebrity Dream Boss" in an opinion poll by Cancer Research UK. On 24 January 2011, Branson was awarded the German Media Prize (organised by "Media Control Charts"), previously handed to former US president Bill Clinton and the Dalai Lama.
On 14 November 2011, Branson was awarded the ISTA Prize by the International Space Transport Association in The Hague for his pioneering achievements in the development of suborbital transport systems with "Virgin Galactic".
On 11 February 2012, Branson was honoured with the National Academy of Recording Arts and Sciences' President's Merit Award for his contributions to the music industry.
On 2 June 2013, Branson received an honorary degree of Doctor Honoris Causa from Kaunas Technology University in Kaunas, Lithuania.
On 15 May 2014, Branson received the 2014 Business for Peace Award, awarded annually by the Business for Peace Foundation in Oslo, Norway.
On 21 September 2014, Branson was recognized by The Sunday Times as the most admired business person over the last five decades.
On 9 October 2014, Branson was named as the No. 1 LGBT ally by the OUTstanding organisation.
On 29 October 2015, Branson was listed by UK-based company Richtopia at number 1 in the list of 100 Most Influential British Entrepreneurs.
In October 2015, Branson received the International Crisis Group Chairman's Award at the United Nations Development Programme's In Pursuit of Peace Awards Dinner.