Tim Cook  
(American Business Executive, Industrial Engineer and Developer)
Full name: Timothy Donald Cook
Date of birth: November 1, 1960 (age 56)
Place of birth: Mobile, Alabama, U.S.
Residence: Palo Alto, California
Famous as: CEO of Apple Inc.
Nationality: American
Early Life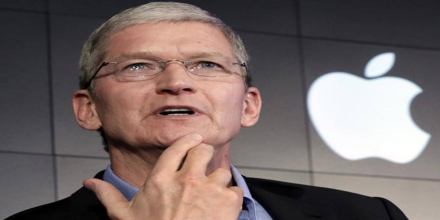 Timothy Donald "Tim" Cook was born on November 1, 196, in Mobile, Alabama, U.S. He is an American business executive who succeeded Steve Jobs as the Chief Executive Officer (CEO) of Apple Inc. in 2011. Even before officially assuming the title of the CEO, he had served as the acting CEO during Jobs' long medical leave in the months preceding the former Apple CEO's death. From the time he joined Apple as a Senior Vice President (SVP) of Worldwide Operations in 1998, Tim Cook has been instrumental in leading the company from one success to another. In fact Apple was going through a tough phase when Cook accepted to join it and his role in resurrecting the company has been immense. Born into a middle class home in a small town, Cook is a self-made man. He entered the field of computer technology and started working for IBM. Brilliant, creative and blessed with a steely determination, Cook rose up the ranks within the company rapidly. Eventually he moved on to work for Compaq. But his stint at Compaq was short-lived as he soon left to join the then-struggling Apple and changed the company's fortunes within years of joining.
In November 2011, Cook was named one of Forbes magazine's "World's Most Powerful People." According to an April 2012 article in The New York Times, Cook was the highest-paid CEO among large publicly traded companies in 2012. While his salary at Apple amounts to around $900,000, Cook reportedly brings in several millions of dollars annually due to other forms of compensation, including stock awards and bonuses. In 2011, Cook reportedly made $378 million in total compensation.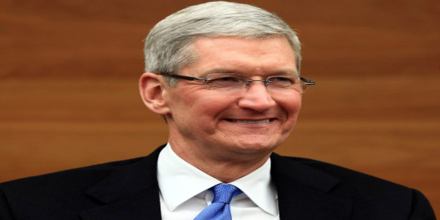 In 2014, Cook became the first Chief Executive of a Fortune 500 company to publicly identify as gay. Cook also serves on the boards of directors of Nike, Inc and the National Football Foundation. In early 2012, he was awarded compensation of one million shares, vesting in 2016 and 2021, by Apple's board of directors, and in March 2015, he said he planned to donate his entire stock fortune to charity.
Childhood and Educational Life
Tim Cook was born Timothy D. Cook in the small town of Robertsdale, Alabama, on November 1, 1960. His father, Donald, was a shipyard worker while his mother Geraldine worked at a pharmacy. He has two brothers.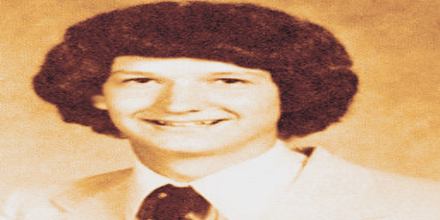 Cook attended Robertsdale High School, and graduated second in his class in 1978. He then enrolled at Auburn University in Alabama, where he graduated in 1982 with a bachelor's degree in industrial engineering, and went on to earn a Master of Business Administration degree from Duke University's Fuqua School of Business in 1988. There, Cook earned the title of Fuqua Scholar—an honor given only to students at the the business school who graduate in the top 10 percent of their class.
Personal Life
Cook is a fitness enthusiast and enjoys hiking, cycling, and going to the gym. Cook is known for being mostly solitary. He uses an off-campus fitness center for privacy, and very little is publicly known of his personal life. He explained in October 2014 that he has sought to achieve a "basic level of privacy". Cook was misdiagnosed with multiple sclerosis in 1996, an incident he said made him "see the world in a different way". He has since taken part in charity fundraising, such as cycle races to raise money for the disease. Cook later told an Auburn alumni magazine that his symptoms came from "lugging a lot of incredibly heavy luggage around."
In 2009, Cook claimed he offered a portion of his liver to Jobs, since both share a rare blood type. Cook claims Jobs responded by yelling, "I'll never let you do that. I'll never do that."
While delivering the 2010 commencement speech at Auburn University, Cook emphasized the importance of intuition during significant decision-making processes in his life, and further explained that preparation and hard work are also necessary to execute on intuition.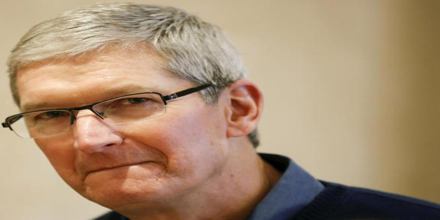 In October 2014, Cook confirmed in an opinion piece he wrote for Bloomberg Businessweek that he is gay. "While I have never denied my sexuality, I haven't publicly acknowledged it either, until now," he wrote. "So let me be clear: I'm proud to be gay, and I consider being gay among the greatest gifts God has given me."
Cook also wrote that he is inspired by these words of Dr. Martin Luther King Jr.:  "Life's most persistent and urgent question is, 'What are you doing for others?' He explained that his decision to put his personal privacy aside and make his sexual orientation public was an important step in advocating for human rights and equality for all.
"I don't consider myself an activist, but I realize how much I've benefited from the sacrifice of others," he wrote in the op-ed piece. "So if hearing that the CEO of Apple is gay can help someone struggling to come to terms with who he or she is, or bring comfort to anyone who feels alone, or inspire people to insist on their equality, then it's worth the trade-off with my own privacy."
IBM Career
Fresh out of graduate school, Cook embarked on a career in the field of computer technology: He was hired by IBM, where he moved up the ranks to become the computer corporation's North American Fulfillment director, managing manufacturing and distribution functions for IBM's Personal Computer Company in both North and Latin America.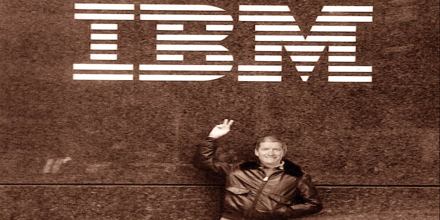 Following a 12-year career at IBM, in 1994, Cook became a chief operating officer (Reseller Division) at Intelligent Electronics. Afte three years there, he was ready for another move: The Compaq Computer Corporation hired Cook as vice president of corporate materials, entrusting him with procuring and managing the company's product inventory. His time there was short-lived, however: After a six-month stint at Compaq, Cook left for a position at Apple.
Apple Career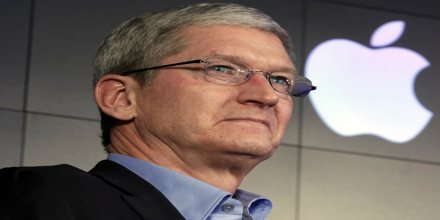 He had been at Compaq for just a few months when he was called for an interview by Apple Inc's CEO, Steve Jobs. Apple was struggling in the late 1990s and Cook's friends and well-wishers advised him against accepting the appointment. However, Cook was highly impressed by Steve Jobs' vision for the company and decided to join Apple.
But Cook's decision to join Apple wasn't an easy one: He began working for Apple in early 1998, before the company had developed the likes of the iMac, iPod, iPhone or iPad, and when it was seeing declining profits instead of profit growth. According to Cook, prior to accepting his job at Apple, he was actually dissuaded from taking the job, and was told that the company's future looked very bleak: "While Apple did make Macs, the company had been losing sales for years and was commonly considered to be on the verge of extinction.
Only a few months before I'd accepted the job at Apple, Michael Dell, the founder and CEO of Dell Computer, was publicly asked what he would do to fix Apple, and he responded, 'I'd shut it down and give the money back to the shareholders,'" Cook explained to Auburn graduates in 2010.
Cook was promoted to the position of Chief Operating Officer (COO) in January 2007. Apple's CEO Steve Jobs had been diagnosed with cancer in 2003 and he took a leave of absence to manage his health in 2009. During this period, Cook served as the acting CEO.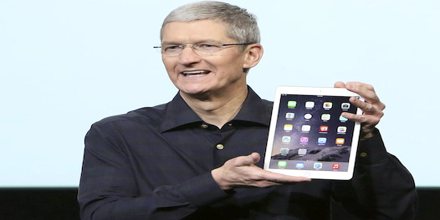 Less than a year after Cook his Apple debut, the corporation was reporting profits (fiscal year 1998)—an extraordinary shift from it's fiscal 1997 report showed a net loss of $1 billion from the prior fiscal year.
In August 2011, Cook was named Apple's new CEO, taking over the position for former CEO and Apple co-founder Steve Jobs, who died in October 2011 after a years-long battle with cancer. In addition to serving as CEO, Cook sits on the corporation's board of directors.
On October 29, 2012, Cook made major changes to the company's executive team. Scott Forstall resigned as senior vice president of iOS, and became an advisor to Cook until he eventually departed from the company in 2013. John Browett, who was Senior VP of retail, was dismissed six months after he commenced at Apple, when he received 100,000 shares worth US$60 million. Forstall's duties were divided among four other Apple executives: design SVP Sir Jonathan Ive assumed leadership of Apple's human interface team; Craig Federighi became the new head of iOS software engineering; services chief Eddy Cue became responsible for Maps and Siri; and Bob Mansfield, previously SVP of hardware engineering, became the head of a new technology group.
Under Cook's leadership Apple continues to flourish. In May 2014, the company announced its acquisition of Beats Music and Beats Electronics for $3 billion—Apple's biggest acquisition to date.
In a letter to Apple employees, Cook said, "This afternoon we announced that Apple is acquiring Beats Music and Beats Electronics, two fast-growing businesses which complement our product line and will help extend the Apple ecosystem in the future. Bringing our companies together paves the way for amazing developments which our customers will love."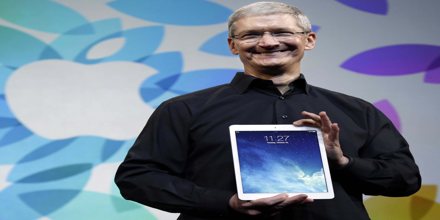 On February 28, 2014, Cook made headlines when he challenged shareholders to "get out of the stock" if they didn't share the company's views on sustainability and climate change.
Following this in June 2014, at the Worldwide Developers Conference, Cook announced the latest version of the Apple operating system for desktop and mobile, OSX Yosemite. In September of the same year, Cook unveiled the iPhone 6 and iPhone 6 Plus, both of which have larger screen sizes and come with new features such Apple Pay and "Burst Selfies." He also announced the first new product under his reign, a wearable device to track fitness and health, the "Apple Watch," which will be available for purchase in 2015.
Alongside Google vice-president Vint Cerf and AT&T CEO Randall Stephenson, Cook attended a closed-door summit held by President Barack Obama, on August 8, 2013, in regard to government surveillance and the Internet in the wake of the Edward Snowden NSA incident.
Following the December 2015 terrorist attack in San Bernardino, California, in which 14 people were killed by Rizwan Farook and Tashfeen Malik, the Federal Bureau of Investigation (FBI) solicited Apple to assist in "unlock[ing]" an iPhone 5C used by Farook. On February 16, 2016, in response to a request by the Department of Justice, a federal magistrate judge ordered Apple to create a custom iOS firmware version that would allow investigators to circumvent the phone's security features. Cook responded in an open letter, wherein he denounced the government's demands as constituting a "breach of privacy" with "chilling" consequences.
In May 2016, Cook traveled to China to meet with government officials there after the closure of Apple's online iTunes Store and iBooks store by the Chinese government.
Tim Cook joined Apple Inc at a time when the company was struggling to survive. Within a year of his joining the company started registering profits and over the years became one of the world's largest information technology companies by revenue. Cook, along with former Apple CEO Steve Jobs, is credited to have played a major role in the company's resurrection.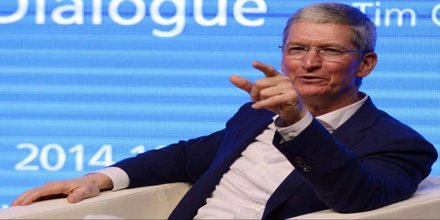 Tim Cook donated $50 million to Stanford hospitals, near Apple's Silicon Valley headquarters, including $25m for a new children's hospital in 2012. He also made a $50 million donation to the charity Product Red which works to combat health issues like AIDS, tuberculosis and malaria.
In March 2015, he announced that he planned to donate his entire fortune to charity and stated that he would develop a systematic approach to philanthropy.
Awards & Achievements
He was named one of Forbes magazine's "World's Most Powerful People" in 2011.
In 2014, Cook was inducted into the Alabama Academy of Honor, the highest honor Alabama gives its citizens.
He received an honorary doctorate from George Washington University in 2015.
Financial Times Person of the Year (2014)
Ripple of Change Award (2015)
Fortune Magazine's: World's Greatest Leader. (2015)
Human Rights Campaign's Visibility Award (2015)