Biography of Phil Lynott
Phil Lynott – Irish musician and songwriter.
Name: Philip Parris Lynott
Date of Birth: 20 August 1949
Place of Birth: West Bromwich, Staffordshire, England
Date of Death: 4 January 1986 (aged 36)
Place of Death: Salisbury, Wiltshire, England
Occupation: Musician, Songwriter, Producer, Poet
Father: Cecil Parris
Mother: Philomena Lynott
Spouse/Ex: Caroline Crowther (m. 1980–1986)
Children: Cathleen Lynott, Macdaragh Lambe, Sarah Lynott
Early Life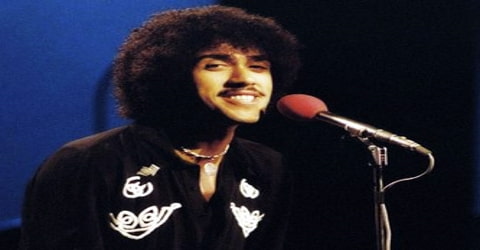 Irish singer-songwriter and musician, Phil Lynott was born on 20 August 1949 in Hallam Hospital in West Bromwich, England, and christened at St Edward's Church, Selly Park, Birmingham. His most commercially successful group was Thin Lizzy, of which he was a founding member, the principal songwriter, lead vocalist, and bassist. He was known for his distinctive plectrum-based style on the bass, and for his imaginative lyrical contributions including working-class tales and numerous characters drawn from personal influences and Celtic culture.
Lynott was best recognized as the founding member, lead vocalist, bassist and principal songwriter of the hard rock band Thin Lizzy. He had a successful career with the band and following its disbandment, suffered from drug-related problems, particularly addiction to heroin. Known for his imaginative lyrical contributions and distinctive plectrum-based style of playing bass, Lynott also fronted a number of other bands as a lead vocalist, including Grand Slam, Black Eagles, and Skid Row. Born in the West Midlands, he went to school in Moss Side, Manchester.
In 1957, Lynott moved to Dublin where he was raised by his grandparents. However, he stayed close to his mother throughout his life. Lynott had a happy childhood and was a popular character at school. He was an avid football fan and a keen supporter of Manchester United. In 1980, Lynott married the daughter of English comedian Leslie Crowther and had two children with her.
Lynott was born in the West Midlands but grew up in Dublin with his grandparents. He remained close to his mother, Philomena, throughout his life. He fronted several bands as a lead vocalist, including Skid Row alongside Gary Moore, before learning the bass guitar and forming Thin Lizzy in 1969. After initial success with "Whiskey in the Jar", the band had several hits in the mid-1970s with hits such as "The Boys Are Back in Town", "Jailbreak" and "Waiting for an Alibi", and became a popular live attraction combining Lynott's vocal and songwriting skills with dual lead guitars. Towards the end of the 1970s, Lynott also embarked upon a solo career, published two books of poetry, and after Thin Lizzy disbanded, he assembled and fronted the band Grand Slam, of which he was the leader until it folded in 1985.
On 4 January 1986, the Irish artiste died of heart failure and pneumonia at the age of 36. Even today, Lynott remains a beloved memory in the rock world. In 2005, a statue in his memory was constructed in Dublin.
Childhood, Family and Educational Life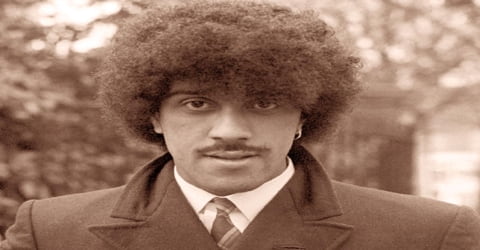 Phil Lynott, by the name Philip Parris Lynott, was born on 20 August 1949 in West Bromwich, Staffordshire, England to Philomena Lynott and Cecil Parris. His parents met in 1948 and had a relationship for a few months that resulted in his birth.
Lynott moved with his mother into a home for unmarried mothers where he was baptized. Philomena eventually moved to Manchester but stayed in touch with Lynott's father who often gave them money. She subsequently had two other kids who were given up for adoption.
Philip Lynott first attended school in Moss Side, Manchester. In 1957, due to accounts of racism and Phillip being mixed race, his mother sent him to live with his grandparents, Frank and Sarah Lynott, in Crumlin, Dublin. The move was important, as the presence of Frank gave him a father figure for the first time in his life. His mother stayed in Manchester and remained close to her son. She later took over the management of the Clifton Grange Hotel in Whalley Range with her partner, Dennis Keeley. The hotel, nicknamed "The Biz", became popular with showbusiness entertainers and was later referred to in a song on Thin Lizzy's debut album. Lynott had a happy childhood growing up in Dublin and was a popular character at school.
Personal Life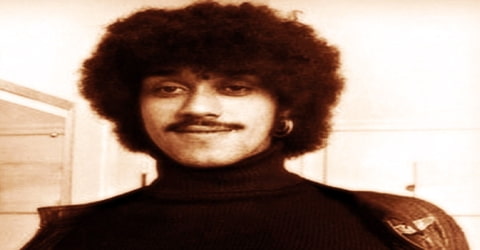 On 14 February 1980, Phil Lynott got married to Caroline Crowther, the daughter of English comedy actor Leslie Crowther. They had two daughters: Sarah (born on 19 December 1978) and Cathleen (born on 29 July 1980). Years prior to his marriage, Lynott had a son (born in 1968) who was put up for adoption. In 2003, Macdaragh Lambe learned that Lynott was his biological father, and this was confirmed by Philomena Lynott in a newspaper interview in July 2010.
Phil Lynott and Crowther's marriage started falling apart in 1984 when his drug usage escalated. His last years were dogged by alcohol abuse and drug dependency, leading to a rapid decline in his health.
Born in England and raised in Ireland, Lynott always considered himself to be Irish. His friend and Thin Lizzy bandmate Scott Gorham said in 2013: "Phil was so proud of being Irish. No matter where he went in the world, if we were talking to a journalist and they got something wrong about Ireland, he'd give the guy a history lesson. It meant a lot to him." In the early 1980s, Lynott purchased several properties in Howth, County Dublin, one of which, White Horses, was a 50th birthday present for his mother.
Lynott was a passionate football fan and a keen Manchester United supporter. He was good friends with United and Northern Ireland star George Best, and the pair regularly socialized at the Clifton Grange Hotel. Lynott later became a shareholder of the club.
Career and Works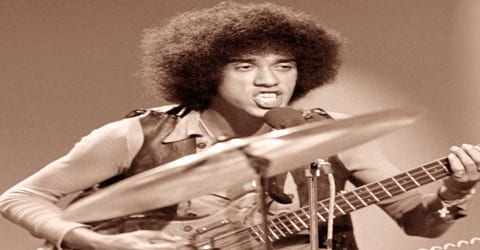 Phil Lynott was first introduced to music by his uncle Timothy. In 1965, he joined the Black Eagles, his first band as a lead singer. He later met Brian Downey while attending Christian Brothers School in Crumlin. Brian asked Lynott to join the Liffey Beats. After playing with Liffey Beats for some time, Lynott joined the group Kama Sutra. During this time, he learned frontman skills and also how to interact with an audience.
In early 1968, Lynott teamed up with bassist Brendan 'Brush' Shiels to form Skid Row. Downey was not interested in Shiels' request to be the drummer, so the job went to Noel Bridgeman. The band signed a deal with Ted Carroll, who would later go on to manage Thin Lizzy, and played a variety of covers including "Eight Miles High", "Hey Jude" and several numbers by Jimi Hendrix. Because Lynott did not play an instrument at this point in his career, he instead manipulated his voice through an echo box during instrumental sections.
Lynott also took to smearing boot polish under his eyes on stage to draw attention to himself, which he would continue to do throughout Lizzy's career later on, and regularly performed a mock fight with Shiels onstage to attract the crowd. In mid-1968, guitarist Bernard Cheevers quit to work full-time at the Guinness factory in Dublin and was replaced by Belfast-born guitarist Gary Moore.
Lynott subsequently took a leave from the band due to problems in his tonsils. By the time he had recovered, Skid Row didn't require him anymore. Feeling guilty of having sacked one of his best friends, Shiels started teaching Lynott how to play the bass. Lynott then teamed up with Downey and the duo formed the band 'Orphanage', along with bassist Pat Quigley and guitarist Joe Staunton, playing a mixture of original songs alongside covers of Free, Bob Dylan and Jeff Beck.
Thin Lizzy was officially formed in the early-70's, and through a succession of guitarists, eventually became one of the world's top hard rock bands by the middle of the decade, especially on the strength of the hit anthem "The Boys are Back in Town" and a string of classic albums (Jailbreak, Bad Reputation, Live & Dangerous, Black Rose). In addition to the band's instantly recognizable (and infinitely copied) twin guitar attack supplied by Scott Gorham and Brian Robertson, it was Lynott's storytelling lyric-writing that most focused on.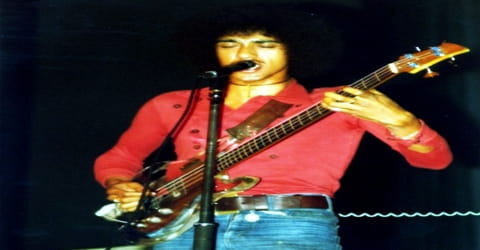 Towards the end of 1969, Lynott and Downey were introduced to keyboardist Eric Wrixon and guitarist Eric Bell. The squad formed the band Thin Lizzy and went on to perform heavily on stage. During the recording of the band's second studio album, 'Shades of a Blue Orphanage', Lynott left the band to join a new band with Deep Purple's Ian Paice and Ritchie Blackmore called Baby Face. However, he returned to Thin Lizzy within a week.
Towards the end of 1969, Lynott and Brian Downey were introduced to guitarist Eric Bell via founding member of Them, keyboardist Eric Wrixon (Bell had played in a later line-up of them). Deciding that Bell was a better guitarist, and with Lynott now confident enough to play bass himself, the four formed Thin Lizzy. The name came from the character "Tin Lizzie" in the comic The Dandy, which in turn came from the nickname for the Ford Model T car. The "h" was deliberately added to mimic the way the word "thin" is pronounced in a Dublin accent. Lynott later discovered Henry Ford's slogan for the Model T, "Any color you like as long as it's black", which he felt was appropriate for him. Wrixon was felt by the others to be superfluous to requirements and left after the release of the band's first single, "The Farmer" in July 1970.
Thin Lizzy got its first major break towards the end of 1972 when it supported the band Slade during their UK tour. A year later, the band released a rock version of the Irish song "Whiskey in the Jar" which became an instant hit. Lynott's band Thin Lizzy began to collapse in mid-1974 when some of the bandmates left. However, it started to regain its popularity after the release of the album 'Jailbreak' in 1976 with new members, guitarists Brian Robertson and Scott Gorham. Jailbreak's single "The Boys Are Back in Town" became an international success and charted at No. 1 in Ireland. Having finally earned mainstream success, Thin Lizzy embarked on several world tours. It then went on to release a number of hit albums including 'Johnny the Fox', 'Bad Reputation', 'Live and Dangerous' and 'Black Rose: A Rock Legend'.
Lynott's first book of poetry, "Songs for While I'm Away", was published in 1974. It contained 21 poems which were all lyrics from Thin Lizzy songs, except one titled "A Holy Encounter". Only 1,000 copies of the book were printed. In 1977, a second volume was released, titled "Philip". In 1997, both books were brought together in a single volume, again titled "Songs for While I'm Away". This compendium edition also featured illustrations by Tim Booth and Fitzpatrick and the original introductions by Peter Fallon and John Peel.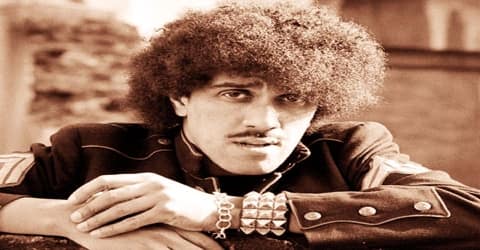 While Lizzy was often lumped into the 'heavy metal' category, the band covered a lot of ground musically, while Lynott embraced the fledgling punk scene forming a side project with ex-members of the Sex Pistols (the Greedy Bastards), becoming good friends with Boomtown Rats singer Bob Geldof, and guesting on Johnny Thunders' 1978 album, So Alone. Lynott also published several books of his poetry during the '70s and '80s and released a pair of solo albums 1980's Solo in Soho and 82's the Phil Lynott Album.
In 1979, they recorded a Christmas single titled "A Merry Jingle", featuring Thin Lizzy's members as well as the Pistols' Paul Cook and Steve Jones.
By the early 1980s, Thin Lizzy was starting to struggle commercially, and Lynott started showing symptoms of drug abuse, including regular asthma attacks. After the resignation of longtime manager Chris O'Donnell, and Scott Gorham wanting to quit, Lynott decided to disband Thin Lizzy in 1983. He had started to use heroin by this stage in his career, and it affected the band's shows in Japan when he was unable to obtain any. He managed to pick himself up for the band's show at the Reading Festival and their last ever gig (with Lynott as frontman) in Nuremberg on 4 September.
In the early 1980s, Lynott began to work on other projects as well. He performed sessions for numerous artists, including Bob Geldof, for whom he sang the backing vocals on 'Blast Furnace.' Lynott formed an ad-hoc band named "The Greedies" (originally known as "The Greedy Bastards"). The band started performing in London, playing a mixture of popular Thin Lizzy songs and Sex Pistols tracks.
In 1980, though Thin Lizzy was still enjoying considerable success, Phil Lynott launched a solo career with the album, Solo in Soho: this was a Top 30 UK album and yielded two hit singles that year, "Dear Miss Lonelyhearts" and "King's Call". The latter was a tribute to Elvis Presley and featured Mark Knopfler on guitar. His second solo venture, The Philip Lynott Album (1982) was a chart flop, despite the presence of the single "Old Town". The song "Yellow Pearl" (1982), was a No. 14 hit in the UK and became the theme tune to Top of the Pops.
From 1983 to 1985, Lynott co-wrote songs with English R&B artist Junior Giscombe. However, none of his works was released. His last single was "Nineteen". Co-written by Mark Stanway and Laurence Archer, it was officially released a few weeks before his death.
But like many rockers of the '70s, Lynott and most of his bandmates succumbed to the party-hearty lifestyle of rock n' roll – indulging in hard drugs and alcohol. Not only did it affect the quality of the band's work by the early-80's (contributing to the band's break-up by 1983), it turned out to be detrimental to Phil Lynott's health. After Lizzy's break-up, Lynott attempted to form another band, Grand Slam, which ultimately failed. But a successful collaboration with old friend Gary Moore, "Out in the Fields," showed Phil still had what it took, but it wasn't enough for Phil to put his life back on track.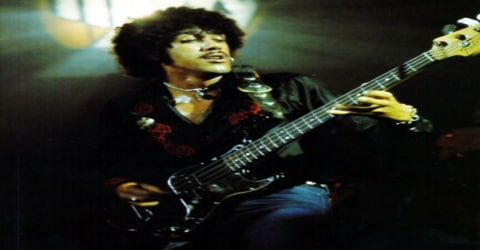 In 1984, Lynott formed a new band, Grand Slam, with Doish Nagle, Laurence Archer, Robbie Brennan, and Mark Stanway. The band toured The Marquee and other clubs but suffered from being labeled a poor version of Thin Lizzy owing to the inclusion of two lead guitar players, and split up at the end of the year due to a lack of money and Lynott's increasing addiction to heroin. In 1984, Lynott appeared as team captain (against Alvin Stardust) on the 1980s BBC quiz show Pop Quiz, hosted by Mike Read.
Throughout December 1985, Lynott promoted "Nineteen", performing live on various television shows. The same month, he gave his final interview in which he promulgated his possible plans for the near future; these included more work with Moore and even the possibility of reforming Thin Lizzy, something which he had privately discussed with Gorham previously. Lynott also recorded some material with Archer, Lewis, and members of Lewis's band the News in 1985, which was not released.
Death and Legacy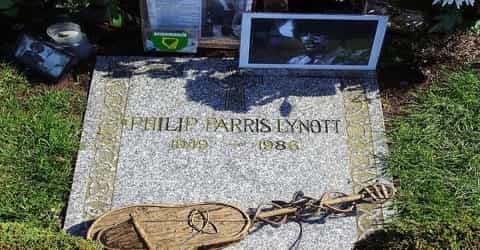 The Irish musician was diagnosed with septicemia in December 1985. His condition worsened with time and he was put on a ventilator. On 4 January 1986, Phil Lynott died of pneumonia and heart failure in the hospital's intensive care unit, at the age of 36.
Lynott's funeral was held at St Elizabeth's Church, Richmond on 9 January 1986, with most of Thin Lizzy's ex-members in attendance, followed by a second service at Howth Parish Church on 11 January. He was buried in St Fintan's Cemetery, Sutton, Dublin.
Phil Lynott is best remembered as the founder of the hard rock band, Thin Lizzy. As part of the band, he delivered numerous hit albums including 'Thin Lizzy' (1971), 'Shades of a Blue Orphanage' (1972), 'Vagabonds of the Western World' (1973), 'Nightlife' (1974), and 'Fighting' (1975).
Phil Lynott's songwriting and spirit live on – Thin Lizzy's name continues to be named by the band's as a major influence, namely Metallica, Def Leppard, Henry Rollins, and Smashing Pumpkins, as Phil's stature in the rock world reached legendary proportions immediately after his death.
In 2005, a life-size bronze statue of Lynott by Dublin sculptor Paul Daly was unveiled on Harry Street, off Grafton Street in Dublin. The ceremony was attended by Lynott's mother, and former band members Moore, Bell, Robertson, Downey, Gorham and Darren Wharton, who performed live. His grave in St Fintan's Cemetery in Sutton, northeast Dublin, is regularly visited by family, friends, and fans.
Information Source: