Gianluigi Buffon – Football Player (Goalkeeper)
Full name: Gianluigi Buffon
Date of birth: 28 January 1978 (age 38)
Place of birth: Carrara, Tuscany, Italy
Height: 1.91 m (6 ft 3 in)
Playing position: Goalkeeper
Early Life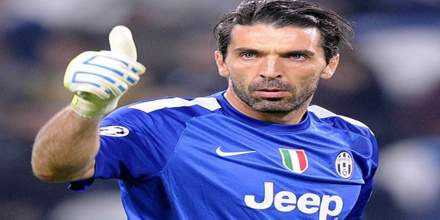 Gianluigi Buffon was born on January 28, 1978, in Carrara, Italy. He is an Italian professional goalkeeper and Captain for both Serie A Club Juventus and the Italian National Team. In fact, he is the most capped player in the history of Italian National Team with 167 caps to his credit.
He is considered to be one of the greatest goalkeepers of all time by players, pundits, and managers. Moreover, Buffon has become the most expensive goalkeeper in history following his transfer to Juventus in 2001. He is known for his outstanding shot-stopping and a key dressing room personality.
After beginning his soccer career with Parma F.C., he proved worth a record transfer fee by leading Juventus F.C. to four straight league titles. Nearly flawless during Italy's run to the 2006 FIFA World Cup championship, Buffon has since cemented his standing as one of the world's top goalkeepers.
He is currently the most expensive goalkeeper in history, following his €53 million transfer from Parma to Juventus in 2001. Buffon holds the record for the most clean sheets in Serie A, and with the Italian national team; he also holds the record for the longest streak without conceding a goal in Serie A history: over twelve league matches, he went unbeaten for 974 consecutive minutes during the 2015–16 season, as well as having achieved the most consecutive clean sheets (ten) in Serie A in that same season.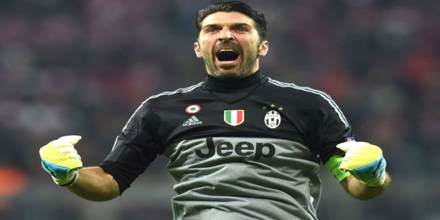 At club level, Buffon's professional career began with Parma in 1995, where he made his Serie A debut, and was soon promoted to the role of starting goalkeeper, earning a reputation as one of the most promising young goalkeepers in Italy; during his time with the club, he won the Coppa Italia, the UEFA Cup and the Supercoppa Italiana, all in 1999.
In total, he has won seven Serie A titles, two Coppa Italia titles, and five Supercoppa Italiana titles with Juventus.
He was the starting goalkeeper of the Italian team that won the 2006 FIFA World Cup, which saw him keep a record five clean sheets, and concede only two goals, neither of which were in open play. He has also represented Italy at four European Championships, at the 1996 Olympics, and at two FIFA Confederations Cups, winning a bronze medal in the 2013 edition of the tournament.
He was named by Pelé in the FIFA 100 list of the world's greatest living players in 2004. He has been named the Serie A Goalkeeper of the Year a record ten times. Buffon was the winner of the 2006 Yashin Award following Italy's World Cup victory, in which he was also elected to be part of the Team of the Tournament; an honour which he also received after reaching the quarter-finals of the 2008 European Championships, and the final of the 2012 European Championships. Buffon is the only goalkeeper to have won the UEFA Club Footballer of the Year Award, which he won in 2003 after reaching the Champions League final; he also won the award for best Goalkeeper that year, and was voted into the UEFA Team of the Year in 2003, 2004, 2006 and 2016. In 2006, Buffon was runner-up for the Ballon d'Or and was elected to be part of the FIFPro World XI, an honour which he also achieved in 2007.
In 2016, he became the first goalkeeper ever to win the Golden Foot Award, which pertains to both personality and playing ability.
Buffon has been sponsored by German sportswear company Puma during his career, wearing Puma gloves and Puma King football boots, and has appeared in Puma commercials. Buffon has also featured in Pepsi commercials, including an advertisement for the 2002 World Cup in Korea and Japan, where he lined up alongside several other footballers, including David Beckham, Raúl and Roberto Carlos, in taking on a team of sumo players.
Childhood and Personal Life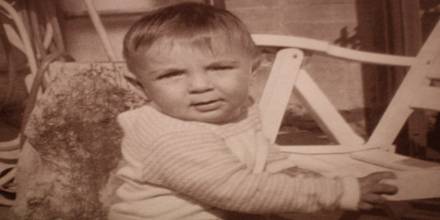 Buffon was born on January 28, 1978 in Italy. His father was a weightlifter and his mother was a discus thrower. Buffon has displayed his superior athletic genes, especially, in soccer games, right from childhood. Originally a midfielder, he switched to goalkeeper at age 11, and joined the youth system of Parma F.C. at 13.
He started playing football from the age of six. He played his first match as midfielder at the age of 10.
Buffon's two sisters, Veronica and Guendalina, played volleyball for the Italian national volleyball team, and his uncle, Dante Masocco, was a basketball player in Serie A1, who also represented the national team. In addition to this, former Inter, Milan and Italy goalkeeping legend Lorenzo Buffon is also a cousin of Gianluigi Buffon's grandfather. Buffon is Catholic.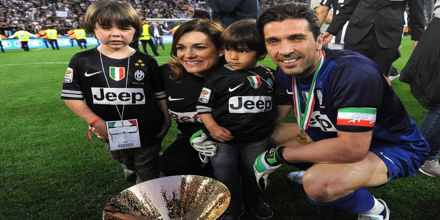 He married Czech model Alena Šeredová in June 2011, although they had been in a relationship together since 2005. They have two children, Louis Thomas (born in 2007 and named after Buffon's idol Thomas N'Kono) and David Lee (born in 2009). In May 2014, Buffon announced that he had separated from his wife after three years of marriage. He was soon romantically linked to Italian sports pundit, journalist, and television host Ilaria D'Amico. In 2015, Buffon announced that the couple were expecting a child together. On 6 January 2016, the couple announced the birth of their son Leopoldo Mattia on Twitter earlier that evening. Prior to his relationship and marriage to Šeredová, Buffon had also previously been engaged to a sprinter from the Italy national athletics team, Vincenza Calì.
Playing Career
Buffon made his senior debut for Parma in November 1995 and was part of the junior team that won the UEFA U-21 Championship the following spring. He established himself as his club's regular starter in 1997, with his superb work guarding the net helping Parma claim the UEFA Cup, Italian Cup and Italian Supercup in 1999.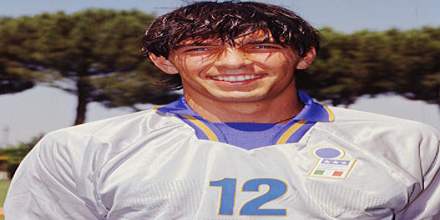 The 6'4″ goalkeeper made a strong impression in his debut for the senior national team during a FIFA World Cup qualifying match in October 1997, but didn't play in the following year's Cup. He seized the starting job for Italy before the 2000 European Championship, but suffered a broken hand and missed that tournament as well.
In the summer of 2001, Buffon was sold to Juventus for a world-record goalkeeper's transfer fee of 100 billion lire, (€51,645,690) (Or €51.956 million including other minor cost that could be capitalised) with part of the transfer fees paid via the transfer of Jonathan Bachini to Parma.
He proved worth the hefty sum by leading Juventus to four consecutive league titles and a pair of Italian Supercups, earning UEFA Club Footballer of the Year honors in 2003. He also broke through on the international level with his strong play at 2002 FIFA World Cup.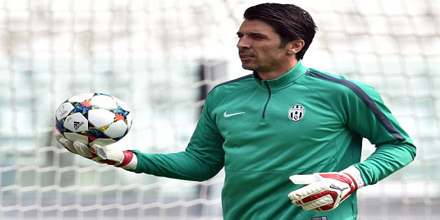 He was named by Pelé as one of the top 125 greatest living footballers in March 2004, but missed out on the Serie A Goalkeeper of the Year award, which went to Milan's league-winning goalkeeper Dida. He was once again elected as the Goalkeeper for the UEFA Team of the Year and as the IFFHS World's Best Goalkeeper. Buffon also received his first ever FIFA World Player of the Year nomination in 2004, finishing in 21st place alongside countryman Paolo Maldini.
Buffon was named IFFHS World's Best Goalkeeper for the third time in his career and Serie A Goalkeeper of the Year for the sixth time. He was also placed second in the 2006 Ballon d'Or and eighth in the FIFA World Player of the Year Award behind his winning Italy teammate Fabio Cannavaro, and was elected as the starting goalkeeper for both the 2006 FIFPro XI and the UEFA Team of the Year, following his fifth consecutive nomination. Buffon made his 200th appearance for Juventus that season in a 2–0 away defeat at the hands of Arsenal in the quarter-finals of the Champions League.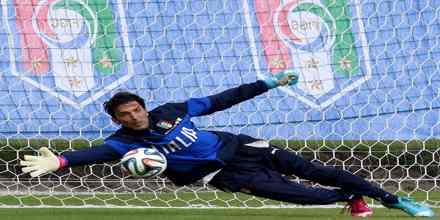 After Juventus won the Serie B title in the 2006–07 season, promoting them back to Serie A, Buffon signed a contract extension with Juventus until 2012. Buffon was elected as the goalkeeper for the 2007 FIFPro XI for the second consecutive year, and the IFFHS World's Best Goalkeeper for a record-breaking fourth time.
He was a key player for Juventus in the 2007–08 season, their first back in the top flight, as he helped Juventus to a third-place finish, and Champions League qualification.
On 10 March 2008, Buffon renewed his contract until 2013, expressing his desire to win everything with the club.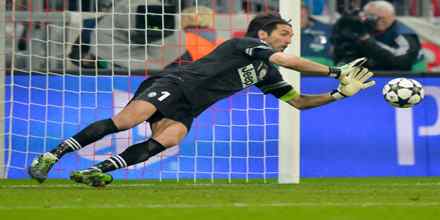 Buffon missed nearly all of the 2010 FIFA World Cup with a back injury, but he was selected to the Team of the Tournament at both the 2008 and 2012 European Championships. Meanwhile, Juventus returned to the top of the pack of the Italian first division with back-to-back titles in 2012 and 2013.
In 2013, Buffon was once again named the second best goalkeeper in the world by IFFHS, behind Manuel Neuer. His performances earned him the Juventus player of the month award for December 2013. On 16 March 2014, Buffon saved the 20th penalty of his career in a 1–0 away win over Genoa, equalising Dino Zoff's 476 appearances for Juventus as the club's fifth all-time appearance holder.
In 2014, Buffon was named Serie A goalkeeper of the Year for the ninth time in his career, and was elected to the 2014 Serie A Team of the Year.
On 15 July 2015, Buffon was named to the ten-man shortlist for the 2015 UEFA Best Player in Europe Award. His save on Dani Alves in the Champions League Final was also nominated for the UEFA Save of the Season Award, finishing on a tied third-place in the voting.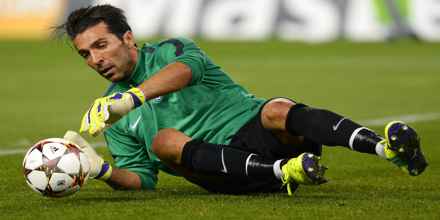 On 8 August, Buffon kept a clean sheet as Juventus defeated Lazio 2–0 in the 2015 Supercoppa Italiana to win the title for a record seventh time. This was also Buffon's record sixth title, and his fifth with Juventus. On 12 August, it was announced that he placed fourth in the 2015 UEFA Best Player in Europe Award. Buffon was named the first Juventus Player of the Month of the 2015–16 season for September by fans after a series of consistent performances.
On 18 July, Buffon was included in the 10-man shortlist for the 2016 UEFA Best Player in Europe Award, in which he finished sixth.
On 11 October 2016, Buffon became the first goalkeeper ever to win the Golden Foot Award. On 18 October, Buffon drew praise from pundits for his performance in his club's third fixture of the 2016–17 UEFA Champions League group stage, as he helped a 10-man Juventus to a 1–0 away win over Lyon.
On 5 January 2017, Buffon was named to the 2016 UEFA Team of the Year, becoming the oldest player ever to be named to the UEFA Team of the Year; this was also the fourth time he had been voted to the UEFA Team of the Year. On 9 January, it was announced Buffon had placed eighth in The 2016 Best FIFA Men's Player Award.
Buffon has represented Italy at all youth levels, from the under-15 side to the under-23 side, as well as the Olympic side in 1996. With the Italy under-16 side, he reached the final of the 1993 UEFA European Under-16 Championship, saving three penalties in the semifinal shootout, With the Italy U-17 side he took part at the 1993 FIFA U-17 World Championship in Japan.
He was awarded his first cap for Italy's senior team under Cesare Maldini on 29 October 1997, at the age of 19 years and nine months, as an injury replacement for Gianluca Pagliuca during the first leg of the 1998 World Cup qualification play-off against Russia, in Moscow; with this cap, Buffon became the youngest goalkeeper to feature for Italy post-World War II.
Buffon played every minute of Italy's 2002 World Cup campaign, keeping a clean sheet in the opening match against Ecuador, and saving a controversial penalty against co-hosts South Korea in the round of 16, which was not enough to stop the under-performing side from being eliminated by a golden goal in extra time.
During the 2006 World Cup finals, Buffon was in excellent form, setting a World Cup record by conceding just two goals in seven matches, and keeping five clean sheets. In addition, he posted a 453-minute scoreless streak, only 64 minutes short of compatriot Walter Zenga's all-time unbeaten record from the 1990 World Cup.
Buffon also finished second to compatriot Cannavaro in the 2006 Ballon d'Or and eighth in the FIFA World Player of the Year for his performances that season, and was named in the 2006 FIFPro World XI and the 2006 UEFA Team of the Year.
At Euro 2012, Buffon acted as captain during the entire tournament. He kept a clean sheet against the Republic of Ireland in the third group stage match and against England, saving a crucial penalty from Ashley Cole in the quarter-final shootout, in which he was elected Man of the Match. In the semi-final match against Germany, Buffon made several important saves, only being beaten by a penalty from Mesut Özil in the 92nd minute.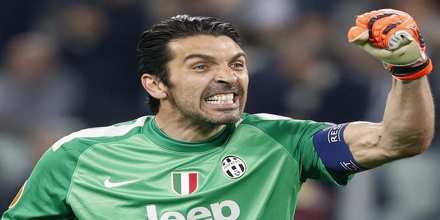 On 26 March 2013, in a 2014 World Cup qualifying match against Malta, Buffon earned his 126th cap for Italy, equalling Paolo Maldini's number of caps for the national team. In the same match, Buffon saved a penalty from Michael Mifsud, helping Italy to a 2–0 away win.
He was included in the Italian squad for the 2013 Confederations Cup in Brazil and played in every match of the tournament as captain.
On 12 May 2014, Buffon was named in Italy's 31-man preliminary World Cup squad by Cesare Prandelli, and on 31 May, he was named the starting goalkeeper and captain in the final squad. Italy finished in third place in their group, and were eliminated in the group stage for a second consecutive World Cup.
He made his 150th appearance for Italy on 6 September 2015, keeping a clean sheet in a home 1–0 win over Bulgaria, his 62nd clean sheet at the international level. Italy qualified for Euro 2016 on 10 October in a 3–1 win over Azerbaijan.
On 31 May 2016, Buffon was named the captain of Conte's 23-man Italy squad for Euro 2016.
Regarded as one of the best ever players in his position, he is often considered to be the archetype of the modern goalkeeper. He has been described as "an agile, strong, and commanding shot-stopper, who is hugely experienced at the highest level" and "an accomplished and well respected keeper" with an "excellent positional sense, courage, power and class." Buffon has been praised for his athleticism, his "outstanding shot-stopping", his acrobatic dives, and his quick reflexes, as well as his ability to produce decisive saves, despite being a tall, large, and physically imposing keeper. Although he has at times been criticised for not being particularly adept at stopping penalties, he has also proven to be effective in this area, as demonstrated by his penalty-saving record.
In addition to his goalkeeping abilities, Buffon has been singled out for his charisma, discipline in training, vocal presence in goal, and leadership, and has been described as "a key dressing room personality."
Other Activities
On 16 July 2010, Buffon became a share-holding partner of Carrarese (his hometown and favourite childhood club, along with Genoa); he initially owned 50 percent of the club's shares, along with Cristiano Lucarelli and Maurizio Mian. On 10 June 2011, he acquired 20 percent of the club's shares, confirming and increasing his support for his hometown club. On 6 July 2012, Buffon become the sole shareholder of Carrarese through his family's company, Buffon & co. In May 2015, Buffon stated that he would be stepping down from his position as the owner of Carrarese at the end of the 2014–15 season; in July, he sold 70 percent of Carrarese's shares to the Italian real estate developer Raffaele Tartaglia, who took control of the club, although Buffon still remained with the club as a minority shareholder. After continuing to struggle with financial difficulties, the club officially declared bankruptcy on 11 March 2016.
On 30 May 2011, he joined the Board of Directors of the Italian textile company Zucchi Group S.p.A., with a share of 19.4 percent.
On 7 May 2012, Buffon was elected vice president of the Italian Footballers' Association (AIC); this was the first time an active footballer had held this position.
Buffon is also known for his charity work. In addition to his other charitable endeavours, after every match he auctions off his personalised captain's armband for charity. On 1 September 2014, Buffon, along with many current and former footballing stars, took part in the "Match for Peace," which was played at Rome's Stadio Olimpico, with the proceeds being donated to charity.
Awards and Honours
Club
Parma
Serie A Runner-up: 1996–97
Coppa Italia (1): 1998–99; Runner-up: 2000–01
Supercoppa Italiana (1): 1999
UEFA Cup (1): 1998–99
Juventus
Serie A (7): 2001–02, 2002–03, 2004–05, 2005–06, 2011–12, 2012–13, 2013–14, 2014–15, 2015–16; Runner-up: 2008–09
Serie B (1): 2006–07
Coppa Italia (2): 2014–15, 2015–16; Runner-up: 2001–02, 2003–04, 2011–12
Supercoppa Italiana (5): 2002, 2003, 2012, 2013, 2015; Runner-up: 2005, 2014, 2016
UEFA Champions League Runner-up: 2002–03, 2014–15
International
Italy
1 FIFA World Cup: 2006
UEFA European Championship Runner-up: 2012
FIFA Confederations Cup Third place: 2013
1 UEFA Under-21 European Championship: 1996
1 Mediterranean Games: 1997
Individual
1 Bravo Award: 1999
1 UEFA Club Goalkeeper of the Year: 2002–03
1 UEFA Club Footballer of the Year: 2002–03
2 ESM Team of the Year: 2002–03 2014–15
2 Best European Goalkeeper: 2003, 2016
FIFA 100
1 FIFA World Cup Yashin Award: 2006
1 FIFA World Cup All-Star Team: 2006
Ballon d'Or Runner-up: 2006
10 Serie A Goalkeeper of the Year Award: 1999, 2001, 2002, 2003, 2005, 2006, 2008, 2012, 2014, 2015
2 Serie A "Fan" Award: 2006, 2007
4 UEFA Team of the Year: 2003, 2004, 2006, 2016
2 FIFPro World XI: 2006, 2007
4 IFFHS World's Best Goalkeeper: 2003, 2004, 2006, 2007
1 IFFHS Best goalkeeper of the decade: 2000–2010
1 IFFHS Best goalkeeper of the past 25 years: 2010
IFFHS Best goalkeeper of the 21st Century
2 UEFA Euro Team of the Tournament: 2008, 2012
3 Serie A Team of the Year: 2012, 2014, 2015
2 Pallone Azzurro: 2013, 2016
1 Premio Nereo Rocco: 2014
1 UEFA Europa League Team of the Season: 2013–14
1 UEFA Champions League Team of the Season: 2014–15
UEFA Best Player in Europe Award: 2015 (4th place), 2016 (6th place)
UEFA Ultimate Team of the Year (substitute; published 2015)
1 France Football World XI: 2015
1 Gianni Brera Award for Sportsman of the Year: 2015
1 Juventus MVP of the Year: 2015–16
UEFA Euro All-time XI (published 2016)
1 Premio Nazionale Carriera Esemplare "Gaetano Scirea": 2016
1 Golden Foot: 2016