Mike Tyson – American Former Professional Boxer
Full name: Michael Gerard Tyson
Nickname(s): Iron, Kid Dynamite, The Baddest Man on the Planet
Rated at: Heavyweight
Height: 5 ft 10 in (178 cm)
Reach: 71 in (180 cm)
Nationality: American
Date of birth: June 30, 1966 (age 50)
Place of birth: Brooklyn, New York City, New York, U.S.
Father: Jimmy Kirkpatrick
Mother: Lorna Smith Tyson
Siblings: Rodney, Denise
Spouse: Lakiha Spicer (m. 2009), Monica Turner (m. 1997–2003), Robin Givens (m. 1988–1989)
Children: Exodus Tyson, Amir Tyson, Morocco Tyson, Rayna Tyson, Milan Tyson, Miguel Leon Tyson, Mikey Lorna Tyson, D'Amato Tyson
Early Life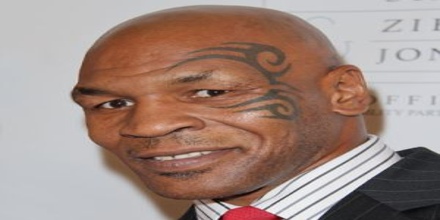 Mike Tyson, in full Michael Gerald Tyson, byname Iron Mike was born on June 30, 1966, in Brooklyn, New York, U.S. He is an former American boxer who, at age 20, became the youngest heavyweight champion in history. He won the WBC title in 1986 after stopping Trevor Berbick in two rounds. In 1987, Tyson added the WBA and IBF titles after defeating James Smith and Tony Tucker. This made him the first heavyweight boxer to simultaneously hold the WBA, WBC, and IBF titles, and the only heavyweight to successively unify them.
Standing tall at 5ft 10 inches, weighing 200 pounds and more is a heavy muscled prodigious puncher Mike Tyson. Christened as Michael Gerard 'Mike' Tyson, ever since his early days, Tyson showed signs of moving in to the world of boxing. His violent streak as a child, uncanny behaviour and a resolve for violence to have his way through situations and people laid the strong foundation for him to opt for boxing, not to forget his ginormous weight of 200 pounds at 13 years of age. Popularly known for his terrorising power and intimidating temperament, Tyson quickly climbed up the ladder of success under the strong guidance of Cus D'Amato and Rooney to earn the nicknames 'Iron Mike' and 'the baddest man on planet'. He was popular for defeating his opponents with a single blow. Tyson dominant performance at the sports saw him reach the pinnacle of success, by becoming the undisputed heavyweight champion of the world. But just as quickly did Tyson climb the ladder of success, he went into the pitfall with the same speed, courtesy his tarnished childhood, poverty-stricken upbringing, poor judgement and criminal behaviour. As such, when he was enjoying raving success and was at the peak of his power, Tyson suffered from serious blows due to his bizarre behaviour, rape conviction, financial loss, bankruptcy and imprisonment. His biting off the ear of opponent Evander Holyfield was the zenith as the world wrote him off as a damaged animal incapable of existing outside the ring. Though Tyson has tried to make amendments thereafter, his image has been destroyed for good, making him one of the most tragic figures of the American sports history.
Childhood, Family and Educational Life
Michael Gerard Tyson was born on June 30, 1966, in Brooklyn, New York, to parents Jimmy Kirkpatrick and Lorna Tyson. When Michael was two years old his father abandoned the family, leaving Lorna to care for Michael and his two siblings, Rodney and Denise. Struggling financially, the Tyson family moved to Brownsville, Brooklyn, a neighborhood known for its high crime.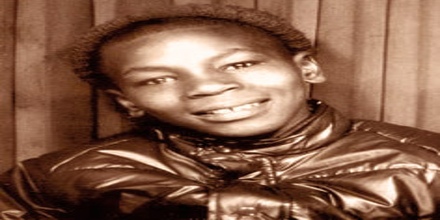 Small and shy, Tyson was often the target of bullying. To combat this, he began developing his own style of street fighting, which ultimately transitioned into criminal activity. His gang, known as the Jolly Stompers, assigned him to clean out cash registers while older members held victims at gunpoint. He was only 11 years old at the time. He frequently ran into trouble with police over his petty criminal activities, and by the age of 13, he had been arrested more than 30 times.
Young Tyson completed his schooling from Tryon School for Boys in Johnstown, New York. It was there that Bobby Stewart, a juvenile detention center counselor and former boxer, noticed Tyson's boxing skills. He honed them a little before introducing the destined-to-be champion to Cus D'Amato.
Under Amato's guidance, Tyson trained for the sport. He was under the full-time custody of Amato who set a rigorous training schedule for the aspiring boxer. Tyson attended Catskill High School by the day and practiced in the ring by the evening. However, he did not graduate from the school and left his studies as a junior.
Personal Life
Mike Tyson has been married thrice and has fathered eight children. His first marriage was to actress Robin Givens. The union did not last more than a year (from February 7, 1988 to February 14, 1989) as the two separated following allegations of violence, spousal abuse and mental instability by Givens on Tyson. The couple had no children.
Tyson then went into the wedlock with Monica Turner. The marriage lasted for five years (from April 19, 1997 to January 14, 2003) after which Turner pursued divorce on grounds of adultery. The couple had two children, Rayna and Amir.
In 2009, in an unfortunate accident, Tyson lost his daughter Exodus after the latter was found unconscious and tangled in a cord, dangling from an exercise treadmill. She was on life support and declared dead the following day.
Tyson walked up to the altar the third time on June 6, 2009 with Lakiha 'Kiki' Spicer. The couple has been blessed with a daughter Milan and son Morocco. Tyson's other children include Mikey, Miguel and D'Amato (born 1990). He has a total of eight children including the deceased Exodus. He has been diagnosed with bipolar disorder. He follows a vegan diet and sober lifestyle.
Professional Career
Tyson's training was very well evident in his performance at the Junior Olympic Games in 1981 and 1982, where he won gold medals by convincingly, beating opponents Joe Cortez and Kelton Brown, respectively. He fought against the eventual 1984 Summer Olympics heavyweight gold medallist Henry Tillman twice in the trials, losing on both occasions. Failing to make it to the Olympics team, Tyson turned professional.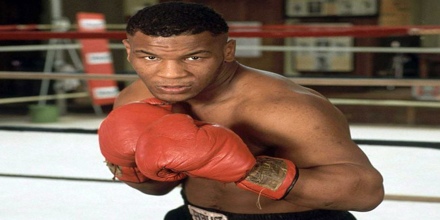 Tyson made his professional debut as an 18-year-old on March 6, 1985, in Albany, New York. He defeated Hector Mercedes via a first round knockout. He had 15 bouts in his first year as a professional. Fighting frequently, Tyson won 26 of his first 28 fights by KO or TKO; 16 of those came in the first round. The quality of his opponents gradually increased to journeyman fighters and borderline contenders, like James Tillis, David Jaco, Jesse Ferguson, Mitch Green and Marvis Frazier. His win streak attracted media attention and Tyson was billed as the next great heavyweight champion. D'Amato died in November 1985, relatively early into Tyson's professional career, and some speculate that his death was the catalyst to many of the troubles Tyson was to experience as his life and career progressed.
By 1986, at the age of 20, Tyson had garnered a 22-0 record—21 of the fights won by knockout. On November 22, 1986, Tyson finally reached his goal: He was given his first title fight against Trevor Berbick for the World Boxing Council heavyweight championship. Tyson won the title by a knockout in the second round. At the age of 20 years and four months, he beat Patterson's record, becoming the youngest heavyweight champion in history.
Tyson's success in the ring didn't stop there. He defended his title against James Smith on March 7, 1987, adding the World Boxing Association championship to his list of victories. On August 1 he became the first heavyweight to own all three major boxing belts when he won the International Boxing Federation title from Tony Tucker.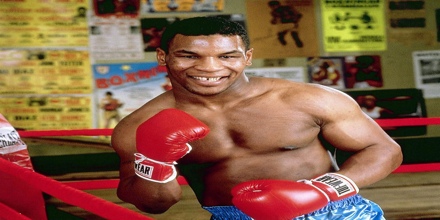 Tyson had three fights in 1988. He faced Larry Holmes on January 22, 1988, and defeated the legendary former champion by a fourth round KO. This was the only knockout loss Holmes suffered in 75 professional bouts. In March, Tyson then fought contender Tony Tubbs in Tokyo, Japan, fitting in an easy two-round victory amid promotional and marketing work.
On June 27, 1988, Tyson faced Michael Spinks. Spinks, who had taken the heavyweight championship from Larry Holmes via a 15-round decision in 1985, had not lost his title in the ring but was not recognized as champion by the major boxing organizations.
In late 1988, Tyson parted with manager Bill Cayton and fired longtime trainer Kevin Rooney, the man many credit for honing Tyson's craft after the death of D'Amato. Following Rooney's departure, critics alleged that Tyson began to use the Peek-a-Boo style sporadically. Tyson insisted he hadn't altered the style that made him a world champion. In 1989, Tyson had only two fights amid personal turmoil. He faced the popular British boxer Frank Bruno in February. Bruno managed to stun Tyson at the end of the 1st round, although Tyson went on to knock out Bruno in the fifth round. Tyson then knocked out Carl "The Truth" Williams in one round in July.
The crack in the armour was prevalent in the 1990 fight against Buster Douglas. Despite being the betting favourite and experts' choice, Tyson failed to match up to Douglas, who landed a flurry of blows on Tyson to lay him out of the canvas in the tenth round. This was the first time Tyson faced such a defeat. He did not just lose the match but lost the undisputed championship as well. The result of the match sent a wave of shock to the sports fraternity across the globe. The ferocious fighter, the brutal puncher and the undefeatable champion had lost his charm and his defeat meant the end of an era.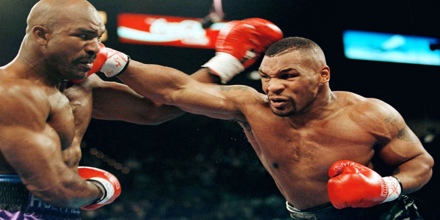 In 1991, just when his professional life seemed to get back on track, Tyson was arrested for raping Desiree Washington, Miss Black Rhode Island.
In 1992, he was convicted on the rape charge was sentenced to six years in prison followed by four years on probation.
While serving his sentence, Tyson went into intense reflection and converted into Islam, receiving the name Malik Abdul Aziz. Reading philosophical books cast an influential role in the mind of Tyson who resolved to lead a disciplined life.
He was released in March 1995 after serving three years.However, upon returning from the jail, his alliance with Don King disrupted his theory of leading a disciplined life as he resolved to bizarre behaviour.
After his personal and professional setbacks, Tyson seemed to be making a positive change in his life. After several successful fights, Tyson came head-to-head with his next big challenger: Evander Holyfield. Holyfield had been promised a title shot against Tyson in 1990, but before that fight could occur Douglas defeated Tyson. Instead of fighting Tyson, Holyfield fought Douglas for the heavyweight title. Douglas lost by knockout on October 25, 1990, making Holyfield the new undefeated, undisputed heavyweight champion of the world.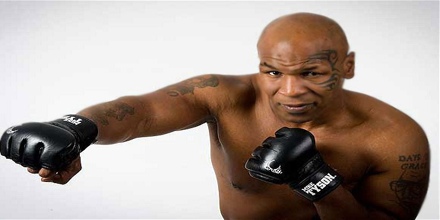 On November 9, 1996, Tyson faced Holyfield for the heavyweight title. The evening would not end successfully for Tyson, who lost to Holyfield by a knockout in the 11th round. Instead of Tyson's anticipated victory, Holyfield made history by becoming the second person to win a heavyweight championship belt three times. Tyson claimed he was the victim of multiple illegal head butts by Holyfield, and vowed to avenge his loss.
Tyson trained heavily for a rematch with Holyfield, and on June 28, 1997, the two boxers faced off yet again. The fight was televised on pay-per-view and entered nearly 2 million households, setting a record at the time for the highest number of paid television viewers. Both boxers also received record purses for the match, making them the highest-paid professional boxers in history until 2007.
On July 9, 1997, the Nevada State Athletic Commission revoked Tyson's boxing license in a unanimous voice vote, and fined the boxer $3 million for biting Holyfield. No longer able to fight, Tyson was aimless and unmoored. Several months later, Tyson was dealt another blow when he was ordered to pay boxer Mitch Green $45,000 for his 1988 street-fighting incident. Shortly after the court ruling, Tyson landed in the hospital after his motorcycle skidded out of control on a ride through Connecticut. The former boxer broke a rib and punctured a lung.
His next highly publicized fight would be in 2002 with WBC, IBF and IBO champion Lennox Lewis. Tyson was once again fighting for the heavyweight championship, and the match was a very personal one. Tyson made several remarks to Lewis before the fight, including a threat to "eat his children." At a January press conference, the two boxers began a brawl that threatened to cancel the match, but the fight was eventually scheduled for June of that year. Tyson lost the fight by a knockout, and the defeat signaled the decline of the former champion's career. After losing several more fights throughout 2003 and 2005, Tyson announced his retirement.
Awards and Honours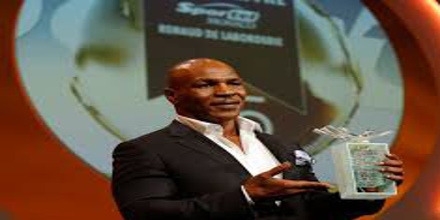 Boxing
Ring magazine Prospect of the Year (1985)
2× Ring magazine Fighter of the Year (1986, 1988)
2× Sugar Ray Robinson Award winner (1987, 1989)
BBC Sports Personality of the Year Overseas Personality (1989)
International Boxing Hall of Fame inductee (Class of 2011)
Tyson was included the WWE Hall of Fame in 2012 for his achievements in professional boxing arena. Additionally, he has been inducted into the International Boxing Hall of Fame and the World Boxing Hall of Fame.
Professional wrestling
WWE Hall of Fame (Class of 2012)
Acting
2009 Golden Globe Award for Best Motion Picture – Musical or Comedy (as a cast member of The Hangover)