Pete Sampras – Retired American Tennis Player
Full name: Petros "Pete" Sampras
Date of birth: August 12, 1971 (age 45)
Place of birth: Washington, D.C.
Height: 6 ft 1 in (1.85 m)
Turned pro: 1988
Retired: September 8, 2002 (last match), August 25, 2003 (official retirement)
Plays: Right-handed (one-handed backhand)
Residence: Lake Sherwood, California, U.S.
Father: Sam Sampras
Mother: Georgia Sampras
Siblings: Gus Sampras, Marion Sampras, Stella Sampras
Spouse: Bridgette Wilson (m. 2000)
Children: Christian Charles Sampras, Ryan Nikolaos Sampras
Early Life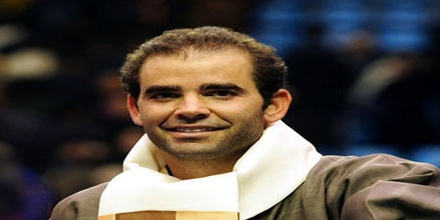 Petros "Pete" Sampras was born on August 12, 1971, in Washington, D.C. He is a retired American former world No. 1 tennis player and is counted amongst the greatest players ever in tennis history, if not the greatest. An extremely athletic child, he made his presence felt as soon as he stepped into the professional tennis arena at the age of 16. In just one year, he broke into the top 100 in the world rankings. He captured his first Grand Slam title in 1990 and became the ATP World Rank No. 1 in 1993. He remained the ATP ranked world No. 1 for 286 weeks and still holds the prestigious ATP record of six year-end No. 1 rankings (1993–98). During his tennis career he went on to win 14 Grand Slam titles, which include seven Wimbledon and five U.S. Open singles titles. His tennis rivalries against Patrick Rafter and Andre Agassi were very much the talking point throughout his career. Pete Sampras retired after winning the 2002 US Open against his long-time nemesis, Andre Agassi. He credits much of his success to his longtime coach and friend, Tim Gullikson, who unfortunately died of brain cancer in 1996.
Childhood and Family
Pete Sampras was born on August 12, 1971 in Potomac, Maryland. His parents, Sammy and Georgia Sampras are of Greek heritage. He attended regular services of the Greek Orthodox Church on Sundays. From an early age, Sampras showed signs of outstanding athletic ability. At the age of 3, Sampras discovered a tennis racket in the basement of his home and spent hours hitting balls against the wall.
In 1978, the Sampras family moved to Palos Verdes, California, and the warmer climate there allowed the seven-year-old Sampras to play more tennis. Sampras first began playing tennis at the age of 7, shortly after he moved with his family to Southern California. Training under an amateur coach, Sampras soared to the upper echelon of the American junior circuit.
At the age of 14, Sampras radically altered his game. Scrapping his familiar baseline play, Sampras, who idolized Rod Laver, moved to become a serve-and-volley player. The approach proved frustrating initially, but would ultimately help him dominate Grand Slam tournaments such as Wimbledon and the U.S. Open in the illustrious career to come.
Personal Life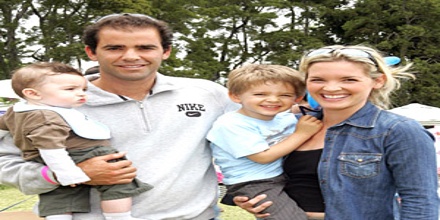 Pete Sampras married American actress and former Miss Teen USA, Bridgette Wilson on September 30, 2000 and together they have two sons, Christian Charles and Ryan Nikolaos. They reside in Lake Sherwood, California.
Sampras has β-thalassemia minor, a genetic trait that sometimes causes mild anemia.
Playing Career
In 1988, Sampras turned professional. He arrived on the pro circuit at the same time as several other talented young American players, including Michael Chang, Andre Agassi and Jim Courier, who secured the country's dominance of the men's side of the sport for much of the 1990s.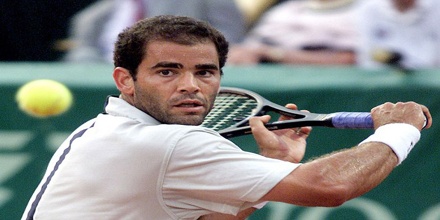 At the US Open in 1990, he defeated Thomas Muster, Ivan Lendl, McEnroe and Agassi to win the tournament and became the youngest-ever male singles champion, at the age of 19 years and 28 days. He expanded on these accomplishments by winning the Grand Slam Cup too. He defeated Jim Courier to win the 1991 Tennis Masters Cup but lost to the same opponent in the quarterfinals of the US Open, where he was the defending champion.
Sampras's next Grand Slam victory came in 1993, when he captured his first Wimbledon title after defeating the top-ranked Jim Courier. From there, Sampras, who decimated opponents with a powerful first serve, dominated the sport. He furthered his Wimbledon success that same year at New York City's Flushing Meadows, capturing the U.S. Open's singles title for his second time. The following winter, he won the Australian Open.
He won the Wimbledon title consecutively in 1994–95 and was the runner-up to Agassi in the Australian Open in 1995. His coach and close friend, Tim Gullikson was diagnosed with brain cancer the same year and hence Paul Annacone became Pete's coach.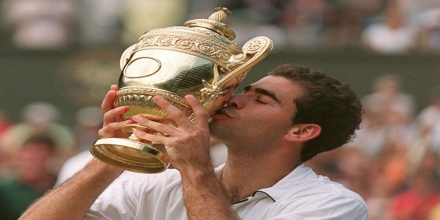 He won his fourth US Open title in 1996 by defeating Michael Chang, but could only reach the semifinals of the French Open as the clay court didn't suit or support his serve-and-volley style of playing.
For six straight years, between 1993 and 1998, Sampras was named the ATP Player of the Year. His success was most pronounced at Wimbledon, where he won an Open era–record seven singles titles (later tied by Roger Federer), including four consecutive championships from 1997 to 2000.
In the 2000 US Open, Sampras overcame Richard Krajicek in four sets at the quarterfinals (falling behind 2-6 in the second-set tie breaker before winning the second set), then defeated Lleyton Hewitt in the semifinals, and lost the final to Marat Safin. Despite the loss, Sampras' run to the final of the tournament saw him return to the top of the world rankings in September 2000; however, he was unable to end the year at number one, with Gustavo Kuerten of Brazil taking the honour. This marked the last time in Sampras' career that he held the number one ranking, and took his total to 286 weeks (non-consecutive) ranked as the world's best player, a record which stood until 2012 when it was surpassed by Roger Federer.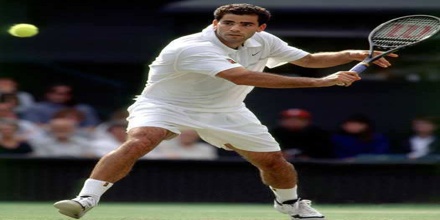 In 2000, he came from one set down to defeat Patrick Rafter at Wimbledon to win the singles title and move past Roy Emerson as the sport's greatest winner with 13 major titles. In 2002, he capped his career with a 14th Grand Slam victory (eventually topped by Federer) when he defeated Agassi in dramatic fashion in the final of the U.S. Open.
"He was always the argument you couldn't win," wrote one Sports Illustrated writer not long after Sampras's retirement in 2003. "Tennis purists loved his skill, naturally, and they will unhesitatingly declare Sampras's second serve, his running forehand and his leaping overhead as treasures that belong under museum glass. But for a public that didn't grow up playing, tennis becomes charismatic only when rackets are flying or fists are pumping or new ground in fashion is being broken."
On April 6, 2006, three and a half years after his retirement, Sampras resurfaced and played his first exhibition match in River Oaks, Houston, Texas, against 23-year-old Robby Ginepri. Ginepri won the match in two sets. Sampras later announced that he would be playing in World Team Tennis events.
On February 18, 2008, in an exhibition match during the SAP Open, Sampras defeated another active player, former world No. 2 Tommy Haas. Sampras dispatched the German in 43 minutes.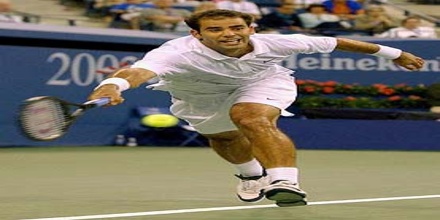 On March 10, 2008, Sampras played another exhibition match against world No. 1 Roger Federer at Madison Square Garden in New York City. Sampras once again lost the match in three tight sets.
In 2009 Sampras won two Outback Champions Series titles. He defeated McEnroe in the final of the Champions Cup Boston in February and Patrick Rafter in the final of The Del Mar Development Champions Cup in March.
On November 17, 2011, Sampras played and lost an exhibition match against Milos Raonic. Sampras' serve approached 200 km/h throughout the night.
Sampras was an all-court player who would often serve and volley. Possessing an all-around skill, in the early years of his career, when not serving, his strategy was to be offensive from the baseline, put opponents in a defensive position, and finish points at the net. In his later years, he became even more offensive and would either employ a chip-and-charge strategy or try to hit an offensive shot on the return and follow his return to the net.
He had an accurate and powerful first serve, one of the best of all time. He had great disguise on both his first and second serves, and his second serve was nearly as powerful as his first. He was known for producing aces on critical points, even with his second serves.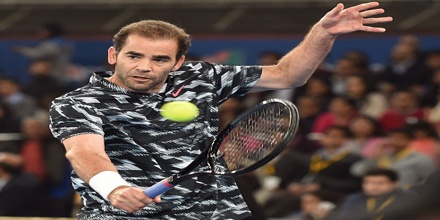 The win not only ended a two-year Grand Slam drought for Sampras but, at age 31, made him the oldest Open champion since 1970. Deciding to go out on top, Sampras made the tournament the last official tennis match of his career.
Awards and Achievements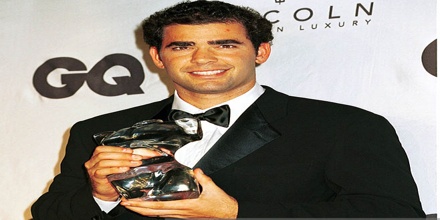 Professional Awards
ATP Player of the Year: 1993, 1994, 1995, 1996, 1997, 1998.
ITF World Champion: 1993, 1994, 1995, 1996, 1997, 1998.
Other Awards
S. Olympic Committee "Sportsman of the Year" in 1997. He was the first tennis player to receive this award.
GQ Magazine's Individual Athlete Award for Man of the Year in 2000.
Selected the No. 1 player (of 25 players) in the past 25 years by a panel of 100 current and past players, journalists, and tournament directors to commemorate the 25th anniversary of the ATP in 1997.
Voted 48th athlete of Top 50 Greatest North American Athletes of ESPN's SportsCentury (also youngest on list).
In 2005, TENNIS Magazine named Sampras the greatest tennis player for the period 1965 through 2005, from its list, "The 40 Greatest Players of the TENNIS Era".
Other Achievements
Sampras (1997–2000) won four consecutive Wimbledon singles titles, second only to Borg and Federer (who have five consecutive titles each).
During the Open Era, only Borg (1978–81 French Open and 1976–80 Wimbledon), Sampras (1997–2000 Wimbledon), Federer (2003–07 Wimbledon and 2004–08 US Open), and Rafael Nadal (2005–08 French Open and 2010–2014 French Open) have won at least one Grand Slam tournament four consecutive times.
Ken Rosewall and Sampras are the only men to have won Grand Slam singles titles as a teenager, in their 20s, and in their 30s.
Sampras won 40 of the 42 singles matches he played on Wimbledon's Centre Court and 63 of the 70 singles matches he played at the All England Club.
Sampras and Federer are the only male players during the Open Era who played in at least seven singles finals at two different Grand Slam tournaments: Sampras 8 US Open and 7 Wimbledon, Federer 7 US Open and 10 Wimbledon.