Biography of Johnny Carson
Johnny Carson – American television host, comedian, writer, and producer.
Name: John William Carson
Date of Birth: October 23, 1925
Place of Birth: Corning, Iowa, U.S.
Date of Death: January 23, 2005 (aged 79)
Place of Death: Los Angeles, California, U.S.
Occupation: Comedian, writer, producer
Father: Homer Lloyd
Mother: Ruth Elizabeth (Hook) Carson
Spouse/Ex: Alexis Maas (1987–2005), Joanna Holland (1972–1985), Joanne Copeland (1963–1972), Jody Morrill Wolcott (1949–1963)
Children: Cory Carson, Richard Carson, Christopher Carson
Early Life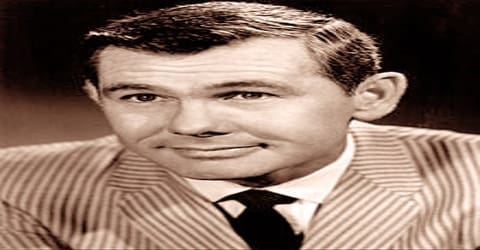 American comedian, Johnny Carson was born on October 23, 1925, in Corning, Iowa, to Ruth Elizabeth (Hook) Carson (1901–1985) and Homer Lloyd "Kit" Carson (1899–1983), a power company manager. He has been called the "King of Late Night Television." He became a pioneer in television as host of The Tonight Show for thirty years. His interviewing and comic techniques won over a huge audience and produced numerous imitators.
The show, which aired for thirty years, was a huge success and ranked at 12th position on TV Guide's 50 Greatest TV Shows of All Time. The show's popularity turned Carson into a well-known American icon. Born in Corning, Iowa, in the US, Carson wanted to become an entertainer from an early age. He started performing magic shows while still a young boy. After graduating he entered the United States Navy where he served for a few years. Later he began a career as a broadcaster on radio and television. He hosted shows such as 'Carson's Cellar' and 'The Johnny Carson Show'. He gained huge popularity and acclaim after he started presenting the talk show 'The Tonight Show Starring Johnny Carson.' He hosted the show for a total of thirty years and won six Emmy Awards for his work.
During World War II, Carson served in the Navy. After the war, Carson started a career in radio. Although his show was already successful by the end of the 1960s, during the 1970s, Carson became an American icon and remained so even after his retirement in 1992. He adopted a casual, conversational approach with extensive interaction with guests, an approach pioneered by Arthur Godfrey and previous Tonight Show hosts Steve Allen and Jack Paar. Former late-night host and friend David Letterman have cited Carson's influence.
Not only was Carson inducted into the Television Academy Hall of Fame, but he was also awarded the Presidential Medal of Freedom. He passed away at the age of 79 due to respiratory failure which was a result of his heavy smoking.
Childhood, Family and Educational Life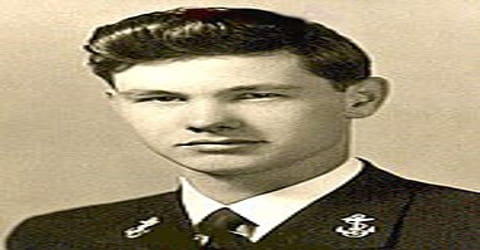 Johnny Carson, byname of John William Carson, was born on 23rd October 1925 in Corning, Iowa, in the US. His father Homer Lloyd Carson worked as a power company manager. His mother's name was Ruth Elizabeth Carson. He grew up in the nearby towns of Avoca, Clarinda, and Red Oak in southwest Iowa before moving to Norfolk, Nebraska, at the age of eight. There, Carson grew up and began developing his talent for entertaining.
At the age of 12, Carson found a book on magic at a friend's house and immediately purchased a mail-order magician's kit. After the purchase of the kit, Carson practiced his entertainment skills on family members with card tricks. He was known for following his family members around saying, "Pick a card, any card." Carson's mother sewed him a cape, and his first performance was staged in front of the local Kiwanis Club. He debuted as "The Great Carsoni" at age 14 and was paid $3 a show. Soon, many other performances at local picnics and country fairs followed.
Carson was in his senior year of high school when Japan bombed Pearl Harbor on December 7, 1941. After graduation, he enlisted with the United States Navy. He was never in combat, but during this time he would help entertain the troops by giving shows using his ventriloquist dummy, Eddie. After the navy, Carson returned to Norfolk and attended the University of Nebraska. He graduated in 1949 with a major in speech and a minor in radio. His final thesis (an academic paper) was on "How to Write Comedy Jokes."
Personal Life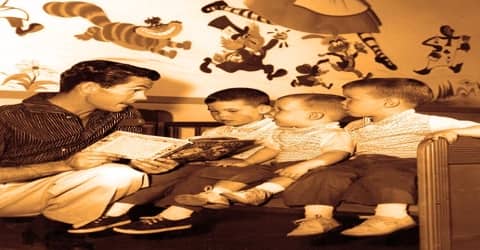 (Johnny Carson reading a story to his three sons in 1955)
Johnny Carson was married four times. In 1948, Carson married Jody Wolcott. The marriage was volatile, with infidelities committed by both parties, and ended in divorce in 1963. He had three sons with his first wife: Christopher, Cory, and Richard.
Carson married Joanne Copeland the same year, on August 17 (1963). After a second protracted divorce in 1972, Copeland received a settlement of $6,000 per month in alimony until she remarried or until Carson's death (she received it until his death in 2005). She also received "a pretty nice little art collection." She later had a second marriage that also ended in divorce, and died in California, aged 83, in 2015. She had no children.
At the Carson Tonight Show's 10th-anniversary party on September 30, 1972, Carson announced that former model Joanna Holland and he had been secretly married that afternoon, shocking his friends and associates. On March 8, 1983, Holland filed for divorce. The divorce case finally ended in 1985 with an 80-page settlement, Holland receiving $20 million in cash and property.
On June 20, 1987, Carson married Alexis Maas. The marriage lasted until his death in 2005. He reportedly joked, "My giving advice on marriage is like the captain of the Titanic giving lessons on navigation."
Carson's personality in his private life is very different from the personality he played on the television set. On The Tonight Show Carson always seemed very relaxed and seemed to enjoy making a casual chat with his guests. Outside the studio, Carson preferred to remain distant. He was almost shy and small talk did not impress him. Carson preferred to save himself for his audience. He has been divorced three times and often worked those experiences into his monologues.
Career and Works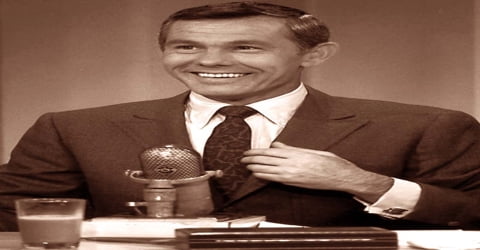 After graduating in 1949, Carson took another radio job, in Omaha, and in 1951 he began working as an announcer at a television station in Los Angeles. He was also given a Sunday afternoon comedy show, which led to his being hired as a writer for Red Skelton's show. After Carson substituted successfully for Skelton at the last minute on one occasion, he was given his own short-lived variety show, The Johnny Carson Show. He then moved to New York City and in 1957 became a host of the game show Who Do You Trust? In 1962 Carson replaced Jack Paar as host of The Tonight Show.
The wife of one of the Omaha political figures Carson spoofed owned stock in a radio station in Los Angeles, and in 1951 referred Carson to her brother, who was influential in the emerging television market in Southern California. Carson joined CBS-owned Los Angeles television station KNXT. In 1953, comic Red Skelton a fan of Carson's "cult success" low-budget sketch comedy show, Carson's Cellar (1951 to 1953) on KNXT asked Carson to join his show as a writer. In 1954, Skelton accidentally knocked himself unconscious during rehearsal an hour before his live show began. Carson then successfully filled in for him. In 1955, Jack Benny invited Carson to appear on one of his programs during the opening and closing segments. Carson imitated Benny and claimed that Benny had copied his gestures. Benny predicted that Carson would have a successful career as a comedian.
Carson's popularity grew and he was invited to host the popular show 'Tonight'. He initially declined as he feared the idea of interviewing celebrities on a daily basis for 105 minutes. However later he agreed and started hosting the show, which was eventually renamed to 'The Tonight Show Starring Johnny Carson'.
The show earned huge popularity among its audience and eventually became a major hit. His interviews with prominent Hollywood stars and politicians kept the American people up-to-date on popular culture. He hosted the show from 1962 to 1992, covering a total of 30 years. Carson became a national icon for his work and won a total of six Emmys as well.
Carson hosted several shows besides Carson's Cellar, including the game show Earn Your Vacation (1954) and the CBS variety show The Johnny Carson Show (1955–1956). He was a guest panelist on the original To Tell the Truth starting in 1960, later becoming a regular panelist from 1961 until 1962. After the primetime The Johnny Carson Show failed, he moved to New York City to host ABC-TV's Who Do You Trust? (1957–1962), formerly known as Do You Trust Your Wife?. In 1958, he appeared as a guest star in an episode entitled "Do You Trust Your Wife" on NBC's short-lived variety show, The Polly Bergen Show. On Who Do You Trust?, Carson met his future sidekick and straight man, Ed McMahon. Although he believed moving to daytime television would hurt his career, Who Do You Trust? was a success. It was the first show where he could ad lib and interview guests, and because of Carson's on-camera wit, the show became "the hottest item on daytime television" during his six years at ABC.
During the 1970s he became the highest-paid personality on television, earning around $4 million a year. He was offered lead roles in several films such as 'The Thomas Crown Affair', 'Blazing Saddles' and 'The King of Comedy'. However, he refused all of them.
As the host of that nightly program for nearly three decades, Carson had an unprecedented influence on a generation of television viewers, and his decision in 1972 to move his show from New York to California was instrumental in shifting the power of the TV industry to Los Angeles. He created such memorable characters as Aunt Blabby and Carnac the Magnificent, as well as a large number of classic skits, and became one of the most beloved performers in the country.
Steve Allen (1921–2000) started The Tonight Show on the radio in 1951 in Los Angeles, California. The show moved to television in 1954 in New York. Allen hosted the show for two-and-a-half years and was eventually replaced by Jack Paar. Several million viewers watched every night from 11:15 P.M. to 1:00 A.M. Johnny Carson took over on October 1, 1962. The rest is television history. Over thirty years Carson developed perfect stage presence. His opening comic monologue (an act read by one person) and golf swing, his attention to comic details like timing, delivery, and gestures, plus his fair treatment of guests, made him a natural host of the most popular television show of the time. Carson believed that if the guest sparkled, so would the show. Over the years many of the country's greatest entertainers, celebrities, and everyday people sat and talked with Carson. He was a major influence in helping new performers. Comedians David Letterman (1947–), Jay Leno (1950–), George Carlin, and Joan Rivers all got their big break from appearing on The Tonight Show. Jay Leno eventually replaced Carson as the show's host.
Despite his success, he often kindled controversy for making jokes at the expense of other celebrities. Singer Wayne Newton called him a mean-spirited human being and stated that he had hurt people whom others will never know about. He even once barged into Carson's studio and threatened to beat him up if the jokes didn't stop.
On May 1, 1972, the show moved from 30 Rockefeller Plaza to Burbank, California, because of the studio's proximity to celebrities. Carson often joked about "beautiful downtown Burbank" and referred to "beautiful downtown Bakersfield", which prompted Bakersfield Mayor Mary K. Shell to chide Carson and invite him to her city to see improvements made during the early 1980s. In recognition of his 25th anniversary on The Tonight Show, Carson received a personal Peabody Award, the board saying he had "become an American institution, a household word, and the most widely quoted American." They also said they "felt the time had come to recognize the contributions that Johnny has made to television, to humor, and to America."
Carson also ventured into business and became an investor in the DeLorean Motor Company. He headed a group of investors as well, who purchased and operated two television stations. The first was KVVU-TV in Henderson, Nevada, an independent station serving Las Vegas, acquired by the Carson group in 1979. Shortly after buying the station, KVVU was rumored to be acquiring an NBC affiliation as then long-time affiliate KORK-TV was in the process of being replaced by KVBC (and now KSNV), but it never happened.[citation needed] Carson's second station, independent KNAT-TV in Albuquerque, New Mexico, was purchased in 1982. Unlike the Las Vegas operation, KNAT faced stiffer competition for top-quality, syndicated programming. Carson sold both of his stations in 1985 and 1986 with KVVU-TV (FOX 5) going to the James Meredith Corporation and KNAT being sold to Trinity Broadcasting Network.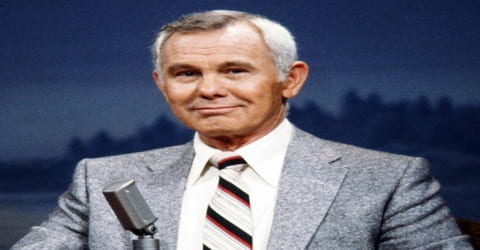 Carson's show launched the careers of many performers, especially comedians and musicians. For a comedian appearing on the show, getting him to laugh and being invited to the guest chair were considered the highest honors. Most notable among these were David Letterman, Jay Leno, Jerry Seinfeld, Jeff Foxworthy, Ellen DeGeneres, Joan Rivers, David Brenner, Tim Allen, Drew Carey, and Roseanne Barr. Carson was a successor to The Ed Sullivan Show as a showcase for all kinds of talent, as well as continuing a vaudeville-style variety show.
In 1966, Carson popularized Milton Bradley's game Twister when he played it with actress Eva Gabor. Not widely known at the time, the game skyrocketed in popularity after the broadcast.
After hosting The Tonight Show 4,531 times for millions of people over thirty years, Carson decided to retire from the show. On Friday, May 22, 1992, Johnny Carson did his famous golf swing for the last time. In tribute to Carson and his enormous influence, several networks that had late-night variety talk shows "went dark" for the entire hour he did the last show. The Tonight Show finally won the Emmy for Outstanding Late-night Series after 13 tries later that year, buoyed by the penultimate broadcast which featured Johnny's final two guests, Robin Williams, and Bette Midler.
NBC gave the role of host to the show's then-current permanent guest host, Jay Leno. Leno and David Letterman were soon competing on separate networks.
On May 22, 1992, Carson's final appearance as the host of The Tonight Show attracted an estimated 50 million viewers, the largest audience in the program's history. Comedian Jay Leno replaced Carson as the late-night staple's host.
Following his retirement, he played a voice role in an episode of the animated series 'The Simpsons'. He also appeared in a few other shows such as the 'Late Show with David Letterman'.
Just days before Carson's death, The New York Times published a story revealing that he occasionally sent jokes to David Letterman. Letterman would then use these jokes in the monologue of his show, which Carson got "a big kick out of", according to Worldwide Pants Inc. Senior Vice President Peter Lassally, who formerly produced both men's programs. He also claimed that Carson had always believed Letterman, not Leno, to be his "rightful successor". In his first broadcast after Carson's death, Letterman delivered a monologue compiled entirely of jokes sent in by Carson, a fact the host revealed later in the program.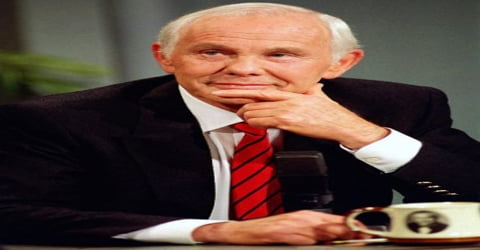 Carson lives in Malibu, California, with his wife, Alex Mass. He manages to play tennis and sail his boat when he is not working at his company, Carson Production Group. He reportedly entertains thoughts of releasing The Tonight Show reruns for sale directly to local cable television channels. Carson had surgery to treat coronary (heart) artery disease in 1999. In 2002 he donated seventy-five thousand dollars to build a skateboard park in his hometown of Corning, Iowa. Many people think that every host of late-night television has a show today because of what Johnny Carson accomplished.
Awards and Honor
During his long and illustrious career, Johnny Carson had received a total of six Emmy awards. He also received the Television Academy's 1980 Governor's Award, as well as the 1985 Peabody Award.
Carson was inducted into the Hall of Fame of the Academy of Television Arts and Sciences (1987), and was given the Presidential Medal of Freedom (1992) and a Kennedy Center Honor (1993).
Death and Legacy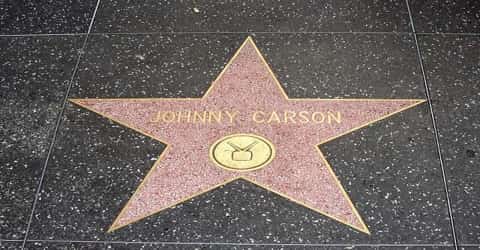 (Johnny Carson's star on the Hollywood Walk of Fame)
Johnny Carson passed away on 23 January 2005 due to respiratory failure resulting from emphysema. Carson was 79 at the time of his death. His body was cremated, and the ashes were given to his wife, Alexis Maas. In accordance with his family's wishes, no public memorial service was held. Carson is also survived by his younger brother, Dick, who is an Emmy Award-winning director of, among other things, the competing Merv Griffin Show and Wheel of Fortune.
The most significant work in Johnny Carson's career was undoubtedly the talk show 'The Tonight Show Starring Johnny Carson'. It was created by Steve Allen, William O. Harbach, Dwight Hemion, and Sylvester L. Weaver, Jr. The show aired from October 1962 to May 1992. It earned huge popularity and was ranked at the twelfth position on TV Guide's 50 Greatest TV Shows of All Time. The show won Carson a total of six Emmy awards.
On his final Tonight Show appearance, Carson himself said that while sometimes people who work together for long stretches of time on television do not necessarily like each other, this was not the case with McMahon and him; they were good friends who would have drinks and dinner together, and the camaraderie they had on the show could not be faked. Carson and McMahon were friends for 46 years.
Prominent people interviewed by Carson on the show include US Vice President Richard Nixon (who later became President), Attorney General Robert F Kennedy and Vice President Hubert Humphrey. Along with Carson, the show had several other guest hosts such as Joey Bishop, Joan Rivers, John Davidson, David Brenner, and Bob Newhart.
At the first Comedy Awards on Comedy Central, the Johnny Carson Award was given to David Letterman. At the 2nd Annual Comedy Awards on Comedy Central, the Johnny Carson Award was given to Don Rickles. A two-hour documentary about his life, Johnny Carson: King of Late Night, aired on PBS on May 14, 2012, as part of their American Masters series. It is narrated by Kevin Spacey and features interviews with many of Carson's family, fellow comedians, and protégés.
Information Source: