Biography of Al Oerter
Al Oerter – American athlete.
Name: Alfred Adolph Oerter Jr.
Date of Birth: September 19, 1936
Place of Birth: Astoria, New York, U.S.
Date of Death: October 1, 2007 (aged 71)
Place of Death: Fort Myers, Florida, U.S.
Early Life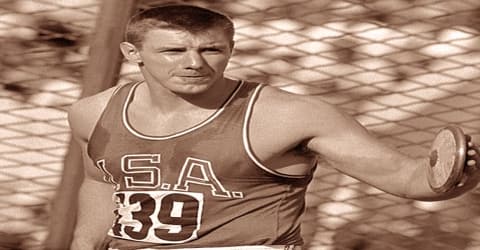 Al Oerter was born August 18, 1936, in Astoria, New York, United States. He was an American athlete and a four-time Olympic Champion in the discus throw. He was the first athlete to win a gold medal in the same individual event in four consecutive Olympic Games. Oerter is an inductee of the IAAF Hall of Fame.
His discus career had an almost mythical beginning: while running on his high school track (Oerter began his high school track and field career as a miler), an errant discus, which weighs two kilograms or nearly four-and-a-half pounds, fell at his feet. When Oerter threw it back his toss went so far that the coach immediately talked him into competing as a discus thrower. In those days before video, or even readily available film of competitions, Oerter refined his technique is perhaps the most unusual way of all: he studied a flip book of a discus thrower. In 1954 Oerter set the U.S. high school record for the discus. Oerter's career blossomed at the University of Kansas under legendary track and field coach Bill Easton. Easton guided Oerter in his early amateur career that included making the United States Olympic team in 1956.
During his career he set new world records four times (1962–64). He was the first to throw the discus more than 200 feet with his first world record of 61.10 meters (200 feet 5 inches). His best throw in setting a world record was 62.94 meters (206 feet 6 inches) in 1964; his best Olympic throw was 64.78 meters (212 feet 6 inches) in 1968.
Childhood, Family and Educational Life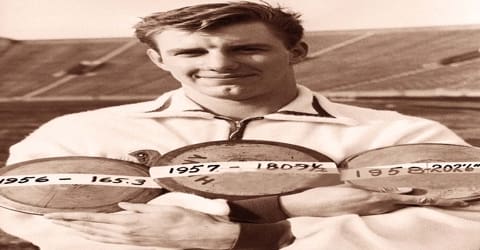 Al Oerter, in full Alfred Oerter, Jr., was born September 19, 1936, Astoria, Queens, New York, United States. He attended Sewanhaka High School in Floral Park. He began his track and field career at the age of 15 when a discus landed at his feet and he threw it back past the crowd of throwers. After taking up weightlifting in his teens to fill out his slender build, Oerter was a football player and sprinter in high school. He discovered his discus ability when he idly picked up the discus and threw it farther than anyone else on the track team could.
Al Oerter continued throwing and eventually earned a scholarship to the University of Kansas in 1954 where he became a member of Delta Tau Delta Fraternity. A large man at 6′ 4″ (193 cm) and 280 pounds (127 kg), Oerter was a natural thrower. Competing for Kansas, he became the NCAA discus champion in 1957; he successfully defended his title the following year.
Personal Life
As a child, Oerter had frequently traveled to his grandparents' home in Manhattan and admired their art collection. As a retired athlete, Oerter became an abstract painter. Oerter enjoyed the freedom of abstract art, and thus decided against formal schooling for his art, as he thought it might stifle his creativity. Part of Oerter's work was his "Impact" series of paintings. For these works, Oerter would lay a puddle of a paint on a tarp, and fling a discus into it to create splashing lines on a canvas positioned in front of the tarp. If the discus landed painted-face up, Oerter would sign it and give it to whoever purchased the painting.
He was survived by his wife and two daughters.
Career and Works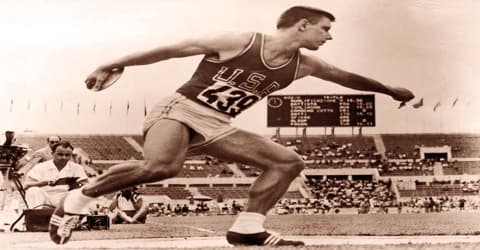 Al Oerter was the first man ever to throw the discus over 200 feet, the first of his four world records in a sport he excelled at throughout the 1960s. At the age of twenty, the 6 feet 4 inches, 290-pound sophomore at the University of Kansas was rated second in the world in the discus throw. He had set a national high-school record and had won two NCAA championships. At the 1956 Olympic games Oerter won the gold medal with a personal best throw of 184 feet 11 inches.
The Olympics transformed Oerter into an athlete of international stature. In The Olympics: 80 Years of People, Events, and Records, edited by Lord Killanin and John Rodda, it was acknowledged that Oerter has been "often cited as the Supreme Olympic athletics competitor…" Oerter began his Olympic career at the 1956 Summer Olympics in Melbourne. He was not considered the favorite but he felt a rush during the competition and he unleashed a throw of 184 feet 22 inches (56.64 m) which, at the time, was a career best. The throw was good enough to win the competition by more than 5 inches (130 mm).
In 1957, it seemed that Oerter's career would be over at the age of 20 when he was nearly killed in an automobile accident. He recovered in time to compete at the 1960 Summer Olympics at Rome, where he was the slight favorite over teammate Rink Babka, who was the world record holder. Babka was in the lead for the first four of the six rounds. He gave Oerter advice before his fifth throw; Oerter threw his discus 194 feet 2 inches (59.18 m), setting an Olympic record. Babka settled for the silver medal when he was not able to beat Oerter's throw.
In 1957 Oerter was involved in a serious automobile accident that nearly took his life. He trained furiously to regain his strength, and he never again competed without pain. After graduating from the University of Kansas in 1958, he continued to compete as a discus thrower as a member of the New York Athletic Club.
Oerter was just hitting his stride. In the years between the Melbourne Olympics and the 1960 Olympics in Rome, he captured the U.S. national championship for discus three times: 1957, 1959, and 1960. In 1959 Oerter also won the gold medal in the Pan-American Games.
Although he again wasn't necessarily the favorite, nor the world record holder (Poland's Edmund Piatkowski had set the new mark of 59.91 meters in 1959), Oerter easily defended his gold medal in the 1960 Rome Olympics with a winning throw of 59.18 meters (194 feet, 11/2 inches) as the United States once again swept the discus competition: Richard Babka won the silver medal and Dick Cochran the bronze.
In 1960 Oerter lost in the Olympic trials to the world-record holder Richard Babka, but he made the Olympic team. He threw poorly in the early rounds, and then Babka suggested he adjust his throwing position. On his last throw in the competition, Oerter tossed the discus 194 feet 2 inches to win his second gold medal.
Oerter was hampered by injuries before the Games began. He was bothered by a neck injury, and he tore cartilage in his ribs shortly before the competition. Oerter was competing in great pain, but he set a new Olympic standard and won a third Olympic gold medal despite not being able to take his last throw due to the pain from his ribs. As before, he bettered his own record with a throw of 61 meters (200 ft).
Having established his Olympic credentials once and for all, Oerter dominated the sport of discus throwing on the international scene over the next four years. In a flurry of amazing competitiveness, beginning with a meet in Los Angeles in May 1962, Oerter accomplished the one goal in his sport that had eluded him he set the world record with a throw of 61.10 meters (200 feet, 51/2 inches); Oerter was the first person to throw the discus 200 feet. Oerter's record was short-lived. Two and a half weeks later Vladimir Trusenyov set the new standard (61.64 meters) in a meet in Leningrad (now St. Petersburg), Russia. Oerter recaptured the world record with a throw of 62.44 meters in July 1962 in Chicago. In April 1963 he bettered his mark with a throw of 62.62 meters (205 feet, 51/2 inches).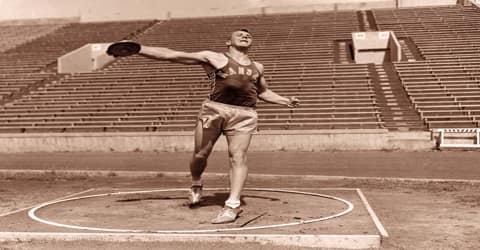 Almost exactly a year later, in April 1964, he set the mark again with a throw of 62.94 meters (206 feet, 6 inches). However, by the time the 1964 Olympics came around Oerter's record had been shattered by Ludvik Danek of Czechoslovakia, who, in a meet in August 1964, threw the discus 64.55 meters.
Oerter returned to the Olympics in 1968 at Mexico City, but teammate Jay Silvester was cast as the favorite. Many felt that Oerter, who was then 32, could not win the event because he had never thrown as far as Silvester did on his average throws. At the Olympics, however, Oerter hurled another Olympic record throw of 64.78 meters (212.5 ft) on his third throw. His record held and he became the first track and field athlete to win gold medals in four consecutive Olympic Games. This accomplishment would be equaled many years later by fellow Americans Carl Lewis and swimmer Michael Phelps.
Oerter's winning throw was a personal best, but more important, his four consecutive gold medals in the same event was a feat no other track and field athlete had ever duplicated. However, it was overshadowed by the controversial "black power salute" by African American track stars Tommie Smith and John Carlos who were protesting against racism in the United States. Smith and Carlos took the gold and bronze medals, respectively, in the 200-meter event.
In 1976 Oerter had a change of heart, he came out of retirement and began training for the 1980 Olympics. He freely admitted that that year (1976), he tried steroids to bulk up but quickly gave up on the experiment when his blood pressure rose too high. He afterward became a vocal opponent of steroids and drugs. In 1976 Oerter set his own personal record discus throw of 227 feet, 103/4 inches.
Oerter persevered for one more season before he retired–for a time. In 1977 he reentered world competition stronger than ever. He did make an attempt to qualify for the American team in 1980 but he finished fourth. He nonetheless set his overall personal record of 69.46 meters (227.9 ft) that year at the age of 43. Dr. Gideon Ariel, a former Olympic shot putter himself for Israel, had developed a business of biomechanical services, and Oerter after working with Ariel at age 43 threw a discus 27 feet farther than his best gold medal performance.
When filming for a TV segment, he unofficially threw about 245 feet (75 m), which would have set a still-standing world record. In later years, Oerter carried the Olympic flag for the 1984 Summer Olympics, then carried the Olympic flame into the stadium for the 1996 Olympic Games.
Although his original goal was to win five gold medals, Oerter retired from Olympic competition after the 1968 Games with four because of the sacrifices and pressures of being an Olympic champion. He resumed training in 1976, however. While he narrowly failed to qualify for the U.S. Olympic team in 1980, which ultimately did not compete (there being a U.S. boycott), he made the longest throw of his career and the world's longest that year, 69.46 meters (227 feet 11 inches). Though active at a world-class level into his 40s, he fell short again in bids for the U.S. Olympic team in 1984 and 1988. He was a world record holder in Masters track-and-field competition in the 1980s.
Awards and Honor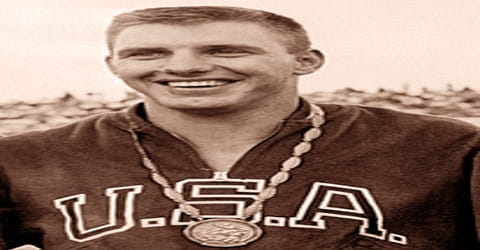 Oerter was in the first class to be inducted into the U.S. Olympic Hall of Fame in 1983.
In 1996 Oerter was further honored for his Olympic feats as the final torchbearer in Atlanta.
In 2005, Oerter was inducted into the Nassau County Sports Hall of Fame.
Death and Legacy
Oerter had struggled with high blood pressure his entire life, and in the 2000s, he became terminally ill with the cardiovascular disease. On March 13, 2003, Oerter was briefly clinically dead; a change of blood pressure medications caused a fluid build-up around his heart.
Al Oerter's heart condition progressed, he was advised by cardiologists he would require a heart transplant. Oerter dismissed the suggestion. "I've had an interesting life," he said, "and I'm going out with what I have." Oerter died on October 1, 2007, of heart failure in Fort Myers, Florida at the age of 71.
Information Source: