Biography of William Howard Stein
William Howard Stein – American biochemist.
Name: William Howard Stein
Date of Birth: June 25, 1911
Place of Birth: New York City, New York, United States
Date of Death: February 2, 1980 (aged 68)
Place of Death: New York City, New York, United States
Occupation: Biochemists
Father: Fred Michael Stein
Mother: Beatrice Cecilla (Borg)
Spouse/Ex: Phoebe Hockstader (m. 1936-1980; his death)
Children: 3
Early Life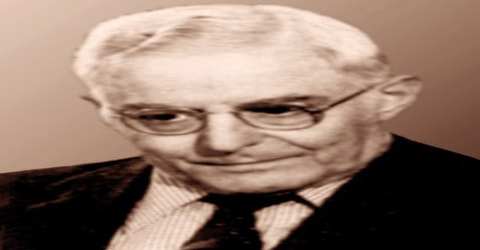 An American biochemist who, along with Stanford Moore and Christian B. Anfinsen was a co-winner of the Nobel Prize for Chemistry in 1972 for their studies of the composition and functioning of the pancreatic enzyme ribonuclease, William Howard Stein was born on 25th June 1911 in New York City, New York, U.S.
Together with Moore, Stein came up with new methods to perform chromatography, made with a tool that enabled an analysis of the pancreatic enzyme ribonuclease. Stein has worked as a professor for most of his profession mostly at Rockefeller University and has also served as a visiting professor in various universities like Harvard and the University of Chicago. Through his career, Howard has been the recipient of many awards due to his diligent, creative and remarkable work.
The contributory research work for which Stein received the award was concerned with the structure of ribonuclease (RNase) and also for comprehending association of the ribonuclease molecule's chemical structure with that of its catalytic activity. He collaborated with Moore to develop new procedures of chromatography, a process of separating a mixture, for applying to analyze amino acids and small peptides procured through protein hydrolysis. The first automatic amino-acid analyzer, which hugely aided in the study of amino acid sequences of proteins, was developed by them. They also used the new tool to make the first analysis of the complete chemical structure of the pancreatic enzyme ribonuclease. Stein spent his entire professional career at Rockefeller serving as Professor of Biochemistry first at the 'Rockefeller Institute for Medical Research' and thereafter at the 'Rockefeller University'. He also remained a visiting professor of many universities including 'Harvard University' and 'University of Chicago'. He received several awards along with fellow biochemist Stanford Moore including the American Chemical Society Award in Chromatography and Electrophoresis in 1964; the 'Linderstrom-Lang Medal' from the 'Carlsberg Research Center' in 1972; and the 'Richards Medal' of the 'American Chemical Society' in 1972.
Childhood, Family and Educational Life
William H. Stein, in full William Howard Stein, was born on 25th June 1911, in New York City, New York, the U.S. in a Jewish family to Fred Michael Stein and his wife Beatrice Cecilla (Borg) as their second child among three. His father was a businessman who took early retirement to dedicate into matters related to healthcare. His mother was a child rights activist. His elder brother Fred Micheal Stein, Jr. became a health advocate and younger sister Cecilia Borg-Stein Cullman was a child rights activist like her mother.
Stein attended the 'Lincoln School of Teachers College' of 'Columbia University', a private co-educational university laboratory school in New York City from 1926 to 1927. The ideas and methods of the school were considered to be the most progressive of that time. Thereafter he joined 'Phillips Exeter Academy', a co-educational independent school, in Exeter, New Hampshire and studied there till 1929. He was inspired to take up fundamental science or medicine by his parents. He then joined 'Harvard University' from where he completed BS in Chemistry in 1933.
Later, Stein pursued further studies in Chemistry at Columbia University and graduated in 1935 from Columbia University. He continued education at Columbia University College of Physicians and Surgeons and by 1938, he completed his Ph.D. on amino acids analysis of elastin. In that year he joined the staff of the Rockefeller Institute for Medical Research (now Rockefeller University), also in New York City. He was promoted to a professorship there in 1954.
Personal Life
In 1936 while undergoing his graduation studies William Howard Stein married Phoebe Hockstader. Together, they had three sons namely David F Stein, Robert J Stein, and William H stein.
Career and Works
William Howard Stein began working at the Rockefeller Institute for medical research immediately after completing his Ph.D. education. William Howard Stein served as a researcher and was associated with a famous Jewish-German mathematician called Max Bergmann. Also, Stein associated with many other brilliant researchers, for example, Klaus Hofmann and Joseph S. Fruton, Moore and Emil L Smith.
Stein and Moore were delegated to chalk out precise analytical procedures to analyze the amino acid composition of proteins. However, the 'Second World War' interrupted their work on proteins when Moore was enlisted as a technical aid in the 'National Defense Research Council' in Washington in 1942. Moreover, during wartime, the entire research group of Bergmann was engrossed to work for the 'Office of Scientific Research and Development'.
In 1944, Max Bergmann passed away, which caused the research unit to be devoid of a leader. However, the research work proceeded as usual, and Herbert Gasser was soon appointed as a director. After the war, Moore got back to the institute, and the director Gasser offered him and Stein the freedom of choice to condition research on whatever field they desired.
With Moore, who was his colleague at the Rockefeller Institute, Stein between 1949 and 1963 deciphered how ribonuclease catalyzes the digestion of food. The two men developed methods for the analysis of amino acids and peptides obtained from proteins, and then they applied those procedures to determine the structure of ribonuclease. The same year they were awarded the Nobel Prize, Stein and Moore worked out the complete sequence of deoxyribonuclease, a molecule twice as complex as a ribonuclease. Postwar Moore returned to Rockefeller Institute after accepting an offer of the then Director Herbert Gasser who provided Stein and Moore with the liberty and space of conducting research work of their line of interest.
In 1952 Stein became Professor of Biochemistry at 'Rockefeller Institute for Medical Research' and served the post till 1965. By such time Archer John Porter Martin and Richard Laurence Millington Synge came up with significant development of separating amino acids by applying paper chromatography in England. The following suggestion of Synge, Stein, and Moore endeavored into separating amino acids on columns of potato starch, marking the beginning of their work on amino acids. The duo became successful in separating out individual amino acids from a synthetic mixture, a work that was featured in the peer-reviewed scientific journal 'Journal of Biological Chemistry'. They applied their procedures to analyze the structures of bovine serum albumin and β-lactoglobulin.
In 1958 Stein and Stanford Moore developed the first automated amino acid analyzer, which facilitated the determination of protein sequences. Stein remained at Rockefeller for his entire career and held visiting professorships at Washington University at St. Louis, Haverford College, the University of Chicago and Harvard University.
For over fifteen years he was associated with 'Journal of Biological Chemistry' first as a member of the editorial committee from 1955 to 1962. From 1958 to 1961 he remained the chairman of the committee following which he became a member of the editorial board of the journal in 1962. Thereafter he served as an associate editor from 1964 to 1968 and finally became the editor of the journal in 1968. He had to give up the position in 1971 due to illness. Also, William Howard Stein was part of the `medical advisory board' of Hebrew university's medical school, a position he held between 1957 and 1970.
In 1958, Stein's research work with Moore led to the development of an automatic amino acid analyzer. The analyzer was the first of its kind and enabled through analysis of proteins and also enabled an analysis of the composition of an enzyme called ribonuclease. The following year, Stein and Moore publicized that they completed the study of the whole structure of amino acids in ribonuclease. Also, they had come up with a comprehensive analysis of the composition, functioning of various proteins, for example, ribonuclease T1, Streptococcal proteinase, pancreatic ribonuclease among others.
Stein was a member of the Council of the Institute of Neurological Diseases and Blindness of the 'National Institutes of Health' from 1961 to 1966. From 1965 to 1982 he remained Professor of Biochemistry at the 'Rockefeller University'. His other academic endeavors included serving as visiting professor of 'The University of Chicago' (1961), 'Haverford College' (1962), 'Harvard University' (1964), and 'Washington University at St. Louis' (1965). During 1968-69 he served as Chairman of the U.S. National Committee for Biochemistry.
Stein spent most of his career as a professor at the Rockefeller University, where he served from 1965 to 1982, and also worked as a visiting professor at Washington University at St Louis, Harvard University, Haverford College and University of Chicago. During William Howard Stein's career, he was part of many scientific societies for example `American Society for Biochemistry and Molecular biology,' ` American Society of Biological Chemists,' `American Association for the advancement of science' among others.
Stein was associated with several scientific societies including 'American Society of Biological Chemists', 'American Academy of Arts and Sciences', 'American Society for Biochemistry and Molecular Biology', 'American Association for the Advancement of Science', 'National Academy of Sciences', 'Harvey Society' of New York, 'Sigma Xi Scientific Research Society' and 'Biochemical Society' of London. Stein remained a Trustee of 'Montefiore Hospital'.
William Howard Stein suffered from Guillain-Barré Syndrome, a rare condition where the immune system of the body erringly attacks the peripheral nerves and causes damage to their myelin insulation. This condition resulted in his paralysis around 1971 thus limiting his scientific research career thereafter. His winning the Nobel Prize in Chemistry in 1972 made him the first quadriplegic Nobel Laureate. The physical disorder made him wheelchair bound and the last stage of his life saw him visiting office occasionally till 1980.
Awards and Honor
William Howard Stein won a Nobel Prize in Chemistry in 1972 with Christian Boehmer Anfinsen and Stanford Moore, for their work on ribonuclease and for their contribution to the understanding of the connection between chemical structure and catalytic activity of the ribonuclease molecule.
Death and Legacy
William Howard Stein died on 2nd February 1980 as a result of a heart attack in New York City, New York, U.S. at 68 years of age. Stein's obituary was written by his lifetime co-worker Stanford Moore and preserved at the National Academy of Sciences.
Information Source: