Novak Djokovic – Serbian Professional Tennis Player
Native name: Новак Ђоковић (Novak Đoković)
Date of birth: 22 May 1987 (age 29)
Place of birth: Belgrade, SR Serbia, SFR Yugoslavia
Height: 1.88 m (6 ft 2 in)
Turned pro: 2003
Plays: Right-handed (two-handed backhand)
Residence: Monte Carlo, Monaco
Father: Srđan Djokovic
Mother: Dijana
Spouse: Jelena Djokovic (m. 2014)
Children: Stefan Đoković
Early Life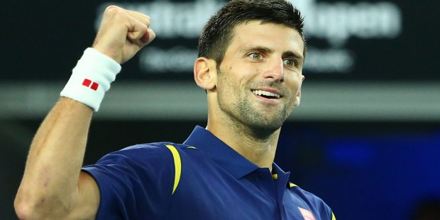 Novak Djokovic was born on May 22, 1987, in Belgrade, Yugoslavia, now in Serbia. He is a Serbian tennis player who was one of the game's premier performers in the early 21st century, when he won 12 Grand Slam titles.
An exceptionally talented player, he has given numerous record making and breaking performances. He is the only player to hold an 'open era' record of winning three 'Australian Open' singles titles in a row from 2011 to 2013. He is the 6th player to win three 'Grand Slam' titles in one calendar year, the 'Australian Open', 'Wimbledon' and 'US Open' in 2011, a feat repeated by him again in 2015. In 2015 he won a total of 6 titles breaking the single-season record. Another 'open era' record created by this master was consecutively winning four 'ATP World Tour Finals' out of his five. He shares an all-time record of winning 28 'ATP World Tour Masters 1000' series titles with another ace player Rafael Nadal. He has received numerous awards and been conferred the 'Order of the Republika Srpska', 'Order of Karađorđe's Star' and 'Order of St. Sava'.
In 2016, he became the eighth player in history to achieve the Career Grand Slam; by winning the 2016 French Open, Djokovic became the third man to hold all four major titles at once, the first since Rod Laver in 1969, and the first ever to do so on three different surfaces.
Childhood and Educational Life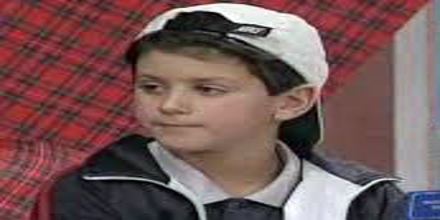 Novak Djokovic was born on May 22, 1987, in Belgrade, Socialist Federal Republic of Yugoslavia to Srđan Djokovic and his wife Dijana. His father was a professional flier and also excelled in soccer. His brothers Djordje and Marko, both younger to him, play tennis and aspire to become professional players.
When he was four years old he got introduced to the game and by the time he was six, during the summer of 1993, he was spotted by Serbian tennis player and coach Jelena Genčić, in his parent's fast-food joint at Mount Kopaonik. She was amazed by his excellent performance at such young age and since then till 1999 she coached the budding star.
For his further development Genčić made arrangement for him to train under former Croatian tennis player Nikola Pilić and the 12 year old boy was shifted to Pilić tennis academy in Oberschleißheim, Germany in September 1999 where he spent four years.
He made his international debut in 2001 at 14 and won the European championship's singles and doubles titles and was also a player of the winning team. He was part of 'Junior Davis Cup' team from 'Federal Republic of Yugoslavia' in 2001 that reached the final. However Djokovic was defeated in his singles match.
Djokovic is a self-described fan of languages, speaking Serbian, English, French, German, and Italian.
Personal Life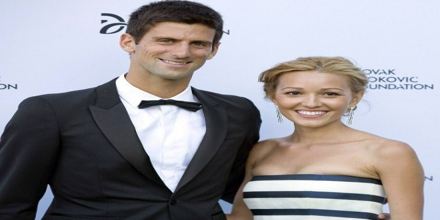 Djokovic met his future wife, Jelena Ristić, in high school, and began dating her in 2005. The two became engaged in September 2013, and on 10 July 2014 the couple got married on Sveti Stefan in Montenegro, while a church wedding was held in the same place, on 12 July 2014, in the Church of Saint Stephen, which belongs to Praskvica Monastery. The couple welcomed their first child, a son named Stefan, on October 21, 2014.
Playing Career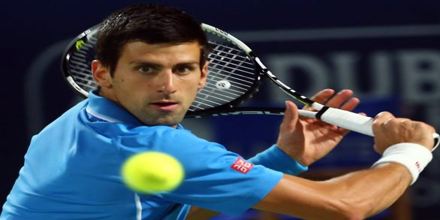 The 14-year-old Djokovic ended 2001 as a triple European champion in singles, doubles and team competition. He won the silver medal at the World Junior Championship in a team competition for Yugoslavia. At 16, after winning five ITF tournaments, he was ranked the 40th best junior tennis player in the world. In 2004, he won his first ATP Challenger tournament in Budapest, where he started as a qualifier. The following year, he qualified at Wimbledon and reached the third round, moving him up the rankings and into the Top 100.
In 2005 he qualified for 'Australian Open' marking his first 'Grand Slam' tournament but was eliminated in the first round by Marat Safin, the eventual winner of the title.
In the 2007 season, Djokovic played the semifinals of the French Open and Wimbledon. He won his second Masters title in Montreal, beating the Top 3 players—Roger Federer, Rafael Nadal and Andy Roddick—which made him No. 3 in the world. He competed for Serbia in the 2008 Beijing Olympics, and won a bronze medal in singles tennis. In 2010, the Serbian national team clinched the Davis Cup trophy for Serbia for the first time in history. Djokovic went on to win 43 matches in a row in 2011, the only player in the world to achieve such a run. That same year, he won the Australian Open, Wimbledon and the U.S. Open to become the world's No. 1 tennis player.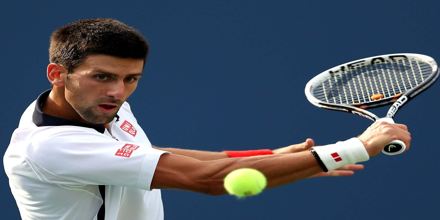 In 2012, Djokovic won the Australian Open singles title, and made it to the semifinals at Wimbledon. He was beaten in the semifinals, however, by longtime rival Roger Federer—who went on to win the Wimbledon final against Andy Murray. Later that year, Djokovic faced off against Murray himself in the final at the U.S. Open. He fought hard against Murray, but he ended up losing the match after five sets.
For the third year in a row, Djokovic took home the men's singles title at the Australian Open in 2013. He was the runner-up at Wimbledon that year, losing in the final to Andy Murray. At the U.S. Open, Djokovic was the top-ranked player. He easily dispatched his opponents in the first three rounds of play, but he lost in the final to Rafael Nadal.
In 2014 he clinched his second 'Wimbledon' singles title defeating Roger Federer and as defending champion regained his title in 2015, once again beating Federer. In 2015 he won his second 'US Open' singles title and with that repeated his feat of achieving 3 'Grand Slam' titles in a calendar year. He endorses companies and brands such as 'Telekom Srbija', 'FitLine', 'Mercedes-Benz' and Seiko.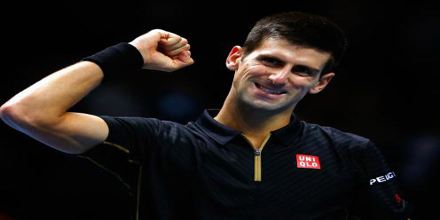 The world's No. 1 roared out of the gates to start the 2016 season, surging to his sixth Australian Open title. That June, following consecutive runner-up finishes at Roland Garros, he finally broke through with his first French Open crown. The win made him the eighth man to complete the career Grand Slam, and the first since Rod Laver in 1969 to hold all for major titles at once. But Djokovic's quest to win all Grand Slams in 2016 came to an abrupt end at Wimbledon when he was defeated by Sam Querry, an American player Ranked No.41, in the first week of competition. Later that year, he was defeated by Stan Wawrinka at the U.S. Open.
In a shocking upset, the no. 1 ranked player in the world was ousted out of his Olympic dreams on the second day of competition when Juan Martin del Potro of Argentina beat him 7-6, 7-6.
Although he left the courts in tears, Djokovic told reporters, "Delpo was the better player and he deserved to win. That's sport."
He added: "It's very sad and disappointing to go out of the tournament this early but I am glad that a good friend of mine, who has struggled with injuries, has won."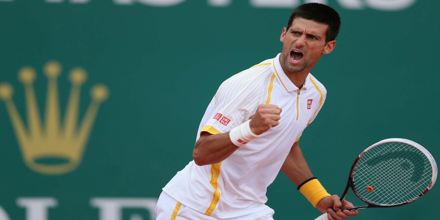 Djokovic is an all-court player with emphasis on aggressive baseline play. His groundstrokes from both wings are consistent, deep, and penetrating. His backhand is widely regarded as one of the best in today's game. His best shot is his backhand down the line, with great pace and precision. He is also known as one of the greatest movers on the court with superior agility, court coverage and defensive ability, which allows him to hit winners from seemingly defensive positions. After great technical difficulties during the 2009 season (coinciding with his switch to the Head racket series), his serve is one of his major weapons again, winning him many free points; his first serve is typically hit flat, while he prefers to slice and kick his second serves wide.
Other Activities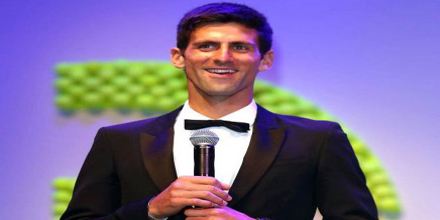 From 2011, Djokovic began to wear custom Red and Blue Adidas Barricade 6.0's shoes, referring to the colours of the Serbian national flag. By April 2012, the Tacchini deal had fallen first short and then apart. At that point, he was set to join forces with Nike, Inc., but instead, on 23 May 2012, Uniqlo appointed Djokovic as its global brand ambassador. The five-year sponsorship, reportedly worth €8 million per year, began on 27 May 2012 in Paris' Roland-Garros French Open Tennis Tournament.
In August 2011, Djokovic became the brand ambassador of Swiss watch manufacturer Audemars Piguet. Less than a month later, Djokovic signed a sponsorship deal with German car company Mercedes-Benz.
According to Forbes, Djokovic earned US$31 million in endorsements during 2014, behind only Roger Federer (US$58 million), Tiger Woods ($50 million), Phil Mickelson ($48), LeBron James ($44), Kevin Durant ($35), and Rory McIlroy ($32).
In November 2007, he founded the 'Novak Djokovic Foundation' to aid underprivileged children of Serbia in getting proper education and other essential resources so as to lead a healthy and productive life.
In 2016 he donated $20,000 for the early childhood education program undertaken by 'Melbourne City Mission' to aid underprivileged children.
Awards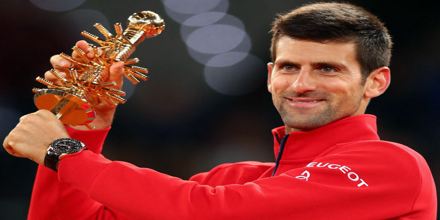 ITF World Champion: 2011, 2012, 2013, 2014, 2015.
ATP Player of the Year: 2011, 2012, 2014, 2015.