Biography of Stevie Ray Vaughan
Stevie Ray Vaughan – American musician, singer, songwriter, record producer, and guitarist.
Name: Stevie Ray Vaughan
Date of Birth: October 3, 1954
Place of Birth: Dallas, Texas, United States
Date of Death: August 27, 1990 (aged 35)
Place of Death: East Troy, Wisconsin, United States
Occupation: Musician, Singer, Songwriter, Record producer
Father: Jimmie Lee Vaughan
Mother: Martha Jean Vaughan
Spouse/Ex: Lenora Darlene Bailey (m. 1979–1988)
Early Life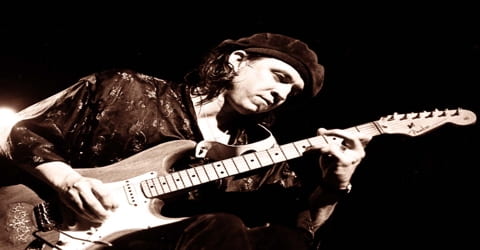 American musician, singer, lyricist and record producer, Stevie Ray Vaughan was born on October 3, 1954, in Dallas, Texas, U.S. He is one of the most influential guitarists in the revival of blues in the 1980s. He is commonly referred to as one of, if not the greatest guitar player of all time.
Vaughan is better known as the lead singer of the eighties rock band from Texas, 'Double Trouble'. Although, he had a short-lived musical career of only seven years yet Vaughan became the master of blues-rock during his time and earned many awards and recognition for it. He belonged to a middle-class family and music was his only passion since childhood; it was also his only solace and salvage from his father's abusive behavior. He started out in Austin by playing sporadic gigs with garage bands until he found his own band called 'Double Trouble'. The band was first recognized by Mick Jagger and gained popularity when they signed a professional contract with the Epic records. The band had a good run for at least three years with three great albums like 'Texas Flood', 'Soul to Soul', etc. until Vaughan started getting seriously affected by his cocaine and alcohol addiction. But he conquered his weakness for the drugs and came out clean and successful with his album 'In Step (1989)', which also fetched the band their first Grammy award.
Vaughan received several music awards during his lifetime and posthumously. In 1983, readers of Guitar Player voted him Best New Talent and Best Electric Blues Guitar Player. In 1984, the Blues Foundation named him Entertainer of the Year and Blues Instrumentalist of the Year, and in 1987, Performance Magazine honored him with Rhythm and Blues Act of the Year. He won six Grammy Awards and ten Austin Music Awards and was inducted posthumously into the Blues Hall of Fame in 2000 and the Musicians Hall of Fame in 2014. Rolling Stone ranked him as the 12th greatest guitarist of all time. In 2015, Vaughan and Double Trouble were inducted into the Rock and Roll Hall of Fame.
Childhood, Family and Educational Life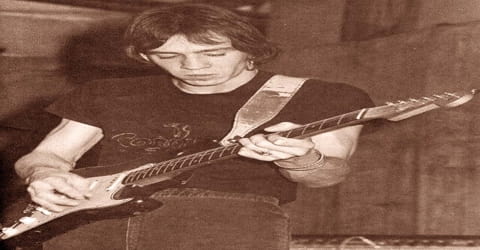 Stevie Ray Vaughan was born on October 3, 1954, in Dallas, Texas, to Jimmie Lee Vaughan and Martha Jean Vaughan. His father was an asbestos worker and mother worked as a secretary.
Born and raised in Dallas, Vaughan began playing guitar as a child, inspired by older brother Jimmie. When he was in junior high school, he began playing in a number of garage bands, which occasionally landed gigs in local nightclubs. By the time he was 17, he had dropped out of high school to concentrate on playing music. He used to play drums, saxophone, and guitar. He had a rough childhood as his father was an alcoholic and used to get violent after a few drinks.
Personal Life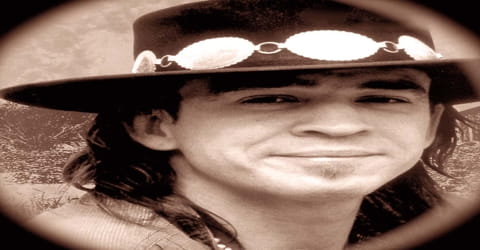 Vaughan married Lenora "Lenny" Bailey in 1979, after meeting her for the first time at one of his Nightcrawlers's performances at La Cucaracha, Austin. The marriage was to last for six and a half years. They both got divorced after Lenny squandered his money on drugs and other men.
Vaughan developed an alcohol and cocaine problem in the late eighties and he started consuming as much as seven grams of cocaine every day. His stomach got scarred from mixing alcohol with cocaine and he almost died in Germany. After that, he decided to stay away from drugs and checked himself into Peachford Hospital, a rehab center and began to lead a spiritual life. He stayed away from drugs for the rest of his life and lived soberly.
In 1986, Vaughan met with Janna Lapidus in New Zealand and started seeing her immediately afterward. When he was in London getting treated for his substance abuse problem, she visited him and he referred to her as his fiancé.
Career and Works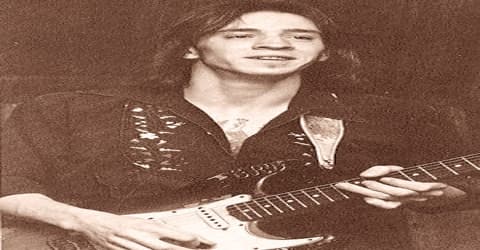 Vaughan's first real band was the Cobras, who played clubs and bars in Austin during the mid-'70s. Following that group's demise, he formed Triple Threat in 1975. Triple Threat also featured bassist Jackie Newhouse, drummer Chris Layton, and vocalist Lou Ann Barton. After a few years of playing Texas bars and clubs, Barton left the band in 1978. The group decided to continue performing under the name Double Trouble, which was inspired by the Otis Rush song of the same name; Vaughan became the band's lead singer.
In May 1969, after leaving the Brooklyn Underground, Vaughan joined a band called the Southern Distributor. He had learned The Yardbirds' "Jeff's Boogie" and played the song at the audition. Mike Steinbach, the group's drummer, commented: "The kid was fourteen. We auditioned him on 'Jeff's Boogie,' really fast instrumental guitar, and he played it note for note." Although they played pop-rock covers, Vaughan conveyed his interest in the addition of blues songs to the group's repertoire; he was told that he wouldn't earn a living playing blues music and the band parted ways. Later that year, bassist Tommy Shannon walked into a Dallas club and heard Vaughan playing guitar. Fascinated by the skillful playing, which he described as "incredible even then", Shannon borrowed a bass guitar and the two jammed. Within a few years, they began performing together in a band called Krackerjack.
Vaughan went through a hard time trying to maintain his academic performance at Southern Methodist University as he had no inclination towards studies and all his loyalties lied with music and playing with garage bands. Soon he dropped out of college and moved to Austin. In order to make a living, he collected soda and beer bottles for money and stayed at friends' houses. During this time he was able to get sporadic gigs in Austin.
In February 1970, Vaughan joined a band called Liberation, which was a nine-piece group with a horn section. Having spent the past month briefly playing bass with Jimmie in Texas Storm, he had originally auditioned as bassist. Impressed by Vaughan's guitar playing, Scott Phares, the group's original guitarist, modestly became the bassist. In mid-1970, they performed at the Adolphus Hotel in downtown Dallas, where ZZ Top asked them to perform. During Liberation's break, Vaughan jammed with ZZ Top on the Nightcaps song "Thunderbird". Phares later described the performance: "they tore the house down. It was awesome. It was one of those magical evenings. Stevie fit in like a glove on a hand."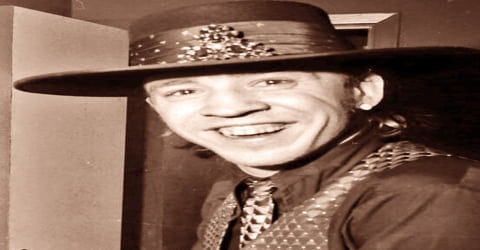 In September 1970, Vaughan made his first studio recordings with the band Cast of Thousands, which included future actor Stephen Tobolowsky. They recorded two songs, "Red, White and Blue" and "I Heard a Voice Last Night", for a compilation album, A New Hi, that featured various teenage bands from Dallas. In late January 1971, feeling confined by playing pop hits with Liberation, Vaughan formed his own band, Blackbird. In early December 1972, Vaughan left Blackbird and joined a rock band named Krackerjack; he performed with them for less than three months. In March 1973, Vaughan joined Marc Benno's band, the Nightcrawlers, after meeting Benno at a jam session years before.
Vaughan's first real band was the Cobras, who played clubs and bars in Austin during the mid-'70s. Following that group's demise, he formed Triple Threat in 1975. Triple Threat also featured bassist Jackie Newhouse, drummer Chris Layton, and vocalist Lou Ann Barton. After a few years of playing Texas bars and clubs, Barton left the band in 1978. The group decided to continue performing under the name Double Trouble, which was inspired by the Otis Rush song of the same name; Vaughan became the band's lead singer.
In 1975, Vaughan collected a bunch of musicians and formed the band, 'Triple Threat', which was later changed to 'Double Trouble'. He was the lead vocalist of the band and started getting quite a bit of popularity in Texas. In late 1976, Vaughan recorded a single with them, "Other Days" as the A-side and "Texas Clover" as the B-side. Playing guitar on both tracks, the single was released on February 7, 1977. In March, readers of the Austin Sun voted them as Band of the Year. In addition to playing with the Cobras, Vaughan jammed with many of his influences at Antone's, including Buddy Guy, Hubert Sumlin, Jimmy Rogers, Lightnin' Hopkins, and Albert King.
Vaughan toured with the Cobras during much of 1977, but near the end of September, after they decided to strive for a mainstream musical direction, he left the band and formed Triple Threat Revue, which included singer Lou Ann Barton, bassist W. C. Clark, and drummer Fredde Pharaoh. In January 1978, they recorded four songs in Austin, including Vaughan's composition "I'm Cryin'". The thirty-minute audio recording marks the only known studio recording of the band.
In mid-May 1978, Clark left to form his own group and Vaughan renamed the band Double Trouble, taken from the title of an Otis Rush song. 'Double Trouble' caught the attention of the famous Mick Jagger in 1982. They received an invitation to come and play at his party in New York. In the same year, they performed at the Montreux Blues and Jazz Festival in Switzerland. and their performance caught the attention of David Bowie and Jackson Browne. After Double Trouble's performance, Bowie asked Vaughan to play on his forthcoming album, Let's Dance, which, with Stevie's lead guitar on six of the eight songs, became Bowie's best selling record to date. After an after-hours jam in the artists' bar, Jackson Browne offered the group free recording time at his Downtown Studio in Los Angeles. Shortly afterward, legendary producerJohn Hammond landed Vaughan and Double Trouble a record contract with Epic, and the band recorded its debut album in two days over the Thanksgiving weekend at Downtown Studios.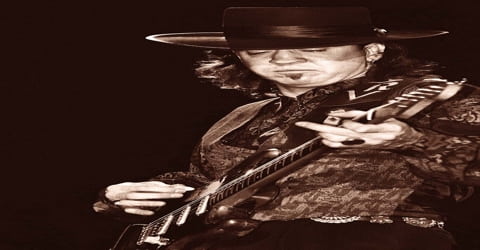 Vaughan's debut album, Texas Flood, was released in the summer of 1983, a few months after Bowie's Let's Dance appeared. Publicity over Stevie's management pulling him from Bowie's 1983 world tour in order to support Vaughan's own record earned him quite a bit of attention, but Texas Flood was a blockbuster blues success; receiving positive reviews in both blues and rock publications, reaching number 38 on the charts, and crossing over to album rock radio stations. Vaughan and Double Trouble set off on a successful tour and quickly recorded their second album, Couldn't Stand the Weather, which was released in May of 1984. The album was more successful than its predecessor, reaching number 31 on the charts; by the end of 1985, the album went gold. Double Trouble added keyboardist Reese Wynans in 1985 before they recorded their third album, Soul to Soul. The record was released in September 1985 and was also quite successful, reaching number 34 on the charts.
In 1985 'Soul to Soul' was released and its singles 'Change It' and 'Look at Little Sister' were great hits on the Mainstream Rock Tracks chart. 'Live Alive' was released the next year a recording of live concerts in Texas.
In July 1986, Vaughan decided that they would record the LP, Live Alive, during three live appearances in Austin and Dallas. On July 17 and 18, the band performed sold-out concerts at the Austin Opera House, and July 19 at the Dallas Starfest. They used recordings of these concerts to assemble the LP, which was produced by Vaughan. The Live Alive album was released on November 17, 1986, and the only official live Double Trouble LP made commercially available during Vaughan's lifetime, though it never appeared on the Billboard 200 chart. Though many critics claimed that most of the album was overdubbed, engineer Gary Olazabal, who mixed the album, asserted that most of the material was recorded poorly. Vaughan later admitted that it was not one of his better efforts; he recalled: "I wasn't in very good shape when we recorded Live Alive. At the time, I didn't realize how bad a shape I was in. There were more fix-it jobs done on the album than I would have liked. Some of the work sounds like it was the work of half-dead people. There were some great notes that came out, but I just wasn't in control; nobody was."
Vaughan performed a number of concerts in 1988, including a headlining gig at the New Orleans Jazz & Heritage Festival, and wrote his fourth album.
After a break of few years due to Vaughan's substance abuse problem, the band released 'In Step' in 1989. The album peaked at No. 33 on the rock charts and earned them a Grammy for Best Contemporary Blues Recording.
In July 1989, Neil Perry, a writer for Sounds magazine, wrote: "the album closes with the brow-soothing swoon of 'Riviera Paradise,' a slow, lengthy guitar and piano workout that proves just why Vaughan is to the guitar what Nureyev is to ballet." According to music journalist Robert Christgau, Vaughan was "writing blues for AA…he escapes the blues undamaged for the first time in his career." In October 1989, the Boca Raton News described Vaughan's guitar solos as "determined, clear-headed and downright stinging" and his lyrics as "tension-filled allegories".
Vaughan collaborated with his brother Jimmie to record an album called 'Family Style' in 1990. The album consisted of ten songs both the Vaughan brothers always wanted to do an album together and it was released after Vaughan's death.
Awards and Honor
In 1985, Vaughan was named an honorary admiral in the Texas Navy.
Vaughan earned two Grammys one for Best Contemporary Blues Recording for 'Step' and the other for Best Contemporary Blues Album for 'Family Style', posthumously. He was inducted in the Blues Hall of Fame in 2000.
In 2003, Rolling Stone ranked him seventh among the "100 Greatest Guitar Players of All Time". He also became eligible for the Rock and Roll Hall of Fame in 2008 but did not appear on a nominations roster until 2014.
Death and Legacy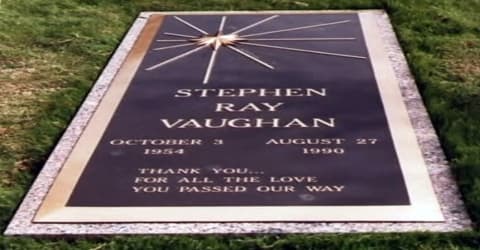 On August 27, 1990, Vaughan was traveling in a helicopter to Chicago with Eric Clapton's entourage. Because of dense fog, the chopper crashed into the mountains and everyone on board was killed. He was buried at Laurel Land Memorial Park, Dallas.
Vaughan's funeral services were held on August 31, 1990, at Laurel Land Cemetery in Dallas, Texas. His body was set in a wooden casket that quickly became adorned with bouquets of flowers, which was carried in a white hearse. An estimated 3,000 mourners were in attendance at the procession. Among attendees at the public ceremony were Jeff Healey, Charlie Sexton, ZZ Top, Colin James, Stevie Wonder, Bonnie Raitt, and Buddy Guy. Vaughan was entombed under a grave marker that reads: "Thank you… for all the love you passed our way."
Vaughan's most important work of his short-lived musical career is the album that he released after recovering from his substance abuse problem 'In Step'. The album consisted of songs written on his personal and spiritual evolution and earned him a Grammy.
Family Style, the Vaughan Brothers album was released in September and entered the charts at number seven. Family Style began a series of posthumous releases that were as popular as the albums Vaughan released during his lifetime. The Sky Is Crying, a collection of studio outtakes compiled by Jimmie, was released in October of 1991; it entered the charts at number ten and went platinum three months after its release. In the Beginning, a recording of a Double Trouble concert in 1980, was released in the fall of 1992 and the compilation Greatest Hits was released in 1995. In 1999, Vaughan's original albums were remastered and reissued, with The Real Deal: Greatest Hits, Vol. 2 also appearing that year. 2000 saw the release of the four-disc box SRV, which concentrated heavily on outtakes, live performances, and rarities.
Vaughan was inducted in the RRHOF alongside Double Trouble in 2015. Guitar World Magazine ranked him as no. 8 in its list of The 100 Greatest Guitarists. In 1994 the city of Austin, Texas erected the Stevie Ray Vaughan Memorial on the hiking trail beside Lady Bird Lake.
Information Source: