Jimmy Carter – 39th President of the United States
Full Name: James Earl Carter Jr.
Date of birth: October 1, 1924 (age 92)
Place of birth: Plains, Georgia, U.S.
Political party: Democratic
Father: James Earl Carter Sr.
Mother: Bessie Lillian Gordy
Spouse: Rosalynn Carter (m. 1946)
Children: Amy Carter, Donnel Carter, Jack Carter, James Carter
Early Life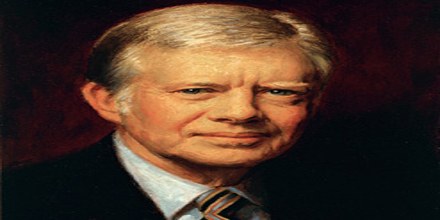 James Earl "Jimmy" Carter Jr. was born on October 1, 1924, in Plains, Georgia, U.S. He was 39th president of the United States (1977-81) and served as the nation's chief executive during a time of serious problems at home and abroad. Carter's perceived mishandling of these issues led to defeat in his bid for reelection. He later turned to diplomacy and advocacy, for which he was awarded the Nobel Prize for Peace in 2002.
Carter, a Democrat raised in rural Georgia, was a peanut farmer who served two terms as a Georgia State Senator, from 1963 to 1967, and one as the Governor of Georgia, from 1971 to 1975. He was elected President in 1976, defeating incumbent President Gerald Ford in a relatively close election; the Electoral College margin of 57 votes was the closest at that time since 1916.
During Carter's term as President, two new cabinet-level departments, the Department of Energy and the Department of Education were established. He established a national energy policy that included conservation, price control, and new technology. In foreign affairs, Carter pursued the Camp David Accords, the Panama Canal Treaties, the second round of Strategic Arms Limitation Talks (SALT II), and the return of the Panama Canal Zone to Panama. On the economic front he confronted persistent "stagflation", a combination of high inflation, high unemployment and slow growth. The end of his presidential tenure was marked by the 1979–1981 Iran hostage crisis, the 1979 energy crisis, the Three Mile Island nuclear accident, and the Soviet invasion of Afghanistan. In response to the Soviet move he ended détente, escalated the Cold War, and led the international boycott of the 1980 Summer Olympics in Moscow. By 1980, Carter's popularity had eroded such that, running for re-election that year, he was challenged by Senator Ted Kennedy in the Democratic Party's primaries for the presidential nomination, marking the most recent Democratic primary in which an incumbent faced serious opposition. Carter won the 1980 primary with 51.13% of the vote (all incumbent candidates since have won at least 72.8% of their party's primary votes) but lost the general election in an electoral landslide to Republican nominee Ronald Reagan, who won 44 of 50 states.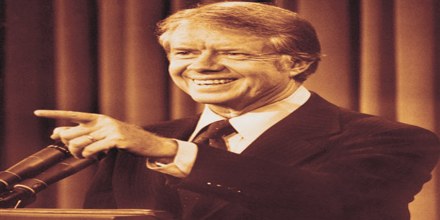 His presidency has drawn medium-low responses from historians, with many considering him to have brought greater accomplishment with his post-presidency work. He set up the Carter Center in 1982 as his base for advancing human rights. He has also traveled extensively to conduct peace negotiations, observe elections, and advance disease prevention and eradication in developing nations. Additionally, Carter is a key figure in the Habitat for Humanity project. He has been the longest-retired president in American history since September 2012, when he surpassed Herbert Hoover. He is also the first president to mark the 40th anniversary of his election and inauguration.
Childhood and Educational Life
James Earl Carter Jr. was born on October 1, 1924 in Plains, Georgia. His father, James Earl Carter Sr., was a hardworking peanut farmer who owned his own small plot of land as well as a warehouse and store. His mother, Bessie Lillian Gordy, was a registered nurse who in the 1920s had crossed racial divides to counsel black women on health care issues. When Jimmy Carter was four years old, the family relocated to Archery, a town approximately two miles from Plains. It was a sparsely populated and deeply rural town, where mule-drawn wagons remained the dominant mode of transportation and electricity and indoor plumbing were still uncommon. Carter was a studious boy who avoided trouble and began working at his father's store at the age of ten. His favorite childhood pastime was sitting with his father in the evenings, listening to baseball games and politics on the battery-operated radio.
Carter attended the Plains High School from 1930 to 1941. In 1941, Jimmy Carter became the first person from his father's side of the family to graduate from high school.
Carter studied engineering at Georgia Southwestern Junior College before joining the Naval ROTC program to continue his engineering studies at the Georgia Institute of Technology. He then applied to the highly competitive Naval Academy in Annapolis, Maryland, which accepted him to begin studies in the summer of 1943. With his reflective, introverted personality and small stature (Carter stood only five feet, nine inches tall), he did not fit in well among his fellow midshipmen. Nevertheless, Carter continued to excel at academics, graduating in the top ten percent of his class in 1946.
Personal Life
In July 1953, Carter's father passed away from pancreatic cancer and in the aftermath of his death, the farm and family business fell into disarray. Although Rosalynn initially objected, Carter moved his family back to rural Georgia so he could care for his mother and take over the family's affairs. In Georgia, Carter resuscitated the family farm and became active in community politics, winning a seat on the Sumter County Board of Education in 1955 and eventually becoming its chairman.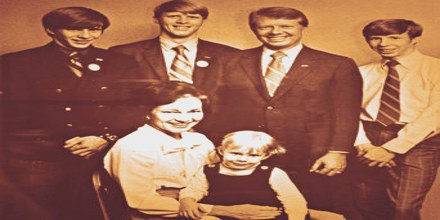 During his time in the navy he also met Rosalynn Smith (1927–), whom he married on July 7, 1947. Together, they have three sons, one daughter, eight grandsons, three granddaughters, and two great-grandsons. They celebrated their 65th wedding anniversary in July 2011, making them the second-longest wed Presidential couple after George and Barbara Bush. Their eldest son Jack Carter was the 2006 Democratic candidate for U.S. Senate in Nevada before losing to the Republican incumbent, John Ensign. Carter's grandson Jason Carter is a former Georgia State Senator and in 2014 was the Democratic candidate for governor of Georgia, losing to the Republican incumbent, Nathan Deal. On December 20, 2015, while teaching a Sunday school class, Carter announced that his 28-year-old grandson Jeremy Carter had died from an unspecified illness.
Naval Career
In 1942 he was appointed to the United States Naval Academy at Annapolis. Carter entered the academy in 1943 and showed a special talent for electronics and naval tactics. He would eventually work on the nation's first nuclear-powered submarines.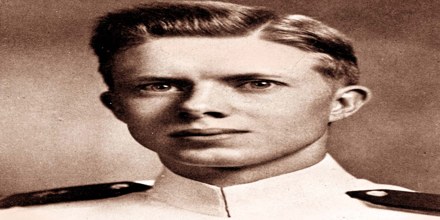 In 1948 he began officers' training for submarine duty, served aboard the USS Pomfret. He was promoted to lieutenant junior grade in 1949. In 1951 he became attached to the diesel/electric USS K-1, (a.k.a. USS Barracuda), qualified for command, and served in several duties including Executive Officer.
After a training program in Norfolk, Virginia, they moved out to Pearl Harbor, Hawaii, where Carter was an electronics officer on the USS Pomfret. After subsequent postings to Groton, Connecticut; San Diego, California and Washington, D.C., in 1952 Carter was assigned to work with Admiral Hyman Rickover developing a nuclear submarine program in Schenectady, New York. The brilliant and notoriously demanding admiral made a profound impression on Carter. "I think, second to my own father, Rickover had more effect on my life than any other man," he later said.
Political Career
The 1950s were a period of great change in the American South. In the landmark 1954 case Brown v. Board of Education, the United States Supreme Court unanimously ordered the desegregation of public schools, and in the aftermath of that decision civil rights protestors vociferously demanded an end to all forms of racial discrimination. However, politics in the rural South still largely reflected the reactionary racial outlook of the "Old South." Carter was the only white man in Plains to refuse to join a segregationist group called the White Citizens' Council, and shortly afterward he found a sign on the front door of his home that read: "Coons and Carters go together."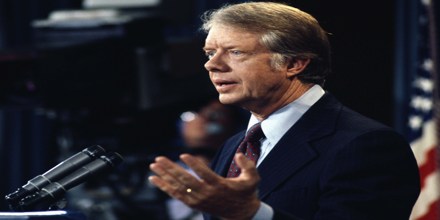 Carter's interest in politics may have come from his father, who had served in the Georgia legislature. In 1962 he ran for a seat in the Georgia Senate and defeated his Republican opponent by approximately one thousand votes. As a state senator, Carter promised to read every single bill that came up. When it looked as if he would not be able to keep this promise because of the large number of bills, he took a speed reading course to solve the problem.
In one precinct, 420 ballots were cast even though only 333 were issued. Carter appealed the outcome and a Georgia judge discarded the fraudulent votes and declared Carter the winner. As a two-term state senator, Carter earned a reputation as tough and independent politician, curbing wasteful spending and steadfastly supporting civil rights. He earned a reputation as an effective legislator and was reelected to the state senate in 1964.
When he was elected governor, Carter announced his intention to help all poor and needy Georgians, regardless of race. This speech won Carter national attention for the first time. He called for an end to prejudice (unequal treatment based on a person's race) and for education, jobs, and "simple justice" for the poor. As governor, he signed into law a bill ensuring that all areas of Georgia would have equal state aid for education. Carter also worked to cut government waste, combining three hundred state agencies into only thirty. The number of African American appointees on state boards and agencies increased, and the number of African American state employees rose by 40 percent. During his term, laws were passed to protect historical sites, to conserve the environment, and to encourage openness in government.
Governors were limited to one term under Georgia law, though, so Carter almost immediately began positioning himself for the 1970 gubernatorial election. This time around, Carter ran a campaign specifically targeted at the white rural voters who had rejected him as too liberal in 1966. Carter publicly opposed busing as a method of integrating public schools, limited public appearances with black leaders and actively courted the endorsements of several noted segregationists, including Governor Maddox. He so completely reversed his staunch commitment to civil rights that the liberal Atlanta Constitution Journal called him an "ignorant, racist, backward, ultra-conservative, red-necked South Georgia peanut farmer." Nevertheless, the strategy worked, and in 1970 Carter defeated Carl Sanders to become governor of Georgia.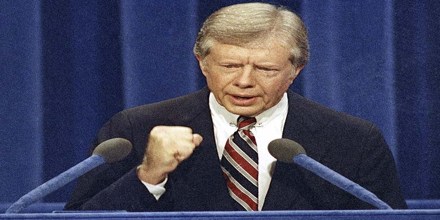 Carter became increasingly involved in national Democratic Party politics. In 1972 he headed the Democratic Governors Campaign Committee, and in 1974 he was chair of the Democratic National Campaign Committee. That same year Carter officially declared his intention to run for president in 1976, even though he was still little known outside the state of Georgia. As late as October 1975 a public opinion poll on possible Democratic candidates did not even list his name. Carter's rise to national prominence began in January 1976 with his intensive and industrious campaigning. By March he was the top choice among Democrats to run for president.
On the National Stage (Presidential Election)
Always forward-thinking, Carter carefully observed the national political currents of the 1970s. After the liberal George McGovern got pounded by Republican Richard Nixon in the 1972 presidential election, Carter decided the Democrats needed a centrist figure to regain the presidency in 1976. When the Watergate scandal shattered American confidence in Washington politics, Carter further concluded that the next president would need to be an outsider. He thought he fit the bill on both counts.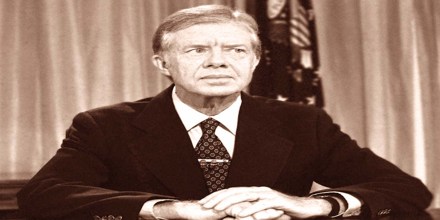 Jimmy Carter was one of ten candidates for the Democratic presidential nomination in 1976, and at first he was probably the least well known. However, in a time of deep frustration with establishment politicians, Carter's anonymity proved an advantage. He campaigned on such centrist themes as reducing government waste, balancing the budget and increasing government assistance to the poor. However, the centerpieces of Carter's appeal were his outsider status and his integrity. "I'll never tell a lie," Carter famously declared. "I'll never avoid a controversial issue." Another of his pithy campaign slogans was "A Leader, For a Change." These themes hit home with an electorate feeling betrayed by its own government during the Watergate scandal.
Carter secured the Democratic nomination to challenge the Republican incumbent Gerald Ford, Nixon's erstwhile vice president, who had assumed the presidency when Nixon resigned in the aftermath of Watergate. Although Carter entered the race with a double-digit lead over the unexciting Ford, he made several gaffes that narrowed the polls. Most prominently, in an interview with Playboy, Carter admitted to committing adultery "in his heart" and made several other glib remarks about sex and infidelity that alienated many voters. Although the election turned out much closer than initially expected, Carter nevertheless won to become the 39th President of the United States of America.
Carter's presidency began well. Congress approved his plans to dissolve or combine federal agencies that provided similar services and passed legislation aimed at lowering income taxes. In August 1977 his proposal to establish the Department of Energy as a new executive department was adopted. Unfortunately, inflation (a general increase in prices that reduces the value of money) continued to rise during his term, reaching 15 percent by mid-1980.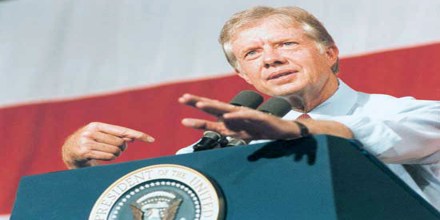 Carter became more unpopular as a result. A July 1980 poll showed that only 21 percent of those responding approved of the job he was doing, the lowest rating recorded for any American president.
Carter's term was also marked by mixed success in foreign affairs. In 1977 he attracted worldwide attention and praise when he cut off United States aid to nations believed to have committed human rights violations. However, two 1977 treaties dealing with the Panama Canal earned him mixed reviews. The treaties promised to give control of the canal to Panama at the end of 1999 and ensured neutrality of the waterway. Carter also helped in the creation of a peace treaty between Israel and Egypt in 1979 at Camp David, Maryland. With Carter as witness, President Anwar el-Sadat (1918–1981) and Prime Minister Menachem Begin (1913–1992) signed a pact that ended war between the two countries.
Carter's most dramatic moments in foreign policy affairs began in November 1979 when a group of students seized the United States embassy in Teheran, Iran, and took fifty-two U.S. citizens captive. When Carter's responses—including stopping all imports from Iran—did not resolve the situation, he ordered an armed rescue in April 1980, which failed and led to the deaths of eight marines. The hostages were finally released on the last day that Carter held office. Carter had run for reelection in 1980, but he was defeated by former California governor Ronald Reagan (1911–) by a wide margin.
In 1979, Carter deregulated the American beer industry by making it legal to sell malt, hops, and yeast to American home brewers for the first time since the effective 1920 beginning of Prohibition in the United States. This Carter deregulation led to an increase in home brewing over the 1980s and 1990s that by the 2000s had developed into a strong craft microbrew culture in the United States, with 3,418 micro breweries, brewpubs, and regional craft breweries in the United States by the end of 2014.
Carter made twelve international trips to twenty-five countries during his presidency. Carter was the first president to make a state visit to Sub-Saharan Africa when he went to Nigeria in 1978. His travel also included trips to Europe, Asia, and Latin America. He made several trips to the Middle East to broker peace negotiations. His December 31, 1977 – January 1, 1978 visit to Iran took place less than a year before the overthrow of Shah Mohammad Reza Pahlavi.
In 1981, Carter returned to Georgia to his peanut farm, which he had placed into a blind trust during his presidency to avoid even the appearance of a conflict of interest. He found that the trustees had mismanaged the trust, leaving him more than one million dollars in debt. In the years that followed, he has led an active life, establishing the Carter Center, building his presidential library, teaching at Emory University in Atlanta, Georgia, and writing numerous books. He has also contributed to the expansion of Habitat for Humanity, to build affordable housing. Since early September 2012, Carter has been alive longer after leaving the White House than any other U.S. President.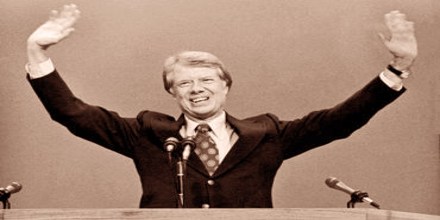 Criticism of U.S. policy
In 2001, Carter criticized President Bill Clinton's controversial pardon of Marc Rich, calling it "disgraceful" and suggesting that Rich's financial contributions to the Democratic Party were a factor in Clinton's action.
In June 2005, Carter urged the closing of the Guantanamo Bay Prison in Cuba, which has been a focal point for recent claims of prisoner abuse.
In September 2006, Carter was interviewed on the BBC's current affairs program Newsnight, voicing his concern at the increasing influence of the Religious Right on US politics.
In September 2009, Carter put weight behind allegations by Venezuelan President Hugo Chávez, pertaining to United States involvement in the 2002 Venezuelan coup d'état attempt by a civilian-military junta, saying that Washington knew about the coup and may have taken part.
On June 16, 2011, the 40th anniversary of Richard Nixon's official declaration of America's War on Drugs, Carter wrote an op-ed in The New York Times urging the United States and the rest of the world to "Call Off the Global War on Drugs", explicitly endorsing the initiative released by the Global Commission on Drug Policy earlier that month and quoting a message he gave to Congress in 1977 saying that "penalties against possession of a drug should not be more damaging to an individual than the use of the drug itself."
Iran Hostage Crisis
Probably the biggest factor in Carter's declining political fortunes, however, was the Iranian Hostage Crisis. In November 1979, radical Iranian students seized the United States Embassy in Tehran, taking 66 Americans hostage. Carter's failure to negotiate the hostages' release, followed by a badly botched rescue mission, made him look like an impotent leader who had been outmaneuvered by a group of radical students. The hostages were held for 444 days before finally being released on the day Carter left office.
Ronald Reagan, the former actor and governor of California, challenged Carter for the presidency in 1980. Reagan ran a smooth and effective campaign, simply asking voters, "Are you better off than you were four years ago?" Most were not; Reagan crushed Carter in the 1980 election, which was essentially a referendum on a failed presidency. As the New York Times put it, "On Election Day, Mr. Carter was the issue."
After the presidency
Carter has devoted his career since leaving office to trying to achieve peace and help humanity. In 1981 he established the Carter Center, which sponsors a number of programs, including the promotion of human rights in third-world countries and maintaining detailed medical records for local Atlanta children. The Carter Center also monitors elections in newly democratic countries and works to fight disease. In addition to these efforts, Carter and his wife, Rosalynn, have spent their summers volunteering to build housing for the poor through the Habitat for Humanity organization.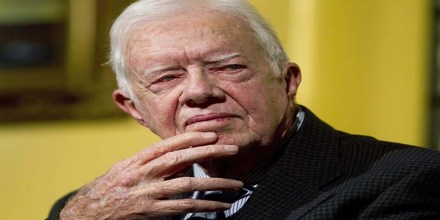 Carter remains involved in international relations as well. In 1990 he persuaded Nicaraguan opposition leader Daniel Ortega (1945–) to step down and let an elected president step in. In the early 1990s Carter brought messages from Somali warlord Mohamed Farrah Aidid (1934–1996) to President Bill Clinton (1946–) that helped avoid a military conflict. In June 1994 Carter negotiated with North Korean dictator Kim Il Sung (1912–1994) to freeze his country's nuclear weapons program.
Carter had been criticized for his handling of foreign relations during his presidency, but his tireless work on all kinds of issues since leaving office has earned him great praise. In 1999 Carter was awarded with the Presidential Medal of Freedom, the nation's highest honor for private citizens. In 2002 he was awarded the Nobel Peace Prize for his continuing efforts to bring peace to warring countries, to advance human rights, and to promote economic development in poor countries.
On August 12, 2015, Carter underwent surgery to remove a mass from his liver and discovered that he has cancer. In a statement, he said: "Recent liver surgery revealed that I have cancer that now is in other parts of my body. I will be rearranging my schedule as necessary so I can undergo treatment by physicians at Emory Healthcare."
A week later on August 20th, Carter held a news conference with his wife Roslyn by he side where he said doctors had found melanoma, "four very small spots," on his brain. He explained that he would begin radiation treatment that day and would have to alter his busy schedule "fairly dramatically."
"I'm perfectly at ease with whatever comes," the former president said, adding that he has led "a wonderful life." "Now I feel it's in the hands of God."
In early December, Carter officially announced that an examination had revealed no trace of the four brain lesions. "My most recent MRI brain scan did not reveal any signs of the original cancer spots nor any new ones," he stated.
Honours
A major accomplishment of The Carter Center has been the elimination of more than 99 percent of cases of Guinea worm disease, from an estimated 3.5 million cases in 1986 to 148 reported cases in 2013 to 23 in 2015 The Carter Center has monitored 96 elections in 38 countries since 1989. It has worked to resolve conflicts in Haiti, Bosnia, Ethiopia, North Korea, Sudan and other countries. Carter and the Center support human rights defenders around the world and have intervened with heads of state on their behalf.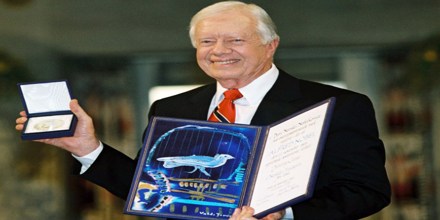 In 2002, President Carter received the Nobel Peace Prize for his work "to find peaceful solutions to international conflicts, to advance democracy and human rights, and to promote economic and social development" through The Carter Center. Three sitting presidents, Theodore Roosevelt, Woodrow Wilson, and Barack Obama, have received the prize; Carter is unique in receiving the award for his actions after leaving the presidency. He is, along with Martin Luther King Jr., one of only two native Georgians to receive the Nobel Prize.
Carter has received numerous awards and accolades since his presidency, and several institutions and locations have been named in his honor. His presidential library, Jimmy Carter Library and Museum was opened in 1986. In 1998, the U.S. Navy named the third and last Seawolf-class submarine honoring former President Carter and his service as a submariner officer. It became one of the few Navy vessels to be named for a person living at the time of naming. That year he also received the United Nations Human Rights Prize, given in honor of human rights achievements, and the Hoover Medal, recognizing engineers who have contributed to global causes. He won the 2002 Nobel Peace Prize, which was partially a response to President George W. Bush's threats of war against Iraq and Carter's criticism of the Bush administration.
Carter has been nominated seven times for the Grammy Award for Best Spoken Word Album for audio recordings of his books, and has won twice—for Our Endangered Values: America's Moral Crisis (2007) and A Full Life: Reflections at Ninety (2016).
The Souther Field Airport in Americus, Georgia was renamed Jimmy Carter Regional Airport in 2009.