Biography of Desi Arnaz
Desi Arnaz – American actor, musician, and television producer.
Name: Desiderio Alberto Arnaz y de Acha III
Date of Birth: March 2, 1917
Place of Birth: Santiago de Cuba, Cuba
Date of Death: December 2, 1986 (aged 69)
Place of Death: Del Mar, California, United States
Occupation: Actor, musician, producer
Father: Desiderio Alberto Arnaz II
Mother: Dolores De Acha
Spouse/Ex: Lucille Ball (m. 1940; div. 1960), Edith Mack Hirsch (m. 1963; died 1985)
Children: Desi Arnaz, Jr., Lucie Arnaz
Early Life
A famous musician, actor, and television producer of America, Desi Arnaz was born on March 2, 1917, in Santiago, Cuba. He is best remembered for his role as Ricky Ricardo on the American television series sitcom 'I Love Lucy'. He co-starred on that show with dramatic and comedic actress Lucille Ball (1911-1989), to whom he was married at the time. He and Ball are generally credited as the inventors of the syndicated rerun, which they pioneered with the 'I Love Lucy' series.
Yet before he became an international star, Arnaz was known primarily as a musician, not an actor or executive. It was Arnaz who may have done more to popularize the conga in the United States than any other figure, leading an orchestra that mixed Latin-Cuban music with big-band pop and putting it over to the masses with his irresistibly good-natured, melodramatic vocals. He's attracted far less critical acclaim than more ambitious Latin-American hybrids like Machito, the Dizzy Gillespie Orchestra of the late '40s, or his one-time mentor Xavier Cugat, but his recordings contain a surprising amount of shake-em-loose verve.
Arnaz was the founder of the successful Latin music band, the Desi Arnaz Orchestra. This orchestra introduced America to conga, a Latin-American dance that received huge popularity. It was Xavier Cugat, a prominent figure of Latin music, who noticed him for his potentiality as a musician. His single "Babalu" is regarded as his signature song. Together with his wife Lucille Ball, he formed Desilu Productions whose works include organizing both of their programs on stage, screens, and radio. Under this production, he produced several television series like 'The Ann Sothern Show' and 'The Untouchables'. This production house also produced feature films like 'Forever, Darling'. As an influential producer, he is credited for his innovative ideas like a multi-camera sitcom and organizing live shows before the audience at the studio through his production of 'I Love Lucy'. As an actor, he will be remembered for his outstanding performance in American television series 'I Love Lucy' as Ricky Ricardo. He also acted in several films such as 'Father Takes a Wife' and 'The Navy Comes Through'. His role as a dying soldier in 'Bataan' brought him wide recognition as a skilled actor.
Childhood, Family and Educational Life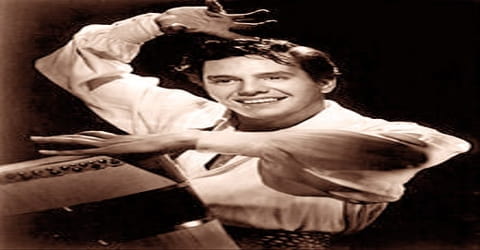 Desiderio Alberto Arnaz y de Acha III, better known as Desi Arnaz or Desi Arnaz, Sr., was born on March 2, 1917 in Santiago, Cuba, to Desiderio Alberto Arnaz y de Alberni II (March 8, 1894 – May 31, 1973) and his wife Dolores de Acha (April 2, 1896 – October 24, 1988). His father Desiderio was mayor of Santiago and a wealthy property owner whose holdings included a cattle ranch, two dairy farms, and a villa on a small island in Santiago Bay. Desi's mother, the former Dolores de Acha, was the daughter of one of the founders of the Bacardi rum company.
Arnaz belonged to an affluent family that owned three ranches, a palatial home and a vacation mansion situated on a private island in Santiago Bay, Cuba. After the Cuban Revolution in 1933, Alberto, his father was imprisoned and their entire property was confiscated. When his father was released, the family escaped Miami, Florida. After reaching Florida, Desi took admission at St. Patrick Catholic High School. In an attempt to improve his English, he attended Saint Leo Prep, situated near Tampa in 1934. At the same time, he used to play guitar at the Roney Plaza Hotel. As a teenager, Arnaz was expected to attend college before embarking on a career in law and politics.
While living in Cuba with his parents, this multi-talented personality ate cans of pork-and-beans to save money and during that time, Arnaz used to clean bird cages for a man to earn money.
Personal Life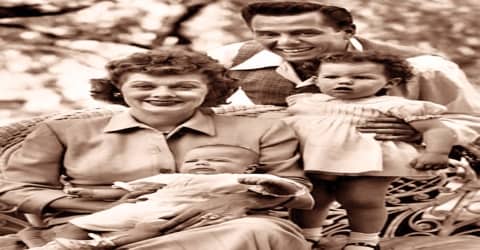 On November 30, 1940, Arnaz married Lucille Ball, an actress. They led an unhappy married life. They had two children, Lucie Arnaz, an actress and Desi Arnaz, Jr., an actor. Ball divorced him in 1960, owing to his problems with alcohol and womanizing. At that time, he was suffering from diverticulitis.
Arnaz married his second wife, Edith Eyre Hirsch (née McSkimming), on March 2, 1963, and greatly reduced his show business activities. He served as executive producer of The Mothers-in-Law, and during its two-year run, made four guest appearances as a Spanish matador, Señor Delgado. Edith died in 1985, aged 67, from cancer. Although both Arnaz and Ball married other spouses after their divorce in 1960, they remained friends and grew closer in his final decade. "I Love Lucy was never just a title", wrote Arnaz in the last years of his life. Family home video later aired on television showed Ball and Arnaz playing together with their grandson Simon shortly before Arnaz's death.
Career and Works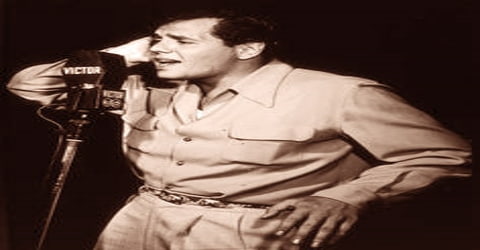 In June 1934, the 17-year-old Desi Arnaz arrived in America and was greeted by his father, who had established an import-export company with two other refugees in Miami. To save money, the father and son lived in the company warehouse and ate cans of pork-and-beans. They used baseball bats to ward off the rats that scurried through the building. After school, young Arnaz worked cleaning bird cages for a man who sold canaries on consignment in area drug stores.
When Xavier Cugat, a Spanish-American bandleader, discovered his musical potential, Desi Arnaz got the offer of performing as part of Cugat orchestra. In December 1937, he formed his own band, the Desi Arnaz Orchestra in Miami Beach. The band helped him to get recognition in the music industry of that country and he got the offer to give audition for a Broadway musical 'Too Many Girls' in 1939.
Arnaz went to Hollywood the next year to appear in the show's movie version at RKO, which starred Lucille Ball. Arnaz and Ball eloped on November 30, 1940. He also played guitar for Xavier Cugat. Arnaz appeared in several movies in the 1940s such as Bataan (1943). He received his draft notice, but before reporting, he injured his knee. He completed his recruit training but was classified for limited service in the United States Army during World War II. Arnaz was assigned to direct United Service Organization (U.S.O.) programs at a military hospital in the San Fernando Valley. Discovering the first thing the wounded soldiers requested was a glass of cold milk, he arranged for movie starlets to meet them and pour the milk for them. Following his discharge from the Army, he formed another orchestra, which was successful in live appearances and recordings. Arnaz sang for troops in Birmingham Hospital with John Macchia and hired his childhood friend Marco Rizo to play piano and arrange for the orchestra. When he became successful in television, he kept the orchestra on his payroll, and Rizo arranged and orchestrated the music for 'I Love Lucy'.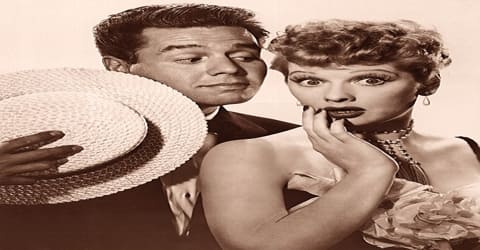 "Lucy and Desi's first scene together in the movie Too Many Girls required him to take one glance at her and swoon dead away in ecstasy," commented Warren G. Harris in Lucy & Desi. "It didn't take much acting skill; by then, they were already in love in real life." The relationship was passionate and tumultuous from the start, punctuated by clashes of temper and jealousy. Many of the disagreements centered on Arnaz's flirtatious nature. Still, they came to care deeply for one another. Arnaz called her "Lucy" even though she had long called herself "Lucille." "I didn't like the name Lucille," Arnaz recalled in his autobiography. "That name had been used by other men. 'Lucy' was mine alone."
In May 1943, Arnaz received his draft notice to serve in World War II. As part of the Army, he took the responsibility to direct United Service Organization programs at a military hospital in San Fernando Valley. After his discharge from service in the Army, he organized a new orchestra that achieved immense success with live appearances and recordings. In 1946, he performed his single "Babalu" that received critical acclaim.
Arnaz' officially shortened his name during his stint in the service (from Desiderio Alberto Arnaz y de Acha to Desi Arnaz). When his military service concluded, he returned to Hollywood, only to find his opportunities limited by his heavy accent. Despite critical acclaim for his performance in the movie Batman and gossip columnist Louella Parson's prediction that he'd be the next Rudolph Valentino, Arnaz found it difficult to secure significant parts. The new 22-piece Arnaz Orchestra, though, was getting favorable reviews, and Arnaz eventually landed a role in the movie Cuban Pete, in which he was touted as "The Rhumba-Rhythm King."
In 1948, along with Lucille Ball, Arnaz started Desilu Productions that used to organize their programs on stage, screen, and radio. In the next year, he played a crucial role in developing "I Love Lucy', a successful television series that the CBS broadcast for six years. He acted as the bandleader for Bob Hope's radio show. Later, he hosted a musical quiz show titled 'Your Tropical Trip'. His Desilu Production produced several shows like 'The Andy Griffith Show', 'The Dick Van Dyke Show' and 'Star Trek'.
By 1950, Arnaz and Ball had both established themselves in the medium of radio. Arnaz first served as the bandleader for Bob Hope's radio show, then as host of the musical quiz show Your Tropical Trip; Ball portrayed the scatterbrained housewife on the radio serial My Favorite Husband. When the CBS television network decided to turn My Favorite Husband into a TV series, Ball insisted that Arnaz is cast as her husband. As the show's producer as well as its leading man, Arnaz helped bring movie-quality techniques to live television and negotiated a deal whereby Desilu retained full ownership of the show.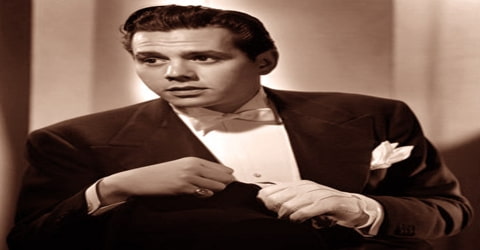 In the late 1950s, Arnaz proposed a Western television series to his then-neighbor, Victor Orsatti, who formed a production company, Ror-Vic, in partnership with actor Rory Calhoun. Ror-Vic produced The Texan, which aired on Monday evenings on CBS from 1958 to 1960. Episodes were budgeted at $40,000 each, with two black-and-white segments filmed weekly through Desilu Studios. Despite the name, the series was mostly in Pearl Flats in the Mojave Desert of Southern California. The program could have been renewed for a third season had Calhoun not desired to return to films.
When Ball sold her share of this production house, Desi Arnaz formed his own production company Desi Arnaz Productions that produced television sitcom 'The Mothers-In-Law'. This sitcom ran for two seasons from 1967 to 1968. Arnaz's company was succeeded-in-interest by the company now known as Desilu, Too. Desilu, Too and Lucille Ball Productions work hand-in-hand with MPI Home Video in the home video reissues of the Ball/Arnaz material not currently owned by CBS (successor-in-interest to Paramount Television, which in turn succeeded the original Desilu Company). This material includes Here's Lucy and The Mothers-In-Law, as well as many programs and specials Ball and Arnaz made independently of each other.
In 1955 I Love Lucy began re-broadcasting earlier episodes the first reruns ever shown of a current prime-time show because so many viewers with brand-new televisions had missed the show's early years. As the New York Times observed, "The appeal of reusable filmed programs led eventually to a seismic shift in television production from New York to Hollywood, and made the program's creators millionaires." In addition to I Love Lucy, Desilu produced such hits as Our Miss Brooks, The Untouchables, and The Danny Thomas Show. Arnaz and Ball also appeared together in movies such as The Long, Long Trailer and Forever, Darling. In 1957, Desilu bought RKO Studios, where he and Ball had met in 1940. By the mid-195Os Desilu was an empire that grossed about $15 million annually and employed 800 people.
In the latter part of 1970, he co-hosted a week of shows along with daytime host and producer Mike Douglas. He also made a guest appearance with his son Desi. Jr. on 'Saturday Night Live' to promote his autobiography "A Book".
Throughout the 1960s and 1970s, Arnaz remained active in show business. In 1967, he launched the NBC series The Mothers-in-Law, starring Eve Arden and Kaye Ballard. In 1976, Arnaz published his autobiography, A Book, which included an epilogue about Ball that stated, "I loved her very much and, in my own and perhaps peculiar way, I will always love her." Arnaz appeared on Saturday Night Live with Desi Jr. to promote the book.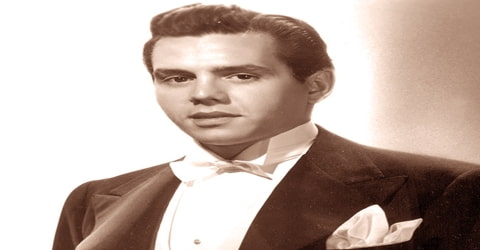 On March 2, 1960, Arnaz's forty-third birthday, I Love Lucy was brought to a close after 179 half-hour episodes, 13 one-hour specials and nine years on the air. Ending with the usual kiss-and-make-up ending, the last show gave no inkling about the state of the marriage off the air. On the following day, March 3, 1960, Ball filed for a divorce, which, for the sake of the two children, was amicable. Two years later, in 1962, Arnaz pulled out of Desilu Productions, selling his stock to Ball for $3 million. Running Desilu had "ceased to be fun," he said in his autobiography. "I was happier cleaning birdcages and chasing rats."
Desi Arnaz read Lewis Carroll's poem "Jabberwocky" in a heavy Cuban accent (he pronounced it "Habberwocky"). Desi Jr., played the drums and, supported by the SNL band, Desi sang both "Babalu" and another favorite from his dance band days, "Cuban Pete"; the arrangements were similar to the ones used on I Love Lucy. He ended the broadcast by leading the entire cast in a raucous conga line through the SNL studio. Arnaz and his wife eventually moved to Del Mar, California, where he lived the rest of his life in semi-retirement. He owned a horse-breeding farm in Corona, California, and raced thoroughbreds. He contributed to charitable and nonprofit organizations, including San Diego State University. He also taught classes at San Diego State in studio production and acting for television. Arnaz made a guest appearance on the TV series Alice, starring Linda Lavin and produced by I Love Lucy co-creators Madelyn Pugh (Madelyn Davis) and Bob Carroll, Jr.
Death and Legacy
Desi Arnaz used to smoke four to five Cuban cigars a day. This habit of Desi led him to suffer from lung cancer. His first wife Ball spent several hours with him before he lapsed into a coma. He died several months later on December 2, 1986, at the age of 69. Arnaz was cremated and his ashes scattered. His death came just five days before Ball received the Kennedy Center Honors. His second wife, Edith, had died a year earlier on March 23, 1985.
Desi Arnaz acted in 'I Love Lucy', an American television situation comedy that was broadcast from October 15, 1951, to May 6, 1957, on the CBS. Its story depicts the life of Lucy Ricardo and her bandleader husband Ricky Ricardo. The show won five Emmy Awards.
Desi Arnaz has two stars on the Hollywood Walk of Fame: one at 6301 Hollywood Boulevard for contributions to motion pictures and one at 6250 Hollywood Boulevard for television. Unlike his co-stars, Arnaz was never nominated for an Emmy for his performance in ''I Love Lucy'', something that remains surprising to this day. However, in 1956, he won a Golden Globe for Best Television Achievement, in honor of helping shape the American Comedy, due to his contributions of being in front and behind the camera of ''I Love Lucy''.
The Lucille Ball-Desi Arnaz Center museum is in Jamestown, New York, and the Desi Arnaz Bandshell in the Lucille Ball Memorial Park is in Celoron, New York.
Information Source: