Date of Birth: 24 May 1941, Duluth, Minnesota, USA
Birth Name: Robert Allen Zimmerman
Father: Abram Zimmerman
Mother: Beatrice
Nationality: American
Awards
1973 – Grammy Award for Album of the Year The Concert
1980 – Grammy Award for Best Rock Vocal Performance – Male
1990 – Grammy Award for Best Rock Performance by a Duo or Group with Vocal
2016 – Nobel Prize in Literature
Bob Dylan is one of the most influential singer-songwriters of the 20th century whose career began in the early 1960s with songs that chronicled social issues like war and civil rights.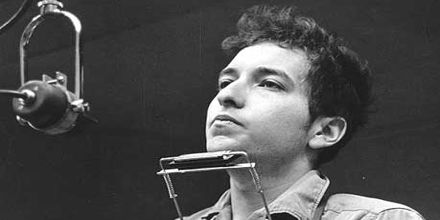 Bob Dylan in 1960's
Folk rock singer-songwriter Bob Dylan was born Robert Allen Zimmerman on May 24, 1941, in Duluth, Minnesota. While attending college, he began performing folk and country songs, taking the name "Bob Dylan." In 1961 Dylan signed his first recording contract and emerged as one of the most original and influential voices in the history of American popular music. Showing no signs of slowing down, Dylan has continued to tour in recent years, and released studio albums including Together Through Life (2009), Tempest (2012), Shadows in the Night (2015) and Fallen Angels (2016). The legendary singer-songwriter has received Grammy, Academy and Golden Globe awards, as well as the Presidential Medal of Freedom and the Nobel Prize for Literature.
Folk Singing
In 1960, Bob dropped out of college and moved to New York, where his idol, the legendary folk singer Woody Guthrie was hospitalized with a rare hereditary disease of the nervous system. He visited with Guthrie regularly in his hospital room; became a regular in the folk clubs and coffeehouses of Greenwich Village; met a host of other musicians; and began writing songs at an astonishing pace, including "Song to Woody," a tribute to his ailing hero. In the fall of 1961, after one of his performances received a rave review in The New York Times, he signed a recording contract with Columbia Records, at which point he legally changed his surname to Dylan. Released early in 1962, Bob Dylan contained only two original songs, but showcased Dylan's gravelly-voiced singing style in a number of traditional folk songs and covers of blues songs.
Bob Dylan in Early Age
Childhood & Early Life
He was born as Robert Allen Zimmerman to Abram Zimmerman and Beatrice Stone in Minnesota where he was raised in a close-knit Jewish community. He loved music from a young age and spent hours listening to the radio. He attended Hibbing High School and as a student played with many bands. He enrolled at the University of Minnesota in 1959. While in university he started performing at coffee houses and became active in the Dinkytown folk music circuit.
Career
He changed his name to "Bob Dylan" when he started performing. After quitting college in 1960 he went to New York City in 1961 in order to pursue a career in music. He started playing at clubs and explored the music scenario. His eponymous debut album, 'Bob Dylan' was released in 1962. It contained folk songs and two of Dylan's compositions. The album did not do well.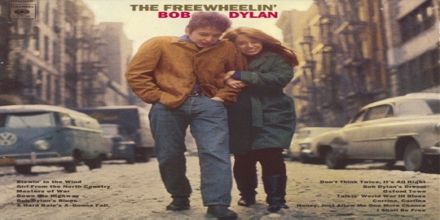 "The Freewheelin" by Bob Dylan (1963)
The next album he released, 'The Freewheelin' Bob Dylan' (1963) became a big hit in both the United States and the United Kingdom. The album was a combination of protest songs, love songs, and blues with social messages which greatly appealed to the audience and popularized the singer.
Over the 1960s he became immensely popular both as a song-writer and a singer. During this time he also actively became involved in the civil rights movement. One of his biggest hits, the single, 'Like a Rolling Stone' was released in 1965 which peaked at no. 1 in the UK charts. In the 1970s he ventured into films and starred in the 1973 Western drama 'Pat Garrett and Billy the Kid'. He also composed and sang several songs for the film. The film however was a failure at the box office. He embarked on a year-long world tour in 1978 in which he was accompanied by an eight piece band and three backing singers. He performed concerts in Japan, Europe and the US, giving a total of 114 shows. This tour earned him more than $20 million.
The prolific singer continued releasing albums, touring and performing stage shows well into the 2000s even though now he was in his sixties. Ever the music lover, he still keeps active and released the album 'Tempest' in 2012.
Recent Work & Honors
In 2006, Dylan released the studio album Modern Times. After hitting stores in late August, it reached the top of the album charts the next month. A mixture of blues, country, and folk, the album was praised for its rich sound and imagery. Several critics also remarked the album had a playful, knowing quality. Showing no signs of slowing down, Dylan continued to tour throughout the first decade of the 21st century, and released the studio album Together Through Life in April 2009.
In 2010, he released a bootleg album called The Witmark Demos, followed by a new boxed set entitled Bob Dylan: The Original Mono Recordings. In addition, he exhibited 40 of his original paintings for a solo show at the National Gallery of Denmark. In 2011, he released yet another live album, Bob Dylan in Concert – Brandeis University 1963, and in September 2012, released his newest studio album, Tempest. Shadows in the Night, a cover album of American standards, followed in 2015. A year later, Dylan released Fallen Angels, his thirty-seventh studio album which features more classic songs from the Great American Songbook.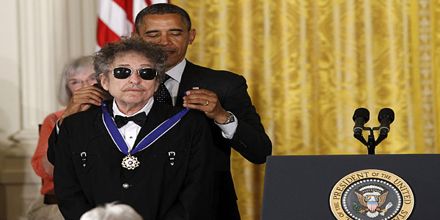 In addition to winning Grammy, Academy and Golden Globe awards, Dylan received the Presidential Medal of Freedom from President Barack Obama in 2012. On October 13, 2016, the legendary singer-songwriter also received the Nobel Prize in Literature, the first time the honor was bestowed on a musician. He became the first American to receive the honor since novelist Toni Morrison in 1993, and was lauded by the Swedish Academy "for having created new poetic expressions within the great American song tradition."
When he is not making music, Dylan has explored his talents as a visual artist. His paintings appear on the covers of his albums, Self Portrait (1970) and Planet Waves (1974), and he has published six books of his paintings and drawings, as well as exhibited his artwork around the world.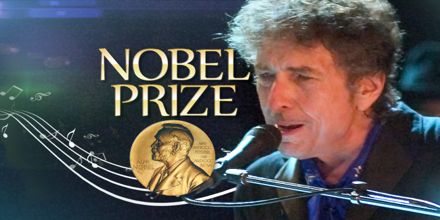 Awards & Achievements
Bob Dylan is the proud recipient of several awards. He has won 11 Grammy Awards, the most recent one being Best Solo Rock Vocal Performance for 'Someday Baby' in 2007.
He won the Academy Award for Best Original Song for 'Things Have Changed' from 'Wonder Boys' in 2000.
He received the Presidential Medal of Freedom—the highest civilian award of the United States—in May 2012.
Bob Dylan won the 2016 Nobel Prize in Literature "for having created new poetic expressions within the great American song tradition".
Personal Life
In addition to Baez, Dylan was at one point romantically linked to another singer, gospel icon Mavis Staples, and wished to marry her, though the two never took the trip down the aisle. Dylan and Lowndes, who married in 1965 and divorced in 1977, had four children together: Jesse, Anna, Samuel and Jakob. Dylan also adopted Lowndes's daughter, Maria, from a previous marriage. Jakob Dylan is now the lead singer of a popular rock band the Wallflowers.
Some Best works of Bob Dylan
'Like a Rolling Stone'
'A Hard Rain's A-Gonna Fall'
'Tangled Up in Blue'
'Just Like a Woman'
'All Along the Watchtower'
'I Shall Be Released'
'It's Alright, Ma (I'm Only Bleeding)'
'Mr. Tambourine Man'
'Every Grain of Sand'
'Visions of Johanna'