Angela Merkel – German Politician (Chancellor of Germany)
Full Name: Angela Dorothea Kasner
Date of birth: 17 July 1954 (age 62)
Place of birth: Hamburg, West Germany
Political party: Democratic Awakening (1989–1990), Christian Democratic Union (1990–present)
Office: Chancellor of Germany since 2005
Spouse: Joachim Sauer (m. 1998), Ulrich Merkel (m. 1977–1982)
Religion: Lutheranism
Early Life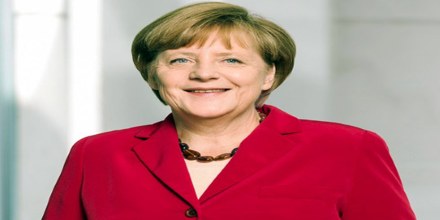 Angela Merkel, née Angela Dorothea Kasner was born on July 17, 1954, in Hamburg, West Germany. She is a German politician who in 2005 became the first female chancellor of Germany. She is also the leader of the Christian Democratic Union (CDU).
A former research scientist, she holds a doctorate in physical chemistry and has worked as a researcher and published several papers. She became interested in politics during the late 1980s and joined the new party Democratic Awakening which was formed after the fall of the Berlin Wall. She briefly served as the deputy spokesperson of the new pre-unification caretaker government under Lothar de Maizière. Following German reunification in 1990, she won a seat in the Bundestag (Germany's lower house) for Stralsund-Nordvorpommern-Rügen from the state of Mecklenburg-Vorpommern. Her political career thrived over the years and she went on to serve as the Minister for Women and Youth before becoming the Minister of Environment and Nuclear Safety after a few years. Articulate, intelligent and hardworking, it did not take her long to establish herself as a prominent political figure in the country. Eventually appointed the Secretary-General of the Christian Democratic Union of Germany, she went on to successfully challenge the Chancellor Gerhard Schröder in the 2005 national elections and assumed the office of Chancellor of Germany in November 2005.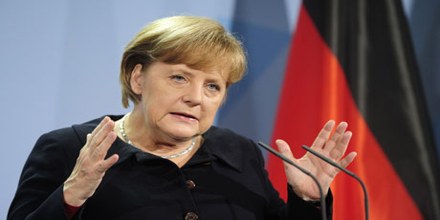 Merkel has been widely described as the de facto leader of the European Union throughout her tenure as Chancellor. Merkel has twice been named the world's second most powerful person by Forbes magazine, the highest ranking ever achieved by a woman. In December 2015, Merkel was named as Time magazine's Person of the Year, with the magazine's cover declaring her to be the "Chancellor of the Free World." On 26 March 2014, Merkel became the longest-serving incumbent head of government in the European Union and she is currently the senior G7 leader. In May 2016, Merkel was named the most powerful woman in the world for a record tenth time by Forbes. On 20 November 2016, Merkel announced she would seek re-election to a fourth term.
Childhood and Educational Life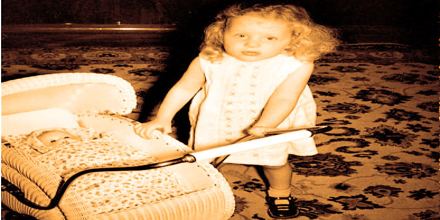 Angela Dorothea Kasner, better known as Angela Merkel, was born in Hamburg, West Germany, on July 17, 1954, to Horst Kasner and his wife Herlind. Her father was a Protestant theologian and her mother was a teacher who was once a member of the Social Democratic Party of Germany. From a young age Angela was interested in both religion and politics.
Angela Merkel is of Polish and German descent. Her paternal grandfather Ludwik Marian Kaźmierczak was a German policeman of Polish ethnicity, who had taken part in Poland's struggle for independence. He married Merkel's grandmother Margarethe, a German girl from Berlin, and relocated to her hometown where he worked in the police. In 1930 they Germanized the Polish name Kaźmierczak to Kasner. Merkel's maternal grandparents were the Danzig politician Willi Jentzsch and Gertrud Alma née Drange, a daughter of the city clerk of Elbing (now Elbląg, Poland) Emil Drange. Merkel has mentioned her Polish heritage on several occasions, but her Polish roots became better known as a result of a 2013 biography.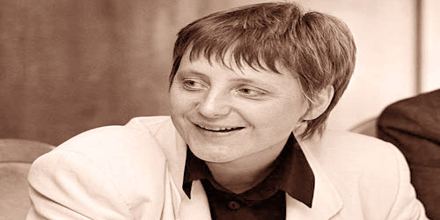 She proved to be a good student in school and excelled in Russian and mathematics. After completing her schooling she entered the University of Leipzig, where she studied physics from 1973 to 1978.
In 1978, she joined the Central Institute for Physical Chemistry of the Academy of Sciences in Berlin-Adlershof. She eventually earned a doctorate for her thesis on quantum chemistry in 1986 and remained associated with the academy as a researcher until 1990.
Meanwhile she had also ventured into politics in the late 1980s and joined the new party Democratic Awakening created in the wake of the Revolutions of 1989. The Democratic Awakening merged with the East German Christian Democratic Union (CDU) in 1990.
Personal Life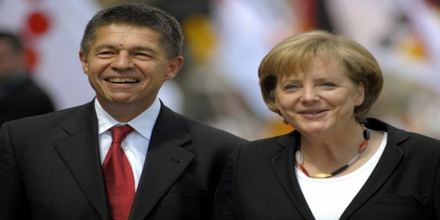 (Angela Merkel with her husband)
In 1977 at the age of 23, Angela Kasner married physics student Ulrich Merkel and took his surname. The marriage ended in divorce in 1982. Her second and current husband is quantum chemist and professor Joachim Sauer, who has largely remained out of the media spotlight. They first met in 1981, became a couple later and married privately on 30 December 1998. She has no children, but Sauer has two adult sons from a previous marriage. She is a fervent football fan and has been known to listen to games while in the Bundestag and to attend games of the national team in her official capacity.
On 6 January 2014, Merkel fractured a bone in her pelvis in a cross-country skiing accident in Switzerland.
Merkel has a fear of dogs after being attacked by one in 1995. Vladimir Putin brought in his pet Labrador during a press conference in 2007. Putin claims he did not mean to scare her, though Merkel later observed, "I understand why he has to do this – to prove he's a man. … He's afraid of his own weakness."
Political Career
In October 1990, the former East German states were reunified with the rest of Germany. Two months later, Merkel stood for election at the first post-reunification parliamentary elections and was elected to the Bundestag for the constituency of Stralsund – Nordvorpommern – Rügen.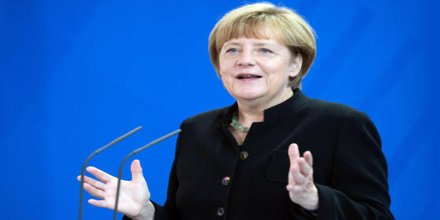 Soon after her election, she was appointed as the Minister for Women and Youth under Chancellor Helmut Kohl who became her mentor. Kohl gave her a more significant role in the cabinet in 1994 when she was promoted to Minister for the Environment and Nuclear Safety. She received greater political visibility in her new role which helped in accelerating her career.
In 1998, her mentor Kohl was defeated in the elections and stepped down accordingly. Weeks later, Merkel was appointed Secretary-General of the CDU and became the first woman to attain that post in party history.
She achieved even greater success in 2000 when she was elected to replace CDU Leader, Wolfgang Schäuble, becoming the first female leader of a German party. Her election came as a surprise to many as CDU was normally viewed as a male-dominated, socially conservative party.
As the CDU leader she enjoyed considerable popularity and advocated the implementation of significant reforms in Germany's economic and social system. She supported German labor law changes as she felt that existing laws limited the nation's competitiveness.
In the 2005 election, Merkel narrowly defeated Chancellor Gerhard Schröder, winning by just three seats, and after the CDU agreed a coalition deal with the Social Democrats (SPD), she was declared Germany's first female chancellor. Merkel is also the first former citizen of the German Democratic Republic to lead the reunited Germany and the first woman to lead Germany since it became a modern nation-state in 1871. She was elected to a second term in 2009.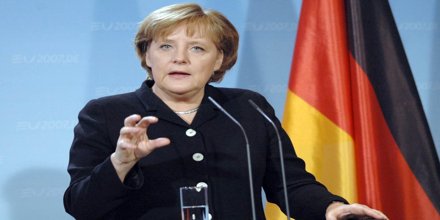 On 22 November 2005, Merkel assumed the office of Chancellor of Germany following a stalemate election that resulted in a grand coalition with the SPD. Her party was re-elected in 2009 with an increased number of seats, and could form a governing coalition with the FDP. In the election of September 2013 the CDU/CSU parties emerged as winners, but formed another grand coalition with the SPD due to the FDP's failure to obtain the minimum of 5% of votes required to enter parliament.
Angela Merkel assumed office as the Chancellor on 22 November 2005. She focused upon strengthening Germany's foreign relations and signed the agreement for the Transatlantic Economic Council on 30 April 2007 at the White House. She also signed a declaration with India which greatly boosted Indo-German relations.
In 2006 Merkel expressed concern about overreliance on Russian energy, but she received little support from others in Berlin.
Merkel favors the Association Agreement between Ukraine and the European Union; but stated in December 2012 that its implementation depends on reforms in Ukraine.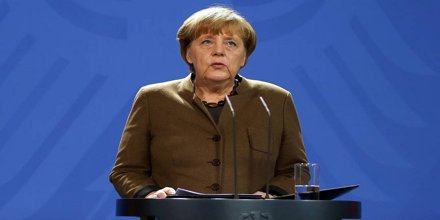 Merkel and Indian Prime Minister Manmohan Singh made a "Joint Declaration" emphasising the Indo-German strategic partnership in 2006. It turned the focus of future cooperation onto the fields of energy, science and technology, and defence. A similar Declaration, signed during Merkel's visit to India in 2007, noted the substantial progress made in Indo-German relations and set ambitious goals for their development in the future. The relationship with India on the basis of cooperation and partnership was further strengthened with Merkel's visit to India in 2011. At the invitation of the Indian government, the two countries held their first intergovernmental consultations in New Delhi. These consultations set a new standard in the implementation of the strategic partnership, as India became only the third non-European country with which Germany has had this nature of comprehensive consultations. India became the first Asian country to hold a joint cabinet meeting with Germany during Merkel's state visit.
In recognition of the importance of China to the German economy, by 2014 Merkel had led seven trade delegations to China since assuming office in 2005. The same year, in March, China's President Xi Jinping visited Germany.
Merkel made headlines in October 2013 when she accused the U.S. National Security Agency of tapping her cell phone. At a summit of European leaders she chided the United States for this privacy breech, saying that "Spying among friends is never acceptable." Later reports revealed that the NSA may have been surveilling Merkel since 2002. Merkel was sworn in for a third term in December 2013.
In 2015, with the absence of Stephen Harper, Merkel became the only leader to have attended every G20 meeting since the very first in 2008, having been present at a record eleven summits as of 2016. She is expected to host the 2017 G20 Hamburg summit. In 2016, following the election of Donald Trump to the U.S. presidency, Merkel was described by The New York Times as "the Liberal West's Last Defender" and by Timothy Garton Ash as "the leader of the free world." U.S. President Barack Obama described her in 2016 as his "closest international partner" throughout his tenure as President.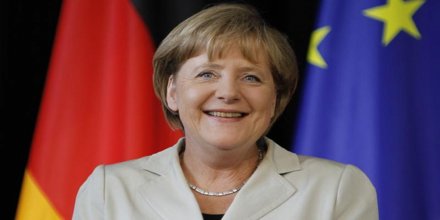 The first Cabinet of Angela Merkel was sworn in at 16:00 CET on 22 November 2005. On 31 October 2005, after the defeat of his favoured candidate for the position of Secretary General of the SPD, Franz Müntefering indicated that he would resign as party chairman, which he did in November. Ostensibly responding to this, Edmund Stoiber (CSU), who was originally nominated as Minister for Economics and Technology, announced his withdrawal on 1 November 2005. While this was initially seen as a blow to Merkel's attempt at forming a viable coalition, the manner in which Stoiber withdrew earned him much ridicule and severely undermined his position as a Merkel rival. Separate conferences of the CDU, CSU, and SPD approved the proposed Cabinet on 14 November 2005. The second Cabinet of Angela Merkel was sworn in on 28 October 2009.
A much-respected politician by now, she easily won a third term as the Chancellor and the third Cabinet of Angela Merkel was sworn in on 17 December 2013. In August 2015, she reportedly indicated that she would run for a fourth term in 2017.
As a female politician from a centre right party who is also a scientist, Merkel has been compared by many in the English-language press to former British Prime Minister Margaret Thatcher. Some have referred to her as "Iron Lady", "Iron Girl", and even "The Iron Frau" (all alluding to Thatcher, whose nickname was "The Iron Lady"—Thatcher also had a science degree from Oxford University in chemistry).
Awards and Honours
National honours
Germany: Grand Cross of the Order of Merit of the Federal Republic of Germany, Special Class
India: Recipient of the Jawaharlal Nehru Award for International Understanding
Israel: Recipient of the President's Medal
Italy: Grand Cross of the Order of Merit of the Italian Republic
Norway: Knight Grand Cross of the Royal Norwegian Order of Merit
Peru: Grand Cross of the Order of the Sun of Peru
Portugal: Grand Cross of the Order of Prince Henry
Saudi Arabia: Knight Grand Officer of the Order of Abdulaziz al Saud
United States: Recipient of the Presidential Medal of Freedom
Honorary degrees
In 2007, Merkel was awarded an honorary doctorate from the Hebrew University of Jerusalem.
In June 2008, she was awarded the honorary doctorate from Leipzig University.
University of Technology in Wrocław (Poland) in September 2008 and Babeş-Bolyai University from Cluj-Napoca, Romania on 12 October 2010 for her historical contribution to the European unification and for her global role in renewing international cooperation.
On 23 May 2013, she was awarded an honorary doctorate from the Radboud University Nijmegen.
In November 2013, she was awarded the Honorary Doctorate (Honoris Causa) title by the University of Szeged.
In November 2014, she was awarded the title Doctor Honoris Causa by Comenius University in Bratislava.
In September 2015, she was awarded the title Doctor Honoris Causa by the University of Bern.
In January 2017, she was awarded the title Doctor Honoris Causa jointly by the Ghent University and Katholieke Universiteit Leuven.
Other
In 2006, Angela Merkel was awarded the Vision for Europe Award for her contribution toward greater European integration.
She received the Karlspreis (Charlemagne Prize) in 2008 for distinguished services to European unity.
In March 2008, she received the B'nai B'rith Europe Award of Merit.
Merkel topped Forbes magazine's list of "The World's 100 Most Powerful Women" in 2006, 2007, 2008, 2009, 2011, 2012, 2013, 2014, 2015, and 2016.
New Statesman named Angela Merkel in "The World's 50 Most Influential Figures" 2010.
On 16 June 2010, the American Institute for Contemporary German Studies at Johns Hopkins University in Washington D.C. awarded Chancellor Merkel its Global Leadership Award (AICGS) in recognition of her outstanding dedication to strengthening German-American relations.
On 21 September 2010, the Leo Baeck Institute, a research institution in New York City devoted to the history of German-speaking Jewry, awarded Angela Merkel the Leo Baeck Medal. The medal was presented by former U.S. Secretary of the Treasury and current Director of the Jewish Museum Berlin, W. Michael Blumenthal, who cited Merkel's support of Jewish cultural life and the integration of minorities in Germany.
On 31 May 2011, she received the Jawaharlal Nehru Award for the year 2009 from the Indian government. She received the award for International understanding.
Forbes list of The World's Most Powerful People ranked Merkel as the world's second most powerful person in 2012, the highest ranking achieved by a woman since the list began in 2009; she was ranked fifth in 2013 and 2014
On 28 November 2012, she received the Heinz Galinski Award in Berlin, Germany.
India: Indira Gandhi Peace Prize (2013)
In December 2015, she was named Time magazine's Person of the Year.