Biography of Felix Mendelssohn
Felix Mendelssohn – German composer, pianist, organist, and conductor of the early romantic period.
Name: Jakob Ludwig Felix Mendelssohn Bartholdy
Date of Birth: February 3, 1809
Place of Birth: Hamburg, Germany
Date of Death: November 4, 1847
Place of Death: Leipzig, Germany
Occupation: Composer, Pianist
Father: Abraham Mendelssohn
Mother: Lea Salomon
Spouse/Ex: Cécile Mendelssohn Bartholdy (m. 1837–1847)
Children: Carl, Marie, Paul, Lili, and Felix
Early Life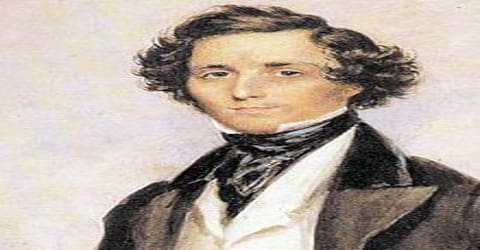 German Romantic composer, pianist, and conductor Felix Mendelssohn was born on 3 February 1809, in Hamburg, at the time an independent city-state, in the same house where, a year later, the dedicatee and first performer of his Violin Concerto, Ferdinand David, would be born. He developed a basic classical approach to musical composition with fresh romantic harmonies and expressiveness. He wrote symphonies, concertos, oratorios, piano music, and chamber music.
Mendelssohn's best-known works include his Overture and incidental music for A Midsummer Night's Dream, the Italian Symphony, the Scottish Symphony, the overture The Hebrides, his mature Violin Concerto, and his String Octet. His Songs Without Words are his most famous solo piano compositions. After a long period of relative denigration due to changing musical tastes and antisemitism in the late 19th and early 20th centuries, his creative originality has been re-evaluated. He is now among the most popular composers of the romantic era.
In his music, Mendelssohn largely observed Classical models and practices while initiating key aspects of Romanticism the artistic movement that exalted feeling and the imagination above rigid forms and traditions. Among his most famous works are Overture to A Midsummer Night's Dream (1826), Italian Symphony (1833), a violin concerto (1844), two piano concerti (1831, 1837), the oratorio Elijah (1846), and several pieces of chamber music.
He was a grandson of the philosopher Moses Mendelssohn. Felix was brought up without religion until the age of seven when he was baptized as a Reformed Christian. In 1819, he joined the Singakademie music academy and began composing non-stop. At Singakademie, he also became a conductor but continued to compose prolifically. Mendelssohn founded the Leipzig Conservatory of Music in 1843.
Felix Mendelssohn enjoyed early success in Germany and revived interest in the music of Johann Sebastian Bach, notably with his performance of the St Matthew Passion in 1829. He became well received in his travels throughout Europe as a composer, conductor, and soloist; his ten visits to Britain during which many of his major works were premiered form an important part of his adult career. His essentially conservative musical tastes set him apart from more adventurous musical contemporaries such as Franz Liszt, Richard Wagner, Charles-Valentin Alkan, and Hector Berlioz. The Leipzig Conservatoire, which he founded, became a bastion of this anti-radical outlook.
Childhood, Family and Educational Life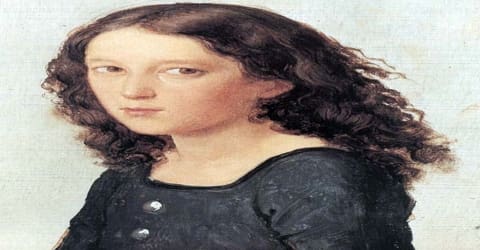 Felix Mendelssohn, in full Jakob Ludwig Felix Mendelssohn-Bartholdy, was born in Hamburg, Germany, on February 3, 1809, the son of Abraham and Leah Mendelssohn and the grandson of the famous Jewish philosopher Moses Mendelssohn (1729–1786). In later years Felix's father humorously referred to himself as "formerly the son of my father and now the father of my son." His mother, Lea Salomon, was a member of the Itzig family and a sister of Jakob Salomon Bartholdy. Mendelssohn was the second of four children; his older sister Fanny also displayed exceptional and precocious musical talent.
The family moved to Berlin in 1811, leaving Hamburg in disguise in fear of French reprisal for the Mendelssohn bank's role in breaking Napoleon's Continental System blockade. Abraham and Lea Mendelssohn sought to give their children Fanny, Felix, Paul, and Rebecka the best education possible. Fanny became a pianist well known in Berlin musical circles as a composer; originally Abraham had thought that she, rather than Felix, would be the more musical. But it was not considered proper, by either Abraham or Felix, for a woman to pursue a career in music, so she remained an active but non-professional musician. Abraham was initially disinclined to allow Felix to follow a musical career until it became clear that he was seriously dedicated.
Felix Mendelssohn also studied composition under composer K.F. Zelter as a child. In 1816, he broadened his lessons, studying under pianist Marie Bigot during an extended stay in Paris, France. The next year he began formal studies in composition with Carl Friedrich Zelter, a composer greatly admired by the poet Johann Wolfgang von Goethe (1749–1832). Also as a child, Mendelssohn took a keen interest in drawing and painting and took lessons in foreign languages.
Carl Friedrich Zelter, director of the Singakademie, became Mendelssohn's first composition instructor. Even in his youth, Mendelssohn moved with natural grace among the circles of influence in society, politics, literature, and art. Although he did spend some time at the University of Berlin, most of his education was received through friendships and travel. Mendelssohn's advocacy was the single most important factor in the revival of Bach's vocal music in the 19th century, most famously realized in the 1829 performance of the St. Matthew Passion at the Berlin Singakadamie.
Personal Life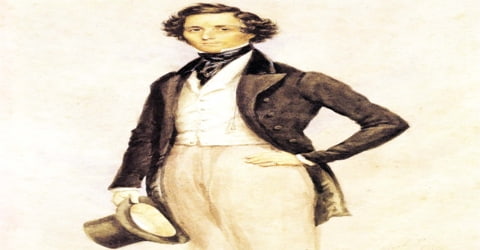 Felix Mendelssohn married Cécile Charlotte Sophie Jeanrenaud (10 October 1817 – 25 September 1853), the daughter of a French Reformed Church clergyman, on 28 March 1837. Mendelssohn was 10 years Jeanrenaud's senior. She was just 16 when they got engaged. The couple had five children: Carl, Marie, Paul, Lili, and Felix.
The family papers inherited by Marie and Lili's children form the basis of the extensive collection of Mendelssohn manuscripts, including the so-called "Green Books" of his correspondence, now in the Bodleian Library at Oxford University. Cécile Mendelssohn Bartholdy died less than six years after her husband, on 25 September 1853.
Felix Mendelssohn became close to the Swedish soprano Jenny Lind, whom he met in October 1844. Papers confirming their relationship had not been made public. He met and worked with Lind many times, and started an opera, Lorelei, for her, based on the legend of the Lorelei Rhine maidens; the opera was unfinished at his death. He is said to have tailored the aria "Hear Ye Israel" in his oratorio Elijah to Lind's voice, although she did not sing this part until after his death, at a concert in December 1848.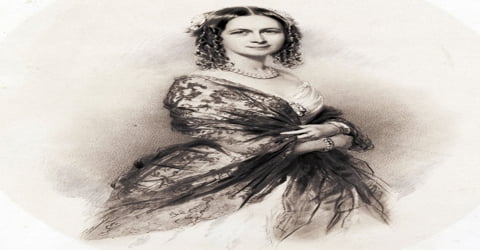 (Jenny Lind)
Upon Mendelssohn's death, Lind wrote, "He was the only person who brought fulfillment to my spirit, and almost as soon as I found him I lost him again." In 1849 she established the Mendelssohn Scholarship Foundation, which makes an award to a British resident young composer every two years in Mendelssohn's memory. The first winner of the scholarship was Arthur Sullivan, then aged 14, in 1856. In 1869 Lind erected a plaque in Mendelssohn's memory at his birthplace in Hamburg.
Career and Works
In 1819, Felix Mendelssohn joined the Singakademie music academy and began composing non-stop. In 1820 alone, he wrote a violin sonata, two piano sonatas, multiple songs, a cantata, a brief opera, and a male quartet. In 1826, Mendelssohn produced one of his best-known works, Overture to a Midsummer Night's Dream. He presented his opera The Marriage of the Camacho, the following year in Berlin. It was the only opera of his performed in public during his life.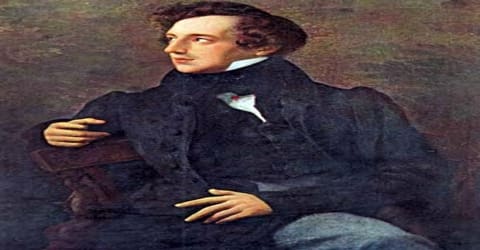 Between the ages of 12 and 14, Mendelssohn wrote 12 string symphonies for such concerts, and a number of chamber works. His first work, a piano quartet, was published when he was 13. It was probably Abraham Mendelssohn who procured the publication of this quartet by the house of Schlesinger. In 1824 the 15-year-old wrote his first symphony for full orchestra (in C minor, Op. 11).
In 1824 the famous pianist Ignaz Moscheles (1794–1870) arrived in Berlin from London, England, and for a time Mendelssohn studied piano with him. The following year Mendelssohn visited Paris, where he met many famous composers and performed his Piano Quartet in B Minor, dedicated to Goethe. Back in France, he wrote with mature craftsmanship the celebrated Midsummer Night's Dream Overture.
At age 16 Felix Mendelssohn wrote his String Octet in E-flat major, a work which has been regarded as "marking the beginning of his maturity as a composer." This Octet and his Overture to Shakespeare's A Midsummer Night's Dream, which he wrote a year later in 1826, are the best-known of his early works. Later, in 1843, he also wrote incidental music for the play, including the famous "Wedding March". The Overture is perhaps the earliest example of a concert overture that is, a piece not written deliberately to accompany a staged performance but to evoke a literary theme in performance on a concert platform; this was a genre which became a popular form in musical romanticism.
In Paris in 1825 Luigi Cherubini discerned Mendelssohn's outstanding gifts. The next year he reached his full stature as a composer with the Overture to A Midsummer Night's Dream. The atmospheric effects and the fresh lyrical melodies in this work revealed the mind of an original composer, while the animated orchestration looked forward to the orchestral manner of Nikolay Rimsky-Korsakov.
Besides music, Mendelssohn's education included art, literature, languages, and philosophy. He had a particular interest in classical literature and translated Terence's Andria for his tutor Heyse in 1825; Heyse was impressed and had it published in 1826 as a work of "his pupil, F****" –  i.e. "Felix" (asterisks as provided in original text). This translation also qualified Mendelssohn to study at the Humboldt University of Berlin, where from 1826 to 1829 he attended lectures on aesthetics by Georg Wilhelm Friedrich Hegel, on history by Eduard Gans and on geography by Carl Ritter.
In 1827 Mendelssohn's only opera, Die Hochzeit des Camacho ( The Marriage of Camacho ), based on Don Quixote by Cervantes (1547–1616), was presented in Berlin. More successful was the Octet for Strings, one of Mendelssohn's freshest and most original works. The same year he became acquainted with Anton Thibaut, a professor of law and a gifted amateur writer of music who was concerned with revitalizing interest in old church music. Through him, Mendelssohn came to know the masterpieces of the Renaissance (a period of great artistic awakening during the fourteenth to sixteenth centuries) and early baroque choral music, an elaborate style of music popular in the eighteenth century. In 1828 appeared the Goethe-inspired overture Calm Sea and Prosperous Voyage.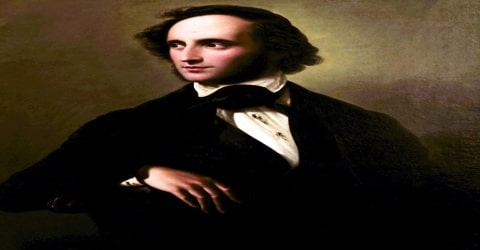 In 1821 Zelter introduced Felix Mendelssohn to his friend and correspondent Johann Wolfgang von Goethe (then in his seventies), who was greatly impressed by the child, leading to perhaps the earliest confirmed comparison with Mozart in the following conversation between Goethe and Zelter:
"Musical prodigies … are probably no longer so rare; but what this little man can do in extemporizing and playing at sight borders the miraculous, and I could not have believed it possible at so early an age." "And yet you heard Mozart in his seventh year at Frankfurt?" said Zelter. "Yes", answered Goethe, "… but what your pupil already accomplishes, bears the same relation to the Mozart of that time that the cultivated talk of a grown-up person bears to the prattle of a child."
Felix Mendelssohn was invited to meet Goethe on several later occasions and set a number of Goethe's poems to music. His other compositions inspired by Goethe include the overture Calm Sea and Prosperous Voyage (Op. 27, 1828), and the cantata Die Erste Walpurgisnacht (The First Walpurgis Night, Op. 60, 1832).
On March 11, 1829, at the Singakademie, Berlin, Felix conducted the first performance since Bach's death of the St. Matthew Passion, thus inaugurating the Bach revival of the 19th century. Meanwhile, he had visited Switzerland and had met Carl Maria von Weber, whose opera Der Freischütz, given in Berlin in 1821, encouraged him to develop a national character in music. Mendelssohn's great work of this period was the String Octet in E Flat Major (1825), displaying not only technical mastery and an almost unprecedented lightness of touch but great melodic and rhythmic originality. Mendelssohn developed in this work the genre of the swift-moving scherzo (a playful musical movement) that he would also use in the incidental music to A Midsummer Night's Dream (1843).
After writing the Reformation Symphony (1830) Mendelssohn began a series of visits to various European cities that lasted for almost three years. After a short stay with Goethe at Weimar, Mendelssohn went to Rome, Italy, where he began both the Scottish and the Italian symphonies. In the autumn he returned to Germany and played his newly composed Piano Concerto in G Minor in Munich, Germany. In 1832 he left for London, where he conducted the Hebrides Overture and the Piano Concerto in G Minor with great praise. That same year his first book of Songs without Words ( Lieder Ohne Worte ) was published.
On Zelter's death in 1832, Felix Mendelssohn had hopes of succeeding him as conductor of the Singakademie; but at a vote, in January 1833 he was defeated for the post by Carl Friedrich Rungenhagen. This may have been because of Mendelssohn's youth, and fear of possible innovations; it was also suspected by some to be attributable to his Jewish ancestry. Following this rebuff, Mendelssohn divided most of his professional time over the next few years between Britain and Düsseldorf, where he was appointed a musical director (his first paid post as a musician) in 1833.
Between 1830 and 1832 Mendelssohn traveled in Germany, Austria, Italy, and Switzerland and in 1832 returned to London, where he conducted The Hebrides and where he published the first book of the piano music he called Lieder Ohne Worte (Songs Without Words), completed in Venice in 1830. Felix Mendelssohn, whose music in its day was held to be remarkable for its charm and elegance, was gradually becoming the most popular of 19th-century composers in England. His main reputation was made in England, which, in the course of his short life, he visited no fewer than 10 times. At the time of these visits, the character of his music was held to be predominantly Victorian, and indeed he eventually became the favorite composer of Queen Victoria herself.
Mendelssohn wrote the Reformation Symphony in 1830 and followed that accomplishment with a three-year European tour. During that time, he published his first book of songs, entitled Songs without Words (1832). Italian Symphony (1833), another of Mendelssohn's best-known works, was also born of this period.
In 1835, Mendelssohn became municipal music director in Leipzig, where he also would conduct the Gewandhaus Orchestra. He would raise the level of the still-thriving ensemble to a new standard of excellence. In 1838, he married Cécile Jeanrenaud, enjoying an idyllic marriage and family life that was quite unlike the stormy romantic entanglements that profoundly affected such composers as Berlioz, Chopin, and Liszt. He was in demand as a conductor, spent some time as a royal composer and music director in Berlin, but remained committed to musical life in Leipzig. He was even able to establish a new conservatory in the city, which is still a well-respected institution.
A landmark event during Mendelssohn's Leipzig years was the premiere of his oratorio Paulus, (the English version of this is known as St. Paul), given at the Lower Rhenish Festival in Düsseldorf in 1836, shortly after the death of the composer's father, which much affected him; Felix wrote that he would "never cease to endeavour to gain his approval… although I can no longer enjoy it". St. Paul seemed to many of Mendelssohn's contemporaries to be his finest work and sealed his European reputation.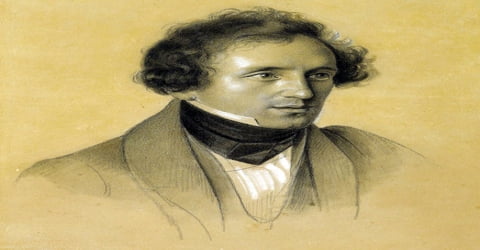 The same year that he married, Felix Mendelssohn composed his Piano Concerto No. 2 in D Minor. From 1838 to 1844, he toiled away on his Violin Concerto in E Minor. Prior to the piece's completion, Mendelssohn founded the Leipzig Conservatory of Music and became its director. In so doing, he put Leipzig on the map as the musical center of Germany. After finishing Violin Concerto in E Minor, Mendelssohn conducted a string of concerts for the Philharmonic. In 1846 he presented his newly written Elijah at the Birmingham Festival.
In 1843 Mendelssohn founded a major music school the Leipzig Conservatory, now the Hochschule für Musik und Theater "Felix Mendelssohn Bartholdy". where he persuaded Ignaz Moscheles and Robert Schumann to join him. Other prominent musicians, including the string players Ferdinand David and Joseph Joachim and the music theorist Moritz Hauptmann, also became staff members.
In 1844 he conducted five Philharmonic concerts in London, and in 1846 he gave the first performance of his Elijah, written for the Birmingham Festival of that year. His chief occupation was still as conductor of the Gewandhaus concerts, but he also functioned as director of the Leipzig Conservatory, teaching piano and composition as part of his duties. After Mendelssohn's death in 1847, his musically conservative tradition was carried on when Moscheles succeeded him as head of the Conservatory.
Mendelssohn's Symphony No. 3 in A Minor–Major, or Scottish Symphony, as it is called, was dedicated to Queen Victoria. And he became endeared to the English musical public in other ways. The fashion for playing the "Wedding March" from his A Midsummer Night's Dream at bridal processions originates from a performance of this piece at the wedding of Princess Royal after Mendelssohn's death, in 1858. In the meantime, he had given the first performances in London of Ludwig van Beethoven's Emperor and G Major concerti.
A true apotheosis of life, Mendelssohn's music absolutely overflows with energy, ebullience, drama, and invention, as evidenced in his most enduring works: the incidental music to A Midsummer Night's Dream (1826-1842); the Hebrides Overture (1830); the Songs Without Words (1830-1845); the Symphonies No. 3 (1841-1842) and No. 4 (1833); and the Violin Concerto in E minor (1844). While the sunny disposition of so many of Mendelssohn's works has led some to view the composer as possessing great talent but little depth, his religious compositions — particularly the great oratorios Paulus (1836) and Elijah (1846) — reflect the complexity and deeply spiritual basis of his personality.
Felix Mendelssohn's oratorio Elijah was commissioned by the Birmingham Triennial Music Festival and premiered on 26 August 1846, at the Town Hall, Birmingham. It was composed to a German text translated into English by William Bartholomew, who authored and translated many of Mendelssohn's works during his time in England.
On his last visit to Britain in 1847, Mendelssohn was the soloist in Beethoven's Piano Concerto No. 4 and conducted his own Scottish Symphony with the Philharmonic Orchestra before the Queen and Prince Albert.
Death and Legacy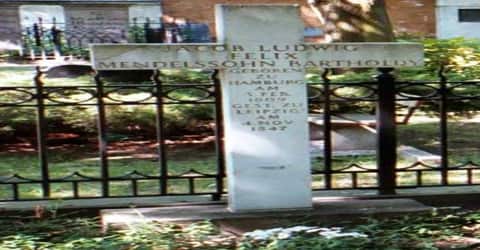 In May 1847, Mendelssohn's sister, Fanny, who was a lifelong inspiration to him, died suddenly. Her death left him so devastated that he soon lost his own zest for life. His health, already compromised by his strenuous career, began to deteriorate rapidly. Less than six months later, on 4 November 1847, aged 38, Felix Mendelssohn died in Leipzig after a series of strokes. His grandfather Moses, Fanny, and both his parents had all died from similar apoplexies.
Felix's funeral was held at the Paulinerkirche, Leipzig, and he was buried at the Dreifaltigkeitsfriedhof I in Berlin-Kreuzberg. The pallbearers included Moscheles, Schumann and Niels Gade. Mendelssohn had once described death, in a letter to a stranger, as a place "where it is to be hoped there is still music, but no more sorrow or partings.
Felix Mendelssohn was a true Renaissance man. A talented visual artist, he was a refined connoisseur of literature and philosophy. While Mendelssohn's name rarely arises in discussions of the 19th-century vanguard, the intrinsic importance of his music is undeniable. A distinct personality emerges at once in its exceptional formal sophistication, its singular melodic sense, and its colorful, masterful deployment of the instrumental forces at hand.
He was among the first to play a concerto from memory in public Mendelssohn's memory was prodigious and he also became known for his organ works. After his death, this influence was sometimes held to have had a stifling effect. Later generations of English composers, enamoured of Richard Wagner, Claude Debussy, or Igor Stravinsky, revolted against the domination of Mendelssohn and condemned the sentimentality of his lesser works. But there is no doubt that he had, nevertheless, succeeded in arousing the native musical genius, at first by his performances and later in the creative sphere, from a dormant state.
Although he was only 38 when he died, Mendelssohn managed to distinguish himself as one of the first significant Romantic composers of the 1800s.
Information Source: