Biography of Louis Néel
Louis Néel – French physicist.
Name: Louis Eugène Félix Néel
Date of Birth: 22 November 1904
Place of Birth: Lyon, France
Date of Death: 17 November 2000 (aged 95)
Place of Death: Brive-la-Gaillarde, France
Occupation: Physicist
Spouse/Ex: Hélène Hourticq
Children: Marie Françoise, Marguerite, Pierre
Early Life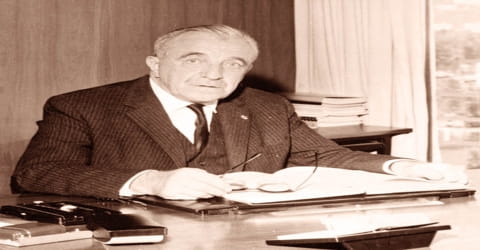 A French physicist who was corecipient, with the Swedish astrophysicist Hannes Alfvén, of the Nobel Prize for Physics in 1970 for his pioneering studies of the magnetic properties of solids, Louis Néel was born on November 22, 1904, in Lyon, France. His contributions to solid-state physics have found numerous useful applications, particularly in the development of improved computer memory units.
A Doctor of Science from the 'University of Strasbourg' his scientific contributions in the field of solid-state physics led to several significant applications especially in developing advanced memory units of the computer. The existence of a new type of magnetic behavior that is anti-ferromagnetism, which is contrary to ferromagnetism, was proposed by him. The behavior ceases to exist after reaching a certain level of temperature, the Néel temperature. Néel also suggested the existence of materials that display ferrimagnetism. His elucidation on weak magnetism of some rocks paved way for the study of the magnetic field of the Earth. His contribution in national defense, especially his studies in safeguarding warships through demagnetization against magnetic mines, fetched him several laurels. He was honored with Légion d'honneur and made the Knight (1940) and the Officer (1951), Commander (1958), Grand Officier de la Légion d'honneur (1966) and Grand Cross (1974). The military decoration of France, Croix de Guerre with Palms was conferred upon him in 1940. He also became the 'Commander of the Ordre des Palmes Académiques' in 1957; the 'Knight of the Social Order of Merit' in 1963; and was made the Grand Cross of the National Order of Merit in 1972. He was elected as 'Foreign Member of the Royal Society' (ForMemRS) in 1966.
Childhood, Family and Educational Life
Louis Néel, in full Louis-Eugène-Félix Néel, was born on November 22, 1904, in Lyons-la-Forêt, Eure in Upper Normandy, France, in the family of M. Néel. He attended the 'Lycée du Parc' in Lyon and then joined the 'École Normale Supérieure' in Paris in 1924.
Néel obtained the degree of Doctor of Science at the University of Strasbourg in 1932 under the guidance of French physicist Pierre-Ernest Weiss who in 1907 developed the domain theory of ferromagnetism. It is under Professor Weiss that he started his research in magnetism in the latter's lab in Strasbourg.
Néel was a professor at the universities of Strasbourg (1937-45) and Grenoble (1945-76), and in 1956 he founded the Center for Nuclear Studies in Grenoble, serving as its director until 1971. Néel also was the director (1971–76) of the Polytechnic Institute in Grenoble.
Personal Life
Louis Néel got married to Hélène Hourticq in 1931. They were blessed with three children, Marie Françoise, Marguerite, and Pierre.
While Marie Françoise became an Attachée d'Administration at the Conseil d'Etat, Pierre became a television producer and Marguerite got married to Guély, Professeur agrégée d'histoire.
Career and Works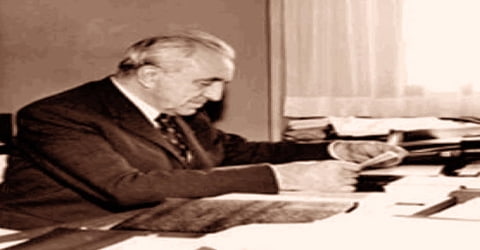 During the early 1930s, Louis Néel studied, on the molecular level, forms of magnetism that differ from ferromagnetism. In ferromagnetism, the most common variety of magnetism, the electrons line up (or spin) in the same direction at low temperatures. He discovered that, in some substances, alternating groups of atoms align their electrons in opposite directions (much as when two identical magnets are placed together with opposite poles aligned), thus neutralizing the net magnetic effect. This magnetic property is called antiferromagnetism. However such behavior ceases to exist at a certain level of temperature or higher than that. The temperature level is named 'Néel temperature' after him.
His investigations on the fine-grain ferromagnetics contributed in elucidating the exceptional magnetic memory of certain mineral deposits that equipped us with data on alterations in the strength as also direction of the magnetic field of Earth.
Louis Néel was appointed a Professor at the Faculty of Science at the 'University of Strasbourg' in 1937, where he served till 1945. Meanwhile, in 1939 he was called upon for defense service and delegated with the responsibility of protecting the French ships from magnetic mines of Germany. He discovered a new procedure of neutralization to safeguard the ships. Following the Armistice, he relocated to Grenoble in 1940 where he set up the 'Laboratoire d'Electrostatique et de Physique du Métal'. The lab was included as an external laboratory of 'Centre National de la Recherche Scientifique' in 1946.
Néel became a Professor in the University at Grenoble in its science department in 1945 and served there till 1976. In 1949 he became a member of the Board of Directors of the French National Centre for Scientific Research, C.N.R.S., and remained so till 1969. In 1952 Néel became a scientific adviser to the French Navy. He participated as a representative of France at the 'Scientific Committee of the North Atlantic Treaty Organization'. The French Academy of Science elected him a member in 1953.
From 1954 to 1970 Néel served as Director of the Polytechnic Institute in Grenoble and also of Ecole Française de Papeterie. Thereafter in 1970, he was inducted by the 'Institut National Polytechnique' in Grenoble as President. He also contributed to developing the 'Centre d'Etudes Nucléaires de Grenoble' in 1956 as a part of 'French Atomic Energy Commission'. He remained Director of the Center till 1971. The 'International Union of Pure and Applied Physics' made him its President in 1963, a position he held till 1966.
His contributions to solid-state physics have found numerous useful applications, particularly in the development of improved computer memory units. About 1930 Néel suggested that a new form of magnetic behavior might exist; called antiferromagnetism, as opposed to ferromagnetism. Above a certain temperature (the Néel temperature) this behavior stops.
In 1967 Néel participated in the decision making of installing the Franco-German high-flux reactor in Grenoble. Apart from discovering the theories of antiferromagnetism and ferrimagnetism and their ramifications, he shed light on many other facets of magnetism such as super antiferromagnetism, magnetic properties of fine grains, a theory of Rayleigh's Laws; and internal dispersion fields among others. Over 200 publications of Néel dealt with theoretical problems and other facets of magnetism elucidating the way magnetic molecules act.
Néel was co-recipient (with the Swedish astrophysicist Hannes Alfvén) of the Nobel Prize for Physics in 1970 for his pioneering studies of the magnetic properties of solids.
Louis Néel became Foreign Member of several prestigious academies including 'Royal Dutch Academy of Science' (1959), 'Soviet Academy of Science' (1959), 'Deutsche Akademie der Naturforscher Leopoldina' (1964), 'Rumanian Academy' (1965), 'American Academy of Arts and Sciences' (1966) and 'Royal Society' of London (1966). He was also an honorary member of the 'Société Française de Physique' and became its President in 1957. He was conferred honorary doctorate from several universities including 'University of Nottingham' in 1951, 'University of Oxford' in 1958 and 'University of Newcastle' in 1965.
Awards and Honor
Louis Néel received the 'Nobel Prize in Physics' in 1970 along with Swedish astrophysicist, Hannes Alfvén.
The Louis Néel Medal, awarded annually by the European Geophysical Society, is named in Néel's honor in 1994.
Death and Legacy
Louis Néel passed away on November 17, 2000, at the age of 95 in Brive-la-Gaillarde, a commune of France.
Louis Néel wrote more than 200 works on various aspects of magnetism. Mainly because of his contributions, ferromagnetic materials can be manufactured to almost any specifications for technical applications, and a flood of new synthetic ferrite materials has revolutionized microwave electronics.
His contributions and discoveries related to magnetic properties aided electronic engineers in developing very small particles that can store data magnetically in the memory core of a computer, which helped enhance the memory units of the computer to a great extent. Such works of Néel made the manufacture of ferromagnetic materials of almost any specification possible and that in turn paved the way for developing several new synthetic ferrite materials thereby revolutionizing the world of microwave electronics.
Information Source: