Biography of Kathleen Ferrier (Singer)
Kathleen Ferrier – English contralto singer.
Name: Kathleen Mary Ferrier
Date of Birth: April 22, 1912
Place of Birth: Higher Walton, Lancashire, United Kingdom
Date of Death: October 8, 1953
Place of Death: London, United Kingdom
Occupation: Singer
Father: William Ferrier
Mother: Alice (née Murray)
Spouse/Ex: Albert Wilson (m. 1935-1947)
Early Life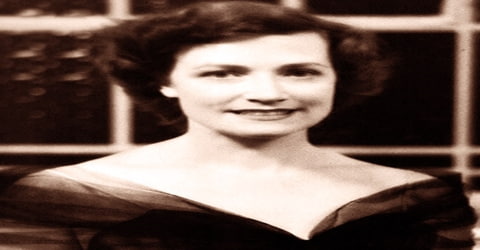 An English contralto singer who was one of the most widely beloved British singers of her day, Kathleen Ferrier was born on 22 April 1912, in the Lancashire village of Higher Walton, UK. She achieved an international reputation as a stage, concert and recording artist, with a repertoire extending from folksong and popular ballads to the classical works of Bach, Brahms, Mahler, and Elgar. Her death from cancer, at the height of her fame, was a shock to the musical world and particularly to the general public, which was kept in ignorance of the nature of her illness until after her death.
Although her career was tragically short, Ferrier was among the most famous English singers of the twentieth century. Her contralto voice a rarity in itself was characterized by a firm, warm tone that found its expressive niche in the great works of oratorio and art song, as well as in her two operatic roles (only two!): Lucretia in Britten's The Rape of Lucretia and Orfeo in Gluck's Orfeo ed Euridice.
In 1946, Ferrier made her stage debut, in the Glyndebourne Festival premiere of Benjamin Britten's opera The Rape of Lucretia. A year later she made her first appearance as Orfeo in Gluck's Orfeo ed Euridice, a work with which she became particularly associated. By her own choice, these were her only two operatic roles. As her reputation grew, Ferrier formed close working relationships with major musical figures, including Britten, Sir John Barbirolli, Bruno Walter, and the accompanist Gerald Moore. She became known internationally through her three tours to the United States between 1948 and 1950 and her many visits to continental Europe.
Childhood, Family and Educational Life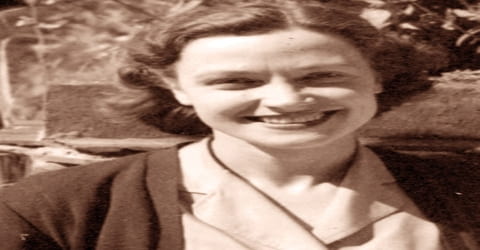 Kathleen Ferrier, by name of Kathleen Mary Ferrier, born April 22, 1912, Higher Walton, Lancashire, Uk. There her father William Ferrier (the fourth child of Thomas and Elizabeth, née Gorton) was the head of the village school. Although untrained musically, William was an enthusiastic member of the local operatic society and of several choirs, and his wife Alice (née Murray), whom he married in 1900, was a competent singer with a strong contralto voice. Kathleen was the third and youngest of the couple's children, following a sister and a brother; when she was two the family moved to Blackburn after William was appointed headmaster of St Paul's School in the town.
From an early age, Kathleen showed promise as a pianist and had lessons with Frances Walker, a noted North of England piano teacher who had been a pupil of Tobias Matthay. Kathleen's talent developed quickly; in 1924 she came forth out of 43 entrants at the Lytham St Annes Festival piano competition, and in the following year at Lytham she achieved second place.
Ferrier won a national piano competition at the age of 15 and the following year earned a certificate as a piano teacher. In 1931, aged 19, Ferrier passed her Licentiate examinations at the Royal Academy of Music. In that year she started occasional singing lessons, and in December sang a small mezzo-soprano role in a church performance of Mendelssohn's oratorio Elijah. She worked as a telephone operator until 1940, when she won a local singing competition. She then began to study voice and gave factory recitals for war workers, often arranging the songs herself.
Personal Life
Kathleen Ferrier met Albert Wilson in 1933, probably through dancing, which they both loved. When she announced that they were to marry, her family and friends had strong reservations, on the grounds that she was young and inexperienced, and that she and Wilson shared few serious interests. Nevertheless, the marriage took place on 19 November 1935. Shortly afterward the couple moved to Silloth, a small port town in Cumberland, where Wilson had been appointed as manager of his bank's branch. The marriage was not successful; the honeymoon had revealed problems of physical incompatibility, and the union remained unconsummated. Outward appearances were maintained for a few years until Wilson's departure for military service in 1940 effectively ended the marriage. The couple divorced in 1947, though they remained on good terms. Wilson subsequently married a friend of Ferrier's, Wyn Hetherington; he died in 1969.
Career and Works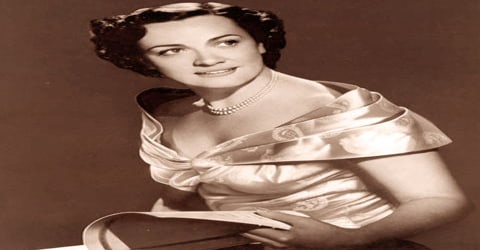 Kathleen Ferrier studied the piano from age nine and had established a reputation as an excellent amateur accompanist before she won a major singing competition when she was 25 (1937); began to take regular voice lessons; within five years, had established her singing career in London and begun to win international acclaim (1937-42); from oratorio and folk songs, progressed to the songs of Schubert and Mahler and to the operas of Gluck and Britten.
Her first appearance as a professional vocalist, in autumn 1937, was at a harvest festival celebrated in the village church at Aspatria. She was paid one guinea. After winning the gold cup at the 1938 Workington Festival, Ferrier sang Ma Curly-Headed Babby in a concert at Workington Opera House. Cecil McGivern, a producer of a BBC Northern radio variety show, was in the audience and was sufficiently impressed to book her for the next edition of his programme, which was broadcast from Newcastle on 23 February 1939. This broadcast her first as a vocalist attracted wide attention, and led to more radio work, though for Ferrier the event was overshadowed by the death of her mother at the beginning of February. At the 1939 Carlisle Festival, Ferrier sang Richard Strauss's song All Souls' Day, a performance which particularly impressed one of the adjudicators, J. E. Hutchinson, a music teacher with a considerable reputation. Ferrier became his pupil and, under his guidance, began to extend her repertoire to include works by Bach, Handel, Brahms, and Elgar.
Ferrier worked as a telephone operator until 1940, when she won a local singing competition. She then began to study voice and gave factory recitals for war workers, often arranging the songs herself. In December 1940 she appeared for the first time professionally as 'Kathleen Ferrier' in a performance of Handel's Messiah, under Hutchinson's direction.
In early 1941 Ferrier successfully auditioned as a singer with the Council for the Encouragement of the Arts (CEMA), which provided concerts and other entertainments to military camps, factories, and other workplaces. Within this organization Ferrier began working with artists with international reputations; in December 1941 she sang with the Hallé Orchestra in a performance of Messiah together with Isobel Baillie, the distinguished soprano. However, her application to the BBC's head of music in Manchester for an audition was turned down. On 24 December 1942, she moved with her sister Winifred into a flat in Frognal Mansions, Hampstead.
During the years of WWII Ferrier toured widely in England, gaining a reputation as an especially fine concert artist. She joined the Bach Choir in London and was alto soloist for a 1943 performance of Handel's Messiah at Westminster Abbey. Benjamin Britten first put her on the operatic stage at Glyndebourne on July 12, 1946, in the premiere of his chamber opera The Rape of Lucretia. She then toured with the work throughout England and appeared on a historic recording of major extracts from the work conducted by the composer. Britten would later compose the alto part in his Canticle No. 2 for her.
In May 1944, at EMI's Abbey Road Studios with Gerald Moore as her accompanist, Ferrier made test recordings of music by Brahms, Gluck, and Elgar. Her first published record, made in September 1944, was issued under the Columbia label; it consisted of two songs by Maurice Greene, again with Moore accompanying. Her time as a Columbia recording artist was brief and unhappy; she had poor relations with her producer, Walter Legge, and after a few months she transferred to Decca. At Leeds in November 1944, she sang the part of the Angel in Elgar's choral work The Dream of Gerontius, her first performance in what became one of her best-known roles.
On 15 September 1945 Ferrier made her debut at the London Proms when she sang L'Air des Adieux from Tchaikovsky's opera The Maid of Orleans. Although she often sang individual arias, opera was not Ferrier's natural forte; she had not enjoyed singing the title role in a concert version of Bizet's Carmen at Stourbridge in March 1944, and generally avoided similar engagements. Nevertheless, Benjamin Britten, who had heard her Westminster Abbey Messiah performance, persuaded her to create the role of Lucretia in his new opera The Rape of Lucretia, which was to open the first postwar Glyndebourne Festival in 1946. She would share the part with Nancy Evans. Despite her initial misgivings, by early July Ferrier was writing to her agent that she was "enjoying the rehearsals tremendously and I should think it's the best part one could possibly have".
By the end of the war in 1945, Ferrier had achieved a national reputation, especially for her performances of religious works with England's major choral societies. She continued to be in great demand for radio broadcasts and had begun to record on a regular basis, although she remained dissatisfied with the results.
Ferrier also became closely identified with the role of Orfeo in Christoph Gluck's opera Orfeo ed Euridice. English (1947) and American (1948) performances of Gustav Mahler's Das Lied von der Erde, conducted by Bruno Walter, led her to specialize in Mahler's music and to give lieder recitals with Walter. The contralto parts in Britten's Spring Symphony and the canticle Abraham and Isaac were written for her, as was Sir Arthur Bliss's scena The Enchantress.
The Gluck opera from which Ferrier's "hit" was taken, Orfeo ed Euridice, was presented to great acclaim, with Ferrier as Orfeo, at Glyndebourne during the 1947 season. It was no doubt this success would lead to Ferrier's audition for the German conductor, Bruno Walter, and to world fame as a singer of the songs of Gustav Mahler. Invited to launch the newly established Edinburgh Festival in 1947, Walter was determined to conduct the first performance of Mahler's Das Lied von der Erde. Scored for contralto, tenor, and orchestra, the work ends in an ecstatic contralto song, "Abschied," an impassioned farewell to the earth which can take 20 minutes to sing. Having been persuaded to audition Ferrier, the distinguished conductor was instantly won over. He believed that he had found the perfect Mahler voice, and he championed her career for the next six years, assisting her in establishing an international reputation.
Ferrier appeared in the United States for the first time in Mahler's Das Lied von der Erde with the New York Philharmonic and Bruno Walter; her subsequent recording of the work also under Walter's direction remains a classic. Walter also appeared as her accompanist in lieder recitals in Edinburgh and London. Another of Ferrier's notable successes was the part of the Angel in Elgar's The Dream of Gerontius.
In New York Ferrier sang two performances of Das Lied von der Erde, with Bruno Walter and the New York Philharmonic. Alma Mahler, the composer's widow, was present at the first of these, on 15 January. In a letter written the following day, Ferrier told her sister: "Some of the critics are enthusiastic, others unimpressed". After the second performance, which was broadcast from coast to coast, Ferrier gave recitals in Ottawa and Chicago before returning to New York and embarking for home on 4 February. During 1948, amid many engagements, Ferrier performed Brahms's Alto Rhapsody at the Proms in August and sang in Bach's Mass in B minor at that year's Edinburgh Festival.
The year 1949 saw another taxing North American tour that also included appearances in Cuba. Before leaving, Ferrier recorded some of her best-loved English folk songs for Decca and had empowered her accompanist, Phyllis Spurr, and her sister Winnifred to agree to release them if they were satisfied with the quality. While the two deputies were pleased with the results, the recording was, as so often before, a great disappointment to Ferrier. However, she was too late to withdraw the record, and the songs have continued to delight listeners ever since. It was indeed "alright on the night"; Kathleen was now a great favorite in Holland, as she was throughout Europe and, increasingly, in North America, where she toured again early in 1950. On Ferrier's return home the hectic pace continued, with a rapid succession of concerts in Amsterdam, London and Edinburgh followed by a tour of Austria, Switzerland, and Italy. In Vienna, the soprano Elisabeth Schwarzkopf was Ferrier's co-soloist in a recorded performance of Bach's Mass in B minor, with the Vienna Symphony Orchestra under Herbert von Karajan. Schwarzkopf later recalled Ferrier's singing of the Agnus Dei from the Mass as her highlight of the year.
Early in 1951, while on tour in Rome, Ferrier learned of her father's death at the age of 83. Although she was upset by this news, she decided to continue with the tour; her diary entry for 30 January reads: "My Pappy died peacefully after flu and a slight stroke". She returned to London on 19 February and was immediately busy rehearsing with Barbirolli and the Hallé a work that was new to her: Ernest Chausson's Poème de l'amour et de la Mer. This was performed at Manchester on 28 February, to critical acclaim. Two weeks later Ferrier discovered a lump on her breast. She nevertheless fulfilled several engagements in Germany, the Netherlands and at Glyndebourne before seeing her doctor on 24 March. After tests at University College Hospital, cancer of the breast was diagnosed, and a mastectomy was performed on 10 April. All immediate engagements were canceled; among these was a planned series of performances of The Rape of Lucretia by the English Opera Group, scheduled as part of the 1951 Festival of Britain. In mid-November, she was forced to cancel her remaining engagements for the year, but by January 1952 she was once again touring England.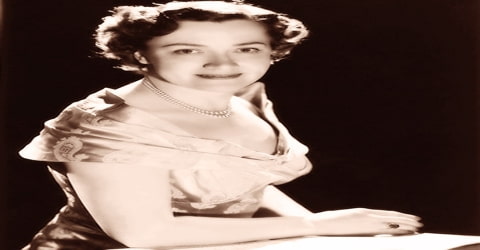 In May 1952 came Ferrier's long-awaited opportunity to record Das Lied von der Erde with Bruno Walter in Vienna. Despite her weakness and the taxing demands of the recording studio, she persevered and brilliantly executed all that was required of her, never once showing signs of tiredness or impatience. These songs and the other three Mahler songs she recorded on this occasion were an artistic triumph. She rested for much of the summer, working on her garden and recovering her strength in time for the Edinburgh Festival at the end of August.
In February 1953, Covent Garden staged Gluck's Orfeo ed Euridice specifically for Ferrier, who was deemed ideal for the part of Orpheus. However, she was able to appear in only two of the scheduled four performances because of weakness caused by her already advanced cancer.
Awards and Honor
On New Year's Day, 1953, Kathleen Ferrier was honored by the queen with the title Commander of the British Empire in recognition of her services to music.
Death and Legacy
Kathleen Ferrier died at University College Hospital on 8 October 1953, aged 41; the date for which, while still hopeful of recovery, she had undertaken to sing Frederick Delius's A Mass of Life at the 1953 Leeds Festival. Ferrier was cremated a few days later, at Golders Green Crematorium, after a short private service. She left an estate worth £15,134, which her biographer Maurice Leonard observes was "not a fortune for a world-famous singer, even by the standards of the day".
Also, through her broadcasts and constant touring, Ferrier had touched the hearts of ordinary people, in Britain, Europe, and North America. And it was not merely Ferrier the glorious singer whom they mourned; her down-to-earth honesty and her warm-hearted spontaneity, qualities that seemed to shine through her every performance as they shone through her life, made "our Kath" a friend to thousands who had never had the chance to meet her.
Information Source: