Biography of Sonja Henie
Sonja Henie – Norwegian figure skater and film star.
Name: Sonja Henie
Date of Birth: 8 April 1912
Place of Birth: Oslo, Norway
Date of Death: 12 October 1969 (aged 57)
Place of Death: during a flight from Paris to Oslo (leukemia)
Father: Wilhelm Henie (1872–1937)
Mother: Selma Lochmann-Nielsen (1888–1961)
Spouse: Dan Topping (1940–1946), Winthrop Gardiner Jr. (1949–1956), Niels Onstad (1956–1969)
Early Life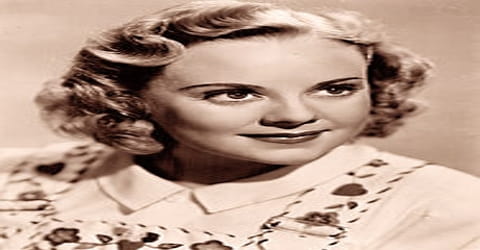 Sonja Henie was born in 1912 in Norway; she was a Norwegian figure skater who won three Olympic gold medals. After retiring from competitive skating, she acted in Hollywood films like Thin Ice. She debuted as an Olympic figure skater at the first Winter Games in 1924 when she was only 11. Two years later, she won second place at the world championships.
She was a three-time Olympic Champion (1928, 1932, 1936) in Ladies' Singles, a ten-time World Champion (1927–1936) and a six-time European Champion (1931–1936). Henie won more Olympic and World titles than any other ladies' figure skater. At the height of her acting career, she was one of the highest-paid stars in Hollywood and starred in a series of box-office hits, including Thin Ice (1937), My Lucky Star (1938), Second Fiddle (1939) and Sun Valley Serenade (1941).
After retiring from competitive skating, Henie became a film star.
Childhood, Family and Educational Life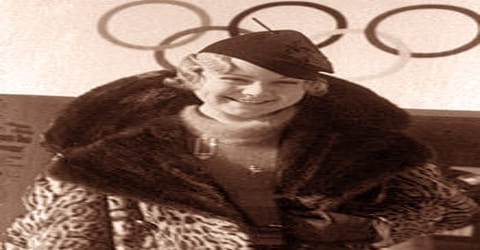 Sonja Henie was born on April 8, 1912, Kristiania (now Oslo), Norway. She was the only daughter of Wilhelm Henie (1872–1937), a prosperous Norwegian furrier, and his wife, Selma Lochmann-Nielsen (1888–1961). In addition to the income from the fur business, both of Henie's parents had inherited wealth.
She grew up wealthy as the daughter of a successful furrier. Henie studied ballet for a time, but she discovered her true passion at age 6. She learned how to ice skate with help from her brother Leif.
Leif wrote that Sonja snitched a pair of his old clamp-on blades at age five and within months surprised everyone by winning a children's skating competition. Sonja's memory is that her parents gave her the clamp-ons at age six, that Leif taught her how to fall on the ice ("the way a length of rope drops"), and that she learned figures from a local skater, who then asked Wilhelm to enter her, aged seven, in that first competition. Whichever timeline is correct, the essential truths are these: once on the ice, Sonja didn't want to come off, and once having won, her winning became the family grail.
As a girl, Henie also was a nationally ranked tennis player, and a skilled swimmer and equestrienne. Once Henie began serious training as a figure skater, her formal schooling ended. She was educated by tutors, and her father hired the best experts in the world, including the famous Russian ballerina, Tamara Karsavina, to transform his daughter into a sporting celebrity.
Personal Life
Sonja Henie was called "the Nasturtium of the North," "the Ice Queen of Norway," "the White Swan," and, less flatteringly, "Little Miss Moneybags." Her surname rhymes with "penny," so perhaps it's no surprise that she counted every last one.
Sonja Henie was married three times, to Dan Topping (1940–1946), Winthrop Gardiner Jr. (1949–1956), and the Norwegian shipping magnate and art patron Niels Onstad (1956–1969) (her death). After her retirement in 1956, Henie and Onstad settled in Oslo and accumulated a large collection of modern art that formed the basis for the Henie Onstad Kunstsenter at Høvikodden in Bærum near Oslo.
Career and Works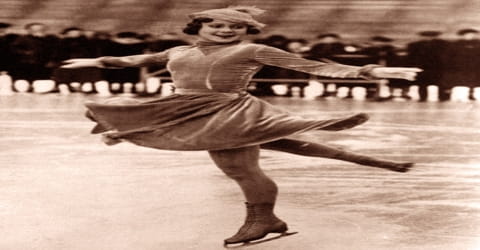 Sonja Henie began skating when she was six years old. At age 10 she won the Norwegian national figure-skating championship, and in 1924 she competed in the Winter Olympic Games in Chamonix, France. She then placed eighth in a field of eight at the 1924 Winter Olympics, at the age of eleven. During the 1924 program, she skated over to the side of the rink several times to ask her coach for directions, but by the next Olympiad, she needed no such assistance.
Henie incorporated ballet movements into her skating; she had taken ballet lessons from the age of five and was influenced by ballerina Anna Pavlova. Coached by Swedish Olympic medalist Gillis Grafström, she transformed a predictable series of colorless exercises into a spectacular and popular exhibition. She was the first woman figure skater to wear short skirts above the knee. Henie also had the great spinning ability. She incorporated 19 different spins into her programs, and she could spin nearly 80 revolutions. Her medal record consisted of Norwegian national championships from 1922 to 1934, 6 European titles (1931–1936), 10 world titles (1927–36), and 3 gold medals in the Winter Olympic Games of 1928, 1932, and 1936.
In 1927, Henie won her first World Figure Skating Championship. She was only 15 years old when she competed at the 1928 Winter Olympics in St. Moritz, Switzerland, where Henie won her first gold medal. The teenager quickly became a leading force in the world of figure skating, winning the world championships 10 years in a row.
The results of 1927 World Championships, where Henie won in 3–2 decision (or 7 vs. 8 ordinal points) over the defending Olympic and World Champion Herma Szabo of Austria, was controversial, as three of the five judges that gave Henie first-place ordinals were Norwegian (1 + 1 + 1 + 2 + 2 = 7 points) while Szabo received first-place ordinals from an Austrian and a German Judge (1 + 1 + 2 + 2 + 2 = 8 points).
Henie also won six consecutive European championships from 1931 to 1936. Henie's unprecedented three Olympic gold medals haven't been matched by any ladies' single skater since; neither are her achievements as ten-time consecutive World Champion. While Irina Slutskaya of Russia won her seventh European Championship in 2006 to become the most successful ladies' skater in European Championships, Henie retains a record of most consecutive titles, sharing it with Katarina Witt of Eastern Germany/Germany (1983–1988).
Henie also seemed unbeatable in the Olympics. She took home her sport's top prize in the 1932 Olympics held at Lake Placid, New York, and again at the 1936 Olympics, which took place in the Bavarian towns of Garmisch and Partenkirchen. During the 1936 games, Henie met infamous German leader Adolf Hitler. Just a week after her third Olympic victory, she won her 10th and final world championship.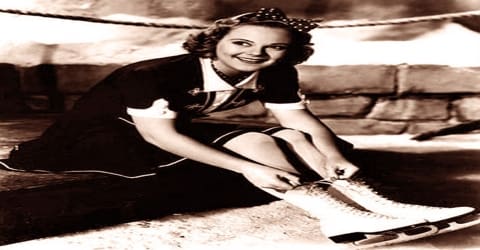 Having turned professional after her Olympic triumph in 1936, Henie toured Europe and the Americas as the star of the Hollywood Ice Revue, and for a time (1951–52) she acted as producer of her ice shows. In 1936 she signed with Twentieth Century-Fox, and she starred in 10 popular films, beginning with One in a Million (1936–37) and Thin Ice (1937). From 1937 to 1945 she was one of the leading box-office attractions in the film industry. She played another ice skater in Happy Landing (1938) with Don Ameche.
During her competitive career, Henie traveled widely and worked with a variety of foreign coaches. At home in Oslo, she trained at Frogner Stadium, where her coaches included Hjørdis Olsen and Oscar Holte. During the latter part of her competitive career, she was coached primarily by the American Howard Nicholson in London. In addition to traveling to train and compete, she was much in demand as a performer at figure skating exhibitions in both Europe and North America. Henie became so popular with the public that police had to be called out for crowd control on her appearances in various disparate cities such as Prague and New York City. It was an open secret that, in spite of the strict amateurism requirements of the time, Wilhelm Henie demanded "expense money" for his daughter's skating appearances. Both of Henie's parents had given up their own pursuits in Norway leaving Leif to run the fur business in order to accompany Sonja on her travels and act as her managers.
In 1941, Henie co-starred with Glenn Miller in the musical Sun Valley Serenade. She also had a thriving career with her own touring show, known as the Hollywood Ice Revue. Henie and her troupe performed around the world for years. By the mid-1950s, she had hung up her skates and stopped touring.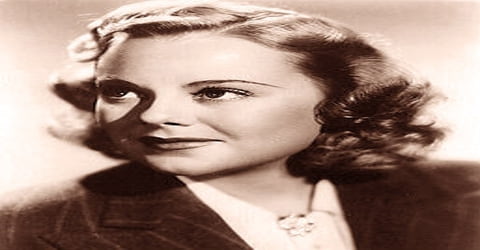 In addition to her film career at Fox from 1936-1943, Henie formed a business arrangement with Arthur Wirtz, who produced her touring ice shows under the name of "Hollywood Ice Revue". Wirtz also acted as Henie's financial advisor. At the time, figure skating and ice shows were not yet an established form of entertainment in the United States. Henie's popularity as a film actress attracted many new fans and instituted skating shows as a popular new entertainment. Throughout the 1940s, Henie and Wirtz produced lavish musical ice skating extravaganzas at Rockefeller Center's Center Theatre attracting millions of ticket buyers.
At the height of her fame, Henie brought as much as $2 million per year from her shows and touring activities. She also had numerous lucrative endorsement contracts, and deals to market skates, clothing, jewelry, dolls, and other merchandise branded with her name. These activities made her one of the wealthiest women in the world in her time.
Officially retired by 1960, Henie pursued her interest in art. She had developed a substantial collection during her lifetime, which she donated to a public trust along with the works held by her third husband, Niels Onstad. (She had been previously married to American businessman Dan Topping and to Winthrop Gardner.)
The pair also helped establish the Henie Onstad Art Centre, which opened near Oslo in 1968.
Awards and Honor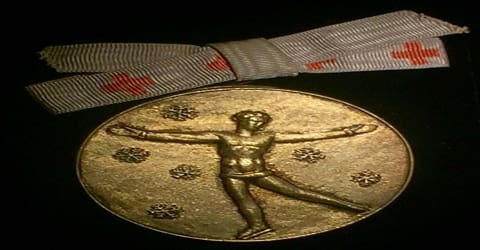 (Henie's Olympic gold medal, St. Moritz 1928.)
In 1938, at age 25, she became the youngest person made a knight first class of The Royal Norwegian Order of St. Olav
Inducted into the World Figure Skating Hall of Fame (1976).
Inducted into the International Women's Sports Hall of Fame (1982).
She has a star on the Hollywood Walk of Fame.
Death and Legacy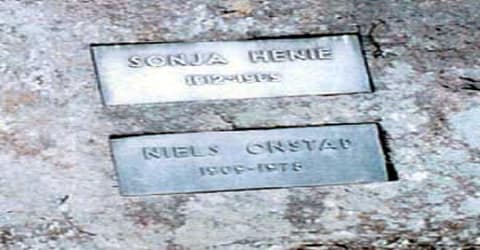 In early 1969, Henie discovered that she had leukemia. She kept her disease a secret until her death on October 12 of that year. Henie passed away during a flight between Paris and Oslo. Generally regarded as one of the greatest figure skaters in history, she is buried with Onstad in Oslo on the hilltop overlooking the Henie Onstad Art Centre.
She is still remembered today as one of figure skating's early superstars.
Honorary Colonel and Godmother of the 508th Parachute Infantry Regiment, 82d Airborne Division, Fort Bragg, North Carolina.
Sonja Henie's picture previously adorned a tail of a Boeing 737-300 of the airline Norwegian Air Shuttle. As the Boeing 737–300 was being phased out, her picture was placed on the tail of a Boeing 737-800 of the same airline and in 2013 to the tail of Norwegian Air Shuttle's first Boeing 787 Dreamliner. One of that airline's trademarks is having portraits of famous deceased Norwegians on the tails of its aircraft.
Information Source: