Biography of Franz Liszt
Franz Liszt – Hungarian composer, virtuoso pianist, conductor, music teacher, arranger, organist, philanthropist, author, nationalist and a Franciscan tertiary during the Romantic era.
Name: Franz Liszt
Date of Birth: October 22, 1811
Place of Birth: Raiding, Austria
Date of Death: July 31, 1886
Place of Death: Bayreuth, Germany
Occupation: Composer
Father: Adam Liszt
Mother: Anna Liszt
Partner: Marie d'Agoult
Children: Cosima Wagner, Blandine Liszt, Daniel Liszt
Early Life
A Hungarian pianist and composer of enormous influence and originality, Franz Liszt was born to Anna Liszt (née Maria Anna Lager) and Adam Liszt on 22 October 1811, in the village of Doborján (German: Raiding) in Sopron County, in the Kingdom of Hungary, Austrian Empire. Among his many notable compositions are his 12 symphonic poems, two (completed) piano concerti, several sacred choral works, and a great variety of solo piano pieces.
Franz Liszt gained renown in Europe during the early nineteenth century for his prodigious virtuosic skill as a pianist. He was a friend, musical promoter and benefactor to many composers of his time, including Frédéric Chopin, Richard Wagner, Hector Berlioz, Robert Schumann, Camille Saint-Saëns, Edvard Grieg, Ole Bull, Joachim Raff, Mikhail Glinka, and Alexander Borodin.
Apart from his talents as a piano artist, he was also a proficient composer, piano teacher, and conductor. His outstanding talents gave him the opportunity to become one of the most eminent members of the New German School or the Neudeutsche Schule. His father too was a musician who played several instruments and perhaps that's why many believe that music was embedded in his genes. Unlike many talented celebrities who bloomed late, Franz Joseph Liszt proved his mettle at a very young age and gained popularity across several parts of Europe.
Liszt left behind an extensive and diverse body of work in which he influenced his forward-looking contemporaries and anticipated many 20th-century ideas and trends. Some of his most notable musical contributions were the invention of the symphonic poem, developing the concept of thematic transformation as part of his experiments in musical form, and making radical departures in harmony.
A string of setbacks following his father's death, in a way, distracted the Hungarian composer and the man almost died due to ill health. But the determined musician bounced back and continued pursuing music eventually. A concert of Niccolò Paganini inspired Franz Joseph Liszt greatly and he decided to leave no stone unturned to become a great musician. His works have said to have inspired several generations of music composers and he also enjoys a demigod status among many students of music even today.
Childhood, Family and Educational Life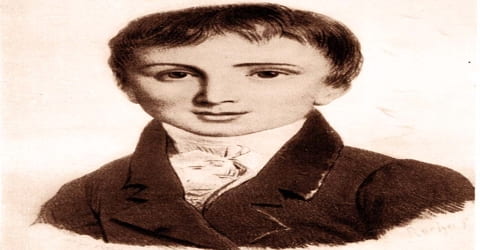 Franz Liszt, Hungarian form Liszt Ferenc, was born on October 22, 1811, to Adam and Anna Liszt at a village named Doborjan, situated in Hungary. His father Adam was a musician who played several instruments such as the guitar, cello, violin, and piano. Adam's talent was even known to some of the world's greatest musicians like Beethoven, Haydn, and Hummel.
By the age of 6, young Liszt was recognized as a child prodigy; by the age of 8, he was composing elementary works; and by the age of 9, he was appearing in concerts. His father worked as a secretary for Prince Nicholas Esterhazy, and, after the boy played for a group of wealthy sponsors, he asked the prince for extended leave so he could devote his time to enriching his son's musical education. Franz Liszt, later on, went on to learn lessons in music from renowned composers Carl Czerny and Antonio Salieri. He also received lessons in composition from Ferdinando Paer and Antonio Salieri, who was then the music director of the Viennese court.
Franz Liszt was greeted in Austrian and Hungarian aristocratic circles and also met Beethoven and Schubert. In spring 1823, when his one-year leave of absence came to an end, Adam Liszt asked Prince Esterházy in vain for two more years. Adam Liszt, therefore, took his leave of the Prince's services. At the end of April 1823, the family returned to Hungary for the last time. At the end of May 1823, the family went to Vienna again. During this time, he also happened to meet young musicians Ferdinano Paer and Michael. The interaction with both these gentlemen gave Franz a much-needed exposure to the world of music.
In 1827 to be precise, when Franz Liszt was making waves for his abilities as a musician, he went on a trip to Boulogne with his father for treatment. Unfortunately, during this trip, his father Adam passed away, which deeply depressed the talented youngster. He returned to Paris, where his mother was residing after the unexpected demise of his father. Several days of hardship followed and Liszt coached aspirants to play the piano, to make ends meet.
Personal Life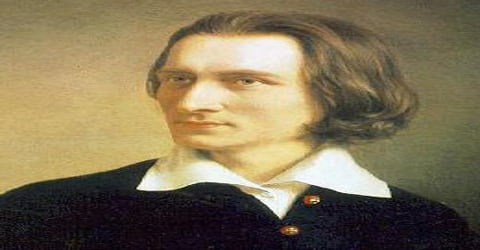 In 1827 Liszt fell in love with one of his pupils, Caroline de Saint-Cricq, the daughter of Charles X's minister of commerce, Pierre de Saint-Cricq. Her father, however, insisted that the affair is broken off.
In 1833, at the age of 22, Franz Liszt met the Comtesse Marie d'Agoult, a renowned author. Inspired by love and nature, he composed several impressions of the Swiss countryside in "Album d'un voyageur," which would later surface as the "Années de Pèlerinage" ("Years of Pilgrimage"). In 1834, Liszt debuted his piano compositions "Harmonies poétiques et religieuses" and a set of three "Apparitions."
Marie was already married at the time she and Franz were courting. By 1835, Marie got separated from her husband and began a new journey altogether with the musician. The couple became parents to a girl named Blandine in December 1835. They later became parents to two more kids, a girl named Cosima and a son, Daniel. However, after 1839, the relationship between the two started turning sour. Franz, along with Marie and the kids traveled extensively across Europe for several years.
In 1847, while in Kiev, Liszt met Princess Carolyne Zu Sayn-Wittgenstein. Her influence on him was dramatic; she encouraged him to stop touring and, instead, teach and compose, so he could have a more domestic life with her. Liszt gave his final concert for pay at Elisavetgrad in September and then spent the winter with the princess at her estate in Woronince.
In 1849, Liszt traveled to Kiev, Ukraine, for a performance, where he met Carolyne Zu Sayn-Wittgenstein, a royal of Polish origin. Carolyne eventually became a really important person in the musician's life. She motivated Franz to concentrate more on his composition rather than travel a lot. The princess and the composer were also romantically involved, but sadly the relationship ran into several complications, mainly because Carolyne was already married.
Career and Works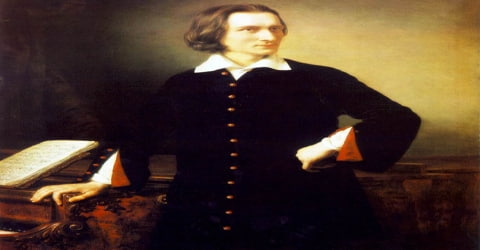 Franz Liszt's public debut in Vienna on 1st December 1822, at a concert at the "Landständischer Saal", was a great success. Towards the end of 1823 or early 1824, Liszt's first composition to be published, his Variation on a Waltz by Diabelli (now S. 147), appeared as Variation 24 in Part II of Vaterländischer Künstlerverein. This anthology, commissioned by Anton Diabelli, includes 50 variations on his waltz by 50 different composers (Part II), Part I being taken up by Beethoven's 33 variations on the same theme, which are now separately better known simply as his Diabelli Variations, Op. 120. Liszt's inclusion in the Diabelli project he was described in it as "an 11-year-old boy, born in Hungary" was almost certainly at the instigation of Czerny, his teacher and also a participant. Liszt was the only child composer in the anthology.
Liszt toured England again the following year, playing for George IV at Windsor Castle and also visiting Manchester, where his New Grand Overture was performed for the first time. This piece was used as the overture to his one-act opera Don Sanche, which was performed at the Paris Opéra on October 17, 1825.
In 1826 Liszt toured France and Switzerland, returning to England again in the following year. Suffering from nervous exhaustion, Liszt expressed a desire to become a priest. His father took him to Boulogne to take sea baths to improve his health; there Ádám died of typhoid fever. Liszt returned to Paris and sent for his mother to join him; she had gone back to the Austrian province of Styria during his tours.
After his father's death in 1826, Franz Joseph Liszt worked as a piano teacher and took a sort of sabbatical from music for a while. For quite some time, Liszt spent time reading about the life and achievements of several great men, like acclaimed writer Victor Hugo and Alphonse de Lamartine for instance. Liszt also happened to meet the French composer Hector Berlioz at this time and was influenced by Berlioz to a large great extent.
To earn money, Liszt gave lessons in piano playing and composition, often from early morning until late at night. His students were scattered across the city and he often had to cover long distances. Because of this, he kept uncertain hours and also took up smoking and drinking all habits he would continue throughout his life.
After his illness, Liszt underwent a long period of depression and doubt about his career. For more than a year he did not touch the piano and was dissuaded from joining the priesthood only through the efforts of his mother. He experienced much religious pessimism. During this period Liszt took an active dislike to the career of a virtuoso. He made up for his previous lack of education by reading widely, and he came into contact with many of the leading artists of the day, including Alphonse de Lamartine, Victor Hugo, and Heinrich Heine. With the July Revolution of 1830 resulting in the abdication of the French king Charles X and the coronation of Louis-Philippe, he sketched out a Revolutionary Symphony.
Liszt met Hector Berlioz on December 4, 1830, the day before the premiere of the Symphonie fantastique. Berlioz's music made a strong impression on Liszt, especially later when he was writing for orchestra. He also inherited from Berlioz the diabolic quality of many of his works.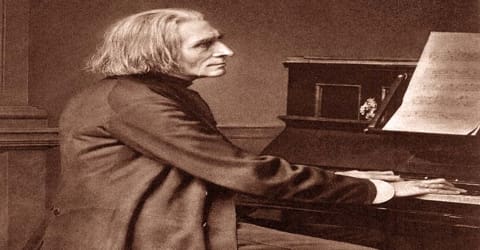 Franz Liszt attended a concert in 1832, which was more of a fundraiser for charity. The highlight of this concert was that the legendary musician Niccolo Paganini was to perform. He was blown away by Paganini's skills to such an extent that he decided he's going to master the piano the way Paganini established his prowess in playing the violin.
Liszt achieved the seemingly impossible feat of transcribing Berlioz's Symphonie fantastique for the piano in 1833, and he helped Berlioz by transcribing other works of his and playing them in concert. In March 1831 he heard Niccolò Paganini play for the first time. He again became interested in virtuoso technique and resolved to transfer some of Paganini's fantastic violin effects to the piano, writing a fantasia on his La Campanella. At this time he also met Frédéric Chopin, whose poetical style of music exerted a profound influence on Liszt.
Franz Liszt also played several compositions of Berlioz to popularize his compositions among the masses. He also happened to become good friends with a composer named Frederic Chopin later on, who also influenced him to a certain extent. Interactions with Chopin helped in bringing out the romanticist hidden inside Franz through compositions.
After attending a charity concert on 20 April 1832, for the victims of a Parisian cholera epidemic, organized by Niccolò Paganini, Liszt became determined to become as great a virtuoso on the piano as Paganini was on the violin. Paris in the 1830s had become the nexus for pianistic activities, with dozens of pianists dedicated to perfection at the keyboard. Some, such as Sigismond Thalberg and Alexander Dreyschock, focused on specific aspects of technique (e.g. the "three-hand effect" and octaves, respectively). While it has since been referred to as the "flying trapeze" school of piano playing, this generation also solved some of the most intractable problems of piano technique, raising the general level of performance to previously unimagined heights. Liszt's strength and ability to stand out in this company was in mastering all the aspects of piano technique cultivated singly and assiduously by his rivals.
A full list of his compositions would not do justice to the amazing mind that list had. He was able to write some lovely art songs that he was able to accompany his singers on, and he was contributing to the tradition of the art song at the same time as people like Wolf, Brahms, and Schubert. His tone poems are very interesting in that they contain many odd instruments as if he were Berlioz, and some of his music is very wild in a way that people are going to be most interested in.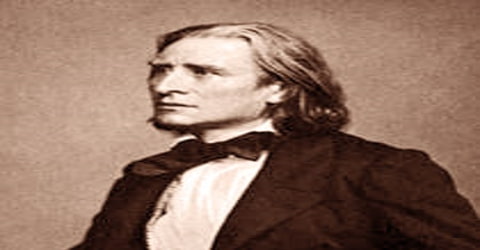 In 1833, Liszt made transcriptions of several works by Berlioz, including the Symphonie fantastique. His chief motive in doing so, especially with the Symphony, was to help the poverty-stricken Berlioz, whose symphony remained unknown and unpublished. Liszt bore the expense of publishing the transcription himself and played it many times to help popularise the original score. He was also forming a friendship with a third composer who influenced him, Frédéric Chopin; under his influence, Liszt's poetic and romantic side began to develop.
In 1834 Liszt emerged as a mature composer with the solo piano piece Harmonies poétiques et religieuses, based on a collection of poems by Lamartine, and the set of three Apparitions. The lyrical style of these works is in marked contrast to his youthful compositions, which reflected the style of his teacher Czerny. He also taught at the newly founded Geneva Conservatory and published a series of essays, "On the Position of Artists," in which he endeavored to raise the status of the artist who up to then had been regarded as a kind of superior servant to that of a respected member of the community.
In 1841, Franz Liszt was admitted to the Freemason's lodge "Unity" "Zur Einigkeit", in Frankfurt am Main. He was promoted to the second degree and elected master as a member of the lodge "Zur Eintracht", in Berlin. From 1845 he was also an honorary member of the lodge "Modestia cum Libertate" at Zurich and 1870 of the lodge in Pest (Budapest-Hungary). After 1842, "Lisztomania" – coined by 19th-century German poet and Liszt's contemporary, Heinrich Heine – swept across Europe. Liszt wrote his Three Concert Études between 1845 and 1849. Since he often appeared three or four times a week in concert, it could be safe to assume that he appeared in public well over a thousand times during this eight-year period. Moreover, his great fame as a pianist, which he would continue to enjoy long after he had officially retired from the concert stage, was based mainly on his accomplishments during this time.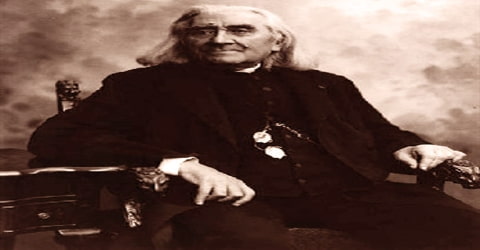 Liszt's brilliance and success were at their peak during these years as a virtuoso. Everywhere he was received with great adulation; gifts and decorations were showered on him, and he had numerous mistresses, including the dancer Lola Montez and Marie Duplessis. Nevertheless, he still continued to compose, writing songs as well as piano works.
In February 1847, Liszt played in Kiev. There he met the Polish Princess Carolyne Zu Sayn-Wittgenstein, who was to become one of the most significant people in the rest of his life. She persuaded him to concentrate on composition, which meant giving up his career as a traveling virtuoso. After a tour of the Balkans, Turkey, and Russia that summer, Liszt gave his final concert for pay at Yelisavetgrad, Ukraine in September 1847. He spent the winter with the princess at her estate in Woronince. By retiring from the concert platform at 35, while still at the height of his powers, Liszt succeeded in keeping the legend of his playing untarnished. He was later joined by the princess, who had unsuccessfully tried to obtain a divorce from her husband. They resided together in Weimar, and Liszt now had ample time to compose, as well as to conduct the court orchestra in operas and concerts.
This was the period of Franz Liszt's greatest production: the first 12 symphonic poems, A Faust Symphony (1854; rev. 1857–61), A Symphony to Dante's Divina Commedia (1855–56), the Piano Sonata in B Minor (1852–53), the Piano Concerto No. 1 in E-Flat Major (1849; rev. 1853 and 1856), and the Piano Concerto No. 2 in A Major (1839; rev. 1849–61). (A third piano concerto, in E-flat, composed in 1839, was left unperformed during his lifetime and was not discovered until 1988.) During the period in Weimar Liszt also composed the Totentanz for piano and orchestra, revised versions of the Transcendental and Paganini Études and of the first two books of the Années de pèlerinage, choral works, and numerous others. Some of these works had been sketched out in the 1840s or earlier, but, even so, his productivity in this period remains astonishing.
During the months of January and February, in 1866, Franz Liszt directed two symphonies, namely 'Stabat Mater' and 'Dante Symphony'. Liszt also made news for his stellar composition for the coronation ceremony of the Hungarian monarch Franz Joseph and his wife Elisabeth of Bavaria. The performance was held on June 8, 1867, and the work earned Liszt many accolades.
In December of 1859, Liszt lost his son Daniel, and in September of 1862, his daughter Blandine also died. In 1860, one of Liszt's rivals, Johannes Brahms, co-published a manifesto against him and the modern composers, just one chapter in what was to become known as the War of the Romantics. In that same year, Liszt and Carolyne attempted to wed in Rome, but on the eve of their marriage, their plans were thwarted due to her incomplete divorce papers. Discouraged, Liszt vowed to live a more solitary life, and in 1863 moved to a small, basic apartment in the monastery Madonna del Rosario, just outside of Rome.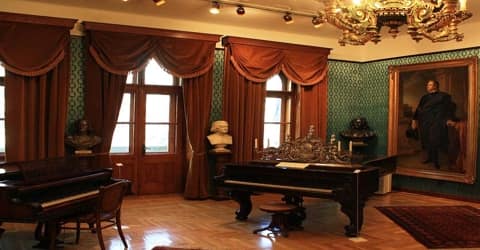 (One of Franz Liszt's pianos from his apartment in Budapest)
On 25 April 1865, Liszt received the tonsure at the hands of Cardinal Hohenlohe. On 31 July 1865, he received the four minor orders of porter, lector, exorcist, and acolyte. After this ordination, he was often called Abbé Liszt. On 14 August 1879, he was made an honorary canon of Albano.
The decade 1839-49 is believed to be the best time of Franz Liszt's illustrious career as a musician. Apparently, he performed in public approximately a thousand times during this decade. His masterpiece, 'Three Concert Études' was also written in the same period.
Awards and Honor
On 14 March 1842, Liszt received an honorary doctorate from the University of Königsberg – an honor unprecedented at the time, and an especially important one from the perspective of the German tradition, for his incredible contribution towards music. Liszt never used 'Dr. Liszt' or 'Dr. Franz Liszt' publicly. Ferdinand Hiller, a rival of Liszt at the time, was allegedly highly jealous at the decision made by the university.
Franz Liszt has also announced the Canon of Albano on August 14, 1879, as a mark of respect to his creative genius.
Death and Legacy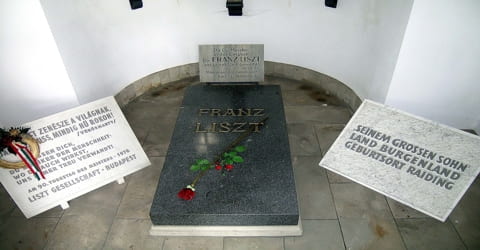 Franz Liszt died in Bayreuth, Germany, on July 31, 1886, at the age of 74, officially as a result of pneumonia, which he may have contracted during the Bayreuth Festival hosted by his daughter Cosima. Questions have been posed as to whether medical malpractice played a part in his death. He was buried on August 3, 1886, in the municipal cemetery of Bayreuth against his wishes.
Franz Liszt wrote piano music that is difficult for people to play today and many of his pieces of considered rites of passage for pianists who want to consider themselves truly great. The work that people are doing to learn the piano will always include what Liszt wrote, and people who want to be truly great performers are going to have to think about what it would be like to be as wild in their playing as Liszt was.
While conducting master classes, Franz Liszt often refused to listen to the compositions of several musicians, such as those of Carl Tausig.
Apart from Liszt's more than 700 compositions, he was the author of books on Frédéric Chopin, Hungarian gypsy music, Wagner's Lohengrin and Tannhäuser, John Field's nocturnes, the lieder of Robert Franz, and the Goethe Foundation in Weimar. His published essays and correspondence fill many volumes.
Information Source: