Biography of Elizabeth Garrett Anderson
Elizabeth Garrett Anderson – English physician and suffragist.
Name: Elizabeth Garrett Anderson
Date of Birth: 9 June 1836
Place of Birth: Whitechapel, London, England
Date of Death: 17 December 1917 (aged 81)
Place of Death: Aldeburgh, Suffolk, England
Father: Newson Garrett
Mother: Louisa
Siblings: Millicent Fawcett
Spouse/Ex-: James George Skelton Anderson (m. 1871–1907)
Children: Louisa Garrett Anderson, Alan Anderson, Margaret Skelton Anderson
Early Life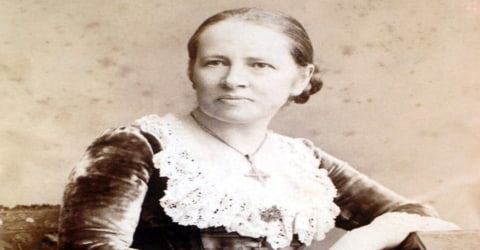 Elizabeth Garrett Anderson was the first woman officially approved to practice medicine in Great Britain, and was a pioneer in opening education in medicine to women. She made great sacrifices and struggled to create new pathways for women in British medicine. She was born in Whitechapel, London, the second of eleven children of Newson Garrett (1812–1893), from Leiston, Suffolk, and his wife, Louisa (born Dunnell; c. 1813–1903), from London.
During her childhood her father became a successful businessman, enabling him to send his children to good schools. After school she was expected to marry well and live the life of a lady. However meetings with the feminist Emily Davies and Elizabeth Blackwell, the first American woman physician, convinced Elizabeth Garrett that she should become a doctor.
However, women becoming doctors was totally unheard of in 19th century Britain and she faced a lot of challenges in acquiring a quality medical education. She bravely persevered and was eventually successful in becoming a physician after a long struggle. After becoming the first female physician in Britain, she went on to found the New Hospital for Women in London and was later appointed dean of the London School of Medicine for Women which she had helped to found. She was an icon for other aspiring women doctors and also a strong supporter of the women's suffrage movement.
She was the co-founder of the first hospital staffed by women, the first dean of a British medical school, the first woman in Britain to be elected to a school board and, as Mayor of Aldeburgh, the first female mayor and magistrate in Britain.
Childhood, Family and Educational Life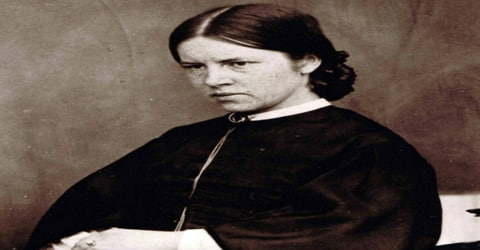 Elizabeth Garrett Anderson was born on 9 June 1836 in Whitechapel, London, to Newson Garrett and his wife Louisa. She was the second of eleven children in her family. When Garrett was three years old, the family moved to 142 Long Acre, where they lived for two years, whilst one more child was born and her father moved up in the world, becoming not only the manager of a larger pawnbroker's shop, but also a silversmith. Garrett's grandfather, owner of the family engineering works, Richard Garrett & Sons, had died in 1837, leaving the business to his eldest son, Garrett's uncle. Despite his lack of capital, Newson was determined to be successful and in 1841, at the age of 29, he moved his family to Suffolk, where he bought a barley and coal merchants business in Snape, constructing Snape Maltings, a fine range of buildings for malting barley.
Believing that all his children girls as well as boys should receive the best education possible, Elizabeth's father saw to it that she and her sister Louie were taught at home by a governess (a live-in, female tutor). In 1849 they were sent to the Academy for the Daughters of Gentlemen, a school in Blackheath, England, run by the aunts of famous poet Robert Browning (1812–1889). Garrett would later shudder when she recalled the "stupidity of the teachers" and the school's lack of instruction in science and mathematics. Nonetheless the school's rule requiring students to speak French proved to be a great benefit.
She was also a wide traveler and on one of her travels she met Emily Davies, the early feminist and future co-founder of Girton College, Cambridge, and became friends with her. Davies encouraged Elizabeth's passion to become a career-woman.
On another one of her tours, she met Elizabeth Blackwell, the first woman physician in America, who had come to England to deliver a series of lectures on "Medicine as a Profession for Ladies." After an interaction with the lady doctor, Garrett became inspired to become a doctor herself.
Garrett tried to study at St. Andrews University in Scotland, but the school refused to allow a woman to graduate from its programs. She was finally able to piece together the required courses she needed. But when Garrett presented her qualifications to the Society of Apothecaries in the fall of 1865, they refused to allow her to take the examination that would qualify her for an L.S.A. degree. After Garrett's father threat ened to take them to court, they changed their minds. Garrett passed the qualifying examination and her name was listed in the Medical Register one year later.
Initially her father was against her idea of becoming a physician though he later relented and supported her wholeheartedly. With her father's backing, in 1866 she established a dispensary for women in London and in 1870 was made a visiting physician to the East London Hospital.
Personal Life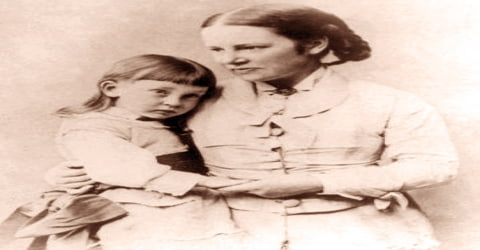 (Elizabeth Garrett Anderson and daughter Louisa in 1876)
In 1871, she married James George Skelton Anderson (d. 1907) of the Orient Steamship Company co-owned by his uncle Arthur Anderson, but she did not give up her medical practice. Theirs was a happy marriage and her husband was supportive of her career. She had three children, Louisa (1873–1943), Margaret (1874–1875), who died of meningitis, and Alan (1877–1952). Louisa also became a pioneering doctor of medicine and feminist activist.
Career and Works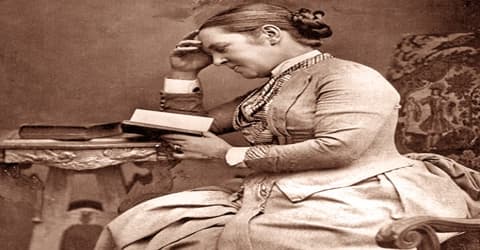 In spite of being a professionally qualified doctor, Elizabeth Garrett was having problems finding employment because of her gender. Undaunted, she opened her own practice in late 1865. Thus in 1866 she opened the St. Mary's Dispensary for Women in London. The dispensary (which was not a full-fledged hospital, but was a place where aid and supplies were distributed) filled a great need, and soon found it necessary to expand its services. In 1872, with a ward (unit) of ten beds, the dispensary became the New Hospital for Women and Children.
In the first year, she tended to 3,000 new patients, who made 9,300 outpatient visits to the dispensary. On hearing that the Dean of the faculty of medicine at the University of Sorbonne, Paris was in favour of admitting women as medical students, Garrett studied French so that she could apply for a medical degree, which she obtained in 1870 after some difficulty.
She learned French so that she could apply for a medical degree from the University of Sorbonne, Paris, which was more open towards admitting female medical students. She obtained the degree in 1870 though not before she overcame certain challenges.
In 1870, she was also elected to the first London School Board, an office newly opened to women. The St Mary's Dispensary for Women and Children was renamed as the New Hospital for Women and Children in 1872. Women from all over London came to the hospital to be treated for gynecological conditions.
In 1874, Henry Maudsley's article on Sex and Mind in Education appeared, which argued that education for women caused over-exertion and thus reduced their reproductive capacity, sometimes causing "nervous and even mental disorders". Garrett's counter-argument was that the real danger for women was not education but boredom and that fresh air and exercise were preferable to sitting by the fire with a novel. In the same year, she co-founded London School of Medicine for Women with Sophia Jex-Blake and became a lecturer in what was the only teaching hospital in Britain to offer courses for women.
In 1874, she collaborated with other pioneering women physicians and feminists like Sophia Jex-Blake, Emily Blackwell, Elizabeth Blackwell and Thomas Henry Huxley to establish The London School of Medicine for Women, the first medical school in Britain to train women. She also served as its dean. In 1877 the school was attached to the Royal Free Hospital, and was permitted to grant the degrees that were required for enrollment on the British Medical Registry.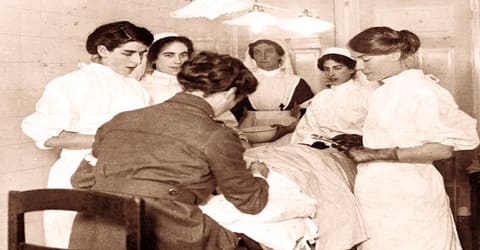 Garrett Anderson worked steadily at the development of the New Hospital for Women, and (from 1874) at the creation of the London School of Medicine for Women, where she served as its dean. Both institutions were handsomely and suitably housed and equipped. The New Hospital for Women was able to commission a building in the Euston Road; the architect was J. M. Brydon, who took into his employment at this time Anderson's sister Agnes Garrett and her cousin Rhoda Garrett, who contributed to its design. The hospital was for many years worked entirely by medical women. The schools (in Hunter Street, WC1) had over 200 students, most of them preparing for the medical degree of London University (the present-day University College London), which was opened to women in 1877.
In 1902, Anderson retired to Aldeburgh on the Suffolk coast. Anderson was England's first female doctor, the first female M.D. in France, the first female member of the British Medical Association (Britain's leading association of doctors). In 1908, she became the mayor of the town, the first female mayor in England. She was a member of the suffragette movement and her daughter Louisa was also a prominent suffragette.
Awards and Honor
The New Hospital for Women was renamed the Elizabeth Garrett Anderson Hospital in her honor in 1918.
The critical care centre at Ipswich Hospital was named the Garrett Anderson Centre in her honour, in recognition of her connection to the county of Suffolk.
A secondary school for girls in Islington, London is named after her; Elizabeth Garrett Anderson School.
Death and Legacy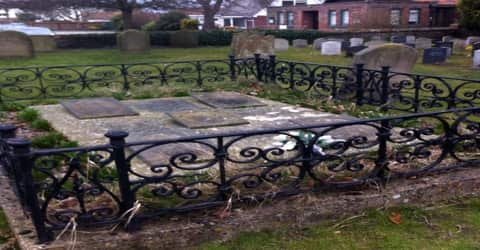 Elizabeth Garrett Anderson died on 17 December, 1917, at the age of 81 and is buried in the churchyard of St Peter and St Paul's Church, Aldeburgh.
The former Elizabeth Garrett Anderson Hospital buildings are incorporated into the new National Headquarters for the public service trade union UNISON. The Elizabeth Garrett Anderson Gallery, a permanent installation set within the restored hospital building, uses a variety of media to set the story of Garrett Anderson, her hospital, and women's struggle to achieve equality in the field of medicine within the wider framework of 19th and 20th century social history.
The archives of Elizabeth Garrett Anderson are held at the Women's Library at the London School of Economics. The archives of the Elizabeth Garrett Anderson Hospital (formerly the New Hospital for Women) are held at the London Metropolitan Archives.
Information Source: