Martina Hingis – Swiss Professional Tennis Player
Name: Martina Hingis
Date of birth: 30 September 1980 (age 36)
Place of Birth: Košice, Czechoslovakia
Height: 1.70 m (5 ft 7 in)
Turned pro: 1994
Plays: Right-handed (two-handed backhand)
Residence: Feusisberg, Switzerland
Early Life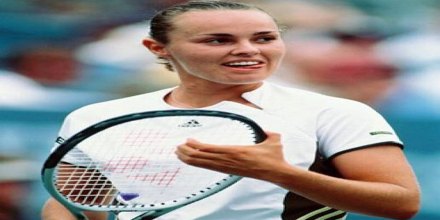 Martina Hingis was born on September 30, 1980, in Košice, Czechoslovakia, now in Slovakia. She is a Swiss professional tennis player who became the youngest person in the "open" era to win a Grand Slam singles title and the youngest to be ranked world number one.
In her relatively short, injury-plagued career, she won five Grand Slam tournaments—the Australian Open (1997, 1998, 1999), Wimbledon (1997), and the United States Open (1997). In addition, she has won the season-ending WTA Championships two times in singles and three times in doubles and is an Olympic medalist, winning a silver medal at the 2016 Summer Olympic Games.
After several surgeries and long recuperations, Hingis returned to the WTA tour in 2006, climbing to world No. 6 and winning three singles titles, and also receiving the Laureus World Sports Award for Comeback of the Year. She retired in November 2007, following months of injuries and a positive test for benzoylecgonine, a metabolite of cocaine, during the 2007 Wimbledon Championships, which led to a two-year suspension from the sport.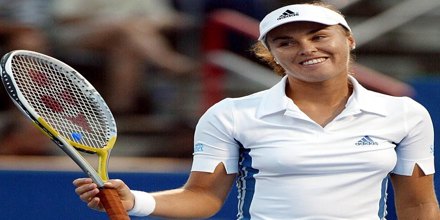 In July 2013, Hingis came out of retirement to play the North American hard-court season, partnering Daniela Hantuchová. After achieving moderate success in 2014 playing with Sabine Lisicki and Flavia Pennetta, she partnered with Sania Mirza in March 2015. Together they won three consecutive Grand Slam titles: the 2015 Wimbledon Championships, the 2015 US Open, and the 2016 Australian Open.
Hingis was ranked by Tennis magazine in 2005 as the 8th-greatest female player of the preceding 40 years. She was named one of the "30 Legends of Women's Tennis: Past, Present and Future" by Time in June 2011. In 2013, Hingis was elected into the International Tennis Hall of Fame, and was appointed two years later the organization's first ever Global Ambassador.
Childhood and Personal Life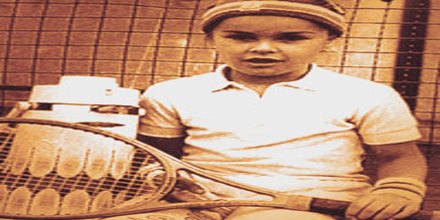 Martina Hingis was born on September 30, 1980, in Kosice, Czechoslovakia, which his now part of Slovakia, as Martina Hingisová Molitor, to accomplished tennis players Melanie Molitorová and Karol Hingis. Molitorová was a professional tennis player who was once ranked tenth among women in Czechoslovakia, and was determined to develop Hingis into a top player as early as pregnancy. Her father was ranked as high as nineteenth in the Czechoslovak tennis rankings.
Hingis began playing tennis when she was two years old and entered her first tournament at age four. In 1993, 12-year-old Hingis became the youngest player to win a Grand Slam junior title: the girls' singles at the French Open. In 1994, she retained her French Open junior title, won the girls' singles title at Wimbledon, and reached the final of the US Open.
She made her WTA debut in October 1994, two weeks after her 14th birthday. She ended the year ranked World no. 87.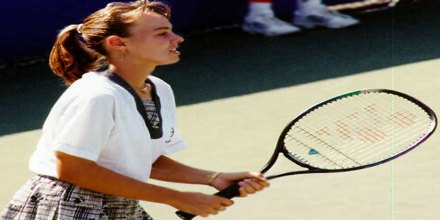 Martina Hingis spent her early childhood growing up in the town of Rožnov (now in Czech Republic). Hingis's parents divorced when she was six, and she and her mother defected from Czechoslovakia in 1987 and emigrated to Trübbach (Wartau) in Switzerland when she was seven. Her mother remarried to a Swiss man, Andreas Zogg, a computer technician. Martina Hingis acquired Swiss citizenship through naturalization.
In 2000, Hingis dated Swedish tennis player Magnus Norman and Spanish golfer Sergio García. She was briefly engaged to Czech tennis player Radek Štěpánek, but split up with him in August 2007. She dated former tennis players Ivo Heuberger and Julian Alonso.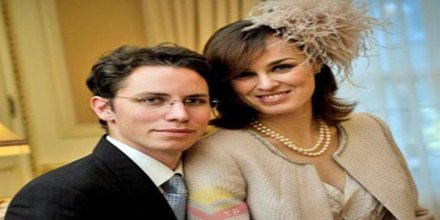 On 10 December 2010, in Paris, Hingis married then-24-year-old Thibault Hutin, a French equestrian show jumper she had met at a competition the previous April. On 8 July 2013, Hingis told the Swiss newspaper Schweizer Illustrierte the pair had been separated since the beginning of the year.
Hingis speaks five languages: Swiss German, Standard German, Czech, English and French.
Playing Career
Hingis was 15 years and nine months old when she won the 1996 Wimbledon doubles title with Helena Sukova, making her the youngest Grand Slam champion of all time. The following year, she became the youngest singles Grand Slam tournament winner of the 20th century after her victory in the Australian Open, and the youngest-ever world No. 1 when she replaced the injured Steffi Graf.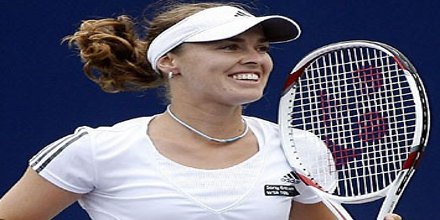 In 1998, Hingis won all four of the Grand Slam women's doubles titles, only the fourth in women's tennis history to do so, (the Australian Open with Mirjana Lučić and the other three events with Novotná), and she became only the third woman to hold the No. 1 ranking in both singles and doubles simultaneously. She also retained her Australian Open singles title by beating Conchita Martínez in straight sets in the final. Hingis, however, lost in the final of the US Open to Lindsay Davenport. Davenport ended an 80-week stretch Hingis had enjoyed as the No. 1 singles player in October 1998, but Hingis finished the year by beating Davenport in the final of the WTA Tour Championships.
She also starred in doubles, notching four championships at the Australian Open, two at the French Open and Wimbledon, and one at the U.S. Open. Altogether, she spent 209 weeks in the top spot of the WTA rankings.
In 2001, Switzerland, with Hingis and Roger Federer on its team, won the Hopman Cup. Hingis was undefeated in singles during the event, defeating Tamarine Tanasugarn, Nicole Pratt, Amanda Coetzer, and Monica Seles.
2001 was her least successful year in several seasons, with only three tournament victories in total. She lost her No. 1 ranking for the last time (to Jennifer Capriati) on 14 October 2001. In that same month, Hingis underwent surgery on her right ankle. Coming back from injury, Hingis won the Australian Open doubles final at the start of 2002 (again teaming with Anna Kournikova) and reached a sixth straight Australian Open final in singles, again facing Capriati. Hingis led by a set and 4–0 and had four match points but lost in three sets. In May 2002, she needed another ankle ligament operation, this time on her left ankle. After that, she continued to struggle with injuries and was not able to recapture her best form.
Injuries forced her retirement in 2003, but she returned to competitive tennis at the start of 2006 and won the Australian Open mixed doubles title (with Mahesh Bhupathi) and the Italian Open. She received the Laureus World Sports award for comeback of the year in 2006.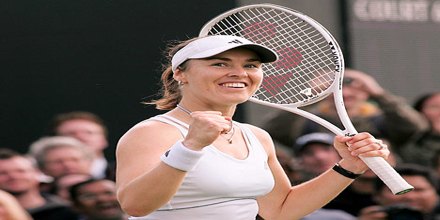 In late 2007, Hingis revealed she was under investigation after testing positive for cocaine at Wimbledon. Maintaining her innocence, the Swiss star decided to retire again rather than fight the charges. In January 2008, she was suspended for two years by the International Tennis Federation.
In 2009, Hingis took part in the British television dancing competition Strictly Come Dancing. She was the bookies' favourite for the competition, but went out in the first week after performing a waltz and a rumba.
Hingis returned to professional competition once again in 2013, this time strictly as a doubles player. She won the 2014 Miami Open alongside Sabine Lisicki, and reached the final of the U.S. Open that year with Flavia Pennetta. In early 2015, she teamed with Leander Paes to claim the mixed doubles championship at the Australian Open.
In January 2016, Hingis and Mirza won at Brisbane and Sydney. They then won the doubles tournament at the 2016 Australian Open, defeating Andrea Hlaváčková and Lucie Hradecká in the final, for their third consecutive Grand Slam title.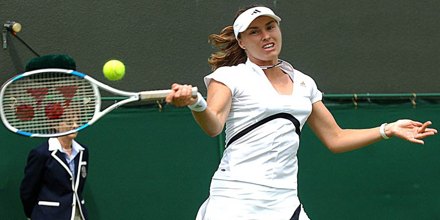 In February, Hingis represented Switzerland in the Fed Cup tie against Germany alongside Belinda Bencic and Timea Bacsinszky. Switzerland beat Germany 3-2, with Hingis and Bencic clinching the doubles rubber. Switzerland advanced to the semifinals, where the team lost to the defending champions the Czech Republic.
Hingis qualified for the 2016 Summer Olympics in Rio de Janeiro, 20 years after her last Olympic appearance. She played doubles with Timea Bacsinszky, the team won the silver medal by losing to Ekaterina Makarova and Elena Vesnina in straight sets in the final. The end of the Rio Olympics also means she and Sania Mirza officially ended their partnership.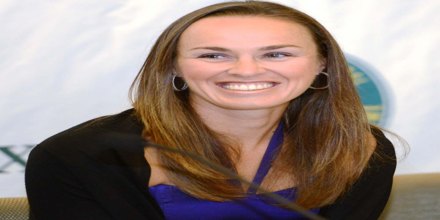 Hingis's current on-court apparel is manufactured by Tonic Lifestyle Apparel; having her own clothing line, Tonic by Martina Hingis. She is sponsored by Yonex for racquets and shoes.
Awards and Honours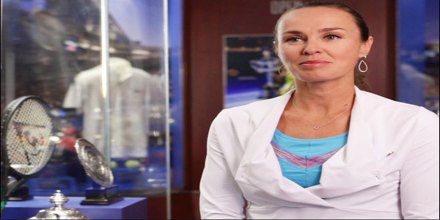 1992: Swiss Champion together with the tennisclub TC Schützenwiese (from Winterthur) in the Interclub-Championships.
1994: ITF Junior Girls Singles World Champion.
1995: WTA Newcomer of the Year.
1995: Named "Female Rookie of the Year" by Tennis magazine.
1996: WTA Most Improved Player of the Year.
1997: Associated Press Female Athlete of the Year.
1997: WTA Player of the Year.
1997: ITF World Champion – Women's Singles.
1997: BBC Overseas Sports Personality of the Year.
1998: First female athlete to be on the cover of the American men's magazine GQ in June 1998.
1998: WTA Doubles Team of the Year (with Jana Novotná).
1999: WTA Doubles Team of the Year (with Anna Kournikova).
1999: ITF World Champion – Women's Singles.
1999: ITF World Champion – Women's Doubles (with Anna Kournikova).
2000: ITF World Champion – Women's Singles.
2000: One of five female tennis players named to the 2000 Forbes magazine Power 100 in Fame and Fortune list at No. 51.
2000: WTA Diamond Aces Award.
2002: Elected to Tour Players' Council.
2006: Laureus World Sports Award for Comeback of the Year.
2007: Surpassed US$20 million in career earnings at the Sony Ericsson Open in Key Biscayne, Florida, the fourth female player to do so (after Steffi Graf, Martina Navratilova, and Lindsay Davenport). She was fourth in the all-time money list at $20,033,600 after the tournament.
2007: Meredith Inspiration Award for inspiring women around the world – Family Circle Cup/Family Circle magazine
2013: Inducted into the International Tennis Hall of Fame on 13 July 2013
2015: First Global Ambassador for the International Tennis Hall of Fame.
2015: WTA Doubles Team of the Year with Sania Mirza.
2015: ITF World Champion – Women's Doubles (with Sania Mirza).
Notable Accolades
Except for the French Open, has won every major WTA Tour singles title at least once during her career (Grand Slam tournaments, WTA Tour Championships, and Tier I tournaments).
Except for Berlin, has won every major WTA Tour doubles title at least once during her career (Grand Slam tournaments, WTA Tour Championships, and Tier I tournaments).
1999 French Open final (Graf d. Hingis 4–6, 7–5, 6–2) was voted by worldwide fans as the Greatest Match in 30-Year History of the Tour (online voting spanned two months and included a ballot of 16 memorable matches).
By reaching the 2016 French Open mixed doubles finals, Hingis joined an elite group of players who have reached the finals in all 4 Grand Slams across singles, doubles, and mixed doubles.
To celebrate the WTA Tour's 30th Anniversary, attended on-court ceremony at 2003 season-ending WTA Tour Championships that honored 13 world No. 1 champions (past and present), and founding members of the tour.